The Easy Egg Swap For Foolproof Béarnaise Sauce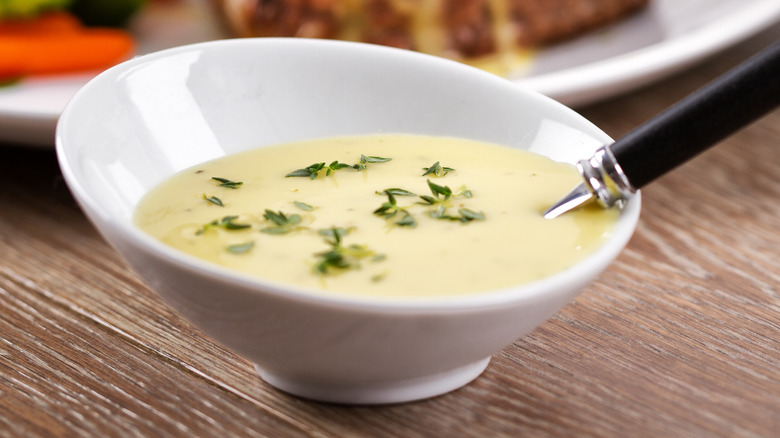 foodstck/Shutterstock
Rich, creamy, and deliciously buttery, Béarnaise is a classic French sauce originating from the province of Béarn. Derived from a basic Hollandaise sauce recipe, Béarnaise's flavorful additions — aromatic tarragon, finely chopped shallots, and a touch of acidity from white wine vinegar — make it the perfect accompaniment to steak, grilled meats, fish, asparagus, and even poached eggs. Endlessly versatile, it's a recipe everyone should have in their repertoire. However, like many egg-based sauces, it can also cause some home cooks to panic.
If you want to make Béarnaise sauce the traditional way, it involves emulsifying clarified butter with egg yolks, which can be tricky. Typically, the egg yolks and reduced vinegar are whisked together over low heat and then mixed with the butter. If you go too fast, the sauce can split. If the heat is too high, you risk making scrambled eggs. If it's not hot enough, the sauce won't thicken.
For those who want to make Béarnaise sauce without all the stress, there's an easy solution: Omit the eggs altogether, and use cream cheese to achieve the desired creamy consistency. You can even opt for reduced-fat cream cheese to make this notoriously calorie-rich sauce a bit lighter.
How to make a Béarnaise with cream cheese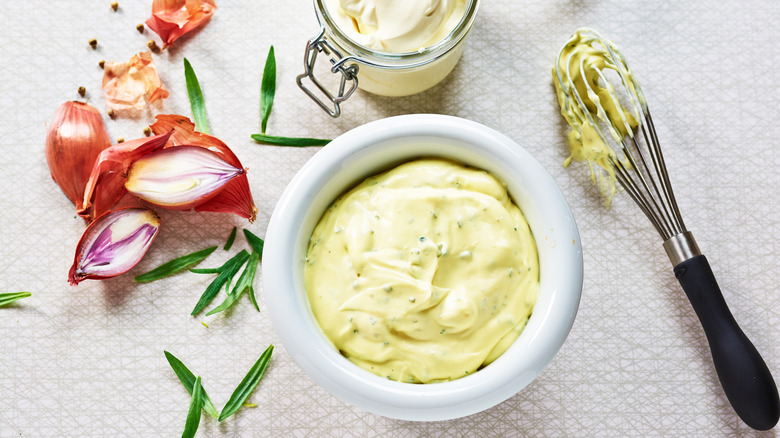 jmattisson/Shutterstock
For a cream cheese version of Béarnaise sauce, chef Sara Moulton shared her recipe on the "Rachael Ray Show." Moulton combines ¼ cup finely chopped shallots, two tablespoons of white wine vinegar, two tablespoons of dry white wine, two teaspoons of dried tarragon, and a sizable pinch of Kosher salt in a small saucepan. She brings the pan to a boil before lowering the heat to let the mixture simmer for around three to four minutes.
After the liquid has condensed to roughly one tablespoon, Moulton gradually incorporates four ounces of ⅓-less-fat cream cheese, adding it one tablespoon at a time while whisking consistently. She then blends in ¼ cup of whole milk, two teaspoons of finely chopped fresh tarragon, a dash of salt, and freshly ground black pepper according to taste.
Besides taking just a few minutes and having zero chance of separating or scrambling regardless of the temperature, Moulton's Béarnaise sauce also has the added advantage of not requiring constant attention once it's ready. You can keep it warm while preparing your steak, fish, eggs, or whatever you're serving it with. Alternatively, you can allow it to cool and reheat it the next day without worrying about its texture. If necessary, just loosen it with a little milk or heavy cream.
How to use leftover Béarnaise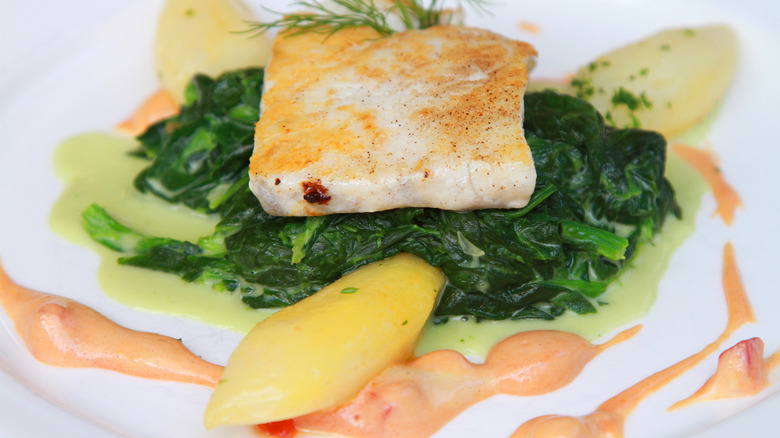 PratchayapornK/Shutterstock
Like Hollandaise, Béarnaise can also serve as the "mother" of other classic French mother sauces with just a few additions. Choron sauce is a simple variation on classic Béarnaise, made by mixing Béarnaise sauce with tomato purée. The sweetness from the tomato makes Choron sauce a good match for cooked vegetables, fish, grilled chicken, eggs, or beef. Sauce Arlésienne, meanwhile, incorporates the same ingredients as Choron but adds anchovy essence, giving it a slight saltiness that pairs well with lamb, grilled meat, or fish.
Also good with lamb — and shrimp, too — is Paloise sauce, which substitutes the tarragon commonly associated with Béarnaise for fresh mint. Foyot sauce, also known as Valois sauce, blends classic Béarnaise sauce with glace de viande (a concentrated reduction of meat glaze), making it especially well-suited for pouring over grilled or sautéed meats and grilled fish. Another derivative, Tyrolienne sauce, is essentially Béarnaise made with oil instead of butter, similar to mayonnaise, and includes the addition of tomato purée; it pairs well with grilled meats and fish dishes.
However you choose to use your Béarnaise, the cream cheese alternative makes it easy to experiment with different flavor combinations, elevating your sauce-making to the next level without the risk of egg-cidents. Bon appétit!