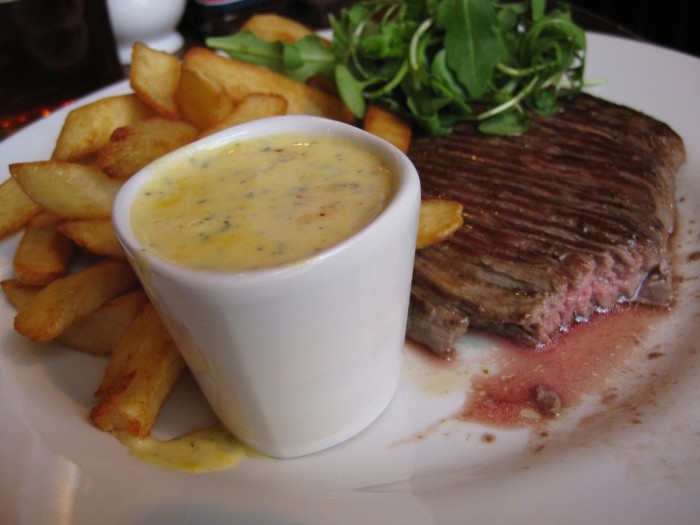 This thick, tangy sauce goes on top of steaks, vegetables, eggs, or even oysters. The hint of tarragon in Bearnaise sets it apart from other sauces, and a dash or two of hot sauce can give it a nice little kick.
Our recipe calls for the use of a blender, not only to save your wrist from the threat of Carpal Tunnel Syndrome that comes from trying to whisk this sauce, but also to offer the chance for a quick save if the sauce "breaks" (see instructions).
Try this sauce next time you're grilling a steak and you'll be hooked!
Ingredients
1/4

cup

tarragon, fresh, chopped

2

shallots, minced

1/4

cup

red wine vinegar

1/4

cup

dry white wine

1/2

pound

butter, unsalted

3

egg yolks

1

teaspoon

lemon juice

1 to 2

dashes

hot sauce

1/8

teaspoon

mustard powder

2

ounces

warm water

salt and white pepper to taste
Directions
In a small saucepan, combine tarragon, shallots, vinegar, and wine over medium-high heat. Reduce by half. Remove from heat and set aside. This is your bearnaise reduction.
Fill a blender with hot tap water to warm the vessel. Pour out water just prior to making the sauce.
Melt the butter in a small sauce pot, swirling constantly, until the butter reaches 150 degrees Fahrenheit. The butter should be approximately 140 degrees prior to blending.
Place Béarnaise reduction, egg yolks, lemon juice, and hot sauce in the blender.
Blend on high for about 30 seconds. (This is an important step. Do not omit.) Pour about 1 tablespoon of butter into the egg mixture until fully incorporated. Pour another 1 or 2 tablespoons in the mixture until well incorporated. In a slow, steady stream pour the rest of the warm butter. Add mustard powder. If the sauce starts to look like mayonnaise, add a little warm water with the blender running, about a teaspoon at a time.
Add salt, pepper, and hot sauce to taste. The sauce should be thick but pourable. Add warm water to thin as needed. Sauce should taste buttery, tangy, and as spicy as desired with just a hint of egginess and, of course, a strong-but-not-overpowering tarragon flavor.
Pour the sauce into a slightly warmed pitcher or gravy boat and cover with cellophane.
---

If the sauce is reheated after cooling, the sauce will break, leaving an oily lake on top of something that might resemble cottage cheese.
FIXING A BROKEN SAUCE
Re-fill the blender with hot water until blender is quite warm. Place one egg yolk in the blender with a splash of red wine vinegar. Blend on high for 30 seconds. Add about a tablespoon of the broken sauce and blend until fully incorporated. Add another tablespoon or two and blend thoroughly. Slowly add the remainder of the broken sauce until smooth. Add warm water as needed to adjust consistency. Adjust seasoning.