Giada De Laurentiis' Carrot Trick To Balance Acidic Tomato Sauce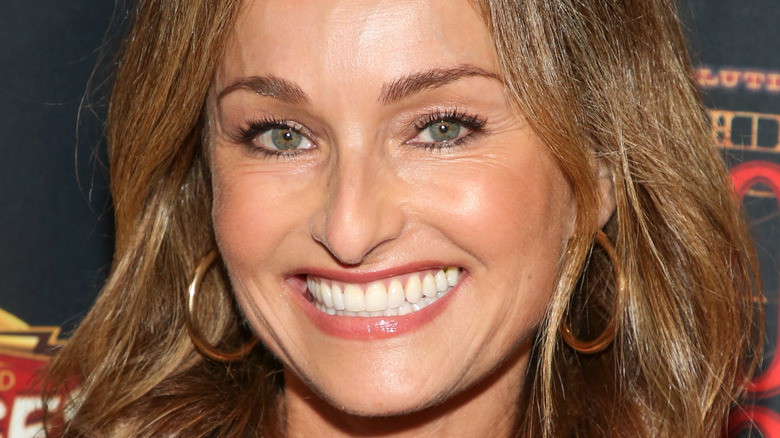 Paul Archuleta/Getty Images
It's hard to go wrong with a basic tomato sauce — all you need are some ripe tomatoes, a dash of aromatics, and maybe a fresh herb or spice. While there are ways to jazz it up with the help of wine or even cheese, a tomato sauce will always be delicious as long as its sweet, umami, and acidic flavors are all in perfect balance. Because of a tomato's acidic nature, however, that's easier said than done, as the acidity can quickly overpower the other components.
The pH level of fresh tomatoes typically ranges from 4.3 to 4.9 with some canned tomatoes falling as low as 3.5 on the scale (the lower end of the scale implies higher acidity). These varying levels can quickly throw your sauce off-kilter, turning a sweet, spicy, and umami flavor bomb into a sour and tangy mess. Luckily, Giada De Laurentiis has a crafty little trick to save your sauce and all it requires is some carrots.
In a video posted on TikTok, De Laurentiis walks fans through a recipe for a basic pomodoro sauce. She adds canned tomatoes to some roasted garlic and throws in fresh basil leaves and Parmesan rinds on top. Before letting the sauce simmer away, she also adds two small sticks of peeled carrots to the pot, explaining that they "absorb the acidity of canned tomatoes." 
Carrots are a quick trick to balance acidity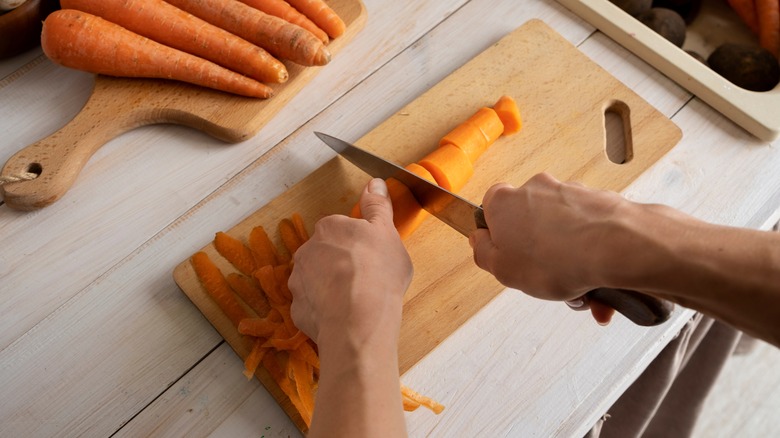 james benjamin/Shutterstock
To cut through the tang of an acidic tomato sauce, you need an alkaline-rich vegetable like carrots—alkaline is a compound that balances pH levels. Not only can the bright orange sticks balance the sauce's acidity, they'll also counteract it with a sweet flavor. The only thing to keep in mind is that carrots can often be a touch too sweet, so unless you like your tomato sauce on the sweeter side, you may want to turn up the heat with the help of spices like chili flakes.
While Giada De Laurentiis' trick uses sticks of peeled carrots and presumably blends them with the rest of the sauce when it is done cooking—though the TikTok video doesn't mention precise instructions—that's not the only way to use this tip. You could always add peeled and grated carrots for a smoother result and blend them into a puree with the rest of the sauce.
Alternatively, if you don't want to go through the hassle of blending your tomato sauce, you can finely chop the carrots or blitz them in a food processor before mixing in so that they don't make the sauce too chunky. No matter how you choose to prep the veggies though, consider adding them when you cook the aromatics rather than popping them straight into the tomatoes to simmer as De Laurentiis does. Sautéeing the carrots first will unlock their sweet flavors, helping balance the acidity of the sauce even more.
Other ways to balance acidic tomato sauce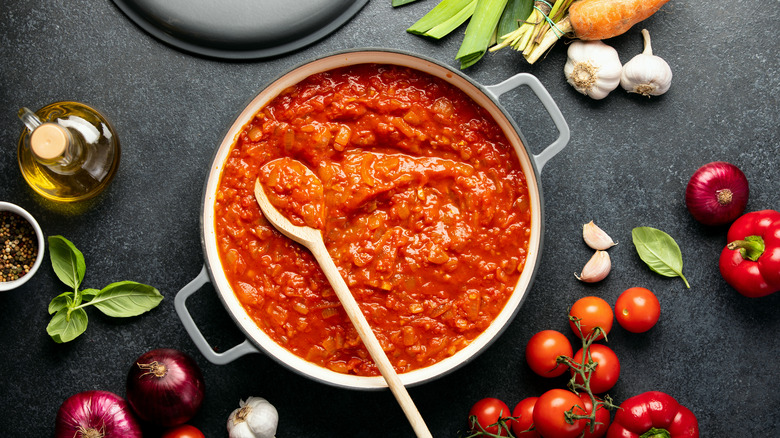 Fortyforks/Getty Images
Using carrots to balance the acidity of tomato sauce has its benefits. Not only is the trick vouched by chefs like Giada De Laurentiis, but carrots are also an excellent way to sneak more nutrition in, meaning you'll get all the goodness of the veggie's high fiber, beta carotene, vitamin K1, and antioxidant levels. But, if you don't happen to have a carrot on hand or can't be fussed to peel, chop, or grate another vegetable, there are other ways to balance your sauce.
Much like carrots, onions are alkaline-rich foods that can bring the sauce's acidity back to neutral; milk and cream are other options. You could also add a pinch of baking soda (just know the sauce will foam up at first, though it's nothing to worry about). Baking soda does tend to affect the flavor of foods, too, so it's best to use it in small quantities, tasting and adding more as you go. There are also the more obvious solutions to balance acidity, like white or brown sugar, though neither are particularly healthy additions.
When in doubt, however, look towards any ingredient with higher pH that can increase the tomato's low pH—think olive oil, butter, or even cheese. Certain seafoods like clams, mussels, shrimp, and crabs are rich in alkaline and high pH levels as well, so if fixing the tomato sauce itself is too much of a bother, you can always toss it over some seafood and call it a day!