Giada De Laurentiis' Favorite Food Destinations Are Giving Us Wanderlust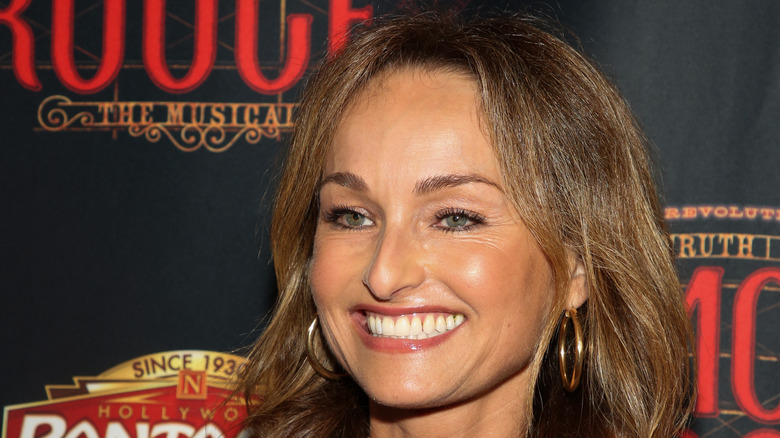 Paul Archuleta/Getty Images
For many, Giada De Laurentiis epitomizes the exquisite blend of travel and tantalizing cuisine, effortlessly taking her audience on globetrotting adventures with a culinary twist. Her storied entry into the world of the Food Network began with "Giada's Weekend Getaways," a captivating show where, over a single three-day weekend, she would whisk viewers away to some of the most renowned culinary destinations in the United States.
But it's not just through her television escapades that De Laurentiis has given her fans a taste of the world. Often when she pops up on social media feeds, De Laurentiis is sharing yet another breathtaking location coupled with its culinary wonders. Her TikTok viewers are left with an undeniable pang of wanderlust and that familiar fear of missing out as she talks about eating her way through some of the world's most beautiful and vibrant locations. From quaint Italian bistros to bustling Southeast Asian markets, let's dive into the most envy-inducing locales De Laurentiis has showcased over the years.
Jackson Hole, Wyoming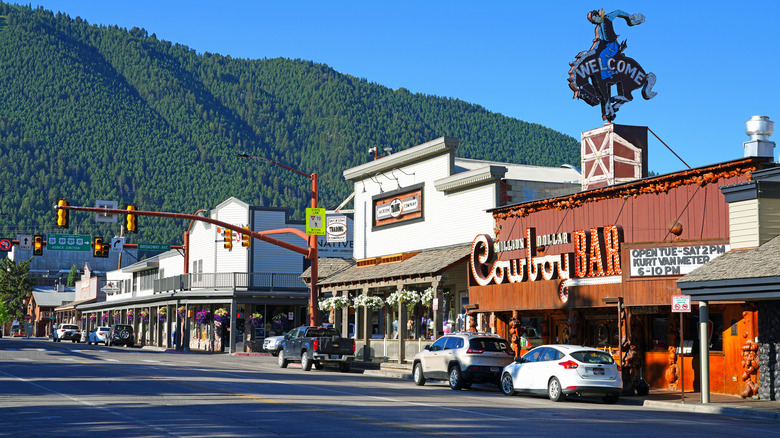 EQRoy/Shutterstock
Jackson Hole has quickly become the preferred weekend retreat and vacation spot for the glitterati. Kim Kardashian, Harrison Ford, Sandra Bullock, Brad Pitt, Pippa Middleton, Tiger Woods, Uma Thurman, and Matthew McConaughey are regulars in this Wyoming town. But the allure of this serene locale isn't just its scenic, reclusive beauty. It's also the blend of opulence and rustic charm that beckons the likes of the rich and famous.
Among its illustrious visitors is Giada De Laurentiis. During the first season of her hit show, "Giada's Weekend Getaways," she took viewers on a delightful journey through this mountainous retreat. The town boasts an array of culinary gems, with restaurants offering locally-sourced cuts of meat and evolving effortlessly from laid-back lunch spots to sophisticated black-tie dinner venues. From the daily changing menu at Sweet Cheeks Meat, a local butchery, to the popular eatery Local, visitors can savor both nature and gastronomy. De Laurentiis was early to spot the culinary promise of this town, and visitors won't be disappointed.
Milan, Italy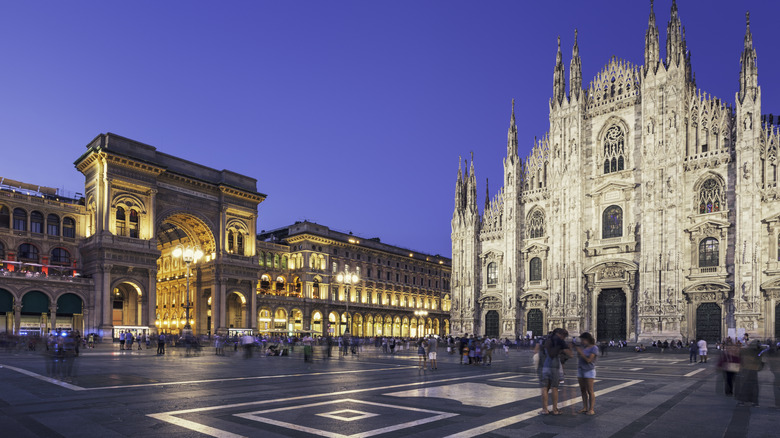 Marcus Lindstrom/Getty Images
Giada De Laurentiis is synonymous with the richness of Italian heritage. While she's undeniably a globetrotter, she's most often wandering through Italy, showcasing the places that locals love and giving insights into the rich cultural history of cities and towns. It's not surprising that Milan, the fashion capital of Italy and home to many culinary delights, would capture De Laurentiis' eye. As she has highlighted on her TikTok, this vibrant city doesn't just boast grand architecture and the oldest Prada store in the world. It's also the birthplace of the negroni.
Milan's culinary charm lies in its bylanes, where family-run eateries present an array of local dishes from costoletta to panettone. Just a few blocks from the iconic Duomo are several quaint, yet affordably priced sandwicheries featuring local prosciuttos, hams, and melt-in-your-mouth cheeses. Nestled in some of the residential districts you'll find some of Milan's best osterias. The city seamlessly marries its rich history with a plateful of heartwarming flavors.
Las Vegas, Nevada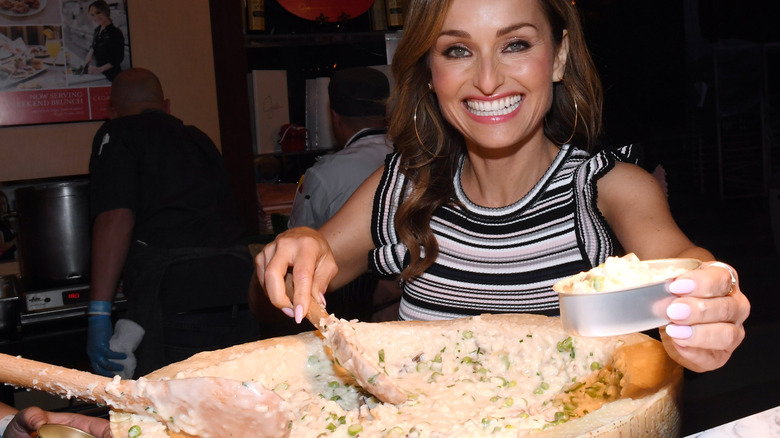 Ethan Miller/Getty Images
Las Vegas is not just another spot on Giada De Laurentiis' culinary map, but a place where she's passionately invested, housing her very own namesake restaurant on the second floor of The Cromwell hotel. But De Laurentiis' frequent jaunts to the strip, whether for restaurant-related events or weekend escapades, attest to her fondness for this desert hotspot. Her interest isn't purely self-serving, though. With its myriad location-themed hotels, visitors can relish diverse culinary experiences, from Parisian pastries to Egyptian delights, ensuring that every meal is not just a feast for the palate, but also a global voyage.
De Laurentiis' restaurant (Giada) is an embodiment of her culinary ethos, presenting patrons with a chance to savor some of her most cherished Italian recipes. But the adventure doesn't stop there. As you step out of her eatery, the Vegas Strip invites you to embark on a global gastronomic journey. Her cacio e pepe bucatini is served in a cheese wheel and is not to be missed if you're visiting the strip.
Abruzzo, Italy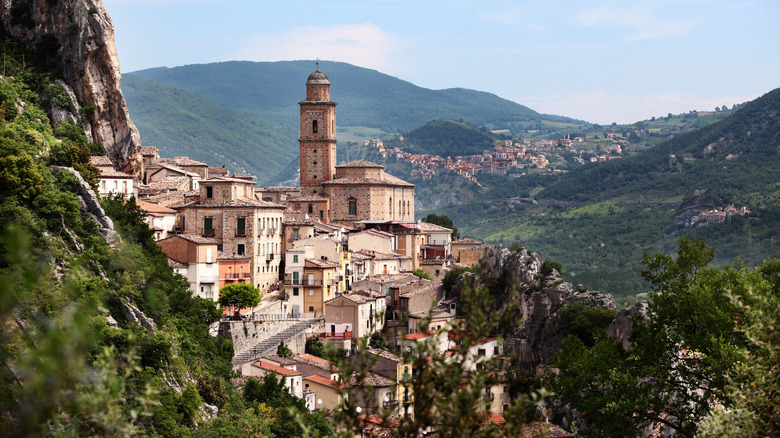 Seraficus/Getty Images
Giada De Laurentiis, with her deep Italian roots, has always celebrated the rich flavors from her homeland. But Abruzzo holds a special charm for her. De Laurentiis has shared this affection for this geographically-diverse Italian town through a comprehensive travel guide on Giadzy, detailing both culinary treasures and captivating tourist spots. It's an under-appreciated locale in the center of Italy, where you can find winter mountaineering in the Apennines just as pleasurable as a stroll on its Mediterranean beach in the summer.
From the shimmering embrace of the sea to the majestic embrace of the mountains and the charming old houses dating back to the medieval era, Abruzzo is filled with visual delights. And what better way to savor these views than with an al fresco dining experience that caters to every scenic preference? After all, it's not just the vistas that capture hearts; it's also the flavors. As De Laurentiis herself proclaims "... the food here [is] distinctly Italian but with a local characteristic all its own," making it a must-visit for every culinary adventurer.
Hong Kong, China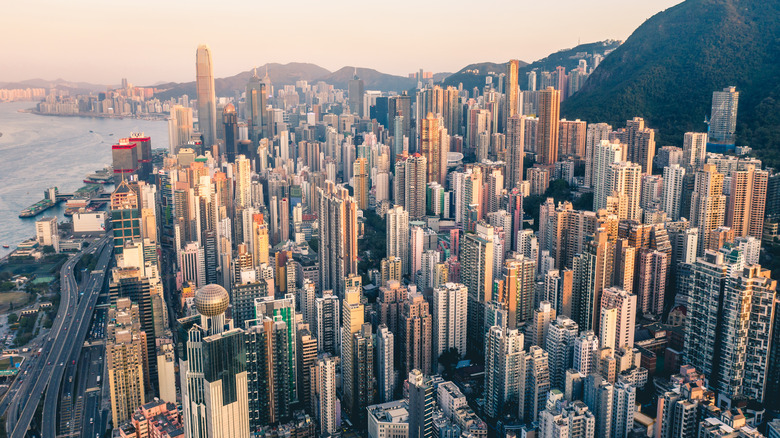 Chunyip Wong/Getty Images
While Giada De Laurentiis is best known for her Italian culinary expertise, her gastronomic passions extend far beyond the European continent. A testament to this is her deep appreciation for the vibrant city of Hong Kong, China. De Laurentiis has a book series for children that takes them on culinary adventures around the world and the third tome is dedicated to this East Asian culinary staple. This bustling metropolis has played muse to one of her episodes of "Giada at Home." Reflecting on a memorable trip she took to the city, De Laurentiis masterfully crafted a menu infused with the heart of Hong Kong. 
She introduced her friends and viewers alike to an enticing array of dishes: from the rich decadence of Chocolate Bao paired with a velvety Chocolate Dipping Sauce to the savory depth of Braised Short Rib Dumplings accentuated with Corn Puree. And who could forget the intriguing fusion of Pear Gorgonzola Gyoza and the delicately flavorful Lemper Ayam? Through De Laurentiis' culinary explorations, Hong Kong emerges not just as a tourist destination that combines history with commerce, but as a treasure trove of flavors waiting to be discovered.
Puglia, Italy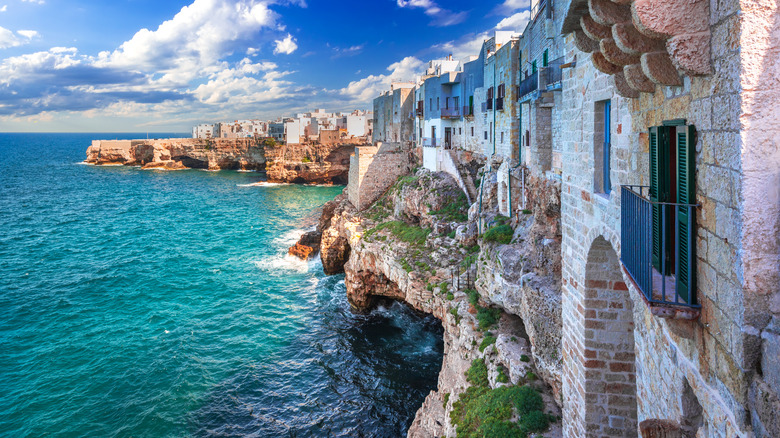 Emicristea/Getty Images
For many, Italy's charm lies in its well-trodden big cities, but for Giada De Laurentiis, the real allure can be found in the lesser-known nooks and crannies of this enchanting nation. One such treasure is Puglia. Puglia might be subtly nestled away from the touristy hustle, yet it overflows with history, culture, and panoramic views that rival any popular destination.
While Puglia's vistas are captivating, its culinary offerings are equally enticing, especially for seafood aficionados. De Laurentiis has professed her love on TikTok and in her Puglia travel guide on Giadzy for the region's fresh fish, singing praises of its unmatched flavor and quality. 
But what truly enhances the Puglian experience for De Laurentiis is a stay in a masseria. This unique architectural marvel — a blend of a sprawling farm and majestic castle — not only offers luxurious lodging but an immersive culinary journey. Visitors have the opportunity to dine within its walls, often savoring produce harvested straight from the estate that they help collect. And for those eager to dive deeper, these establishments often provide hands-on experiences, allowing guests to partake in the preparation of meals, bringing together the farm-to-table concept in the most authentic manner. Through De Laurentiis' eyes, Puglia emerges as a haven for both culinary enthusiasts and those seeking a tranquil yet enriching Italian sojourn.
Los Angeles, California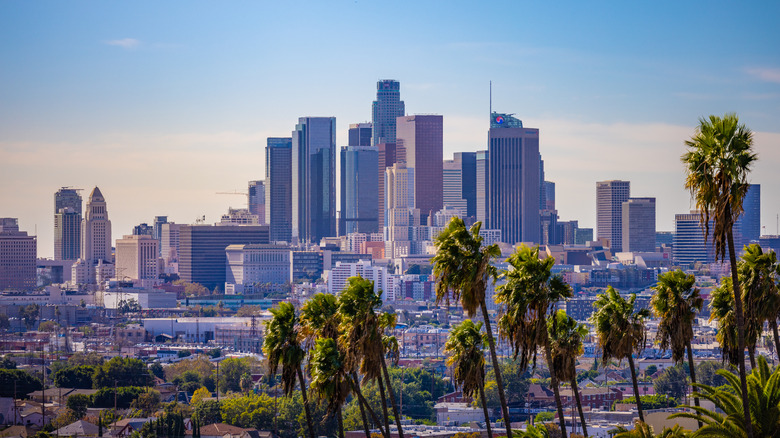 Lpettet/Getty Images
Los Angeles, the sprawling city of dreams, is not just home to Hollywood's glitz and glam, but also to Giada De Laurentiis. Living amidst its palm-lined streets and sun-kissed avenues, De Laurentiis has frequently showcased L.A.'s rich culinary tapestry on her many television shows. Often seen diving into its diverse gastronomic landscape, she takes viewers on a journey through the city's vibrant flavors, one episode at a time.
For De Laurentiis, the real magic of the City of Angels lies not just in its high-end restaurants or celebrity-chef-owned establishments, but its local markets where farmers and butchers bring their fresh, artisanal, and organic goods. These markets are a great way to elevate your culinary experience on a trip to L.A. It's here that she finds her inspiration, often drawn to niche vendors with unique products. 
With each discovery, De Laurentiis celebrates the city's dedication to fresh, homegrown ingredients. But beyond the food, L.A. offers a plethora of experiences imbued with old Hollywood charm. Whether it's a vintage café reminiscent of the Golden Age or an iconic theater echoing tales of yesteryears, the city is a treasure trove for those looking to relish both culinary and cinematic history. Through De Laurentiis' explorations, L.A. emerges not just as an entertainment capital, but as a culinary destination fueled by the creativity of local vendors.
Naples, Italy
Filippobacci/Getty Images
Naples, cradled by the azure waters of the Tyrrhenian Sea, offers more than just picturesque landscapes. Steeped in history, each cobblestone and corner of the city tells tales of bygone eras. But while its ancient ruins and Baroque churches captivate, it's the culinary allure of Naples that often takes center stage and Giada De Laurentiis has taken visitors with her on travels many times. Every local attraction seems to be accompanied by a tantalizing eatery, serving up age-old Neapolitan recipes.
The city's coastal position also serves as a gateway to smaller, enchanting islands, just a boat ride away. These hidden jewels not only offer serene panoramas but also harbor culinary delights unique to their locale, untouched by the overwhelming tourist footprints. Yet, amidst all its diverse offerings, one dish stands out in Naples: pizza. Hailing from Napoli, this iconic dish has seen countless renditions worldwide, but nothing quite compares to savoring it in its birthplace. And for those in search of the authentic Neapolitan pizza experience, De Laurentiis recently went on a pizza crawl of her must-visit pizzerias in Napoli, ensuring every bite transports you to the very soul of the region's culinary traditions.
Bangkok, Thailand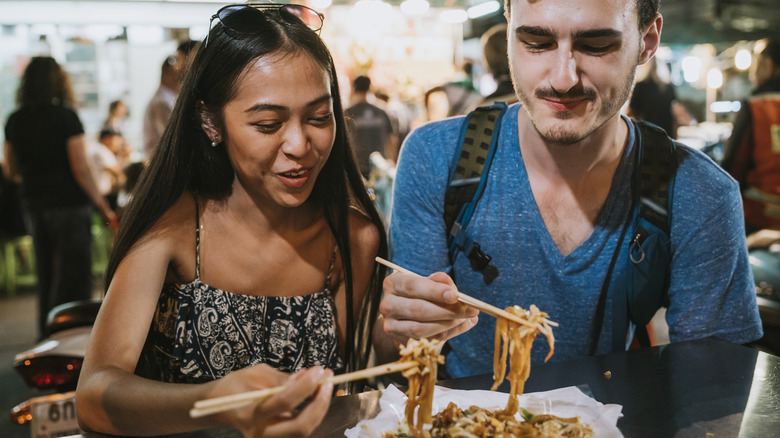 Filippobacci/Getty Images
Bangkok, with its maze of bustling streets and iconic golden temples, is more than just a traveler's paradise; it's a culinary odyssey. The city's vibrancy and eclectic food scene left such an indelible mark on Giada De Laurentiis that she felt compelled to bring its flavors to her home kitchen. On an episode of "Giada at Home," she collaborated with a Thai chef friend, fusing their culinary expertise to recreate and introduce the authentic tastes of Bangkok to her audience.
However, to truly understand Bangkok's culinary prowess, one must dive deep into its myriad food establishments. From aromatic street stalls serving spicy papaya salads to grand riverside restaurants dishing out coconut-rich curries, Bangkok is an ever-evolving food canvas. Among its many gastronomic treasures is the renowned Silom Edge, an eatery that never sleeps, staying open 24 hours to cater to the insatiable appetites of both locals and travelers alike. Through De Laurentiis' experiences and recommendations, Bangkok emerges not just as Thailand's bustling capital but as a gastronomic hub, where every dish is a testament to the city's rich culinary heritage.
Positano, Italy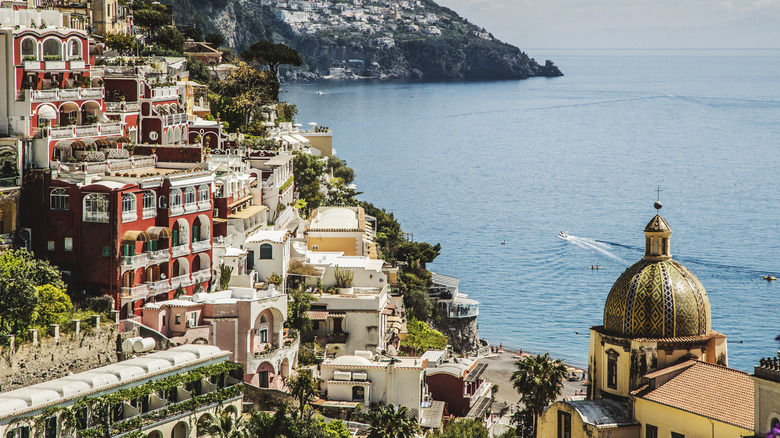 Piola666/Getty Images
Perched on Italy's rugged Amalfi coast, Positano has no shortage of incredible views. Its cascade of pastel-hued buildings, set against the shimmering Mediterranean, makes it a dreamy destination that captures the heart of every traveler. But beyond its undeniable charm and scenic beauty, Positano boasts a culinary talent that's just as mesmerizing, something Giada De Laurentiis can ardently vouch for.
Like many coastal gems, Positano's cuisine is deeply influenced by the treasures of the sea. De Laurentiis, with her discerning palate, sings praises for the city's seafood offerings. From sun-kissed terraces serving freshly-caught octopus salads to quaint trattorias dishing out pasta cloaked in rich seafood sauces, Positano promises a gastronomic voyage that's as enchanting as its vistas. And for those eager to experience the city beyond its eateries, De Laurentiis has a unique suggestion: touring by kayak! Paddling through the azure waters, one gets an unparalleled view of Positano's cliff-clad beauty, making the journey a delightful blend of adventure and aesthetics. Through De Laurentiis' lens, Positano isn't just another Italian city, but a vibrant canvas where art, adventure, and appetizing flavors converge.
New Orleans, Louisiana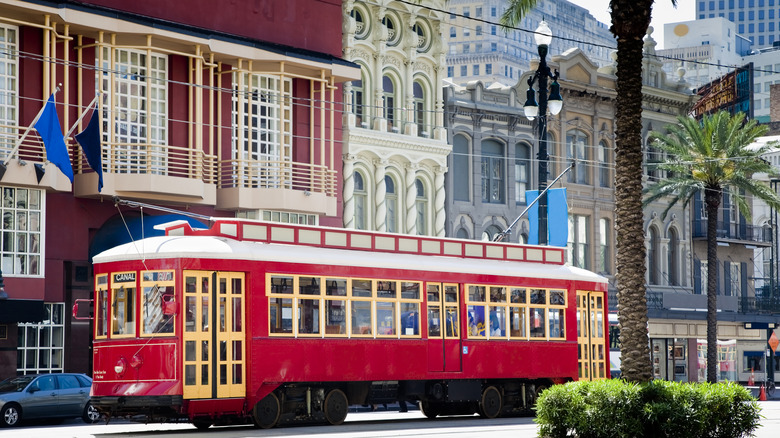 Drnadig/Getty Images
The vibrant streets of New Orleans resonate with melodies of jazz, the allure of Mardi Gras, and an unmistakable Southern charm. Giada De Laurentiis, with her unwavering love for diverse cuisines, couldn't resist the magnetic pull of this city's gastronomic treasures. Though known for her affinity for Italian flavors, De Laurentiis' palate also finds solace in the hearty and soulful dishes that the Big Easy has to offer on an episode of "Giada's Weekend Getaways."
New Orleans, with its deep-rooted history and cultural mosaic, serves up an eclectic food scene. The city's culinary landscape is heavily influenced by its French heritage, lending a unique sophistication to its Southern dishes. Be it the flaky layers of a freshly-baked beignet or the rich depths of a gumbo, there's an undeniable French touch that sets New Orleans apart. But beyond the food, the city offers an abundance of experiences, from trawling antique shops in the French Quarter to dancing the night away in Bourbon Street jazz clubs. De Laurentiis' appreciation for New Orleans cements its place as not just a destination of cultural richness but also a gastronomic haven where the South meets French sophistication in the most delightful manner.
Rome, Italy
Sean Pavone/Shutterstock
Rome's cobblestone streets and iconic landmarks set the backdrop for a vibrant culinary scene of osterias and family-run restaurants. Giada De Laurentiis, through her platform Giadzy, has been offering sneak peeks into Rome's gastronomic treasures.
It's not just about the traditional pasta dishes or robust wines that Rome is celebrated for. De Laurentiis, with her discerning tastes, highlights the subtler delights of Roman cuisine. Her ventures lead you to the creamiest gelato, where every scoop tells a story of artisanal mastery. And as the Roman day transitions into a balmy evening, De Laurentiis has a recommendation that promises both a visual and sensory treat: Cielo Terrace. This rooftop bar offers an immersive experience, blending panoramic views of Rome's skyline with exquisite cocktails.
For De Laurentiis, Rome isn't just for exploring, but also experiencing. She shares with her audience the flavors, aromas, and hidden gems that only a seasoned traveler and culinary expert could unveil. It wouldn't be surprising that even repeat visitors feel like they haven't really seen the city until they go back and experience it through her eyes.
Florence, Italy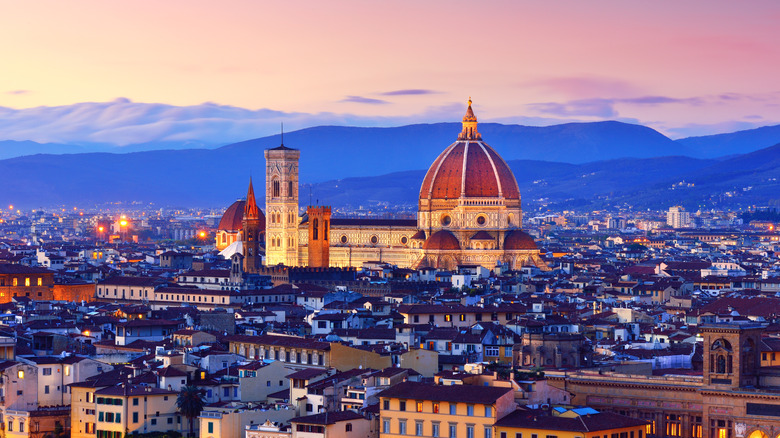 Zorazhuang/Getty Images
Florence is the birthplace of the Renaissance. As one stands in the shadow of the grand Duomo or walks across the Ponte Vecchio, the cultural richness is palpable Florence beckons with a culinary promise that's equally compelling. As soon as you step out of the train station, options for dining and gelaterias are endless, underscoring the city's culinary mastery.
Giada De Laurentiis has been diving deep into Florentine flavors as of late on her platform, Giadzy. Notably, Florence's love affair with gelato, the luscious Italian ice cream, has caught De Laurentiis' attention and she's shared several recommendations in her Florence travel guide. The city is dotted with numerous gelaterias, each claiming a legacy of flavors and textures. Through her discerning lens, De Laurentiis is set to reveal a curated roundup of the best, ensuring that one's taste of Florence is as authentic as it is delightful. The Il Santino bar and market is a great place to pick up a quick culinary souvenir for fellow food-loving friends and family.