10 Places To Eat Incredibly Well In Florence, Italy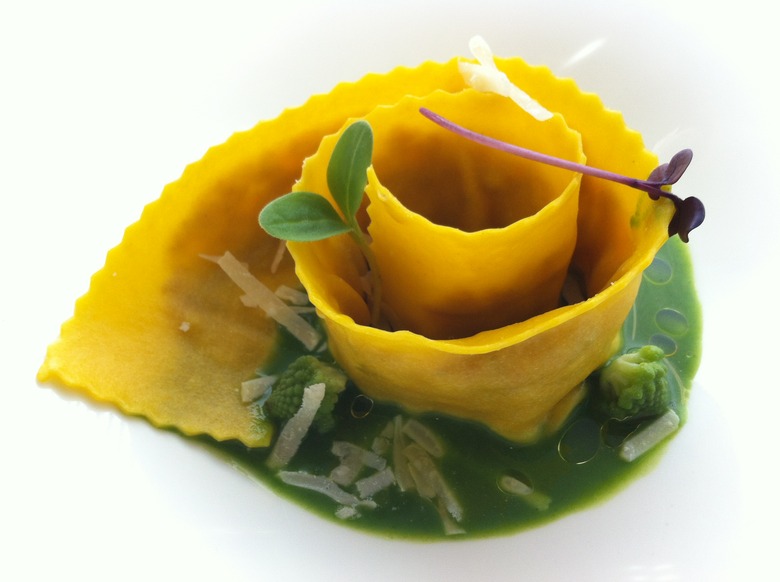 Pappardelle ripiena di coniglio affumicato (pasta stuffed with smoked rabbit) at Florence's Ora d'Ari
There are so many reasons to visit Florence: the art, the food, the leather goods. This beautiful Italian city is the birthplace of the Renaissance, as well as the capital of Italy's fabled and oft-fantasized-about region of Tuscany. The Arno River flows through the city's center, dividing the northern side, home to the historic center, from the southern Oltrarno quarter, a name that translates to "other side of the Arno." While only about one tenth the size of Rome, Florence attracts up to the same number of visitors as the Eternal City — some 10 million annually — so when it comes to dining, the smaller confines can pose a challenge when trying to discern the diamonds in the tourist-trap rough.
Florence's rustic cuisine has humble origins that date as far back as the Etruscans, an ancient civilization after whom Tuscany was named. Although pasta is said to have originated in China, the Etruscans blended certain ancient grains to create a spaghetti-like concoction of their own. Among the typical Florentine pastas is pappardelle, often served al cinghiale (wild boar sauce) or sulla lepre (rabbit sauce).
The large, thick-crusted loaf of pane toscano (unsalted bread) dates back to the 12th century, a result of Pisa cutting off salt supplies from its neighboring city-states; the Florentines went ahead and made their bread without it. Love it or hate it, saltless bread is rarely consumed on its own; individual slices are often grilled and topped with a drizzle of Tuscan olive oil, smeared garlic and salt. Leftover unsalted bread characterizes many traditional recipes such as panzanella (cold unsalted bread salad with tomatoes, basil, onions, olive oil, vinegar and salt) and pappa al pomodoro (a tomato soup of sorts made with stale unsalted bread, olive oil, garlic and basil). Crostini feature prominently, often topped with gota (a Tuscan pig's cheek salume), lardo from nearby Colonnata or chicken liver pâté.
Cannellini beans became a staple of the Florentine diet during the Renaissance, having earned Florentines the moniker mangiafagioli (bean eaters) among their compatriots. Recipes vary for ribollita, but all incarnations of this traditional leftover vegetable soup include bread and white beans. Bistecca alla fiorentina, the most Florentine secondo of them all, is a Chianina cattle T-bone steak cooked over charcoal, which makes for a roasted exterior with a tenderly rare inside. Lampredotto, the cow's fourth and final stomach, is Florence's most prominent offal, appearing in various preparations from paninis to pastas to stews.
Where to find all these great eats? Here, in no particular order, are ten of our favorite restaurants in Florence: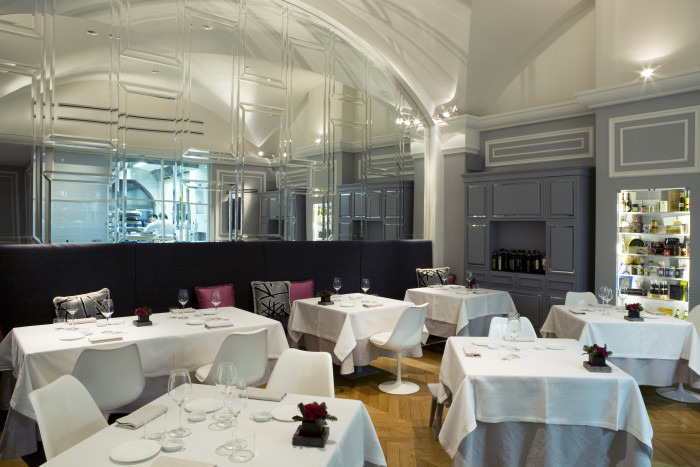 Florence's Ora d'Aria gets its name from a local prison, but the design is a lot more comfortable than your typical penitentiary. (Photo courtesy of Ora d'Aria.)
Ora d'Aria
The name of this one-Michelin-star fine-dining establishment means "hour of air," a nod to inmates' daily reprieve at a former prison near the restaurant's original location. The clean, modern decor has an elegant but nonfussy "feels like home" vibe. Chef Marco Stabile's menu showcases his native Tuscany with a twist through whimsical, elevated takes on the flavors and traditions of his upbringing. Pappardelle ribbons are rolled up like a flower and stuffed with smoked rabbit, while a dish called "the egg, eggs and the hen" is an homage to his Tuscan nonna in the form of a savory soup made with poached eggs, hen meat and broth, bread, chicken liver pâté and caviar. Via dei Georgofili 11R, +39 055 200 16 99; oradariaristorante.com
Osteria Tripperia Il Magazzino
Offal enthusiasts can nosh on a genuine taste of the Florentine fifth quarter at Luca Cai's Il Magazzino, an unpretentious osteria located in a quiet, nondescript Oltrarno piazza. Lampredotto comprises a starter of light, delicate meatballs and also fills robust ravioli that are topped with an onion sauce. Cai's other specialties include tripe "sushi" or "alla fiorentina" accompanied by cannellini beans as well as Fegatino Rocher, chicken liver balls that resemble Rocher candy. Less adventurous eaters may opt for linguine in Tuscan kale pesto or the bistecca. Piazza della Passera 2-3,+ 39 055 215969
Trattoria da Burde
Giuliano and Mario Gori opened Trattoria da Burde in 1901, and today, the fourth generation runs the show: Chef Paolo does the cooking, while the affable sommelier, Andrea, takes care of the pouring and pairing. For more than a century, da Burde has been serving a true taste of Tuscany with typical fare that includes ribollita, minestrone with farro and beans, pasta e fagioli, carabaccia (onion soup), baccalà alla fiorentina, assorted crostini, hearty meats such as whole pig, bistecca and more. Da Burde is outside of the Historic Center but easily reachable within a 15-minute taxi ride. Via Pistoiese, 154; +39 055 317206; burde.it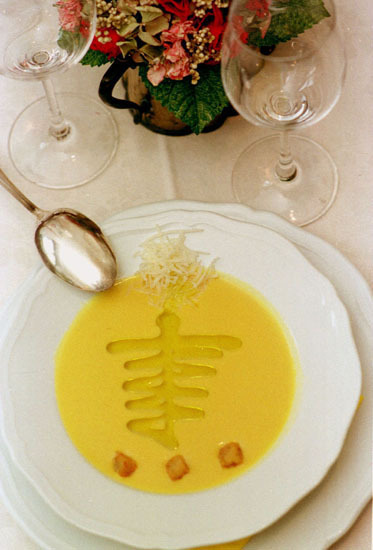 Fabio Picchi's passato di peperoni gialli at Cibrèo. (Photo courtesy of Cibrèo.)
Fabio Picchi's Mini Empire
If the Sant'Ambrogio neighborhood had a mayor, chef Fabio Picchi would be the guy. His fine-dining restaurant Cibrèo and its offshoot, Trattoria Cibrèo, both rightfully hold a slot in the canon of contemporary Florentine food culture. Cibrèo is known for inventive takes on classic cuisine, while the nearby walk-in-only trattoria offers a modified and budget-conscious version of Cibrèo's menu. Picchi's Teatro del Sale has reinvented Florence's dining culture. Don't be intimidated by the members-only policy; 10 euros grants anyone membership to the Theater of Salt, equal parts eatery, cabaret and gourmet shop. Dinner costs 30 euros for 20 classic Tuscan dishes, all served cafeteria style in an auditorium setting with a vast open kitchen from which the cooks informally announce each course as it's ready. Lampredotto is likely to make at least one appearance. Guests line up à la buffet and help themselves. The queuing can be a little chaotic, but it's well worth it once you have a full plate in front of you. Dinner starts at 7:30 p.m.; showtime is at 9:30 p.m. Picchi's wife, actress and singer Maria Cassi, oversees the entertainment and often performs herself. Teatro del Sale, Via dè Macci, 118, +39 055 200 1492; Cibrèo, Via Andrea del Verrocchio, 8r, + 39 055 234 1100; Trattoria Cibrèo, Via de' Macci, 122r; edizioniteatrodelsalecibreofirenze.it
 iO Osteria Personale
A contemporary bistro in the Oltrarno's San Frediano district, Matteo Fantini's iO Osteria Personale is a refreshing alternative to the city's trattorias. What it lacks in the "old-school" realm, it more than makes up for with innovation. Chef Nicolò Baretti looks to the flavors of his native Tuscany for his menu, while presentation and technique mirror his training at Michelin-star-rated eateries in Spain and Italy, with plates such as a caponata made from crispy eggplant and pepper sorbet, as well as soft, fluffy pillows of potato gnocchi served with mackerel and diced radishes, sprinkled with fennel leaves and finished with four dollops of caviar. You may also opt for four-, five- or six-course tasting menus. Borgo S. Frediano, 167/r, + 39 055 933 1341; io-osteriapersonale.it
Ristorante Pane e Vino Enoteca
A former enoteca with one of the best wine lists in town, brothers Gilberto and Ubaldo Pierazzuoli's Pane e Vino is a local favorite where it's impossible to order wrong. The wooden mezzanine and skylights coupled with the potted palm and floral decor evoke a Copacabana-like vibe. The figurative spotlight shines on the open kitchen, where you can glimpse chef Barbara, wife of Gilberto, and her team hard at work on your dinner. If you're not close enough to sneak a peek, various TV screens broadcast a live feed from the kitchen. The menu showcases the best of Tuscany with influences from other regions. If you're looking to keep local, opt for the fried baccalà with pappa al pomodoro, black cabbage pappardelle with anchovies and bread crumbs or farro minestrone with cloves and cinnamon. Piazza di Cestello, 3R; + 39 055 247 6956; ristorantepaneevino.it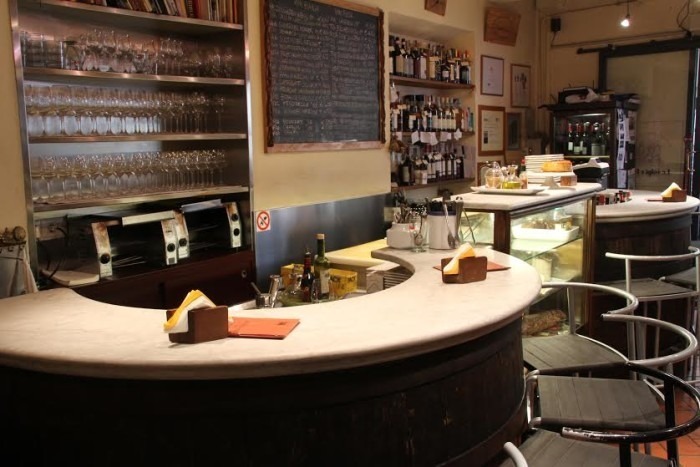 Opened in 1992, Le Volpi e L'Uva redefined the enoteca in Florence. (Photo courtesy of Le Volpi e L'Uva.)
Le Volpi e L'Uva
When winemaker Emilio Monechi opened Le Volpi e L'Uva in 1992, he redefined the enoteca. This intimate yet lively Oltrarno wine bar, located mere steps from the Ponte Vecchio, has perfected the art of the crostoni (large crostini) by serving warm, melted Asiago cheese atop gigantic, crispy slabs of bread, often coupled with a salume such as speck and honey, 'nduja spread or lardo. The wine selection is mostly Italian with some French bottles thrown in for good measure, but if you're in the Tuscan spirit, sip on the Maremma Toscana IGT Viognier '14, Vernaccia di S. Gimignano DOCG '12  or Rosso di Montalcino DOC '13. The place is always crowded during lunch and aperitivo, so take care to arrive early or drop in for a late-afternoon merenda. Piazza de' Rossi 1; +39 055 239 81 32; levolpieluva.com
Buca dell'Orafo
Don't let Buca dell'Orafo's alarmingly close proximity to the Ponte Vecchio fool you. The inviting trattoria sits in the cellar of a 13th-century palazzo and has been a Historic Center mainstay since its opening in 1945. Nowadays, some staunch locals may classify the restaurant as a bit touristy due to its popularity among visitors, but it's not a tourist trap. Giordano Monni's unfussy, straightforward menu of Florentine classics such as pappa al pomodoro and panzanella exudes pure flavor. Don't miss the massively perfect bistecca alla fiorentina, served on a wooden platter for two and roasted on the outside while perfectly tender and pink on the inside. Enjoy the steak with a side of — what else? — cannellini beans prepared two ways. The restaurant's 40 seats are consistently full, so you'd do well to reserve your spot in advance. Via dei Girolami, 28; +39 055 213619; bucadellorafo.com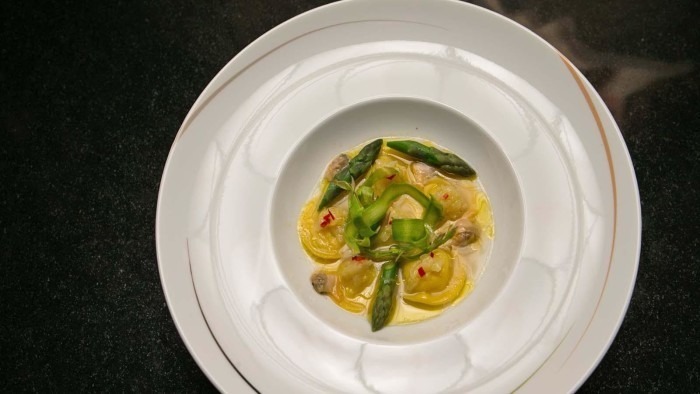 Potato tortelli with friggitelli cream, salicornia, and almonds at Winter Garden by Caino. (Photo courtesy of Winter Garden by Caino.)
Winter Garden by Caino
This one-Michelin-star sanctuary sits on the ground floor of the palatial St. Regis, a converted 14th-century palazzo by renowned Renaissance architect Brunelleschi. Winter Garden is an exclusive collaboration between chef Valeria Piccini — the Madonna of Tuscan cuisine — of the two-Michelin-star restaurant Da Caino in Grosseto and chef Michele Griglio. Here, Griglio adds a modern touch to Piccini's classics, like pappa al pomodoro with shrimp and basil sorbet; Tuscan bean soup with pasta, porcini mushrooms and summer truffle; and Valeria's take on the classic Florentine Zuccotto dessert: a dome-shaped, brandy ice cream cake. Piazza Ognissanti 1, +39 055 2716 3770; restaurantbycainoflorence.com
Enoteca Pinchiorri
In 1979, sommelier Giorgio Pinchiorri and his French wife, chef Annie Féolde, opened Enoteca Pinchiorri. Today, it's one of just eight restaurants in Italy to receive a coveted three-star Michelin rating. Féolde continues to helm the kitchen alongside chefs Italo Bassi and Riccardo Monco. The seasonal tasting menus cost 225 euros for 15 courses or 175 euros for six, each showcasing the bounty of Florence and its surroundings. Expect elegant, refined technique with molecular touches. The ornate dining room recalls a Renaissance garden, complete with artwork and a replica of Michelangelo's David. One of Italy's most wine-centric restaurants, the cellar contains some 4,000 bottles. Oh, and gentlemen: Don't forget your jackets. Via Ghibellina, 87, +39 055 242757; enotecapinchiorri.it