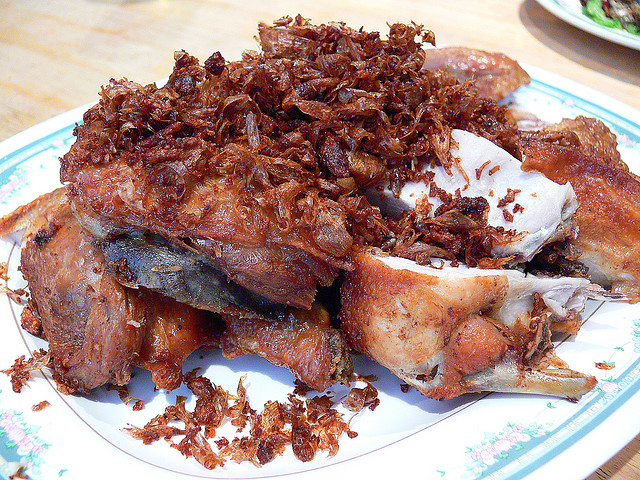 The honeymoon had to wait.
Though my wife and I were married in August, we delayed our post-nuptials escape until late December due to a four-letter word: work. For me, this was like a kid being told Christmas would have to wait till summer. You see, we'd planned to tour Vietnam and Thailand, home to two of my favorite cuisines.
The months sludged by like maple syrup, as I contented myself with subpar curries and steaming bowls of so-so phở. But at long last, December 23 rolled around and we boarded a plane bound for Southeast Asia.
Reports on Hanoi and Chiang Mai (the favorite culinary stomping grounds of Food Republic friend Andy Ricker of Pok Pok fame) will come later. For now, here are six of my favorite spots to stuff your face in Bangkok.
Thip Samai
Sure, pad Thais are a dime a dozen—not far from the standard price for a serving on the street actually—but this late-night eatery elevates the Thai standby to the sublime. Try the noodles cooked in man gung (luxurious fat harvested from shrimp heads) or a version delicately swaddled, like a newborn, in an egg blanket. Oh, and the orange juice is excellent too. 313 Mahachai Road, Phra Nakorn Bangkok, 10200
Polo Fried Chicken
While the fiery papaya salads are excellent, the star at this bustling, low-frills restaurant outfitted with vinyl floors is kài thâwt—that is, fried chicken. Fat pieces of fowl are brined and blasted with black pepper, then fried till crackling crisp. The meat is moist and barely greasy, but I dream of the topping: mounds of crunchy, compulsively edible deep-fried garlic. 137/1-3 Soi Polo, Wireless Road, Lumpini, Bangkok
May Kaidee's
Since man can't live on animals alone, we spent one lunch at the Tanao Road location of this flesh-free chainlet. (There are three locations in Bangkok and one in Chiang Mai.) We battled over the last custardy bite of haw mok, which is vegetables and red curry steamed in banana leaves, as well as the coriander-blended pumpkin hummus. For dessert, the black sticky rice with coconut milk, mangoes and bananas is bliss by the spoonful. Wat Sam Phraya, Phra Nakhon Bangkok 10200
Soul Food Mahanakorn
In a drinking landscape dominated by Chang and Singha lagers, expat food writer Jarrett Wrisley's Soul Food is a downright oasis thanks to its focus on potent, well-calibrated, Asian-inspired cocktails like the lemongrass daiquiri and Lycheegrass Collins. To stave off the inevitable inebriation, opt for the egg-topped lamb grapow flavored with holy basil, garlic and chilies, or sticky tamarind ribs served with caramelized pineapple chutney. 56/10 Sukhumvit Soi 55 (Soi Thong Lor), Bangkok, Thailand, 10110
Nahm
Following the success of his modern-Thai restaurant Nahm in London, chef David Thompson opened a second branch of his Michelin-starred restaurant in Bangkok's swank Metropolitan Hotel. Though pricey by Bangkok standards, it's worth the splurge to order the family-style set menu. Quail eggs crowned with pickled green chilies sit atop a puffy pork crackling.
Palm sugar–simmered minced pork, prawns and chicken are united with crunchy peanuts and deep-fried shallots, then served atop pineapple. Grilled prawns and pomelo are wrapped in betel leaves. Crab is combined with egg and snake gourd in a clear soup flavored with pepper and coriander. Go and be shocked from your Massaman-curry malaise. Metropolitan Bangkok, 27, South Sathon Rd., Thung Maha Mek, Sathon, Bangkok 10120
Chote Chitr
For nearly a century, this five-table, family-run restaurant has cranked out recipes devised by the Thai royal courts. But that's only part of Chote Chitr's charm. It's run by surly-sweet matriarch Tim Krachoichuli, whose tiny dog dashes willy-nilly through the dining room, which is decorated with little more than press clippings touting her cooking prowess. And for good reason: We loved the elegant banana-flower salad composed of shrimp, chicken and flowers coated in coconut milk spiked with lemon juice and chiles, as well as the plate-dwarfing river prawns and pork cutlets bathed in turmeric-infused yellow curry. 146 Prang Pu Thorn, Tanao Rd, Bangkok 10200