How To Host A Dinner Party In A Closet-Sized Apartment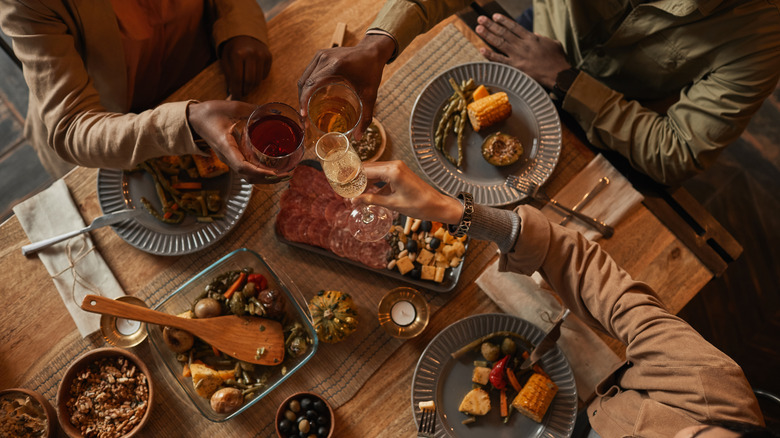 Seventyfour/Getty Images
Whether you live in a modest one-bedroom, a tiny studio, or an actual closet-sized apartment (looking at you, New York), don't let the size of your living space stop you from hosting that dinner party you've been wanting to throw ever since you moved in.
If you find yourself always the guest and never the host, afraid to venture into that role because you think your apartment will be too cramped or limited, think again. It may take a little extra planning and strategy, but you can still be the ultimate dinner party host. And your dinner party can be something that those hosted at big, spacious homes aren't: intimate.
Embrace and lean into that intimacy, and chances are your guests will enjoy themselves just as much as they do anywhere else. It's time to send out the invitations (or text messages) and successfully pull off a perfectly pleasant, irresistibly intimate dinner party at your place.
Define your dinner party style
Goodboy Picture Company/Getty Images
Arguably, the most important factor in hosting a dinner party in a small space is deciding what kind of dinner party it will be. Before you do anything else, define your dinner party style. Is it a sit-down dinner, where everyone is seated at the table together, or is it a float-around dinner, where people mostly bounce around and enjoy buffet-style eats or small bites?
Consider what type of dinner party you want to host, and what your home is best suited for. Picking a lane — whether it's sit-down or float-around — will essentially guide your decisions on everything else: the number of people to invite, the timing of the party, the arrangement of furniture, plating choices, and the menu.
Allow for flexible timing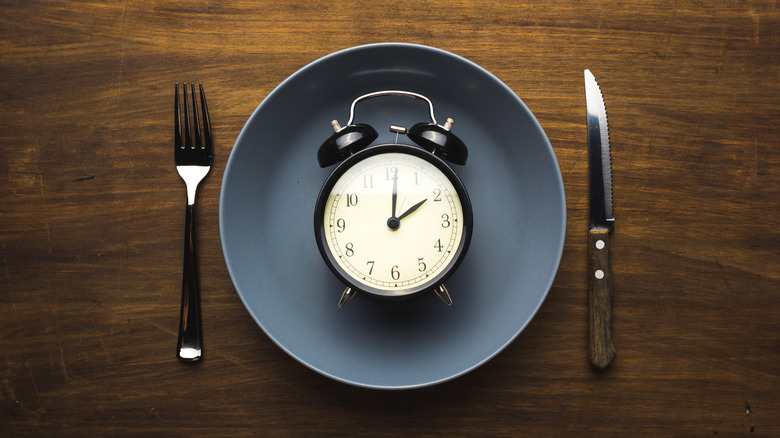 Nehopelon/Getty Images
Once you've determined the type of dinner party you're hosting, timing will be crucial, especially in a tiny apartment. The more time and flexibility you allow yourself, the better. If you're choosing to host a sit-down meal, inform guests that there will be a cocktail hour or mingling time before dinner. This approach ensures they won't show up expecting dinner right away, and provides you with a potential buffer if you're running behind in the kitchen.
If you're opting for a more casual, grab-a-plate-and-sit-wherever affair, consider establishing an open house-inspired gathering. By giving your guests a window of time in which they can come and go as they please, attendance will likely be more staggered, reducing the chance of overcrowding. This can be especially helpful if you're concerned about seating, or if you want to invite more guests than you think your space can comfortably accommodate.
Rearrange the furniture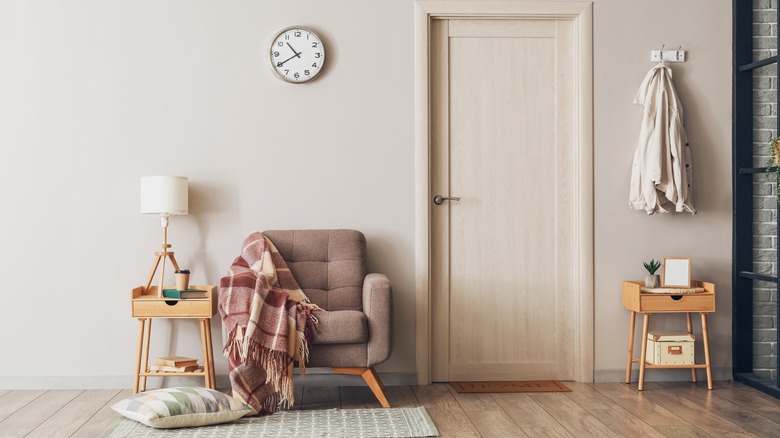 Pixel-Shot/Shutterstock
Don't be afraid to do some redecorating; a little can go a long way. Even if you have a tiny living area, chances are you can rearrange your furniture in some way to make room for a table, or to allow for more standing space and seating.
You may have to put a little muscle into it, but consider how you can change up your layout to open up the space. Perhaps you have pieces, like a bookshelf or side table, that can be temporarily moved to another room. Try to stash away whatever you can from the main party area, whether it's general clutter, decor, or exercise equipment. By thoughtfully reorganizing your space, you can create a more inviting and comfortable environment for your guests, regardless of the size of your apartment.
Choose the menu wisely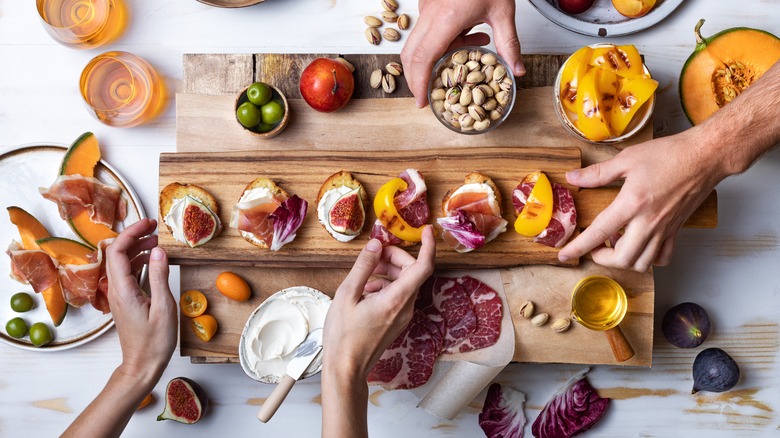 zarzamora/Shutterstock
Time for the fun part: the food. Your menu choices should be strategic, reflecting the type of dinner party you're hosting.
If you're planning a sit-down meal, you'll have plenty of options — but remember that in a small apartment, the less dishes, clutter, and mess, the better. Keep it simple. Stick to classic dishes you already know well. Better yet, consider options that can be made in large batches, on a sheet pan, or in a one-pot meal. These choices save both space and work, yet can still be served or plated however you please.
For a float-around dinner party, where guests might be walking around, sitting on couches, or standing while eating with one hand, plan your menu around foods that are easy to eat. Think bite-sized appetizers, sandwiches, and other hand-held or finger foods. A useful guideline to remember is: The more guests you have, the smaller the plates they need to carry should be.
Plan, prep, and cook ahead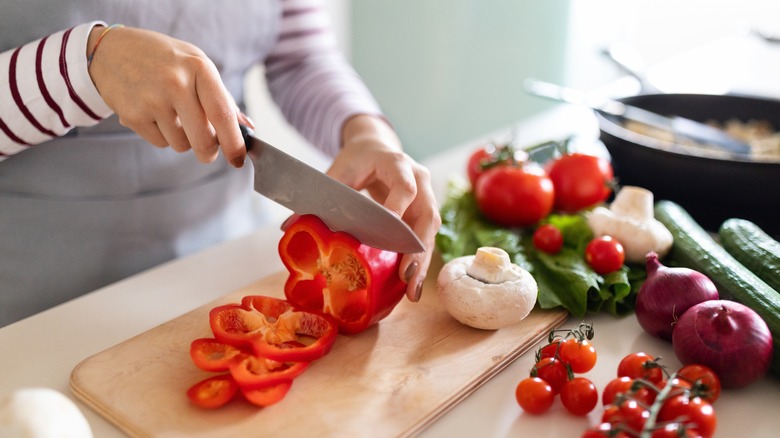 Prostock-studio/Shutterstock
Planning ahead is key, and part of that involves intentionally choosing meals that can be easily prepped or made in advance. The goal for any host is to eliminate as much work, hassle, and stress as possible during the actual event, but this is especially important when working with a small kitchen. You'll be limited not only by cooking space, but also by the likelihood that the kitchen will become a main gathering spot during the party.
No matter what you're serving, whether it's a one-pot meal, a multi-course spread, or finger foods, strive to do as much planning and prep as possible before the dinner begins. Opt for recipes that allow you to get a head start, so that you only need to add finishing touches before the party. In the best case scenario, choose something that can be made entirely in advance and served at room temperature or simply reheated.
Do all your decorating and rearranging the day before, and make sure you have the necessary tools for a stress-free hosting experience. By knocking out as much work as you can before the actual party, you'll create an environment where both you and your guests can actually enjoy the celebration.
Try these make-ahead dinner party recipes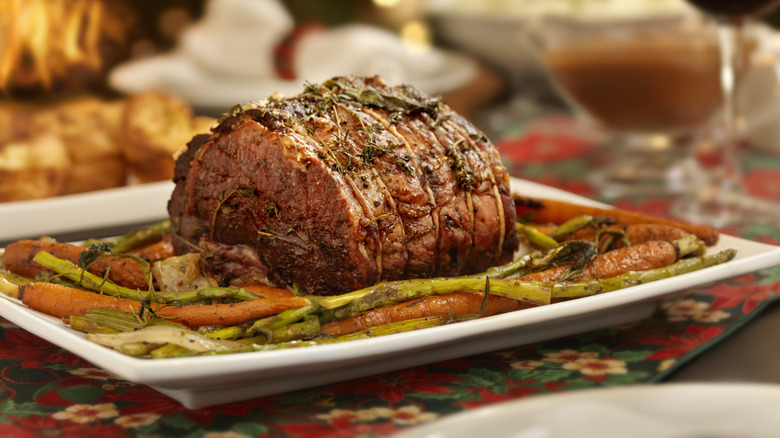 Lauripatterson/Getty Images
Need some ideas for make-ahead crowd pleasers that you can serve at your next dinner party? For sit-down dinners, a roast is always easy to prepare in advance. Beef tenderloin, pork shoulder, or a whole chicken — they can all be seasoned and prepped the night before, and all you need to do on the day is stick them in the oven. Alternatively, you could opt for other meals that can be made in one dish or pot, such as lasagna, baked ziti, chicken pot pie, or beef stew.
As for small plates and finger foods, you can prepare these dishes in advance and serve them accordingly. For example, you could make your favorite soup ahead of time and serve it in shooters, or prepare a rack of ribs and cut them up. You might also consider something that can easily be cut into small bites, like a galette or homemade focaccia. Appetizers like dips, antipasto skewers, meatballs, and dumplings are all great candidates for make-ahead options.
Strategically place the food and drinks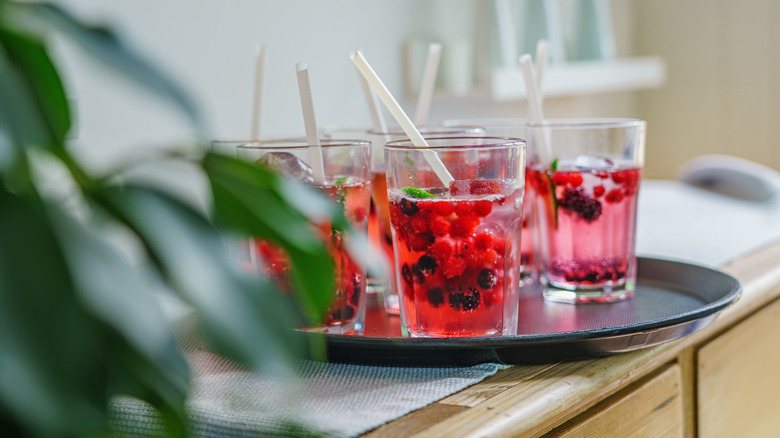 Fotografielink/Getty Images
Once all that good stuff is whipped up and ready to serve, be strategic about where you set everything out. Especially in a small space, you don't want everyone congregating in one area at the same time.
If you're setting out food, place it in a separate area from the drinks to space out where people gather. You can even spread serving plates and bowls full of food in various spots around the apartment for people to pick at as they mingle, which will help control the foot traffic a bit. If you're planning a sit-down meal, consider doing it buffet-style to save room and clear up the table.
Get creative with your serving areas, too. No space for a bar or a bunch of ice? Throw it in the bathtub and keep your drinks in there!
Be resourceful with tables and seating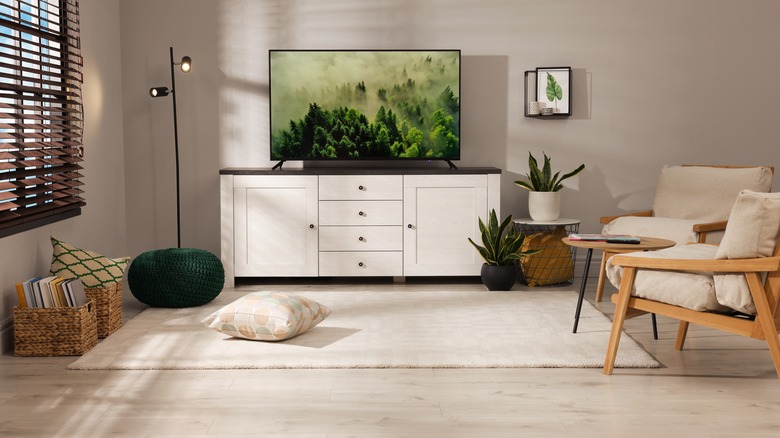 New Africa/Shutterstock
When it comes to where your guests will sit and eat, think outside the box. If your goal is to create table space for a sit-down dinner, get your hands on some folding tables or borrow what you can from neighbors and friends. Once you've rearranged, consider combining several tables to make one long table that will fit the length of your apartment. It might look a bit hodge-podgy, but it'll fit right in with that charming, intimate vibe you're going for.
If it's surfaces and seating you're after for guests who are roaming around all night, be resourceful by turning other things you own into seats. Footstools and ottomans, benches, and big pillows will all do the job — don't be afraid to mix and match. Also, clear off any side tables, nightstands, or other surfaces around your living area or kitchen so that people can perch wherever they like and enjoy a bite.