26 Tips To Be The Ultimate Dinner Party Host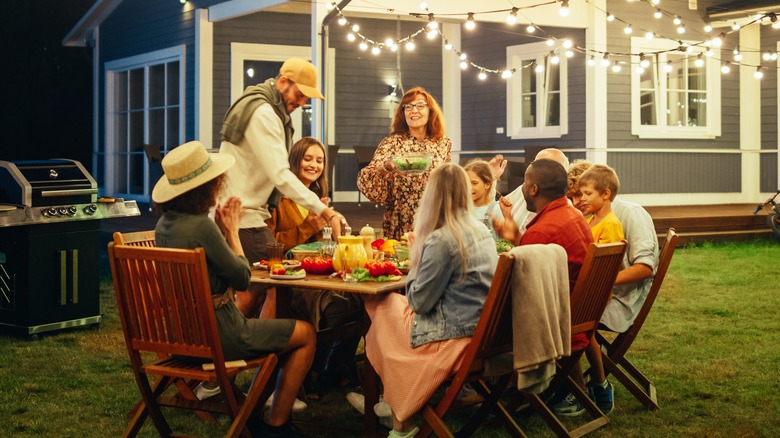 Gorodenkoff/Shutterstock
A dinner party is an excellent way to get together, eat amazing food, catch up, create new connections, and enjoy the evening with people that matter. And it's for these reasons that it's incredibly difficult to pull off a dinner party that leaves everyone satisfied. The bits and pieces involved in ensuring everything turns out well can be overwhelming.
From the food to the music, décor to drinks — and even the goodbyes — things can become laborious pretty fast. But it doesn't have to be if you've dissected the whole affair in advance, determined exactly what you want to achieve, and prepared for it in good time.
Thus, to help you navigate the murky waters of organizing a dinner party, we've compiled 26 tips to level up your dinner party hosting game.
Have a to-do list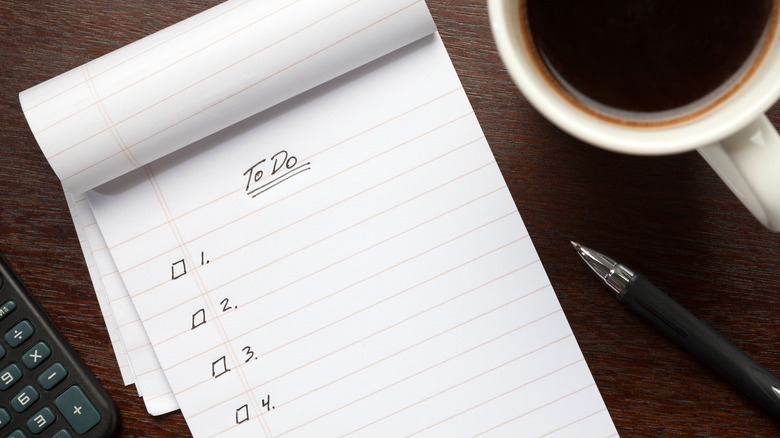 Ryasick/Getty Images
We can't emphasize having a to-do list enough. From when you decide to host a dinner party to the very end when you bid your guests goodbye, have somewhere to write stuff you should do but are most likely to forget. During preparation, things like dietary restrictions, guests you need to respond to, or a call you need to make to a vendor will most likely escape your mind if not written on paper or scheduled as a reminder in your phone. During the party, people to thank, those you want to greet by name, or even jokes to refer to may completely vanish from your mind.
Hence, every time something about the party pops into your mind, note it down. That's the only way to cover everything. A to-do list will also help you follow up on where you are with the preparation. It's a checklist where you tick every item that's complete and refer to what you should do next.
Define the reason for hosting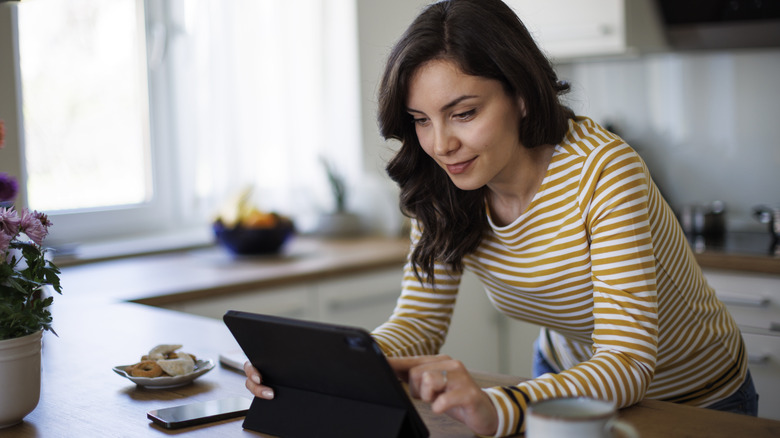 Damircudic/Getty Images
The first thing you should consider is the intention of your dinner party. Why exactly are you hosting? On the surface, the reason may seem obvious, like wanting to be social and, of course, having a good time. But dig beneath this façade for the main purpose — keep asking, "Why?" until you reach the main reason. Instead of something like having fun, you may arrive at all kinds of valid fulfilling reasons. For example, gaining support for your upcoming book launch, new job announcement, a big move, etc.
A clear purpose sets the stage for planning the party. It will help weave the elements crucial for a successful get-together. For instance, the goal will help you decide on the guest list, theme, entertainment, the event flow, and, generally, how you'd like the evening to unfold for your guests. Ideally, your intention will be a guiding post for the amount of guests you invite, who they are, style of food and drink, your personal expectations, and how you want everyone to feel in your home. 
Scout the internet for theme inspirations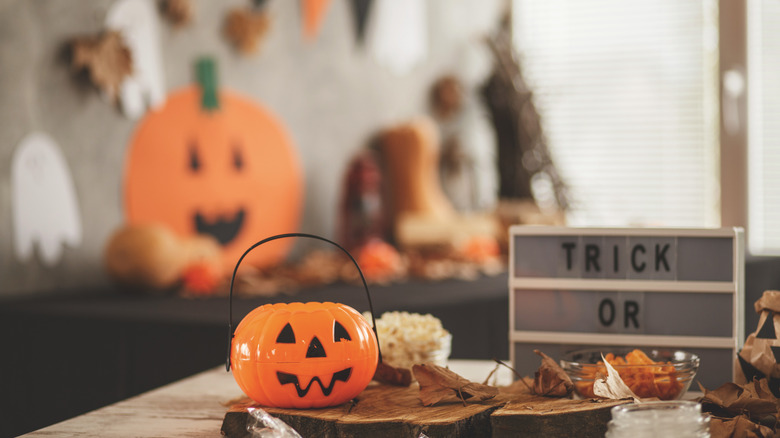 Fotostorm/Getty Images
Setting the tone by choosing a theme that resonates with your goal will definitely help you become an ultimate dinner party host. For starters, you want to consider whether you are hosting a casual gathering, business meet-up, colleague's achievement, birthday, baby shower, reunion, and so forth. Next, will the party be kid friendly? Determine the atmosphere you want to create: calm, lively, energetic, whimsical, moody and scary (a Halloween dinner party, for example).
A theme doesn't have to be complex. You can settle for a fancy dress-up party, toga party, all-gold party, or even a red-carpet Hollywood awards dinner party — you could even hand out mini-Oscars. Important to note is that the theme is the foundation of the dinner party. It determines the food, decorations, colors, music, and invitation designs. You'll choose wisely if you take your time — and that is the nature of being an excellent dinner party host.
Select guests carefully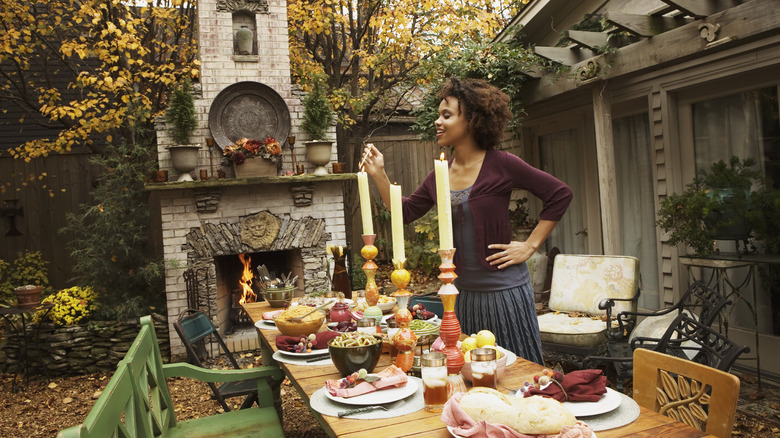 Jupiterimages/Getty Images
A one size fits all dinner party is a recipe for failure. You only want to choose people who fit the profile of the party's purpose and blend well with each other. Further, consider the space and the budget before you settle on the number of guests.
Once you've decided on these, it's time to select the non-negotiable guests. These are people you feel obligated to invite or the must-attend individuals without whom the party will be incomplete. Once you have their numbers, you can add other guests. Our advice: Be tactful when inviting guests. Take care of any conflicting parties beforehand to avoid drama during the celebrations.  
As you settle for the final guest list, consider that some guests may come with a plus one, and others may not attend. Depending on the factors we mentioned, you can either encourage your guests to come with a friend or mention that you can only accommodate their attendance. All of these add up to the responsibility of a great dinner party host.
Send out invitations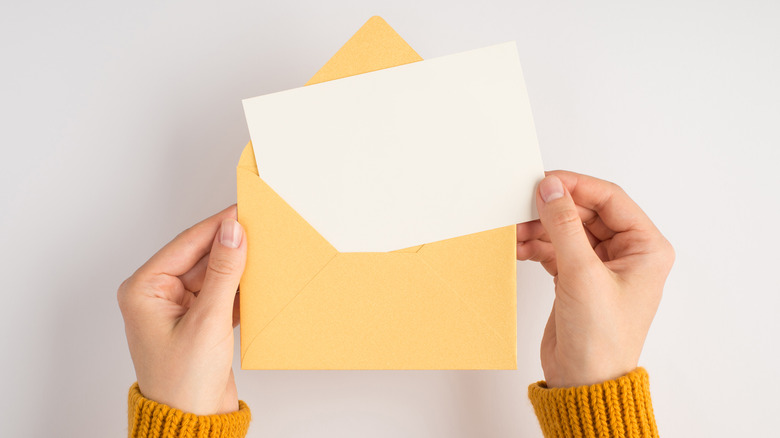 Inspiration GP/Shutterstock
Although convenient, there are better ways to invite people than simply making a call — you might forget some things, and even if you don't, the other person may not remember all the details over the phone. As an alternative, go the traditional way and send invitation cards. You can also email or send an SMS, making it easier to share the details of the party and for your guests to refer to your invitation when responding.
Some key things to highlight in the invitation are the party's purpose, the start and end time, dress code (if any), and anything special that you'll need your guests to bring. You may also inquire about dietary restrictions. And it's a good idea to make it clear in the invitation whether or not kids are allowed. Give timelines for guests to confirm their availability so that you know the numbers and you can plan accordingly. Finally, try to send the invitations three weeks before the party. Sending official electronic or snail mail invites with all the pertinent information will show your potential guests you're organized and on top of the details. 
Plan the menu in advance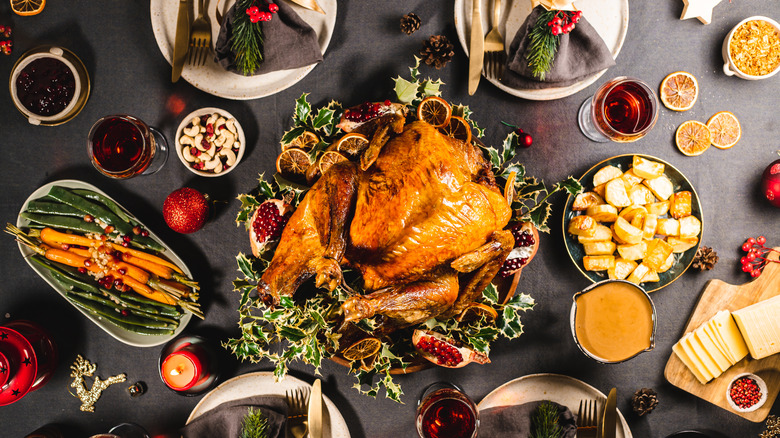 Alvarez/Getty Images
Ensure you've picked out all food and drinks (including appetizers) in plenty of time for the party. Planning the menu will give you a good indication for the number of courses you'll serve — thinking ahead will also help you find alternative options for picky eaters. We know it may be tempting to showcase your cooking prowess by trying a new recipe, but please don't. Stick to the recipes you are familiar with. Venturing into the unknown at this point in time may spiral into a complete disaster.
When picking the menu, settle for dishes that pair well together. Further, choose simple and straightforward recipes. We advise you to create your menu around what's in season. You also want to determine the food's preparation and cooking time so that you plan accordingly. Additionally, we recommend that anything you can prepare ahead of the party, the more relaxed you'll be in the hours leading up to the arrival of your guests. 
Have your grocery shopping list ready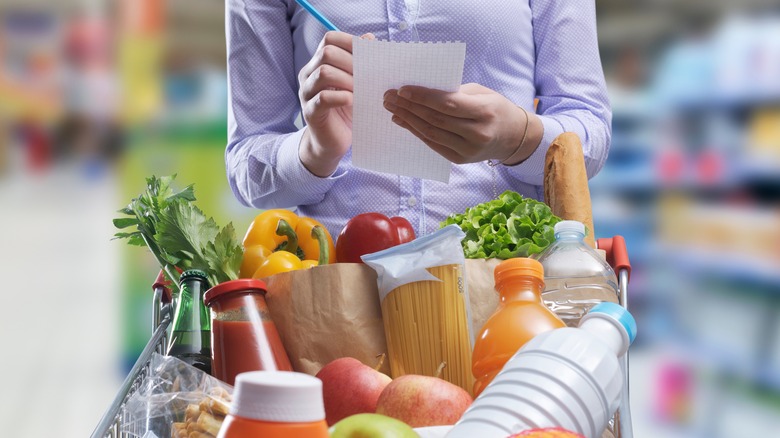 Stokkete/Shutterstock
You don't want to grapple with delivery services halfway through your cooking for an ingredient you assumed was in the pantry only to find out it isn't there. In order to avoid this potential mishap, write a list of all the foodstuffs and ingredients you'll need for each menu. Then, take inventory of what you already have before grocery shopping.
The best way to have a comprehensive shopping list is to pull the ingredients you need from the cooking recipes — there's no way you'll miss anything. With the list, you'll know the ideal shopping places to target. Moreover, a comprehensive list will give you room to order ingredients that are not readily available — in case you have to really hunt for something, planning ahead ensures plenty of time to find it. Ideally, it would help if you shopped two to three days before the party.
Think about décor and get what you need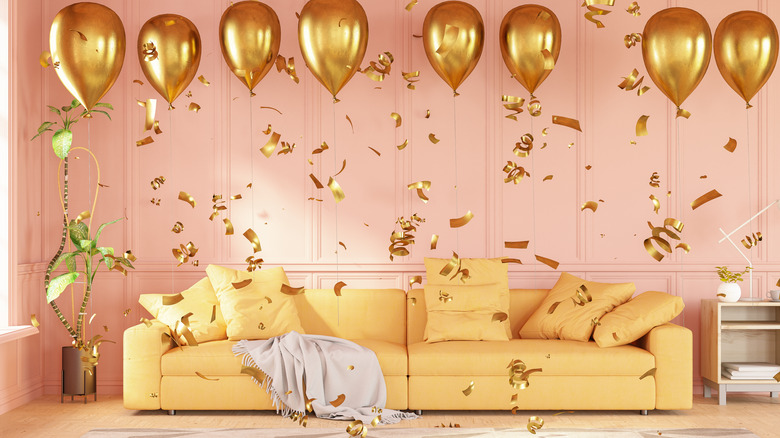 Asbe/Getty Images
What to shop for lies in the party's theme and, of course, your budget. You can keep it simple and only decorate the table with candlesticks and a centerpiece flower. Or get more crafty and add balloons, streamers, and garlands. You could also use lighting and tablescape to make a bold statement. Again, you can play around with stemware and food arrangements to level up your decoration.
So, let the purpose, theme, and atmosphere guide your decisions. Chances are, you want everyone to feel relaxed, happy, and excited — maybe even energetic and surprised. Additionally, is the party formal or casual? These elements will help you decide on the appropriate décor. And if you're challenged committing to one theme or aesthetic over another, there are tons of party decoration sites that can inspire your own creativity — make the most of them.
Outsource services and items you don't have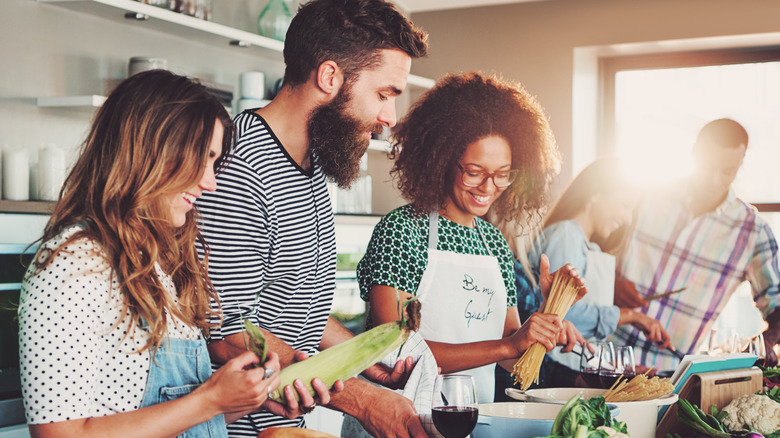 Flamingoimages/Getty Images
Along with enlisting help and delegating certain jobs (because, well, who can do everything on their own!), consider borrowing items you might not have. For instance, decorations might be something you can track down in your friend group. But that would mean two things: One, identify what you can get from those around you. If someone has agreed to lend out materials, have the items at your place a week before the dinner party. Two, think about your capabilities. How much can you accomplish on your own? If you need to outsource a job, it's better to ask way ahead of time. And make sure to enlist someone you can rely on.
Be extra careful with items on loan — you don't want to return something damaged, which could jeopardize your relationship with whoever gave you the item. Lastly, etiquette dictates that you return the borrowed materials as soon as you are done with them.
Know dietary requirements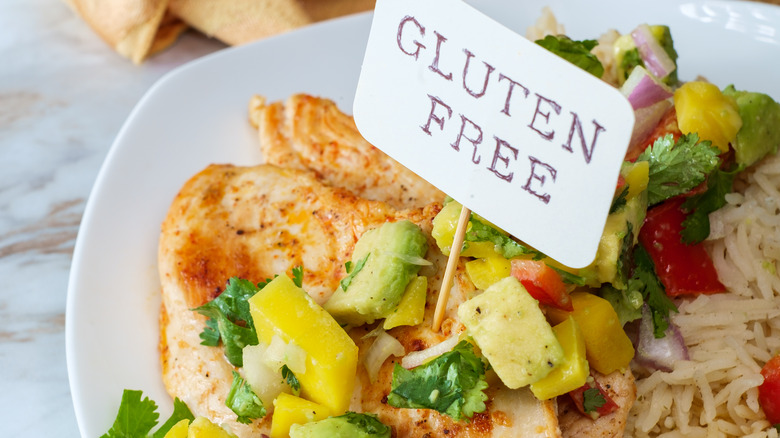 Ezume Images/Shutterstock
Food always takes the lead at a dinner party. But you don't want to labor in the kitchen for hours only to serve your signature recipe and discover some of your guests have dietary restrictions (or food allergies) and can't enjoy your sumptuous delicacies.
So, to avoid such disappointments, make sure all dietary needs are taken care of ahead of time. Ask guests when confirming attendance so that you shop for what's needed — and this way you will determine whether you can pull off scrumptious dishes despite any dietary limitations. The general rule is to prepare dishes catering to different needs: those who have diabetes, are gluten-free, vegetarians, and vegans, which should be equally delicious and satisfying. Strive for a main meal that fits many preferences — and smaller dishes that cater to diet restrictions.
You might opt to order food if all-inclusive courses are challenging to create. Another tip is to go easy on spices and seasonings. Guests can always add salt or pepper to their liking.
Do thorough cleaning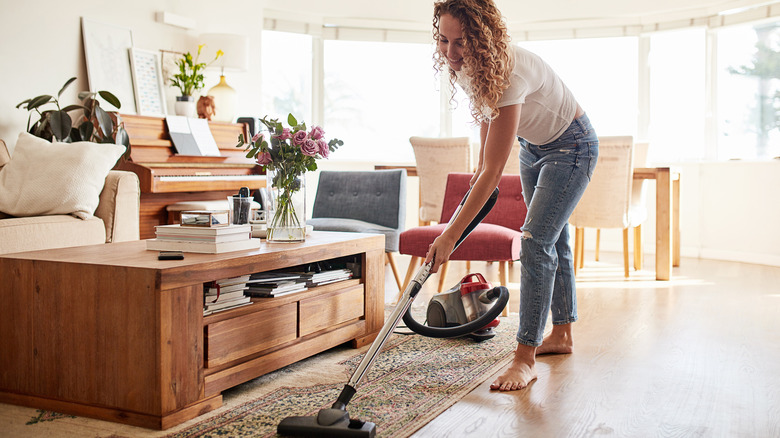 Luminola/Getty Images
It goes without saying that a clean home with a refreshing smell will invite your guests into an environment where they want to spend time. A clean house should definitely be at the top of your list if you want to be an excellent dinner party host — even before adding décor. 
The dining area, bathroom, and kitchen must be sparkling clean prior to guests arriving. Consider deep cleaning to ensure everything is pristine. Go further and stock women's essential items in the bathroom — it's thoughtful and will be appreciated.
While you're at it, aerate the place to draw out any unpleasant odors like strong chemicals used for cleaning. In fact, use a diffuser to emit herbal fragrances using rosemary, lemon balm, or lavender — this will produce a calming, lovely smell your guests will enjoy. Baked goods are also winners when it comes to steeping your house with pleasant aromas.
Create a party flow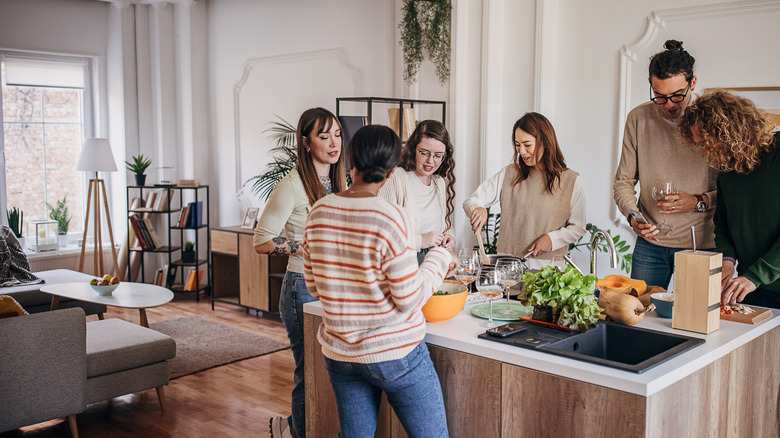 South_agency/Getty Images
A party flow or timeline helps keep the evening organized from arrival to when guests depart. What happens immediately after arrival? At what point is dinner served? What games will be played and when? When will guests leave? You want to plan everything on a timeline to avoid confusion.
Ideally, you should serve refreshments and appetizers when your guests arrive to allow them time to mingle. Dinner should be served within the hour — the exact waiting period depends on how long your dinner party lasts — followed by desserts and drinks before delving into games or any other form of entertainment. An assortment of drinks should be on standby throughout the evening. Speeches, if there are any planned, can take place after the main meal.
Last but not least, relegate cleaning to after the guests have left or the next day. Why? Your guests could take it as a cue to leave when they see you clearing the table or busy washing dishes. Besides, they really do want to hang out with you, so don't disappear to the kitchen for long periods. 
Settle for easy-to-make dishes and start your food prep early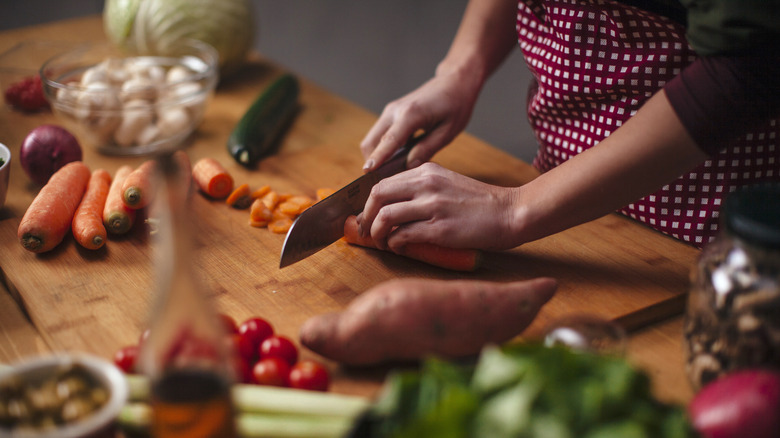 Mihailomilovanovic/Getty Images
You don't want to be buried in the kitchen the whole time guests are around — that is not the sign of a great dinner party host. To evade this awkward scenario, go for foods you are a pro at and have made repeatedly. Also, making foods that can be stored in the fridge early in the morning or evening before the party will lighten your load on D-day.
Appetizers should be ready before guests arrive — so they can snack while waiting for dinner. Further, have canned or bottled drinks chilled, along with all the fixings for a couple standard cocktails (martini and Manhattan come to mind). As for the food, consider how long it takes for a certain dish to be ready, including resting time if coming out of the oven. The best way to ensure dinner is served on time is to calculate the cooking time for foods that will go into the oven and those that require you to be more hands-on. Then, calculate backward from arrival time to know when to start cooking so that you only do final touches when your guests arrive.
Think of it like this: People want to talk and visit with you as much as they can — the more prepped you are, the more your hosting skills will shine!
Set the table early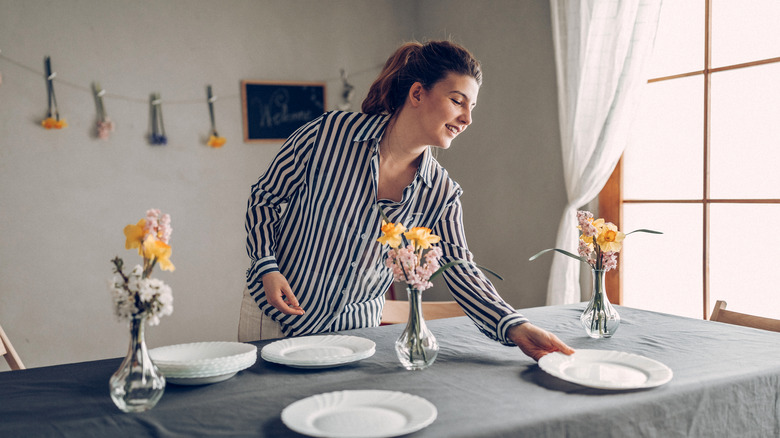 Eclipse_images/Getty Images
Avoid waiting until the last minute to set the table. While this might seem like a simple task, it can quickly become overwhelming if you wait too long and your guests arrive. For one thing, you don't want guests to feel obligated to help — and for another, this is definitely a job that should be completed long before the arrival of your guests. 
Set the table the evening or morning before the dinner party to avoid scuffling through drawers for cutlery and fancy napkins when you should be greeting your guests and being the amazing host you are!  
That means you should have settled for matching tableware, tablecloth, linens, and decor two weeks before the dinner party. We recommend setting the table (with name places if necessary) the evening before the event and the crockeries and cutlery in the morning or a few hours before the dinner party so they remain clean. Your centerpiece can be fresh flowers, candles, or antiques, as they always make excellent table decor.
Sneak in rules to bring guests together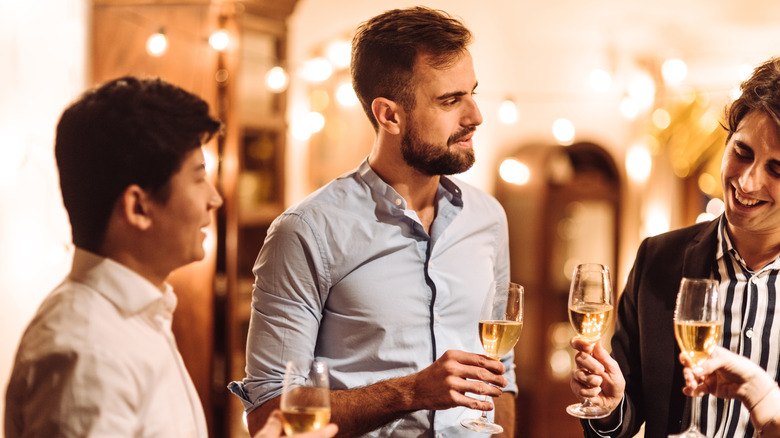 Franckreporter/Getty Images
Not all guests you invite will know each other. And instead of folks conversing in a corner for hours, exercise your power as the host and consider throwing in a couple social rules that allow guests to mingle and create new connections. 
For instance, you can have folks place phones in a basket at the door on arrival. This forces people to talk to each other rather than spend time on their phones. You can further promote interactions by requesting guests to only interact (for the first 45 minutes) with people they don't know — and if they must converse with friends or acquaintances, encourage them to share something the other person doesn't know about them. 
While these tricks spur organic conversations and challenge guests to get to know someone new, they also require you to lead by example. So don't be afraid to step away from your own timeline and comfort zone and chat with someone you don't know very well. 
Get creative with the playlist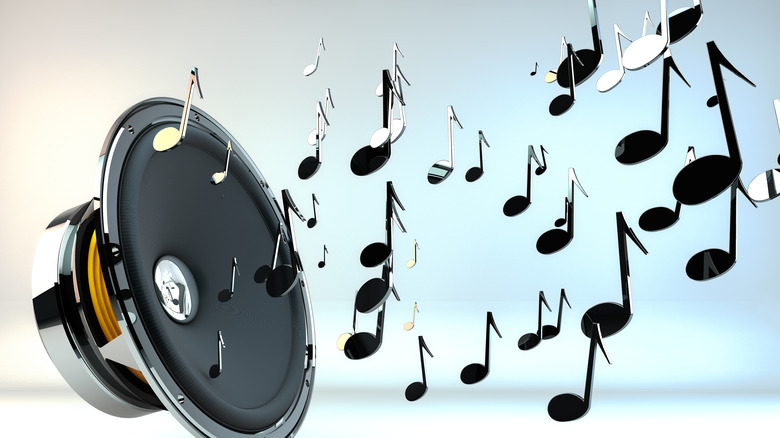 Kutberk/Getty Images
Before the party date, pick a playlist that blends well with your guest list. You can toil alone when choosing the playlist or get insights from friends — especially those invited to the party — about the type of music that will be the perfect fit. You might know someone coming to the party who is a huge music fan — a good host will ask for this kind of help when needed. Aim for a playlist that balances genres that blend well (like classical and soul). Instrumentals are a good choice. Better yet, spin things a little by challenging your guests to a vocals competition.
Your goal for music is to have a playlist that guests resonate with and enjoy. But the music shouldn't be so loud that people need to shout over it. Instead, let the tunes be soothing and calm. Something everyone can listen to without it being annoying or getting in the way of conversation.
Take care of your pets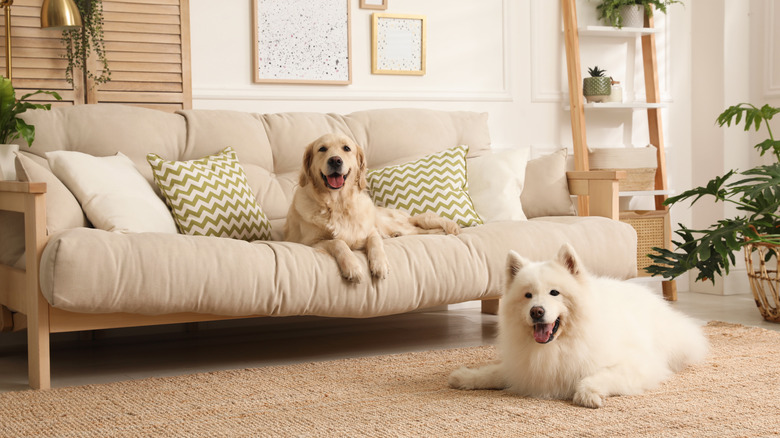 New Africa/Shutterstock
Pets are wonderful companions. But when you have guests coming over, it's best to ensure your furry friend is out of sight. First of all, you don't want your dog barking at every guest that steps in — and you certainly don't want them jumping on your friends. Even if your guests are pet lovers and won't mind, a dinner party is not the time or place for your animals to be hanging all over your party people. It's also a good idea to ask people ahead of time if they're allergic to animals — that way, you can take extra steps to help mitigate any potential issue. 
If you can't put pets in a separate room, do everyone a favor and take your animal to another place (a neighbor, for example) before you get busy with dinner preparation. If all else fails, consider boarding your pet overnight. 
Take entertainment to the next level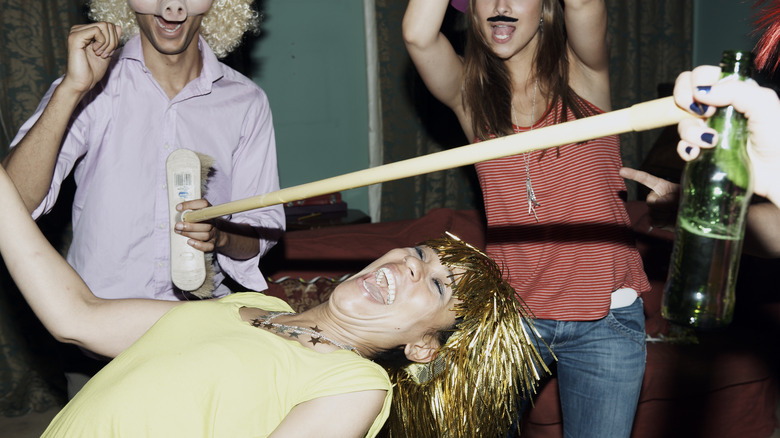 John Howard/Getty Images
There are an array of games and fun activities that can elevate an otherwise dull dinner party into a bubbly event. So, why not integrate them into your evening and entertain your guests with something unique? For starters, you'll need ice-breakers to help ease the atmosphere and get people in the mood. And the best place to get started is with fun games like React and Act, Two Truths and a Lie, and Who I'm I? Choose games everyone can play so that it's double the fun. More importantly, ensure you have prepared the materials needed for gaming — the last thing you want is to offer up a game and not have all the elements to play it. 
If you get it right, your guests will be energized after a few rounds — games can be organic conversation starters. But you might also have conversation cards tacked away for when the chit-chats become redundant and boring. And you may even sneak in a karaoke machine or photo booth for next level fun!
Put gifts away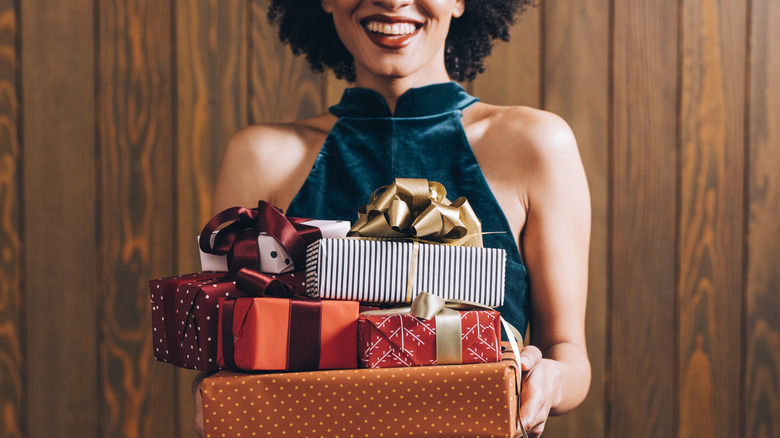 Freshsplash/Getty Images
On the rare occasion that a considerate guest surprises you with a gift, thank them and put the gift out of sight so that other guests who didn't bring one don't feel bad or uncomfortable. And remember to mention that gift when they leave. Also, you don't have to worry about reciprocating — the gift was an appreciation for your hosting. But if you must return the gesture, it doesn't have to be right away.
The gifts we're referring to aren't bottles of wine that many people bring as a standard contribution — they're more in line with unique, specialty gifts that no one expects, least of all the host.
However, if presents were semi-expected (a birthday dinner party, for instance), you can have a designated spot where everyone will place them before proceeding to the dining room.
Set beverages for self-service
Lomb/Shutterstock
As a host, you can't be everywhere at once. Instead of guests waiting on you to fill their glasses, have the beverages set at a particular point where everyone is free to serve themselves. Cocktails are perfect for pre-dinner drinks — martinis are easy to make and an excellent host might delegate this job to someone who is willing. You can also stir up some cocktails – margaritas anyone! — and keep in a pitcher in the refrigerator, pouring as needed. You can even pre-salt the rim of several glasses so they're ready to go. Preemptively making cocktails will save time and stress.  
Speaking of wine and booze — make sure you have enough. There's nothing worse than running out of libations at a dinner party. Yes, many guests will bring a bottle of wine, but a thoughtful host won't rely on that. And always have non-alcoholic beverages on hand — some of your guests might not drink alcohol, and some like to pace themselves by going non-alcoholic between their boozy drinks. 
Play around with seating arrangement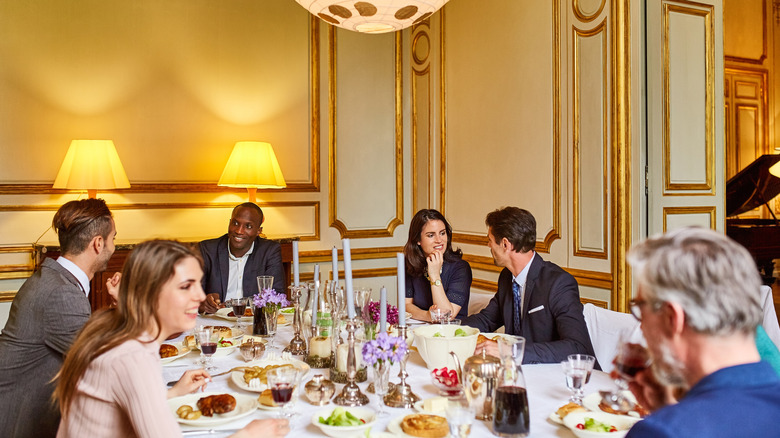 Kupicoo/Getty Images
Apart from food, other things that most people remember from a party are conversations and the connections made. As the host, you play a crucial role in creating an environment that supports mingling. And the seating arrangement can be the perfect tool to make this possible. A pointer to consider: Personality plays a major role in where you place your guests.
An introvert is best seated next to an extrovert; couples are better positioned to interact with people other than themselves, and individuals with the same interest should be seated together. Of course, these are just suggestions — go with your intuition. As the host, sit next to the exit to make it easy to get what's needed. Suppose there are two hosts. Sitting apart will do justice, as they can attend to guests on both sides of the table.
The seating arrangement relies on the premise that you know your guests and can arrange their seating accordingly.
Indulge your guests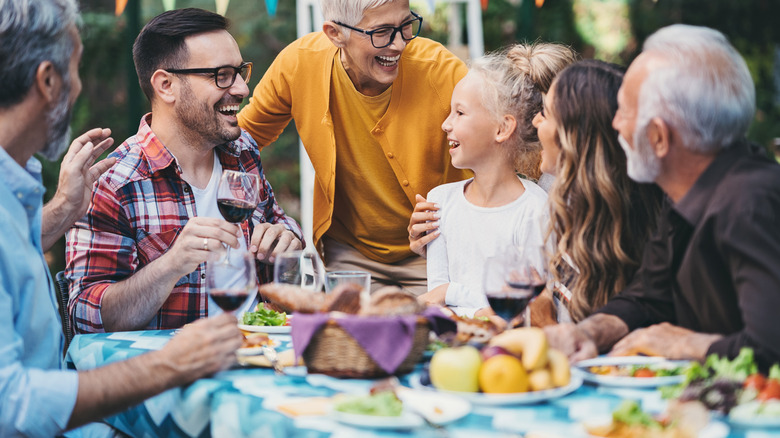 Pixelfit/Getty Images
You've done the hard work. Now "take time off" hosting and have fun with your guests. Mingle before dinner is served — say hello and indulge them in light conversation. Ask about their latest projects, recent trips, children, or any new hobbies. At dinner, once everyone is seated, give your guests a cue to dig in by starting to eat yourself. No one will pick their fork up if you are still running around making sure everything is perfect. 
Another opportunity to indulge your guests is during the games or other activities you've organized for the evening. Be the first to go to encourage others to participate. Let loose and be yourself. An excellent dinner party host knows that their interaction is critical in setting the tone and mood. So, strive for a warm, welcoming, and safe environment where everyone is free to be themselves and join whatever kind of fun you've planned.
Take charge of the dinner party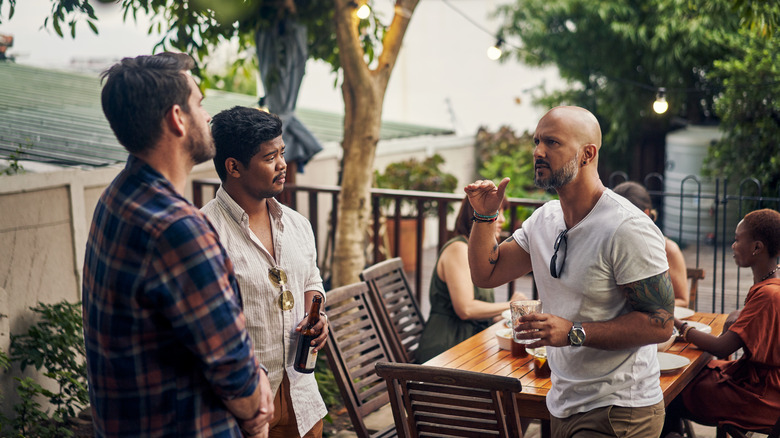 Pixdeluxe/Getty Images
As you know, a great dinner party host does everything to help ensure a good time for all. While you can't manage every conversation, you can be in tune and lend an ear to several of them — chiming in when appropriate shows your guests you're aware (and happy) they are enjoying themselves. A savvy dinner host can even inspire and lead initial conversation among guests, and then walk away knowing they've got it covered. You can also control noise levels (i.e. music or kids playing or watching television in another room) and simply be aware of the environment.  
Natural storytellers will dominate conversations the whole evening unless stopped. So, tactfully, take the limelight from them by directing questions about what they are talking about to other people. Draw quiet individuals into conversations by introducing them to new people or asking about their areas of interest. Important to mention: Avoid topics about diet, weight management, working out, health issues, salaries, religion, or family dynamics — unless they are subjects that pop up organically and everyone is comfortable sharing. And definitely steer clear of rumors and gossip.
Set the mood for the party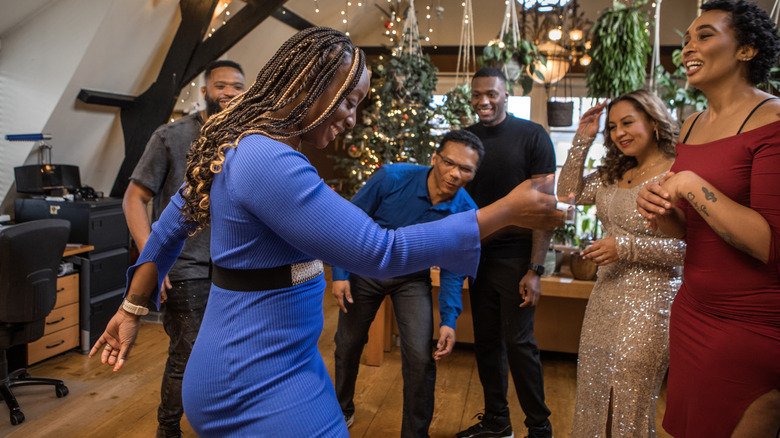 Lorado/Getty Images
The mood of a party is defined by nuances that aren't necessarily tangible but they do make a statement. The overall vibe, for example, equals the type of games, playlists, theme, fragrance of your house, your personal energy, food selection, lighting (or ambiance) all define the mood of the party. Everything should harmonize to achieve the aesthetic and atmosphere you desire. How you want your guests to feel should be your compass when thinking about the mood.
If you want guests to be relaxed, everything we've mentioned should exude a sense of tranquility. On the flip side, if you want a cheerful (even high energy) situation, then by all means turn things up several notches for a more lively evening — perhaps some music that gets people on the dancing floor. Now this is important: Your guests should be a good match for each other to help create the ideal mood and also make it easy to manage group dynamics.
Manage your expectations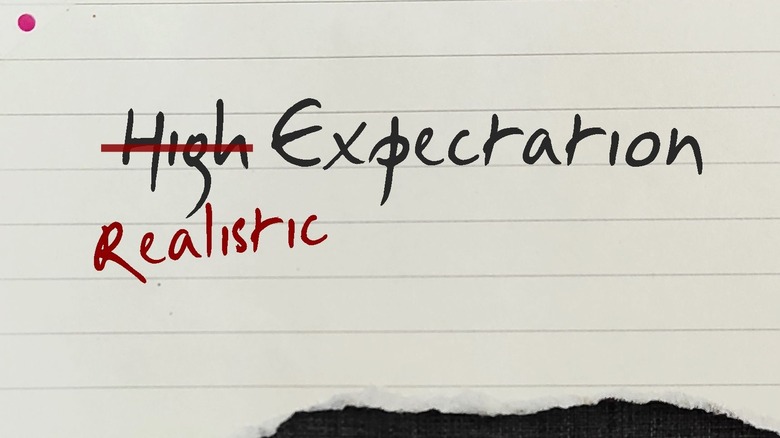 Ariya J/Shutterstock
Something might go wrong before, during, or after the party. Don't be too hard on yourself. As the saying goes, prepare for the best but expect the worst. What happens if you run out of drinks? What will you do if guests arrive later than expected? Or there are several plus ones that you didn't budget for. Or someone overindulges with the booze. In other words, think about various possible have a backup plan.
A great dinner party host will react calmly when faced with adversity. You might find it difficult to manage a warm smile as you watch things spiral, but it's in your (and your guests) best interest to approach any awkward situation with a level head. If you look remotely agitated, your guests might feel the situation isn't under control, and the party vibe will go downhill fast. If you feel anxious or angry, excuse yourself to another room — do some breathing exercises. You'll feel better and can then re-emerge and diffuse the situation without flaring up. 
Be tactful with your goodbyes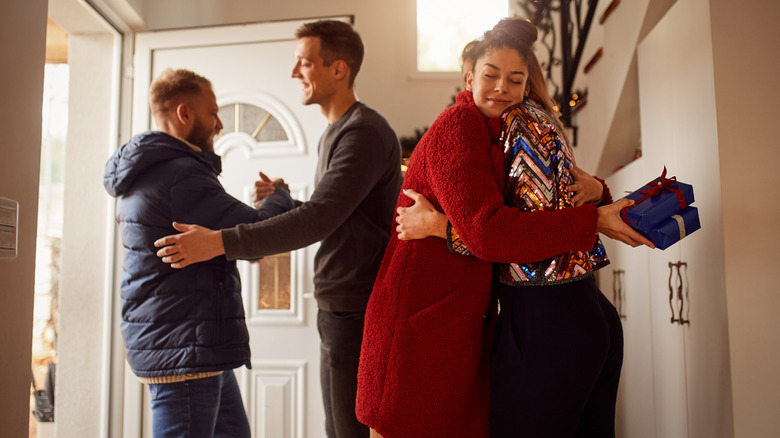 Vgajic/Getty Images
The pleasant moments you've shared have finally ended. How do you inform your guests time is up? First things first, the dessert served should be out of sight. Next, reduce the flow of drinks. The conversations will naturally take a turn as guests finish their drinks and perhaps last few nibbles of something sweet. Generally, when one person or couple starts to leave, that's a sign for others to follow. However, if some don't take the hint, it's okay to say something about wrapping things up.
Thank your guests for coming — it's always a good idea to mention something that came up in conversation. It makes your remarks more personal and shows you were genuinely interested in what they had to say. As you walk the guests to the door, shake hands, share warm hugs — discretely thank those who brought a gift. Make each farewell brief so that you get a moment with everyone.