Baked Ziti With Italian Sausage Recipe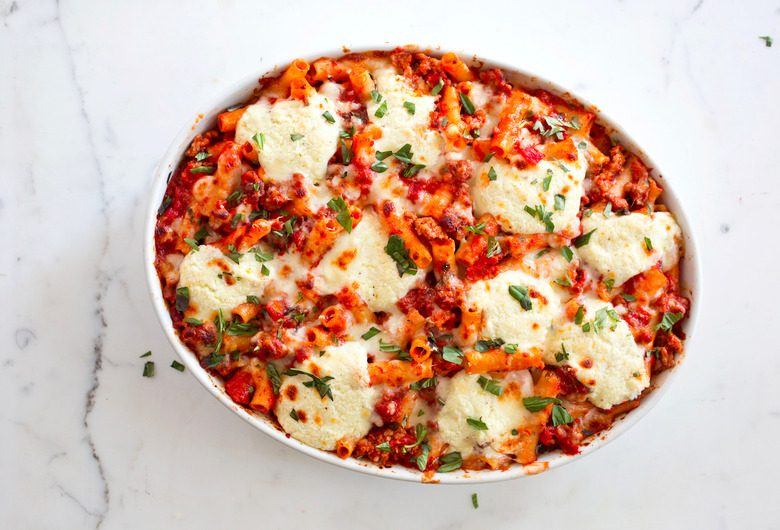 We may receive a commission on purchases made from links.
Welcome to America's Test Kitchen, the promised land of troubleshooting your most basic cooking fails and fixing problems you never knew you had. The editors' new cookbook: The Make-Ahead Cook, is an ever-useful guide that will unobtrusively lead you away from the the take-out menus and back into the kitchen where a much better dinner awaits you. No time to cook? Master the art of "make it ahead of time" and dig a serving spoon into that baked ziti, fast. 
Baked ziti should be a simple pasta casserole, but too often it turns out dry, bland and downright unappealing, especially when made ahead. We wanted to find a way to prepare this dish in advance and still have it taste fresh the next day. Since the tomato sauce is key to keeping the casserole moist, we started there. A combination of crushed tomatoes and tomato sauce gave us a smooth consistency with just the right amount of chunky texture. We found that loosening the sauce with some of the pasta cooking water prevented the casserole from drying out in the fridge.
To conquer any pasta problems, we made sure to undercook our pasta, so that once the casserole had baked, the ziti would be perfectly al dente. For meaty flavor, we added Italian sausage to the sauce. Chewy, stringy mozzarella is a crucial part of baked ziti, but shredded cheese seemed to disappear into the sauce when reheated. Cutting the mozzarella into chunks ensured that we had luscious pockets of gooey cheese throughout the casserole.
Ricotta cheese is also a classic ingredient, but we found that mixing it in before storage left us with a watery, grainy mess. Instead, we dolloped the ricotta mixture on top of the partially baked casserole and just heated it through so that it stayed creamy. We prefer hot Italian sausage in this recipe, but sweet Italian sausage will work fine as well. To remove the sausage from its casing, cut it open at the end and simply squeeze out the ground sausage.
Baked Ziti With Italian Sausage Recipe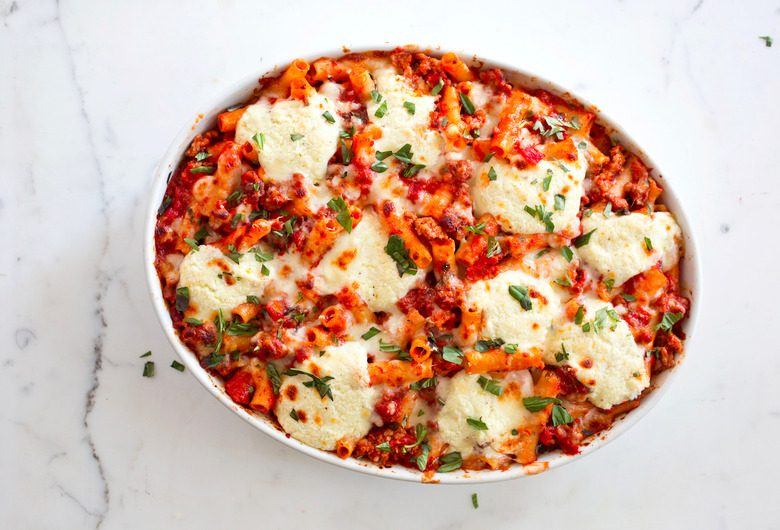 Ingredients
1 pound ziti or other short
Salt and pepper
1/4 cup extra virgin olive oil
1 pound hot or sweet Italian sausage
4 cloves garlic
1 (28-ounce) can crushed tomatoes
1 (15-ounce) can tomato sauce
4 ounces mozzarella cheese
2 tablespoons fresh basil
1 cup whole milk or part skim ricotta cheese
1 cup mozzarella cheese
1/2 cup Parmesan cheese
2 tablespoons fresh basil
Directions
Bring 4 quarts water to boil in large pot.
Add pasta and 1 tablespoon salt and cook, stirring occasionally, until just beginning to soften, about 5 minutes.
Reserve 1 1/2 cups cooking water, then drain pasta.
Rinse pasta with cold water and drain again, leaving pasta slightly wet, leave in colander.
Dry now-empty pot, add 1 tablespoon oil, and return to medium-high heat until shimmering.
Add sausage and cook, breaking up meat with wooden spoon, until no longer pink, about 5 minutes.
Stir in garlic and cook until fragrant, about 30 seconds.
Stir in crushed tomatoes and tomato sauce, bring to simmer, and cook until slightly thickened, about 5 minutes.
Let cool to room temperature, 30 to 45 minutes.
Stir reserved cooking water, pasta, mozzarella and basil into cooled sauce; transfer to 13 by 9-inch baking dish.
Combine ricotta, remaining 3 tablespoons oil, 1/2 teaspoon salt and 1/4 teaspoon pepper in bowl; cover.
Wrap dish tightly with plastic wrap and refrigerate ziti and ricotta separately for at least 8 hours or up to 24 hours.
Adjust oven rack to middle position and heat oven to 400°F.
Unwrap dish and cover tightly with greased aluminum foil.
Bake casserole until beginning to bubble around edges, about 20 minutes.
Remove foil and dollop rounded tablespoons of ricotta mixture evenly over top.
Sprinkle with mozzarella and Parmesan and bake, uncovered, until casserole is hot throughout and cheese is melted and begins to brown, 15 to 20 minutes.
Let cool for 10 minutes. Sprinkle with basil and serve.
Broccoli And Cheese Penne Recipe
Three-Cheese Lasagna With Porcini Mushrooms And Spinach Recipe
Caramelized Onion And Prosciutto Macaroni And Cheese Recipe