Night Cap: Here's What Happened After Shark Tank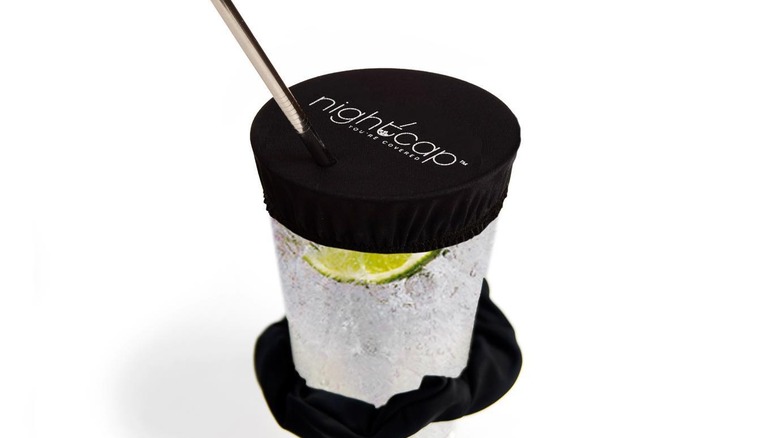 Good ideas come from all sorts of places: conversations, social interactions, and situations where you need something for a specific task but it simply doesn't exist. While it's rare, other good ideas literally come from dreams. That's what happened to teenager Shirah Benarde from West Palm Beach, Florida. After hearing that a college-aged friend of hers had her drink spiked in a bar, Benarde dreamt up making what would eventually be called Night Cap, a reusable, portable drink cover that could help prevent such situations.
Upon awakening, she created the prototype of what would later become Night Cap out of a pair of pantyhose and a hair scrunchie. Her brother Michael, a college student at the time, saw the prototype and immediately recognized the need for such a product, understanding how prevalent drink-spiking was around college campuses and bars. For the next six months, the siblings worked on raising funds and developing the product. In 2019, the product officially launched. After being in business for a mere 11 months, Shirah and Michael faced the investors on "Shark Tank," hoping to expand the business and take it to another level. They not only secured a deal but did so exceptionally quickly.
What happened on Shark Tank?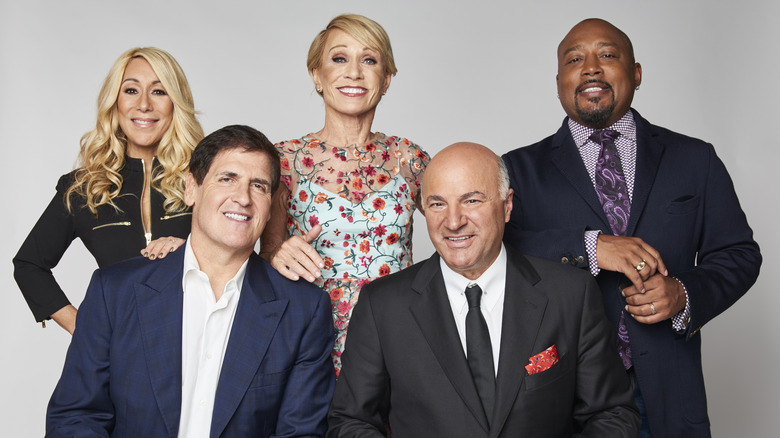 Matt Doyle/Getty Images
Seventeen-year-old Shirah and her older brother Michael arrived on "Shark Tank" and enthusiastically introduced Night Cap to the investor Sharks. The siblings asked for $60,000 in exchange for a 20% share of their business. The young Benardes had given each Shark a red Solo cup and a Night Cap and encouraged them to try the product out on their own. The product itself resides in an attached scrunchie which can be easily worn around the wrist. To use it, one simply stretches out the nylon cover over the top of a cup or glass (which has a small cut-out for straws) and wraps the scrunchie around the bottom. While Lori Greiner was impressed by how fast and easy it was to use, Mark Cuban tested the scrunchie out on his own hair.
The Benardes quickly impressed the Sharks when they explained that in the short life of the business, they'd generated $68,000 in sales. On the aired episode, there wasn't much more talk of numbers, as Greiner was so moved by Night Cap that she almost immediately offered $60,000 for 25% of the business. She explained that the product deeply resonated with her and that the product "needs to be in every woman's hand." No other offers were made, not because the remaining Sharks bowed out, but likely because Greiner was so ardent about working with the duo. Daymond John admitted as much, saying, "You have someone [Greiner] who's really passionate." The Benardes happily accepted the offer.
After the show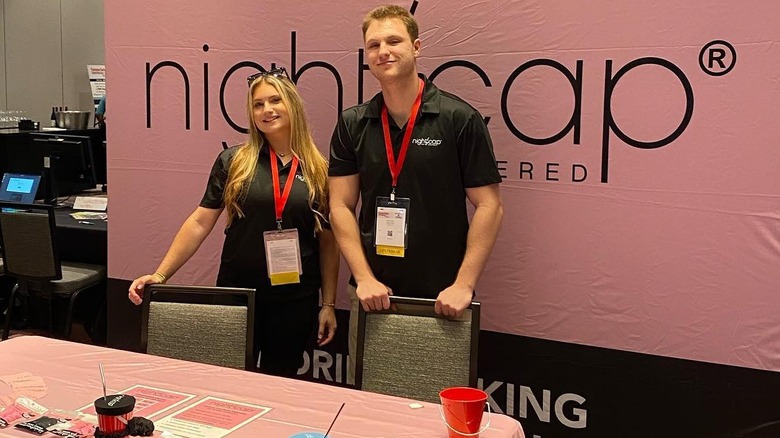 One year after appearing on "Shark Tank," sales for Night Cap reached a staggering $2.1 million. Michael told the Tallahassee Democrat that most people around college towns know exactly what Night Caps are. He also shared that, with Greiner's investment and mentorship (which he called "priceless"), Night Cap's packaging was updated, along with the company website, all of which helped spread the presence of the sibling's product. Of course, Lori Greiner is no stranger to helping products succeed in the marketplace. According to her website, 90% of the items she invests in are successful.
According to the Night Cap website, the product has also been nationally featured on several media outlets, including Fox Business Network and USA Today. But much of the exposure comes from places where college-aged individuals spend much of their free time: social media. As of March 2022, Night Cap has seen upwards of 175 million views on TikTok.
Is Night Cap still in business?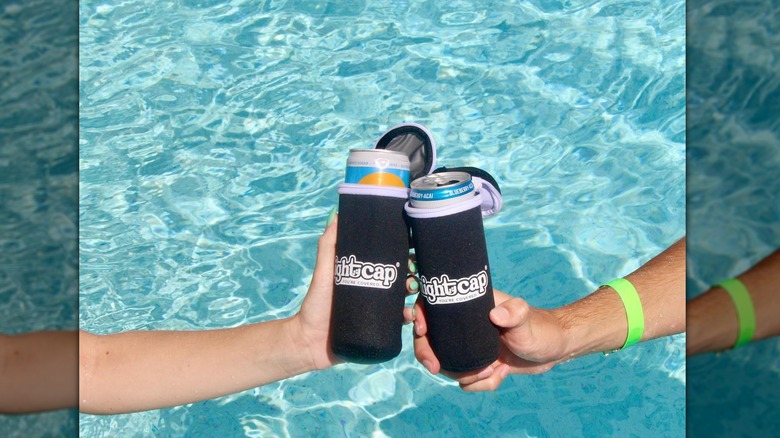 As surely as people still go to parties, bars, and clubs and order drinks, Night Cap is still in business, which is excellent news considering that the company aims to protect women and all people against having their drinks spiked. While the original scrunchie design is still popular and sells in individual units and packs, the company has added a keychain design. Instead of the drink cover attached to a scrunchie, it folds into a tiny pouch attached to a keychain.
Because not all drinks come in cups, Night Cap now also sells reusable bottle caps and beer can covers which keep cans insulated and cold and feature a zippered top that can be zipped up to secure the drink. Night Cap also sells environmentally friendly, stainless-steel straws that come with cleaning brushes. Customers can also purchase gift boxes for parties which come with cup covers, bottle caps, and a variety of other fun accessories.
Night Cap partnered with StopTopps, a company based in the United Kingdom which makes a similar product. StopTopps are disposable, adhesive stickers designed to apply to the top of cups to similarly discourage drink spiking. Night Cap is now the only distributor of StopTopps in the United States and sells the products on its website.
Next steps for the company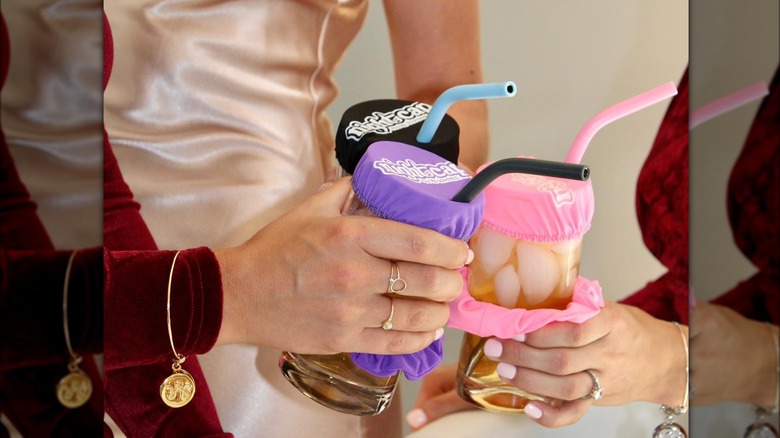 Shirah and Michael have worked hard to expand their Night Cap business, largely due to a concern for public safety. While it has gone global in its distribution, including availability in Canada, Europe, and Australia, the Benardes aren't done yet. According to the company website, the founders are working with organizations with close ties to the community, like bars, universities, police departments, non-profits, and others, to ensure citizens, especially vulnerable young people, have access to Night Cap, a potentially disaster-preventing and life-saving product.
The website also contains helpful information on drink spiking, including what it is, prevention tips, and what to do if you think you've been a victim. Night Caps also has a wholesale option and has actively worked with large institutions such as sororities, universities, and liquor companies (Bacardi, Grey Goose) to give their customers a discounted rate. The company keeps an active presence on social media to give fans and followers the latest info on new products and education.