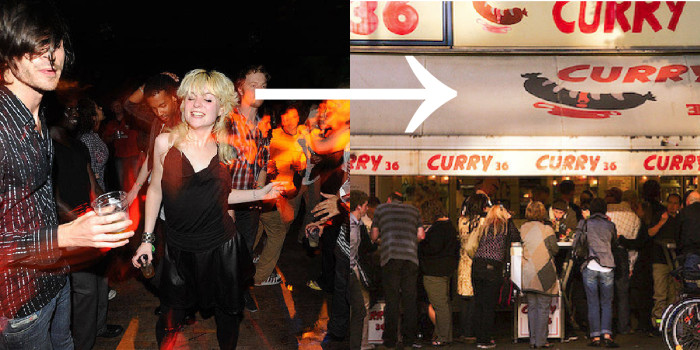 All the global clubbing capitals have them — those beloved local spots that provide a place to relax and refuel after a long night (slash morning) on the dance floor. From duck noodles to Turkish köfte, here's a guide on what to eat — and where to eat it — in the world's best cities for nightlife.
1. Moscow
Clubbing in Moscow is, like many things Russian, no laughing matter. But, après-club, Muscovites are kittens for comfort food. Georgian cuisine is enormously (if unexpectedly) popular, and Khachapuri café serves hearty dishes like khinkali dumplings and the namesake khachpuri, a soft bread stuffed with sour suluguni cheese, at three locations across the city.
2. Dubai
In a city-state rich with international chains (why, yes, that is a Pizza Hut in the Dubai Mall), Middle Eastern fare can be oddly difficult to find. Which is part of what makes Levantine joint Zaroob so popular. The other part? Its 24-hour kitchen, which revives late-night revelers with shwarma, flatbreads and freshly squeezed tropical juices on tony Sheikh Zayed Road.
3. Bangkok
Often overshadowed by seedy Soi Cowboy, Bangkok's incredible nightlife ranges from the raucous collegiate dance parties at RCA to pretty clubs full of prettier people on Sukhumvit Soi 11. The best way to end any evening is a trip to Sukhumvit Soi 38 Night Market, where hawker stalls sell local delicacies like duck noodles and khao niao mamuang, a mango sticky rice in sweet coconut sauce.
4. Berlin
In the "poor but sexy" capital of cool, Europe's best dance parties kick it nightly. Currywurst, the snack so popular it has its own museum, is an all-night crowd-pleaser at both historic Konnokpe's Imbiss in the Eberswalder Strasse U-Bahn station, and at the outdoor tables of Curry 36 in Kreuzberg. And uber-hip "Kreuzkölln" club-goers in the once-remote far western districts hit Gel Gör Inegöl Köftece for Turkish köfte, or savory minced meatballs.
5. Tel Aviv
Home to the sort of vibrant nightlife and beautiful citizens that make you want to run away and join the army, Tel Aviv's clubbers generally head out around midnight. Local spot Karnaf serves grilled wraps until 4 a.m., but many prefer the "American-style" diner Moses, where burgers are topped with house-made condiments and served at "happy hour" prices every night after midnight.
6. Rio de Janeiro
Like playing soccer, and modeling swimsuits, clubbing is something Cariocas tend to do extremely well. Parties get started early and go late, which makes late-night, rib-sticking fare like the classic Brazilian bean stew feijoada all the more important. Fortunately, Botequim Informal has locations across the city, and won't close shop until the last high-heeled patron has left the building.
7. St. Tropez
The ne plus ultra of glam European nightlife, St. Tropez may have fallen victim to its own popularity in the late '90s, but has since returned to its swinging self. Restaurant Le B. at the Byblos Hotel, a favorite of billionaire boys' clubs since 1967, serves famished club-goers elegant late-night snacks like tuna with foie gras overlooking the yacht-and-model-rich waters of the French Riviera.
8. Miami
The rhythm of the South Beach club scene is, eventually, gonna get you. So throw on a white blazer, party on Washington Ave. until 4 or 5 a.m. and then rejuvenate with a tanned, tipsy crowd at the 24-hour David's Café on Collins. Serving the hits for some 35 years, David's dishes out Cuban-American favorites like medianoche, tostones and a life-affirming cafecito.
9. Hong Kong
Teeming with affluent professionals and ambitious ex-pats, Hong Kong's thumping, members' only clubs are great places to drop a ton of cash and work up an appetite. Happily, local chain Tsui Wah dishes out Chinese comfort foods like king prawns with fried noodles all night, every night for a fraction of what you just paid for bottle service. Don't miss Tsui Wah's take on French toast, in which crispy buns are griddled and topped with butter and condensed milk.
10. Las Vegas
The City of Sin is hardly known for its discretion. Yet one of the hottest late-night dining scenes is the so-called "secret pizza" at The Cosmopolitan. Tucked away in an unmarked third-floor hallway, the nameless spot slings slices for $4.75 – and cups of boxed wine for $6 – to a long line of ravenous club-goers and off-duty hospitality workers. We won't tell if you don't.
[All clubbing and nightlife coverage on Food Republic.]
More from DJ Week on Food Republic: