The 19 Best Steakhouses In Los Angeles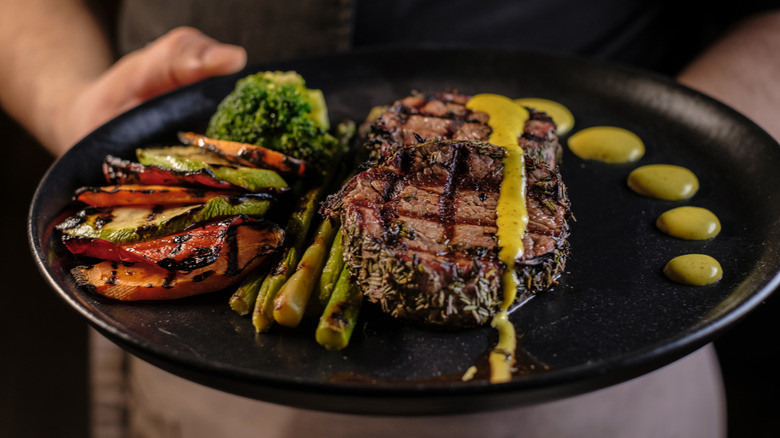 Ugur Karakoc/Getty Images
Steakhouses in Los Angeles are plentiful — from Michelin-star standouts to influencer-approved. It doesn't just take great steak to rise above the rest. Menu staples, elevated service, and unique decor can be what makes a steakhouse a cut above the rest.
These 19 L.A. steakhouses have pedigree and clout which puts them at the top of their game in such a culinary mecca. You'll find locations across the city of angels with menu items from steak au poivre to options with an Asian flare.
The restaurants on this list are well-loved by critics and highly reviewed on booking sites. No matter your vibe, you'll be sure to find a steakhouse in L.A. that has exactly what you're looking for — and we're guessing you'll walk away completely satisfied! 
The Palm
The Palm is a welcoming haven for connoisseurs of fine dining, effortlessly blending sophistication and a familial ambiance. Open since 1926, it's heralded for its wide selection of delectable steaks, finely crafted cocktails, and fresh Nova Scotia lobster.
The varied menu offers something for everyone — the shared lobster and filet mignon are favorites of regulars. Ample portions, steaks cooked to perfection, and decadent desserts ensure a gratifying meal. Star menu items include the jumbo lump crab cake, which is the perfect appetizer to wet your palate, the tuna agghiotta, and the prime bone-in ribeye that's enough for two. And for the erudite consumer of alcohol, an extensive wine list and expertly crafted cocktails await.
Upon entering, the charm of the oak paneling in the room and the crisp white table linens set the stage for an exquisite dining experience. The captivating caricatures on the walls add whimsy to the space, making great conversation starters. The Palm delivers on all aspects of a premium dining experience in downtown Los Angeles, ensuring patrons return for more.
Mastro's Steakhouse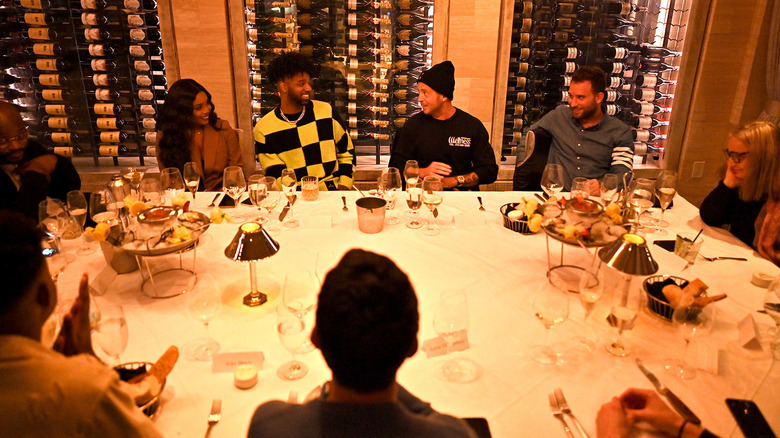 Andrew Toth/Getty Images for Harv
Mastro's in Beverly Hills effortlessly balances elegance and enjoyment with an ambiance marked by tasteful decor and friendly service. Their ribeye is remarkably flavorful and a memorable experience, with a shareable bone-in.
The restaurant's seafood is also a favorite among dining parties. One of the major non-steak standouts is their great seafood tower — a bountiful spread of fresh, high-quality ingredients. And the Chilean sea bass is light and flavorful.
Let's not forget the white cheddar mac & cheese — it's an irresistible complement to your meal. And if you still have a little room for dessert, you can't go wrong with their infamous warm butter cake.
The staff's exceptional service is equally memorable. Long-standing employees, some with more than two decades at Mastro's, epitomize this warm, engaging hospitality. Their extensive collection of wines and spirits will enhance your dining experience. Mastro's in Beverly Hills is a mandatory stop for anyone seeking a superb dining experience.
BOA West Hollywood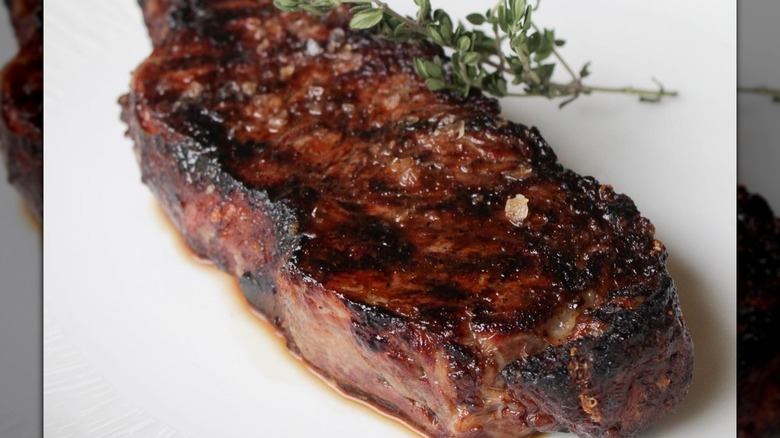 Boa Steakhouse
According to Business Insider, BOA Steakhouse in West Hollywood is more than just a celebrity hotspot; it's a food lover's paradise known for its delectable snow wagyu beef. The premium dining experience may come at a higher price, but patrons argue that the outstanding service and exceptional food more than justify the cost.
BOA sets a welcoming tone from the moment you enter with its warm atmosphere and friendly staff. The menu is a culinary triumph, boasting flawlessly cooked steak and scallops, alongside crowd favorites like mashed potatoes, with a satisfying cheesecake dessert to end the meal on a sweet note.
BOA's charm also lies in its adaptability, whether it's catering to a post-show crowd or hosting intimate celebrations. The 21-day dry-aged ribeye and Nova Scotia lobster tail are standout dishes, and the thoughtful wine pairings suggested by the knowledgeable staff further enhance the dining experience.
The crowning touch to the BOA experience is the careful attention to detail seen in every facet of service. Whether accommodating last-minute reservation changes or treating birthday guests to a complimentary dessert, BOA goes the extra mile to ensure a memorable dining experience for every guest.
Nick + Stef's Steakhouse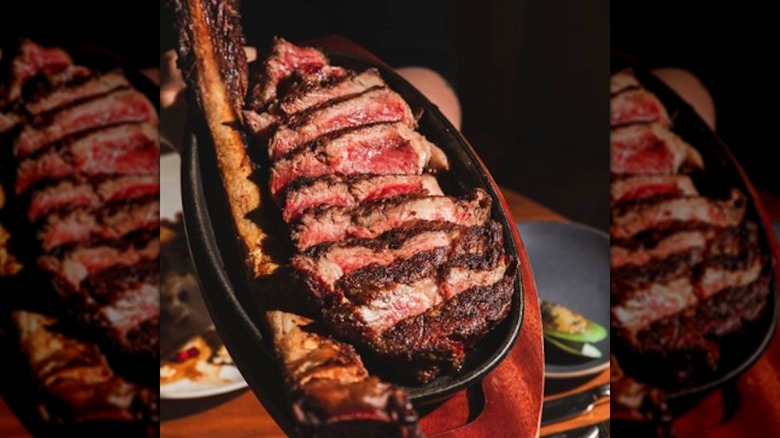 nickandstefsla
Chef and restauranteur Joachim Splichal named Nick & Stef's Steakhouse after his children when, "I started doing research on steakhouses in the U.S. I found that most of them were named after a person," he told Los Angeles Magazine. Led by executive chef Megan Logan, Nick + Stef's offers a masterful menu that prides itself on the purity of its flavors. The essence of each steak is allowed to shine without the need for charcoal charring. Unique touches, such as burgers infused with trimmed fat from their dry-aged ribeye, give Nick & Stef's that extra something special.
A genuinely fantastic steakhouse, the modestly sized menu hits all the right notes with steakhouse staples. Perfect execution on classics like the jumbo shrimp cocktail, caesar salad, and potatoes make them memorable parts of your experience. The service is swift and friendly, ensuring guests never have to wait.
Despite the concise menu, Nick & Stef's offers a well-rounded selection from salads and seafood to an impressive array of drinks. A special mention goes to the refreshing Burrata, N+S Caesar, and the exquisite seafood tower with top-notch oysters. The accompanying sauces elevate the dishes; the dessert wine is a sweet finale.
Whether you're hosting a corporate event or looking to impress, Nik & Stef's provides a memorable experience marked by superb food, attentive service, and a lovely ambiance.
CUT by Wolfgang Puck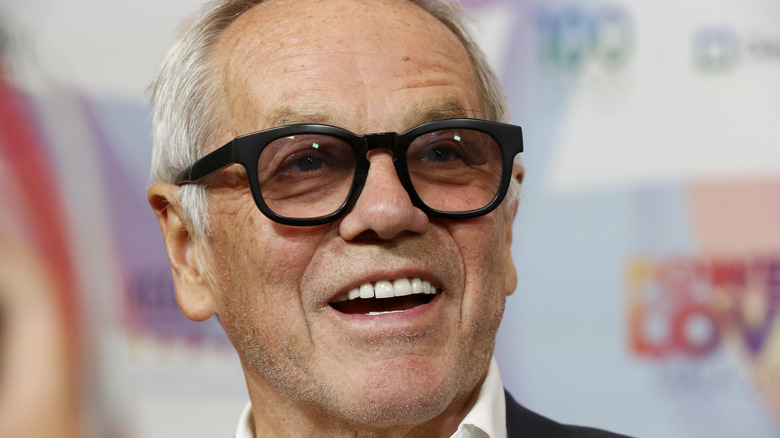 Gabe Ginsberg/Getty Images
Situated on trendy Wilshire Boulevard in the Four Seasons hotel, CUT by renowned chef Wolfgang Puck is an unforgettable culinary experience. The Michelin-starred restaurant's menu celebrates timeless classics, with local U.S. cuts, particularly the Snake River Farms offerings from Idaho, receiving much acclaim. Every artfully-crafted dish is curated from beginning to end, underlining CUT's reputation as a standout in the Los Angeles dining scene.
The exceptional service transcends ordinary expectations, from appetizers to steaks and sides, imbued with Wolfgang Puck's distinctive touch. The staff's attention to detail is second to none, making special occasions even more memorable. Guests are greeted warmly and treated to outstanding food and service, including occasional personal visits from Wolfgang Puck to chat and take photos. 
CUT celebrates culinary artistry — it's worth every penny.
Fleming's Steakhouse
What better way to cap off a victorious game at the Crypto.com Arena than a celebratory dinner at Fleming's Steakhouse? Situated conveniently across the street from the iconic venue, Fleming's offers classic, perfectly-cooked staple steaks, a highlight being their succulent tomahawk.
Lunch at Fleming's is equally enjoyable. The well-portioned selections are mouthwatering, and dishes like the steak and cream spinach combo are undeniable winners. The subtle lighting and minimal decor perfectly complement this high-quality dining experience.
Their salmon is another hit, prepared to the most discerning diner's liking. They deliver tasty starters like calamari and Fleming's salad. But it's not just about the savory — the dessert menu is something to behold with items like the chocolate lava cake that will leave you craving blissful slumber with its filling decadence.
No matter the occasion, Fleming's creates memorable dining experiences. Whether you're celebrating a birthday or a big game, Fleming's is a delightful choice.
Foxhall's Steakhouse
According to Eater food reporter Farley Elliott, Foxhall Steakhouse is a recent revelation in the crowded Los Angeles food scene where steakhouses are a dime a dozen. The 50-seater restaurant's ambiance of deep, sexy emeralds and low lights complements the dishes impeccably, evoking elegance and an intimate, classy vibe.
This Illulian siblings' brainchild on South Robertson Boulevard makes a strong statement with melt-in-your-mouth filet mignon, a cheeseburger with an intriguingly spicy sauce, and divine flatbread pizzas. Elliott notes a dish that sings is the beef carpaccio, complemented by crispy onions and capers.
The flawlessly-prepared langoustine special and unique Caesar salad reinforce the restaurant's commitment to culinary excellence. The shrimp scampi and exceptional halibut are also strong seafood choices. There indeed will be something for every kind of eater on this menu.
The dessert course seals the deal with a chocolate soufflé. With an impressive wine list, Foxhall's promise of top-notch, sumptuous cuisine ensures you'll be pleased when trying this new entrant into the L.A. culinary battlefield.
Gwen's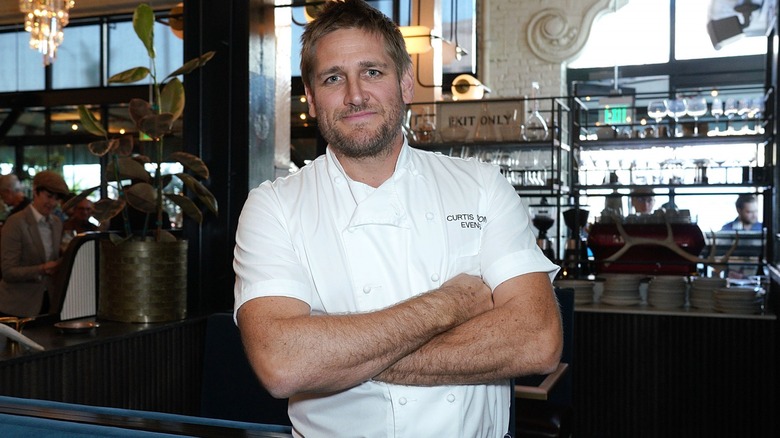 Jc Olivera/Getty Images
Gwen is the brainchild of TV-famous chef Curtis Stone and his brother, Luke. Nestled in Hollywood, you're first welcomed by a high-end butchery before getting to the art deco restaurant. In the butcher's shop, you'll be able to purchase rich, juicy meats and lamb sausages. But the real magic of Gwen lies in its full-service restaurant, which brings culinary magic to life.
The lunch menu features some of the area's most formidable sandwiches, salads, and roast chicken dishes with meat from the butcher counter. At dinner service, the menu consists of slow-roasted open-fire steaks and poultry, freshly made pasta, and shellfish dishes. But Gwen's homemade charcuterie is its treasure, unlike anything else.
The Blackmore Farms New York strip is the absolute peak of their offerings. That's why it has a heart-attack-inducing price tag to match. Gwen is all about creating a one-of-a-kind culinary experience you'd be remiss not to experience.
Fogo de Chão Brazilian Steakhouse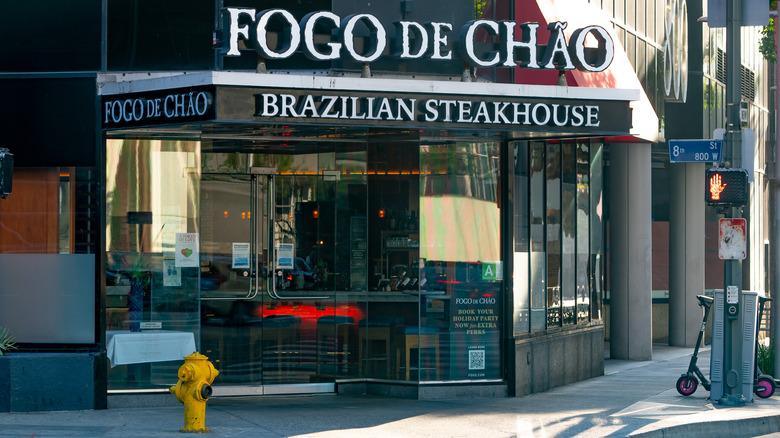 Aaronp/bauer-griffin/Getty Images
Dining at Fogo de Chão Brazilian Steakhouse is an unforgettable experience. The churrasco, chao, and lamb selections provide an extraordinary gastronomical journey to Brazil while being in the heart of Los Angeles. Excellent service complements the top-tier food, promising a return visit.
This meat-lovers paradise also caters to varied palates — there's truly a cut for everyone as well as for the vegetarians in your dining party. A bountiful salad bar offers a vast range of vegetables, fruits, salads, smoked salmon, candied bacon, prosciutto, salami, and more. Beef ribs, lamb chops, and especially the wagyu are standouts that you must try.
The dining experience extends to desserts like the acclaimed tres leches cake and crème brûlée. The value is commendable. If you leave hungry, you have to blame yourself. A culinary feast such as this necessitates a hearty appetite and a post-dinner hike to digest the flavorful explosion.
Smoke House Restaurant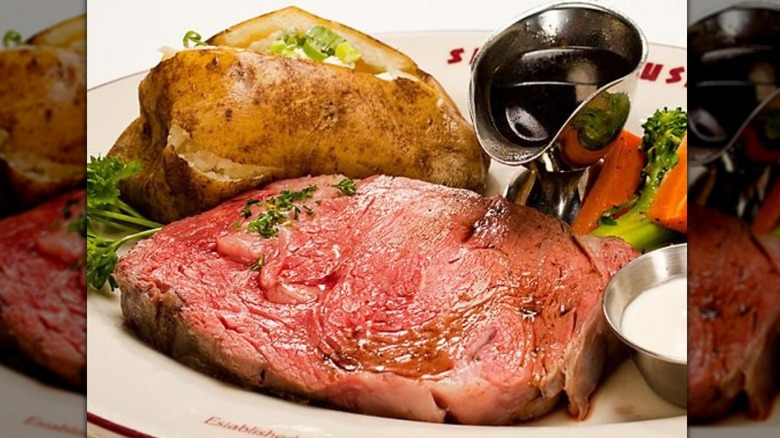 The Smoke House Restaurant
Located just a hop and skip away from Warner Brothers Studios, the Smoke House Restaurant is an iconic staple of the Valley, attracting celebrities who yearn for nostalgia and glamour. It maintains an old Hollywood-style ambiance that promises comfort and an air of star-studded charisma.
The Smoke House does traditional barbecue well. Your table should get the classic caesar salad and several helpings of their renowned garlic bread. Its meats are at the core of what it does, though. Options range from a hearty porterhouse to a humble chopped sirloin. The prime house rib steals the show; it's a luscious, slow-roasted masterpiece with a recipe born in the Truman era.
It's a family-style establishment serving a delectable blend of American and Continental Cuisine. This includes everything from prime rib and barbecue ribs to fresh seafood and daily chef specials. Their exquisite Sunday brunch offerings have earned them accolades, and they're well-merited.
Carlitos Gardel Argentine Steakhouse
Carlitos Gardel makes this list because of its mix of quality service, savory dishes, and charming atmosphere. The Michelin-loved restaurant is family-run, and the quality of their steaks is unparalleled as they use USDA Certified Angus Prime Beef that's hormone and antibiotic free. It also has a 17-page wine list for aspiring sommeliers. The lamb chops are a win for any meat lover. Carlitos Gardel marries classic dishes with an Argentinian flare for an unparalleled dining experience, such as its Ojo de Bife a la Criolla, a 14 oz. USDA Certified Prime Boneless Rib Eye generously covered in Gardel's Chimichurri Auténtico glaze.
Additionally, the restaurant goes above and beyond to make your visit memorable, with excellent appetizers and mouth-watering homemade desserts. This includes their peach layer cake, mascarpone pie, and chocolate tart.
Prices may be steep, but the exquisite food, welcoming environment, and top-tier service assure you it's worth every cent. For instance, as you're enjoying your industry-leading steaks, you'll be greeted with the beautiful sounds of live piano, and you might even spot a celebrity or two at a quaint, intimate table. And if you're lucky enough to sit on the patio, the string lights will add a fun visual flare to your meal. Carlitos Gardel hits the mark for an authentic, high-quality Argentinean gastronomic experience.
Jar Restaurant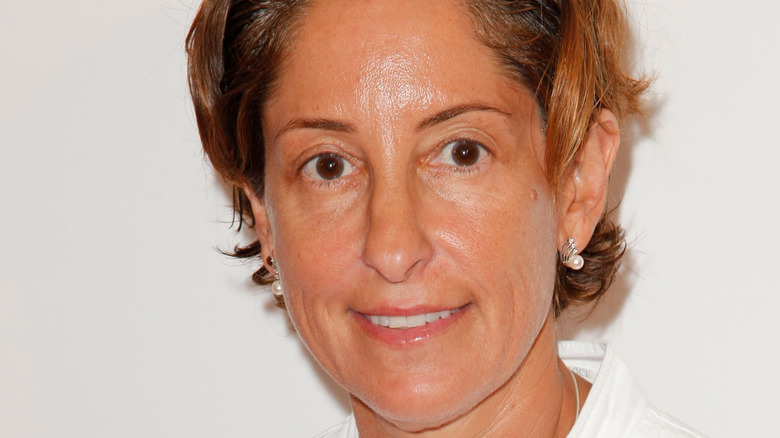 Imeh Akpanudosen/Getty Images
It's not easy to create something fresh in the competitive culinary landscape of Los Angeles. Jar Restaurant, under the leadership of Suzanne Tracht, does just that by reinventing the classic steakhouse experience with a touch of Asian flair. The menu touts top-tier cuts of beef, fresh seafood, and an unforgettably tender pot roast. The dessert list holds its own, forcing patrons to decide between banana cream pie, carrot cake, and flourless chocolate cake.
The steakhouse radiates early 2000s charm, combining the indulgence of an upscale steakhouse with the intimacy of a windowless dining room. This provides an idyllic backdrop for savoring fantastic dishes like the char siu pork chop and duck fried rice. Top-notch entrees such as the juicy 10 oz. filet and perfectly cooked pan-roasted salmon are coupled with a curated wine selection. There are no distractions, so the food can shine.
The personal interaction with chef Tracht, who often makes it a point to visit each table, elevates the warmth and allure of this establishment.
The Arthur J
The Arthur J is an elevated steakhouse in the heart of Los Angeles that goes above and beyond to provide a stellar customer experience. The steak sampler is an excellent way to try The Arthur J's delicious cuts of mouth-watering steak goodness. The generous portions are enough for two people, so keep that in mind when making your selection — add on a side just in case you've got a ravenous eater.
Supporting the steak is a robust wine menu and a bevy of other food options that deserve their praise equally. The retro vibe and noise insulation allow for quiet and atmospheric dining even when the place is bustling. Overall, you will be satisfied by this hotspot in L.A.'s core and what it brings to the table, especially its steaks. Whether you're coming for brunch or filling that little bit of available stomach space with their carrot cake dessert, you'll leave the restaurant satisfied and content with your experience.
Matü
Matü Steakhouse (which means "essence" in Māori) is a culinary gem that does lunch better than all the rest. It's renowned for its take-out lunch from the bar every Wednesday through Sunday, with people from near and far coming for their Philly cheesesteak. Philly natives say that it's the best cheesesteak in Los Angeles by far. That might be because of the New Zealand steaks this restaurant imports from First Light Farms, which have wagyu's rich, melting goodness. Add in the just-right spice of the hot pepper, and the freshly baked sesame bread and you've got an unforgettable sandwich experience. It's an authentic Philly cheesesteak with an upscale twist.
The '47' Salad is another item to write home about. It's a well-balanced medley of little gem lettuce, tangy tomato vinaigrette, and finely grated Parmigiano cheese. Simple in its presentation, the flavors in this salad dance on your palate, providing a refreshing contrast to the hearty cheesesteak.
Despite its steakhouse title, Matü has mastered the art of lunch service with these two standout dishes, providing guests with a perfect midday retreat.
Chi Spacca
Chi Spacca is a Michelin Green Star recipient that masterfully balances high-quality dining with a solid commitment to sustainability. Under the guidance of Nancy Silverton, the restaurant sources its organic ingredients locally and collaborated with Footprint Group to create eco-conscious practices.
This Italian-inspired open-kitchen steakhouse redefines traditional steakhouse cuisine, focusing on live-fire cooking, sure to delight patrons. A standout starter, the rich Focaccia di Recco, complements the 24-hour marinated Pollo alla Diavola, bringing tastes of Italy to Melrose Avenue. The T-Bone steak served to fiery perfection alongside succulent sweet corn and baby broccoli, is a prime example of the restaurant's mastery of bold flavors and commitment to seasonal dishes. The bone marrow pie is a warm, rich savory standout on this menu. Servers recommend the milk-roasted pork loin, and it'll be such a party in your mouth that you're likely to want to try it at home, so pick up some fennel pollen before you leave. 
The selection of Italian wines on offer nicely complements the entire menu. Chi Spacca crafts a dining experience that delights the palate and resonates with a conscious commitment to our planet.
Fia Steak
Fia Steak in Santa Monica exudes an irresistible blend of sophistication and old-world charm. Its stunning decor, featuring Renaissance paintings and stained glass on brick walls with woodsy furniture, creates a unique ambiance worthy of its Michelin star status. It feels like walking into a 48-seat pub from times past without the rudimentary preparations.
The restaurant offers up a refined menu of both land and sea. The seafood-centric appetizers and a tasty selection of U.S. and Japanese A5 wagyu beef are notable. An elegant touch of luxury comes from their pairing of exquisite champagnes with the finest caviar.
Chef Brendan Collins and his team command the live-wood performance that both enchants the guests and gives the dishes a smoky depth of flavor. Complementing the meal are carefully crafted cocktails and indulgent desserts that highlight the dining experience on a high note.
Whether you're in for a celebratory feast or a casual visit, Fia Steak promises an unforgettable journey of flavors and an exceptional experience that will make you yearn for a return visit.
Baltaire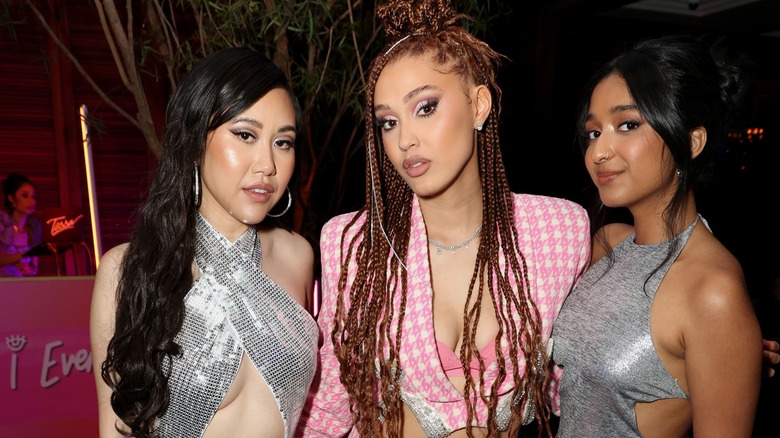 Phillip Faraone/Getty Images
Amid the swaying palm trees and sun-dappled streets of Brentwood, a vibrant pulse beats in the form of Baltaire. Priding itself on an offering of prime, succulent cuts — the most affordable ringing in at around $50 — Baltaire's impressive and mood-lit space delivers a luxe gastronomic experience and it's a favorite place for Hollywood events.
Baltaire thrives on weekends, with the establishment bustling with satisfied patrons. The attentive staff leaves no stone unturned in ensuring each guest feels catered to, from perfecting rare cocktails to recommending top dishes like the tender ahi tartar and the unforgettable beignets. Furthermore, its skillful table-side preparation of the Greek Salad and Dover Sole, or the melt-in-your-mouth filet tasting, augment the dining experience. Add a complimentary dessert for special occasions, and you have the makings of a memorable evening.
Guests praise the steakhouse's warm ambiance, efficient valet service, and ability to facilitate an occasional celebrity sighting. Baltaire's enduring 20-year reputation makes it an easy addition to this list.
La Boucherie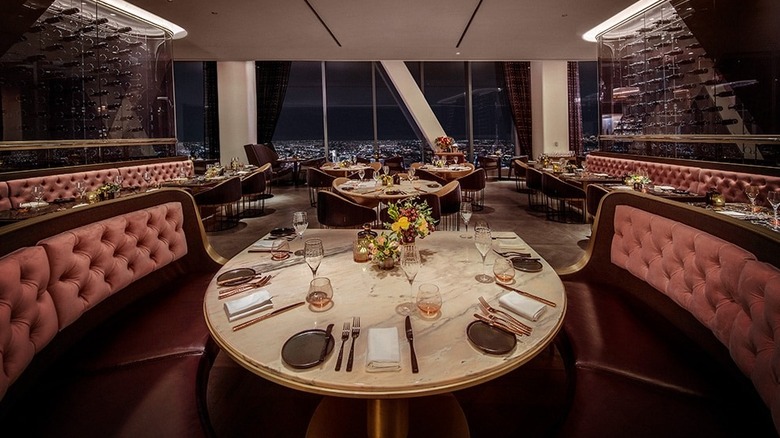 InterContinental/La Boucherie
Against the breathtaking backdrop of the Los Angeles skyline, La Boucherie stands tall at the InterContinental hotel in the downtown area. This sky-high eatery isn't just on this list for the view, though. It's an immersive dining experience that's memorable to the palate.
Famed for its superbly cooked steaks and seafood, each dish exemplifies culinary excellence. The perfectly grilled dry-aged rib eye and scrumptious diver scallops are hallmarks of the menu and favorites of regulars. The halibut is another crowd-pleasing display of its chef's formidable skills.
Service at La Boucherie is impeccable as is its menu. It's common to see staff accommodating requests or conversing politely with the regulars. Patrons feel valued, so they return to the French steakhouse.
Culminating this sky-high experience is a vast array of delicious desserts paired with a commendable selection of wines and champagnes, making La Boucherie a must-visit for anyone who cherishes high-quality cuisine while seeking the promise of an unforgettable view.
MUN Korean Steakhouse
Imagine traditional Korean barbecue dining, amplified by the elements of a high-end steakhouse. That's what you get at MUN Korean Steakhouse in Koreatown. Every aspect of this local eatery oozes premium quality, from the expertly marbled steaks to the unique sides like the unorthodox yet delicious beef tartare bibimbap and kimchi pancakes melded with molten cheese.
Try the 'Mun's choice' set — a treasure trove of ribeye, hanging tender, chuck flap, and galbi complemented by an array of sides. You can trust their expert servers to perfectly grill the meat — a feast for both eyes and taste buds. The table preparation is a delight even for repeat visitors and adds a unique flair to this steakhouse.
The crispy chicken tenders are a perfect addition to the Korean barbecue array. Culminating any feast is a lemonade slushie. It's the perfect palate cleanser. MUN Korean Steakhouse ensures an unforgettable experience.