The Scone Styles To Know For Sweeter Tea Parties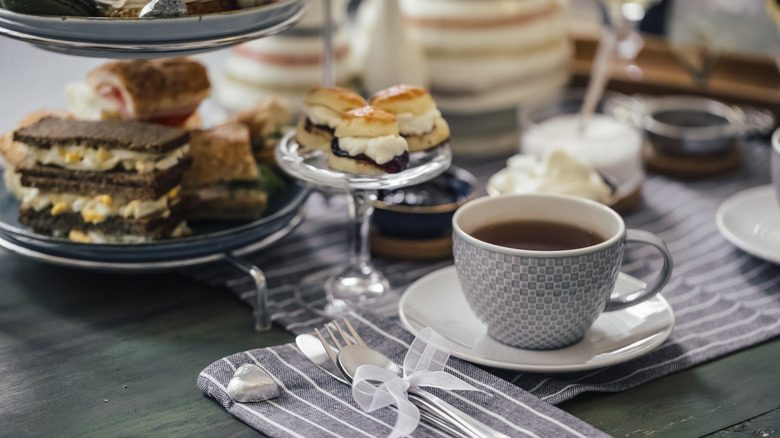 Eva-katalin/Getty Images
The birth of the great British tea party can be traced back to 1840 when Anna the Duchess of Bedford introduced the practice to bridge the gap between lunch and dinner, and scones definitely took a leading role. Today, tea parties offer a dedicated space and time for relaxation, conversation, and the enjoyment of simple pleasures, making them more relevant than ever. And, whether it's a Mad Hatter party inspired by "Alice in Wonderland" or a "Downton Abbey"-themed gathering, scones should be front and center.
But, you don't have to be confined to the traditional scone style! You can have endless experimentation with scones to allow for various flavor pairings, from classic plain scones with black tea to more adventurous combinations like lavender scones with herbal infusions. So, put on your favorite apron, preheat the oven, and dive into these 13 scone styles that will take your tea party from ordinary to extraordinary.
Classic plain scones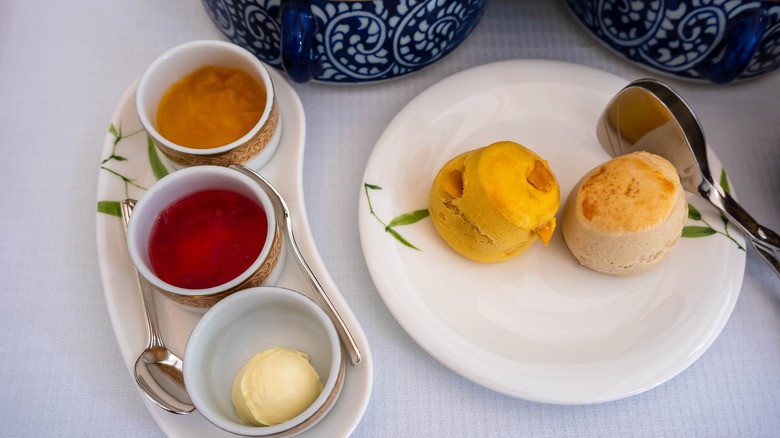 TamuT/Shutterstock
Want to opt for timelessness?  Classic plain scones are the heart of traditional British tea time and can be traced back to Scotland in the 1500s, but it is now a staple treat across the globe. However, these early versions were likely made from oats and cooked over an open fire.
Now that they're oven-baked and made from flour, this seemingly modest tea-time treat is light, fluffy, and sweet, with rich clotted cream and your favorite fruity jam. To make the best basic scone recipe, mix flour, sugar, baking powder, and butter — until they form a breadcrumb-like texture. Stir in cream and eggs to bring the dough together, then knead lightly, ensuring the scones maintain their soft crumb. Cut into perfect rounds, pop them into a preheated oven until they turn a golden hue, and then serve warm. Halve and lavish them with a generous spread of clotted cream and jam.
With its simple elegance, the classic plain scone complements tea of all varieties. It also offers an opportunity to indulge in a mildly decadent ritual that has been going on in Britain since the 1840s. This classic scone reminds us of the power of simplicity in a culinary world often driven by innovation.
Lemon poppy seed scones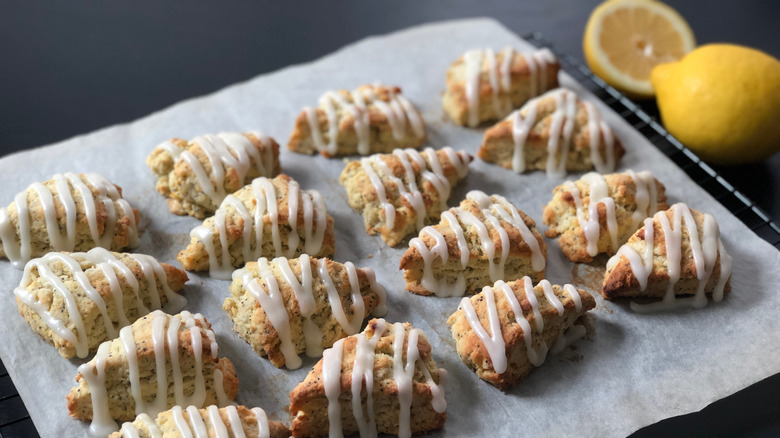 Andrea Maronyan/Shutterstock
Lemon poppy seed scones are light and refreshing, with a hint of citrusy tartness from the lemon and a unique, nutty crunch from the poppy seeds. These flavors especially complement black and green teas.
To bake these scones, just combine flour, butter, sugar, lemon zest, poppy seeds, and other basic ingredients, then bake them until golden. You can serve them warm, glazed with lemon-infused icing, clotted cream, jam, or dusted with powdered sugar.
Lemon poppy seed scones, with their light yellow color speckled with dark poppy seeds, are perfect for your tea party, especially if the weather is warm outside. This will remind you and your guests of the airy beauty of spring — and all those hopeful, warm feelings that come with it. Dangle some wind chimes, set off a sprinkler, and you'll be indulging in the bright atmosphere this type of tea party and scone provides. Who doesn't love spring all year long?
Blueberry scones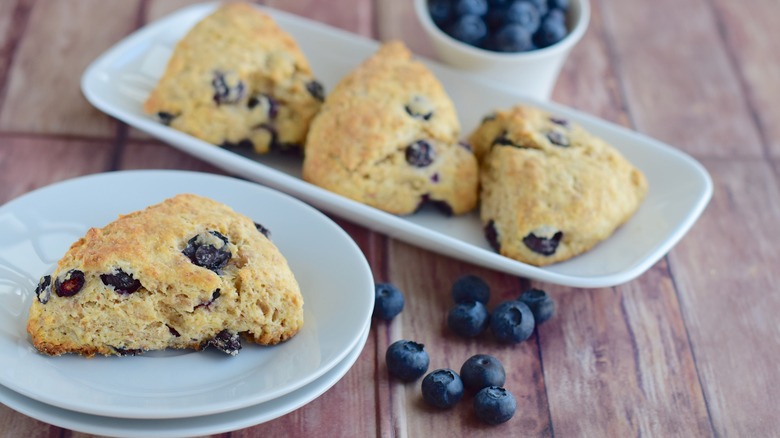 Amallia Eka/Shutterstock
Do you love sweet, fresh blueberries? Then try blueberry scones for your next tea party. Each bite introduces you to the joy of encountering fresh, succulent blueberries. Their natural sweetness perfectly complements the lightly sweetened dough, resulting in a balance that neither overwhelms nor falls flat. When baked, the texture of the blueberries contrasts with the crumbly scone, adding a burst of juiciness.
These scones can be enjoyed in their purest form, paired with powdered sugar, vanilla icing, or a drizzle of lemon glaze for extra sweetness. For your tea party, you can serve them as an indulgent breakfast, a sweet afternoon pick-me-up, or as a charming addition to any brunch spread. The blueberry scones recipe serves as a delightful reminder of the simple pleasures of baking! If you're a sucker for blueberries, this scone is a must.
These scones are best served with many different tea parties, such as afternoon, garden, birthday, baby, or a bridal shower! If you're hosting an outdoor event in a garden or patio, blueberry scones can complement the natural surroundings. In fact, the freshness of blueberries would be a good match for a nature-themed tea party. Or, if you're hosting a book club or a tea party with a literary theme, perhaps themed around a British author like Jane Austen, blueberry scones could give an authentic touch to your gathering.
Chocolate chip scones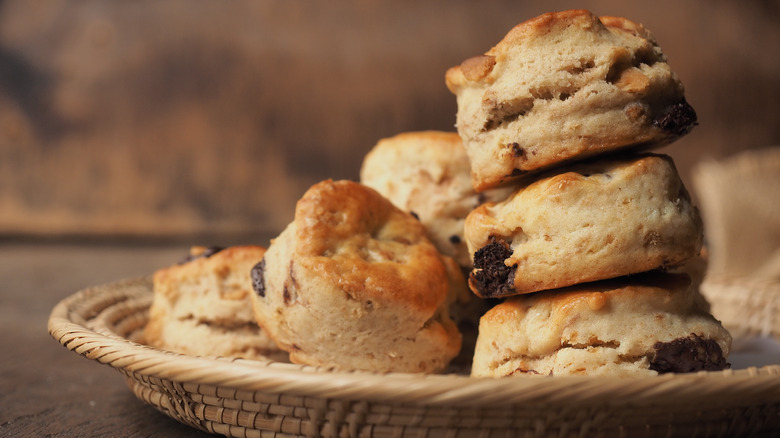 chaechaebyv/Shutterstock
For chocolate aficionados, nothing compares to rich and satisfying chocolate chip scones. The sweetness of the chocolate balances the slightly buttery, crumbly texture of the scone, a comfort treat with your tea, especially when you feel blue. You can swap out the traditional chocolate chips for white or dark chocolate or add sugar for an extra sweet aesthetic touch.
If your tea party time is flexible, you can serve chocolate chip scones as breakfast, a mid-afternoon snack, or dessert. Couple this with some candlelight and an old movie playing in the background, and you got yourself one suave, Audrey Hepburn-friendly tea party! 
We guarantee every one of your guests will enjoy this soirée. After all, who doesn't love chocolate and a retro vintage-styled tea party? Whatever theme or time of day you decide on, (and it's pretty clear you can enjoy a chocolate chip scone at any time of day) we know the chocolate scone tea party will remain a classic!
Easy cheddar scones
Plateresca/Getty Images
Calling all cheese lovers, it's time to experience easy cheddar scones! The allure of these easy cheddar scones lies in the cheese and buttery dough blend. The golden, cheesy exterior hides a soft, melt-in-your-mouth interior, creating a sensory journey that will impress any cheese enthusiast, especially if you want to avoid sweets and sugar. Add ingredients like chives, jalapenos, or bacon paired with cream cheese or butter.
The recipe is straightforward and can be prepared beforehand, leaving you free to focus on other aspects of the party, with basic ingredients such as flour, baking powder, butter, eggs, heavy cream, cheddar cheese, and roasted sunflower seeds. These scones can be served warm or at room temperature, making them a hassle-free addition to the tea party spread. 
There's just something comforting and homely about cheddar cheese scones. Their soft, crumbly texture combined with the saltiness of cheese provides a substantial snack that is sure to be a guest-pleaser, and help your tea party stand out.
Cherry almond scones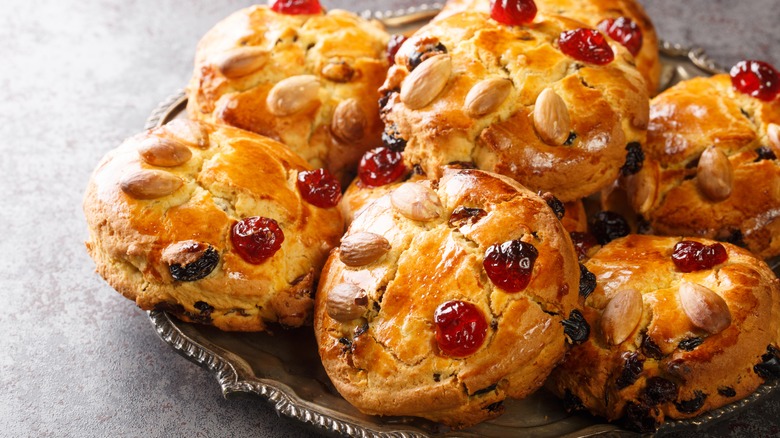 AS Foodstudio/Shutterstock
Do you like succulent cherries and the nuttiness of almonds? Cherry almond scones feature a perfect harmony of flavors, with the natural sweetness of the cherries providing a contrast to the almonds. They make an excellent addition to tea parties because their flavor profile pairs well with various teas, from classic black and green to herbal blends. The sweetness of the cherry balances out the tea's bitter notes, while the slight bite of the almond's bitterness compliments the tea's aromatic nose.
Also, the flexible nature of these scones makes them a crowd-pleaser. They can be enjoyed as is or with a touch of almond glaze or cream. Their delicate mouthfeel coupled with the exciting surprise of cherry bites makes them ideal for a tea party's relaxed, convivial atmosphere. They particularly shine at gatherings with a luxurious or elegant theme, such as an afternoon high tea or a sophisticated garden party. Their taste is complex and refined. Are any of your guests in the mood for dressing up? If so, black tie it is!
Lavender scones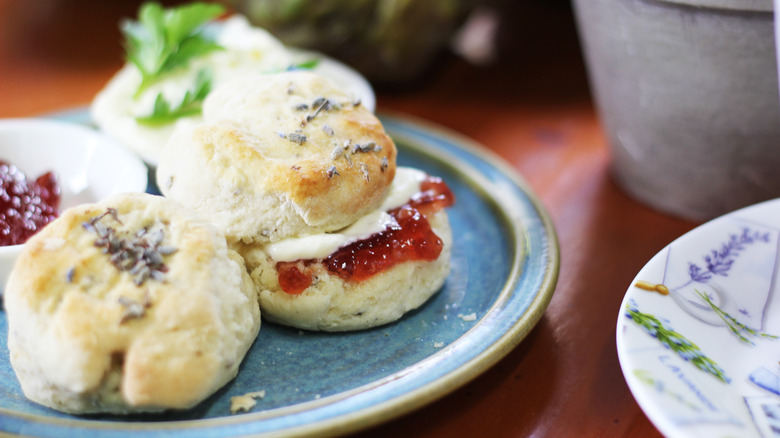 Ellee Hc/Shutterstock
Immerse yourself in the aromatic world of lavender scones, a treat that carries the fragrant essence of lavender flowers. These scones are a fragrant take on the traditional scone, infusing the dough with lavender flowers. The flowers not only impart a unique floral taste but also a soothing, therapeutic aroma.
The lavender, while distinct, isn't overpowering. Instead, it brings a freshness to the scones, making them ideal with your afternoon tea or a standout in a high tea menu. Their light purple hue, achieved by the lavender infusion, adds a vibrant, whimsical touch that beautifully elevates any tea party spread.
These scones are an ideal choice for a tea party for several reasons. Firstly, their flavor complements a range of teas, from bold black to softer chamomile or rose tea. Secondly, their delicate aroma contributes to a calming atmosphere if that is what you want to go for as your party theme. Cue the soothing background harp and everyone will feel like they just left a spa after attending your tea party.
Cinnamon sugar scones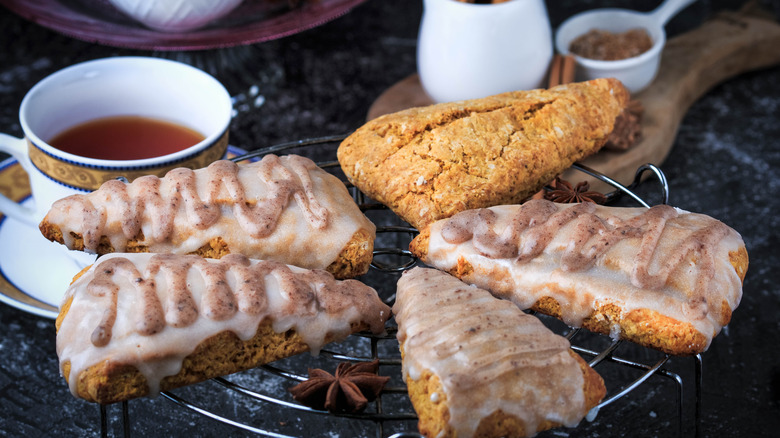 TalyaAL/Shutterstock
Cinnamon sugar scones tantalize your taste buds with a blend of sugar and spice — and everything nice! The scone's fluffy texture contrasts well with a coating of cinnamon-sugar mixture. The warmth of cinnamon pairs perfectly with the sugar which slightly caramelizes as it bakes, forming a crunchy crust.
But, why are cinnamon sugar scones particularly great at tea parties? Their sweet and spicy flavor pairs with a variety of bold teas and if you're feeling brave, they can even compliment a robust coffee blend as well.
Secondly, their preparation is effortless yet impressive, making them an easy and elegant solution for any host. The aroma of cinnamon that wafts from these scones creates a welcoming, cozy atmosphere — perfect for fall or the holidays. These devastatingly sweet treats will be a hit with all cinnamon lovers and, we'll hazard to guess that they'll even impress those who aren't major fans of the spice. 
Coconut scones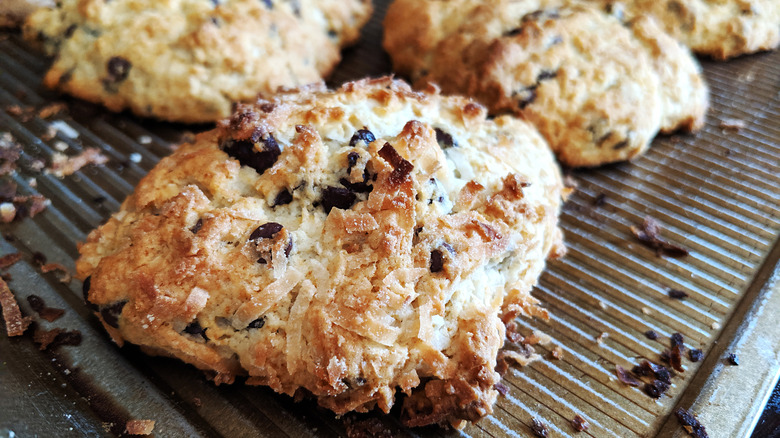 danceswithwords/Shutterstock
Coconut scones are a taste of the tropics, skillfully incorporating coconut's mild sweetness and delicate flavor into a scone's familiar form. Enhanced further with a generous glaze of coconut icing, these scones can carry an added sweetness. The scones' golden-brown exterior and white glaze promise a supple contrast in texture — a tender interior meets a crisp crust and a glossy, sweet glaze.
Coconut scones' light, sweet flavor pairs beautifully with various teas, but work especially well with chai. You can also service coconut scones with tropical jams or spreads, allowing your guests to customize their scones to their liking. These also provide a conversation starter, because their unconventional flavor could lead to discussions about tropical vacations, favorite exotic flavors, or other fun topics. And, these scones are especially good for tea parties where it's hot outside! 
Maple pecan scones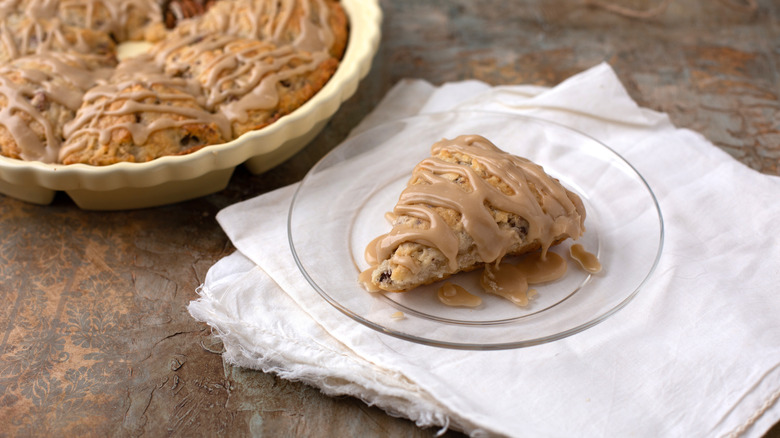 DiAnna Paulk/Shutterstock
Delight in the seasonal charm of maple pecan scones, a fall-inspired treat that encapsulates autumn's warm, juicy flavors! Their golden-brown exterior makes them an irresistible addition to any tea party spread particularly with an enticing glaze of sweet maple icing. Their flavors complement a variety of teas, particularly a strong black tea — particularly a complex Lapsang souchong or a Darjeeling. They also pair well with autumnal herbal teas like apple or pumpkin spice, creating a cohesive seasonal experience.
Their enticing aroma will fill your kitchen, setting the mood for a cozy and inviting tea party, especially if Halloween or Thanksgiving is just around the corner. The shedding leaves outside, the glowing pumpkins, and the fall lights will gorgeously encapsulate the party. Additionally, have everyone wear their costumes early (or late, who says Halloween has to end?) or their favorite fall flannels if Halloween isn't on your radar yet.
Cranberry orange scones
OksAks/Shutterstock
Cranberry orange scones feature the tartness of fresh cranberries, further elevated with an orange glaze, intensifying the citrus flavor. The soft interior is punctuated with bursts of tart cranberries, providing a textural contrast. Their golden-brown exterior, coated with a glossy orange glaze, is visually enticing and provides a hint of crispness.
Their sweet and tangy flavor pairs exceptionally well with various teas. The tartness of the cranberries and the sweetness of the orange can enhance the flavors of delicate and robust teas, from green and white teas to stronger black and oolong teas.
In addition, their bright, vibrant colors and seductive aroma make them a visual centerpiece of any tea party spread, catering to a wide range of palates, making them a crowd-pleaser at any gathering. You can serve them as is or with cream or butter. They are fun, cheery, and most of all — unique! That's what makes them so fabulous and can be enjoyed all year long.
Raspberry white chocolate scones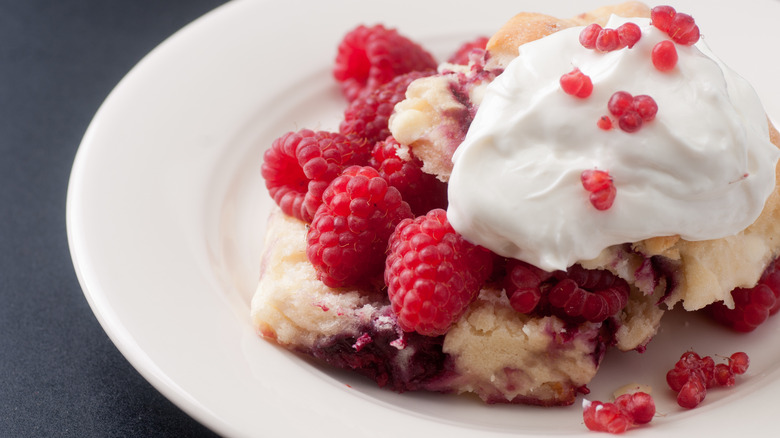 Wirestock Creators/Shutterstock
In search of a heavenly combination of tart raspberries and creamy white chocolate? The tartness of fresh raspberries provides a smooth contrast to the richness of white chocolate, captured in a crumbly yet tender scone base. These scones present an enticing visual treat with their golden-brown exterior, speckled with pockets of melted white chocolate and jewel-like raspberries. This appealing presentation makes them an irresistible addition to a tea party.
Their creamy white chocolate and tart raspberry flavors go well with many teas, from robust Ceylon teas to the more green and herbal varieties. They add a worldly element to your tea party, served with cream or butter. Lush and juicy, you'll be courting sophistication in no time, and when you walk in the room with a plate of these scones you'll definitely be carrying the star of the party. Dress up in your finest floral garments and wow your guests!
Earl Grey scones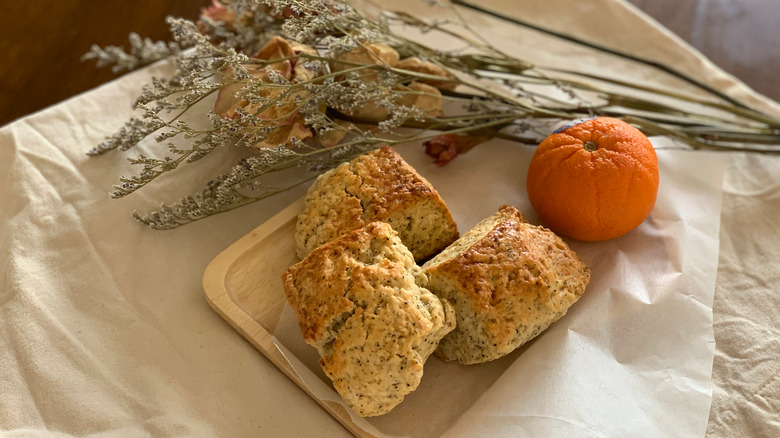 Seona in Anywhere/Shutterstock
Earl Grey scones basically incorporate Earl Grey tea into a pastry. Renowned for its subtle bergamot flavor, Earl Grey tea lends these scones a citrusy, slightly floral note that complements the rich, buttery base. The result is a scone that is a delicate balance that provides a familiar yet novel tasting experience.
Earl Grey scones are a testament to creativity and culinary innovation. They pair exceptionally well with pairing with a wide range of delicate and robust teas, including Earl Grey of course. But, try them with a lighter black tea such as Keemun, Lapsang Souchong, or Yunnan. These scones also provide a talking point. Their unique incorporation of tea into a traditional pastry may stimulate intriguing conversation, making the tea party more memorable.
Earl Grey scones' flavor and presentation perfectly balance classic British tea time and modern conversation. While their form and texture align with a scone's comforting, traditional expectations, their infusion of Earl Grey certainly adds a unique twist. Nostalgic or craving the British Victorian era now? Well, if you opt for a vintage tea party, wear your laciest, most beautiful antique dress and take a trip to the past.