Black, Green, Pu'erh And Oolong: 4 Types Of Tea To Get You Started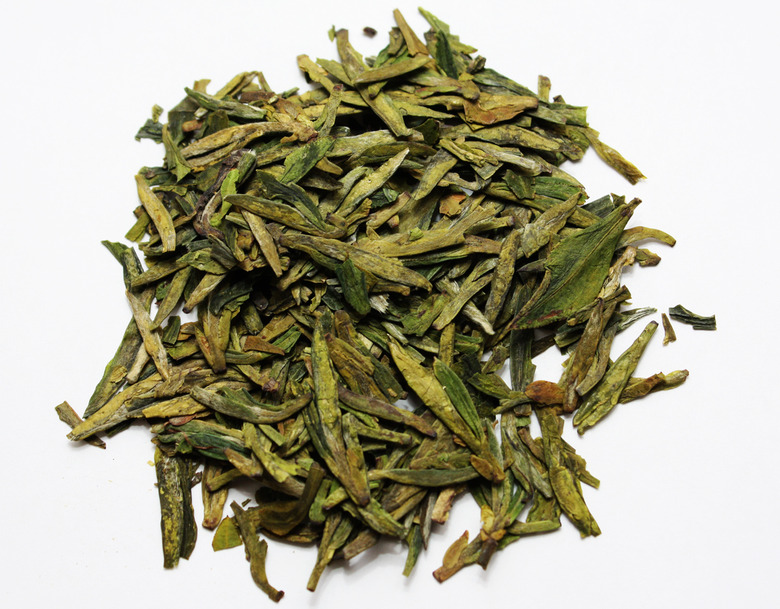 Everyone wants to drink tea. Either you think it's healthier for you, you need to cut back on coffee or you just want something new in your life. It's important to remember that not all teas are created equal, even if they come from the same plant, Camellia sinensis. Like wine, colors and flavors are imparted by oxidation, terroir, altitude, location and how the tea is cultivated. When picking out the tea that's right for you, it's good to get an idea of what you are in for. Here are the nuances of the four main types of teas out there, what to look for when shopping for them and recommendations on some to get you going.
1. Black
This is one of the most common teas you will see. It's in everything from Lipton to Earl Grey to most classic iced teas. Black tea is grown all over the world, and where it's cultivated determines what you are getting in the cup. From India comes earthy assam and perfumed darjeeling; in China you get smoky lapsang souchong and rich keemun; and the favorable ceylon hails from Sri Lanka. One reason this brew gets so dark (aka black, even though it's often a muddy red or deep brown) is that the leaves oxidize for a longer time than any of the other teas.
People use black tea in all sorts of blends — for example, with cardamom, cinnamon and anise in standard Indian chai (which is simply the word for tea in India). It pairs nicely with all sorts of flavors, and if you are looking for a strong cuppa to get you going in the morning, this definitely wins. Most black teas are steeped in boiling water for three to five minutes, though it's a good idea to check and see what the purveyor recommends.
To buy: A really nice blend that gives you a little something special is Stash Teas' Double Bergamot Earl Grey ($4.99 for a box of 10), a brew that has a citrus kick from the bergamot. The Chicago-based company Rare Tea Cellar also delivers great black teas from all over the world, including the robust House Golden Assam, light and fresh First Flush Darjeeling and Three Estate Black, a blend of Indian, Chinese and Sri Lankan teas ($10 to $30 per 1/4 pound).
2. Pu'erh
For anyone who loves coffee, pu'erh is a great tea option to start with. First of all, it has a full, woodsy taste and dark depth that can rival many a coffee bean. It gets this rich flavor due to aging and fermenting. Like wine, the longer it's left to rest, the smoother and more intense it gets. Pu'erh is also incredibly easy to brew and is the only caffeinated tea you can forget about and still enjoy — it can't be overbrewed.
In general, you'll want to make it with water at precisely 205 degrees and let the tea steep for four to six minutes. The best part is that while most other teas have to be thrown away after you make a cup, pu'erh can be resteeped a few times before it's spent.
To buy: You can spend a lot of money on this type of tea. Like a fine scotch, vintages, growers and regions make all the difference. Order pu'erh loose or in the classic block form, which can come as one large brick or in individual pot sizes. The way to start is with the Numi line of bagged pu'erh ($8.99 for a box of 16), which come plain or enhanced with spices including cardamom, ginger and chocolate. If you want to go straight for the classically formed pu'erh, the Tao of Tea in Portland sells individual "baskets" or larger discs of the tea (starting at $2.75 per gram and up to $40 for a brick).
3. Green
One thing that often happens with green tea is oversteeping, which is why you get brews that are high in tannins, bitter and in need of a lot of honey. If done right, green tea should be light, actually taste green and have a lemon-tinged freshness. In general, green tea comes from China, and though they all consist of slightly oxidized leaves from the same species of plant, you will find a lot of subtleties between varieties.
From the Zhejiang province in China comes the famous Chinese dragon well, which will boast a lot of dark vegetal flavors in the cup. Jasmine tea from Fujian province imparts a light, floral essence, much lighter on the palate. Japanese roasted brown rice genmaicha is toasty like popcorn, and matcha — that powdered green that has made its way into smoothies, baked goods and many health campaigns of late — is supergreen and grassy. Each of these teas has distinct brew temperatures and steeping times, so it's best to follow the instructions that come with your purchase. If there is no information, heat the water to 170 degrees and brew for three to four minutes.
To buy: France-based Palais des Thés sells an array of great loose-leaf greens, including a good starter one called Ping Cha ($8 for 3 1/2 ounces). For more refined, higher-end greens, try the slightly sweet Long Jing Imperial ($30 for 3 1/2 ounces) or Long Jing, aka dragon well ($22.50 for 3 1/2 ounces). If you happen to be in a grocery store and just want to give green a whirl, pick up a box of Choice Organic Teas ($4.99 for a box of 16). They sell genmaicha and bancha hojicha.
4. Oolong
With oolong, you start getting into the realm of more esoteric teas. The reason for this? Instead of merely being picked, dried and oxidized, oolong first gets shriveled in the sun, where it starts twisting. In the end, you have long curly leaves or little balls. Overall, oolong remains unique to China, though other countries have started producing their own versions. Because this delicate tea has so much going on flavor-wise, you have to treat it carefully. Oolong should be brewed at 190 degrees and steeped for about four minutes. The color of the tea can be anywhere from brown to slightly green to almost clear depending on what type of oolong you get.
To buy: Known as the champagne of teas, oolong can run you anywhere from $2 to $150 an ounce. Rishi Tea has an array of choices, from stuff for the average tea drinker to more esteemed blends. Try the bright green and slightly fruity Cui Feng ($18 for 50 grams), or go for the tropical and honey-tinged Eastern Beauty ($23 for 50 grams).
Read more about tea on Food Republic: