What Is High Tea?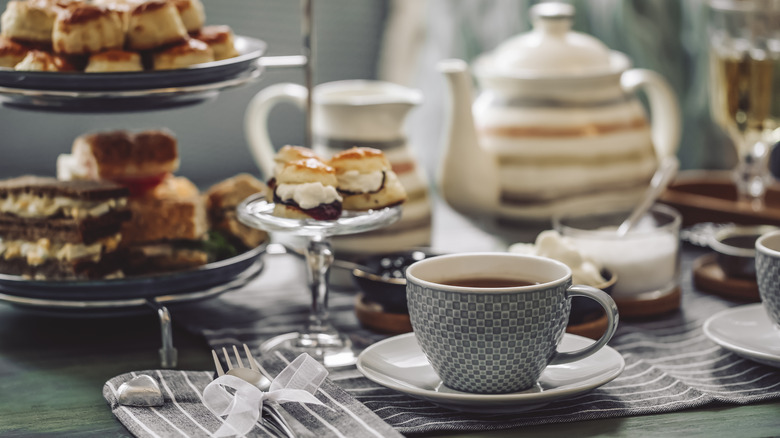 Eva-katalin/Getty Images
We may receive a commission on purchases made from links.
High tea is the British tradition of drinking tea while sitting in high-backed chairs at a table full of plated items such as cold meats, vegetables, pickled fish, potatoes, salads, pies, tarts, homemade bread or crackers with butter, teacakes, and fruitcakes. It's basically dinner, and in the working parts of England today, the word "tea" is used for a meal happening (with tea) from 5 to 7 p.m.
Tea — as well as the time to enjoy it at length — was expensive for many, and high tea started as something for royals and aristocrats to take in the afternoon in a leisurely fashion while seated in posh chairs. However, when the Industrial Revolution took over the UK in the 18th century, it meant that most factory workers were further away from their homes and needed a break from work by 6 p.m. which included food and tea. Thus high tea crossed class divides and became a regular happening for workers as well as Downton Abbey types.
The use of the word "high" marks it as different from a similar tradition of afternoon tea, where the tea happens in casual chairs or sofas that are lower and possibly more soft and relaxing. The phrases can be confusing, but afternoon tea and high tea are generally not interchangeable, though they do center around the serving of hot tea.
Today, many upscale hotels in America and the UK offer high tea that has elements of afternoon tea as a way to draw in travelers seeking an elegant version of the time-honored tradition with hot pots of tea and an ample food buffet of crustless "tea sandwiches" in variations like egg and watercress, cucumber, smoked salmon, and coronation chicken.