22 Unique Toppings To Make A Meal Out Of Baked Potatoes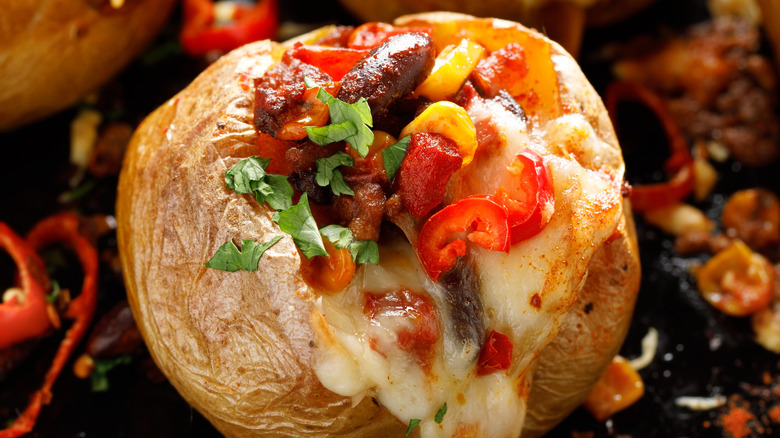 zi3000/Shutterstock
Are you a fan of baked potatoes but getting tired of the same ordinary toppings? While classics such as cheese, sour cream, and tuna have their place, the versatile (and amazing!) potato deserves more. Gone are the days of jacket potatoes being relegated to side dish status — they can proudly take their place center-stage as a main course.
And so they should — because baked potatoes are the perfect midweek dinner in so many ways. They are an excellent budget meal, offering a hearty and fulfilling dish without denting your wallet. They also provide a variety of vitamins and minerals while being low in fat, meaning you can choose to add a healthy topping or indulge in something more comforting.
Either way, your baked potato acts as an open invitation — ready to soak up whatever flavor you choose to put on top. So it's time to get creative and dive into 22 unique toppings to add to your baked potato to make it a substantial meal.
Chicken, tomato and avocado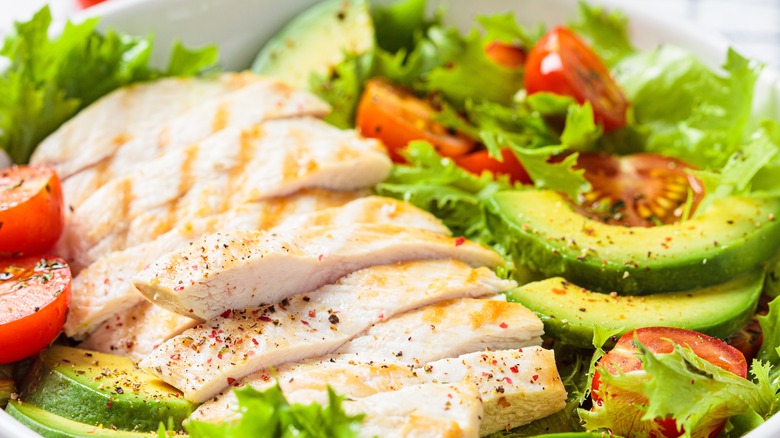 Nina Firsova/Shutterstock
If you want to ditch the sour cream and mayonnaise but still have a creamy element to your potato, try topping it with avocado. The rich texture will balance the earthiness of the potato perfectly, the juicy grilled chicken will add a delicious protein punch, and the tomatoes will add a vibrant pop.
As a balanced meal, this topping hits all the bases, filled with heart-healthy fats from the avocado, lean protein from the chicken, and gluten-free carbohydrates in the potato — meaning it can be a regular family meal.
Cook the chicken on a grill or skillet while the potato is baking, adding plenty of seasoning, herbs, and lemon juice. Once the potato is cooked, cut it open and place the chicken on top, allowing the juices from the meat to soak into the fluffy potato flesh. Finally, add the crowning touch with slices of creamy avocado, halved baby tomatoes, and some fresh cilantro, imparting a burst of freshness and color to the dish.
Mediterranean vegetables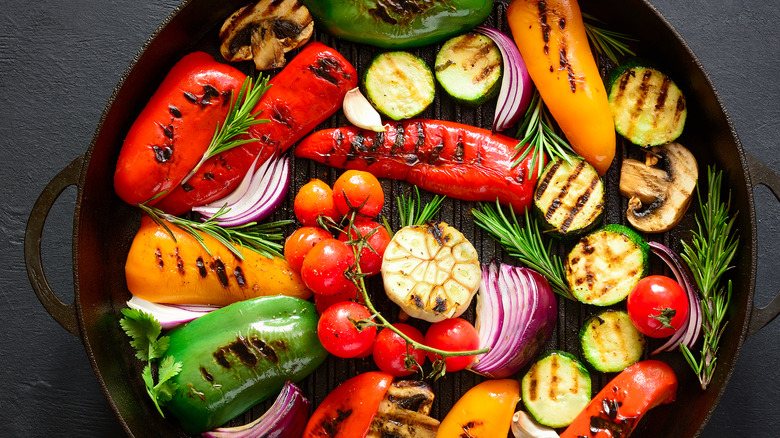 Fortyforks/Shutterstock
Introduce a dash of sunshine to your baked potato by topping it with a medley of Mediterranean vegetables. The Mediterranean is known for its fresh, vibrant produce, and by topping your potato with the best from the region, you will be doing your body and tastebuds a favor.
The Mediterranean region is renowned for being one of the world's healthiest and for good reason. Colorful vegetables such as tomatoes, bell peppers, zucchini, and eggplant are bursting with nutrition — particularly vitamin C, which is a crucial component of a healthy immune system. So, with this topping, your jacket potato can be both a nourishing comfort food and a boost of nutrition.
A variety of raw and cooked vegetables will give you a wide range of flavors and textures. Grill or fry the vegetables lightly to retain as much nutrition as possible. Aim for rainbow colors with tomatoes, spinach, yellow peppers, carrots, and red onions. Add a drizzle of olive oil at the end to finish your dish off perfectly.
Smoked salmon and cream cheese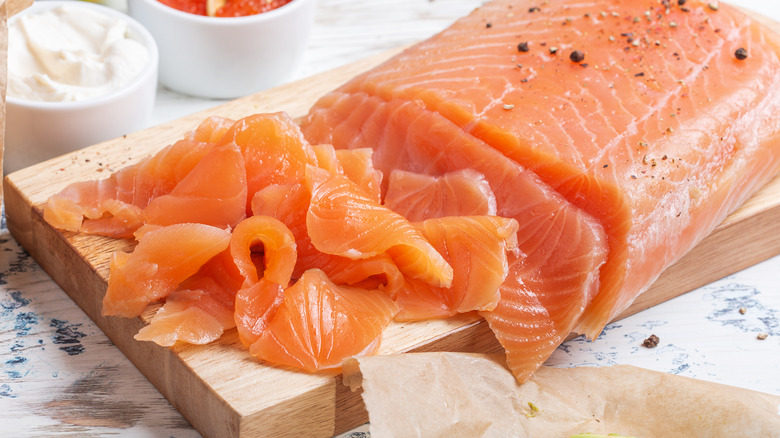 istetiana/Shutterstock
If you need an idea for an indulgent Sunday lunch or a fancy midweek supper, try topping your baked potato with smoked salmon and cream cheese. Often used as a bagel filling, there is no reason this fabulous combination can't be paired with our favorite tuber to make a substantial meal.
The rich smoked salmon adds both delectable flavor and healthy omega-3 fats, complementing the starchiness of the baked potato. Cured smoked salmon is the usual choice, but hot-smoked salmon can work really well here, too, and give a different texture. The cream cheese provides a deliciously creamy flavor that ties the whole dish together.
Whisk up some olive oil with lemon juice, capers, and dill, and drizzle over the top for extra freshness. With this tempting combination of flavors and textures, you're in for a treat!
Sweet and sour pork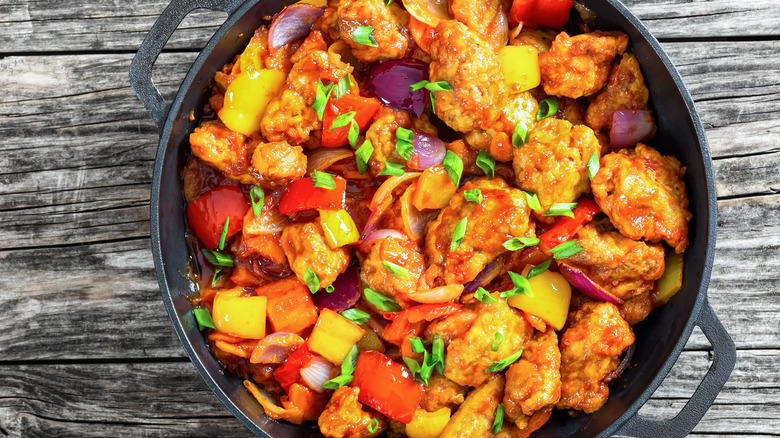 from my point of view/Shutterstock
If you're in the mood for a gastronomic adventure that fuses the best of Eastern and Western flavors, look no further than a sweet and sour pork-topped baked potato. While you may be more accustomed to accompanying your sweet and sour with rice or noodles, pairing it with a baked potato works brilliantly.
The starchy potato soaks up the sweet sauce perfectly, and the crispy pork pieces provide a wonderful contrast of texture. Be sure to include caramelized onions and peppers to create even more textures and flavors in each mouthful.
For the perfect sweet and sour, marinade the pork in the mixture for 30 minutes before cooking to infuse it with the deliciously tangy flavors. To serve, spoon the sweet and sour pork mixture on top of the fluffy baked potato and top with some crunchy scallions. Then sit back and savor the fusion masterpiece you have created.
Hawaiian ham and pineapple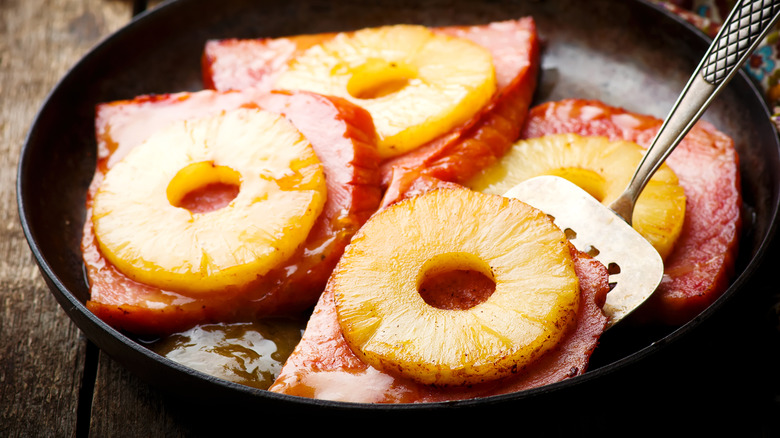 zoryanchik/Shutterstock
If you want to start an argument in a previously calm room, just mention Hawaiian pizza. For some reason, this dish has the ability to divide opinions and get people's backs up like no other. For some, the contrasting flavors of the sweet, tangy pineapple and the saltiness of the ham are a match made in heaven. For others, the clash of fruity and savory flavors is a step too far.
If you are an adventurous type who thinks Hawaiian pizza is a culinary revelation, then why not add a tropical baked potato to your repertoire? The juice from the pineapple will ooze into the potato flesh through the salty ham, creating an irresistible medley of flavors. To match the controversial pizza topping even more closely, melt some mozzarella cheese over the top, allowing it to form a gooey, golden layer to bind the ingredients together.
For another Hawaiian treat, check out our grilled cheese version.
Spinach and feta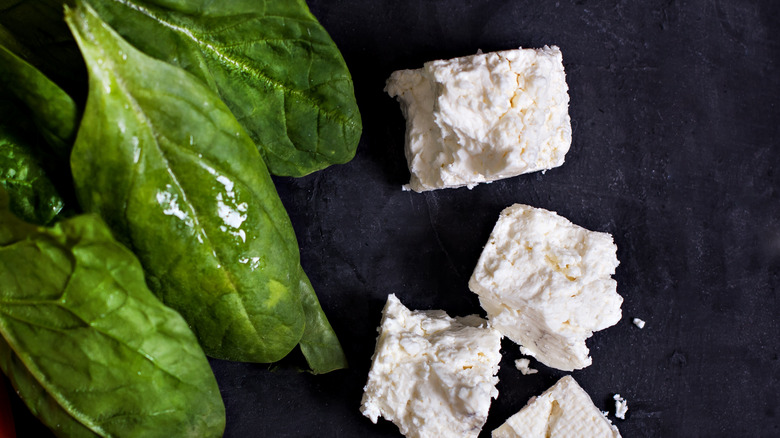 Julialototskaya/Getty Images
If you are looking for a tasty, healthy topping for your spud, try spinach and feta.
This Greek-inspired idea takes the filling of the classic Spanikopita and transforms it into an easy, comforting midweek meal. Spinach is known to be one of the healthiest foods you can eat, so adding it to your potato is a great way to give your dinner a nutritional boost. Its subtle flavor pairs perfectly with the tangy feta, so even if you are not a big fan of greens, this flavor combination will suit your liking.
Prepare to be amazed by the simplicity of this sensational topping — there is no need to even turn on the stove. Placing the spinach leaves in a colander and pouring boiling water over them will cause them to wilt and soften but retain most of the nutrients. You can then mix it with some crumbled feta cheese and parsley, then spoon it on top of your jacket potato for a fabulous vegetarian supper that will hit all the right notes in terms of flavor and nutrition.
Cauliflower cheese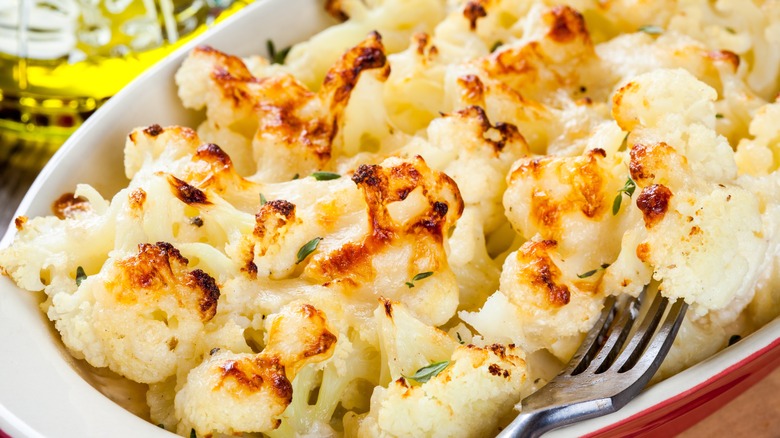 nblx/Shutterstock
Is there a better comfort food than creamy, rich cauliflower cheese? Well, yes, there is — a cauliflower cheese-topped baked potato!
While you may think of cauliflower cheese as an indulgent treat, it may be healthier than you realize! Dr. Michael Greger, author of "How Not To Die," recommends everyone eat at least one serving per day of cruciferous vegetables such as cauliflower and broccoli. A regular diet of broccoli, brussels sprouts, cabbage, cauliflower, or kale may protect against cancer (via Advances in Experimental Medicine and Biology).
So why not seize the opportunity to get your daily cruciferous fix by combining two classic dishes? The fluffy jacket potato will soak up the cheese sauce wonderfully, creating the ultimate comfort food that feels like a big hug on a plate. Once you have added the cauliflower cheese to the potato, stick the whole dish under the grill for a few minutes to create the perfect golden crust on top.
Steak and Mushroom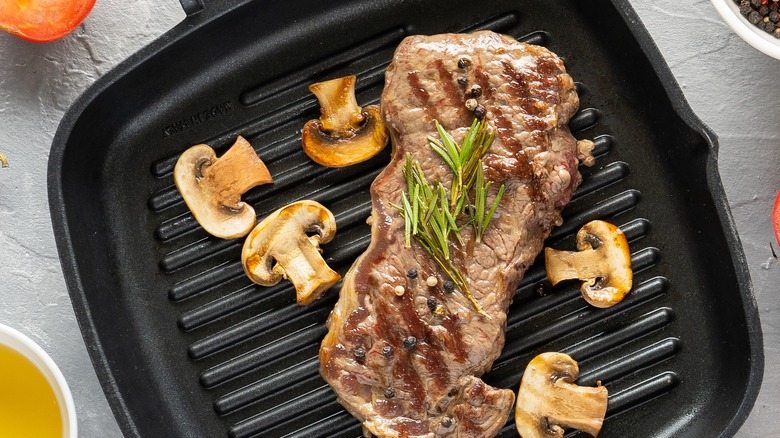 photolampocka/Shutterstock
If you're looking to elevate your baked potato to the next level, give this steak and mushroom topping a try. Though the usual potato to have with steak may be fries, jacket potatoes work really well as an alternative, and having the steak as a topping is a creative twist.
Whether you like it well-done, rare, or somewhere in between, cooking the steak precisely to your liking and seasoning it generously is the key to this dish. Make sure to allow time for the steak to rest while you cook the mushrooms.
Once the mushrooms are cooked, slice the steak and place it on top of the potato, allowing the juices to soak into the spud. Top with the sautéed mushrooms and a dollop of sour cream and chives.
Whether you're looking for a satisfying weeknight dinner or a special meal, this steak and mushroom-topped baked potato will deliver.
Ratatouille
Elzbieta Sekowska/Shutterstock
Ratatouille is a classic French dish full of vibrant flavor from the Mediterranean vegetables it contains. Usually consisting of cooked tomatoes, peppers, zucchini, onions, and eggplant, this meal was originally a French peasant's dish and manages to be both comforting and light at the same time. Pairing ratatouille with a baked potato is the perfect way to create a healthy midweek supper that will satisfy the whole family.
To make the perfect ratatouille, dice the vegetables into tiny cubes and simmer slowly in olive oil to allow the flavors to develop. The fresh tomatoes will burst open during cooking, creating a silky sauce that the baked potato will gladly soak up.
As a vegan meal, this dish will also delight meat lovers with its fresh, vibrant vegetables and comforting potato, allowing the whole family to indulge in a wholesome meal that celebrates the beauty of Mediterranean flavors. Bon appétit!
Garlic shrimp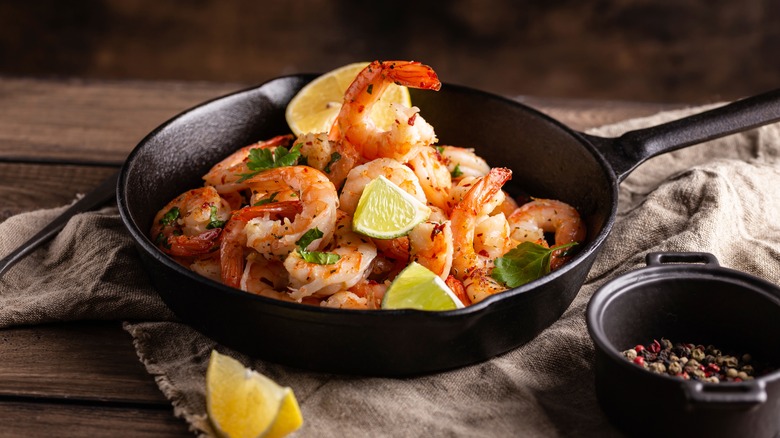 Tati_honey/Shutterstock
If you're a fan of seafood, prepare your tastebuds for a party with the irresistible combination of garlic shrimp and baked potato. The aroma that fills your kitchen as you cook the two elements of this dish will have you salivating before you even sneak a taste.
A garlic shrimp-topped baked potato provides a wholesome and nutritious midweek meal, as the lean protein of the shrimp combines with the filling potato to ensure a balanced and wholesome dish.
Sauté the shrimp with a couple of garlic cloves and a generous serving of butter. When you add the garlic shrimp to the potato, the garlic butter will soak into the potato, creating the perfect accompaniment to the succulent prawns. To give the dish some extra zing, squeeze some lemon juice over the top and add chopped fresh herbs.
This easy-to-prepare meal will become a weekly staple with its bright flavors and indulgent textures.
Italian Caprese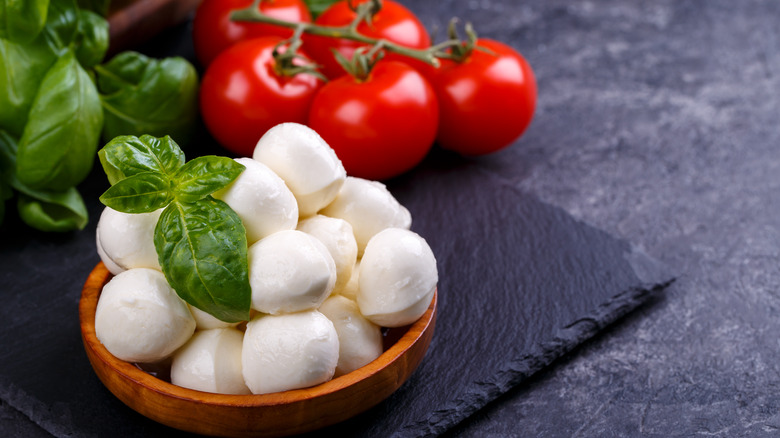 Lana_M/Shutterstock
A Caprese salad makes a lovely light lunch or starter but is not filling enough as a main meal. That's about to change when you try a Caprese-topped baked potato! The iconic Italian flavors of tomato, basil, and mozzarella combine brilliantly with a soft, comforting baked potato to create a dish that somehow manages to be both light and filling.
The key to elevating this dish is the choice of tomato. Choose small, sweet tomatoes such as piccolo tomatoes rather than large salad tomatoes, which will have less flavor. Halve the tomatoes (or slice if using larger ones) and cut the mozzarella into similar-sized pieces. Tear some basil over the top and add the topping to the baked potato.
Now you have a choice — eat it as is for that classic Caprese flavor, or stick it under the broiler for a few minutes. This will soften the tomatoes and melt the mozzarella, creating a gooey pizza-like topping that is the ultimate comfort food. Either way, your tastebuds will be on a trip to Italy, and they won't be disappointed!
Roasted red pepper hummus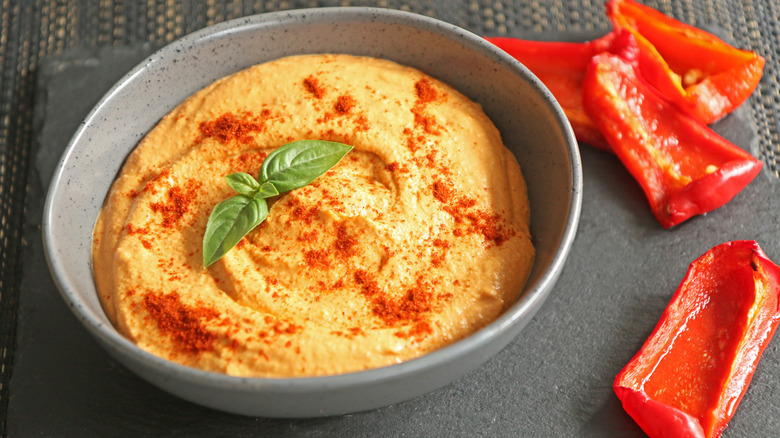 Evgeniya Hook Media/Shutterstock
If you're looking to cut back on your meat intake or simply want to eat more plant-based food, a roasted red pepper and hummus-topped baked potato is a fantastic meal that is both healthy and satisfying. This topping adds a burst of Mediterranean-inspired goodness to your potato with its decadent and intense flavor.
Roasting bell peppers enhances their natural sweetness and gives them a smoky edge. You can buy roasted peppers in a jar or roast your own at home in the oven until the skins go black. Once cooled, peel them and blend them with canned chickpeas, garlic, lemon juice, and tahini to create your hummus.
Once blended to your desired consistency, add your hummus to the jacket potato. The hummus will sink into the soft flesh of the potato, creating a delicious mouthful with each bite. This dish is not only easy to make and utterly scrumptious, but it is also incredibly nutritious, containing antioxidants from the peppers and protein and iron from the chickpeas.
So, next time you crave a baked potato with a twist, give a roasted pepper hummus topping a try for a perfectly balanced and highly satisfying meal.
Buffalo-style chicken and blue cheese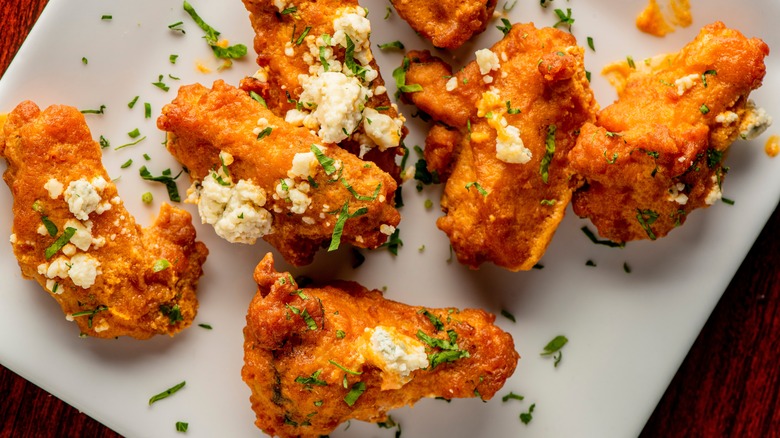 Marie Sonmez Photography/Shutterstock
If you love bold and spicy flavors, get ready to fire up your taste buds with a Buffalo-style chicken and blue cheese-topped baked potato. The classic flavor combination of hot chicken and cooling blue cheese is a revelation when served atop a potato for a great midweek dinner.
To make your chicken perfectly tender, marinate in the hot sauce mixture for at least 30 minutes before frying or baking. Remember, the key is to strike the delicate balance between achieving delectable crispness while maintaining tender juiciness — so be sure not to overcook it.
Once your chicken is cooked, pile it on top of your golden jacket potato and crumble blue cheese over the top. Gorgonzola is an excellent choice that will balance the chicken with its creamy texture and tangy flavor.
Pop the potato back in the oven for five minutes to allow the cheese to melt and create a mouthwatering symphony of flavors that will sink into the fluffy potato and complete the perfect game-day treat or extravagant supper.
Brie and cranberry
sweet marshmallow/Shutterstock
Indulge in the tempting combination of creamy brie and tangy cranberry sauce with a Brie and cranberry-topped baked potato. This delightful twist takes your tastebuds on a journey of rich and savory flavors, complemented by a touch of sweetness.
You can make your cranberry sauce from scratch to take the flavor up a notch. Combine some fresh cranberries with sugar, water, and a squeeze of orange juice and simmer gently for about 10 minutes, until the cranberries have burst to create the sauce.
Once the sauce is made, slice the brie and add it to the hot potato, topping it with the delicious cranberry sauce, which will ooze into the flesh. The heat of the potato and sauce will soften the brie, but you can always put it in the oven for five minutes if you want it to melt entirely.
If you don't need this dish to be vegetarian, some crispy bacon bits on top would make a fantastic addition and give a great contrast of textures.
Turkey Chili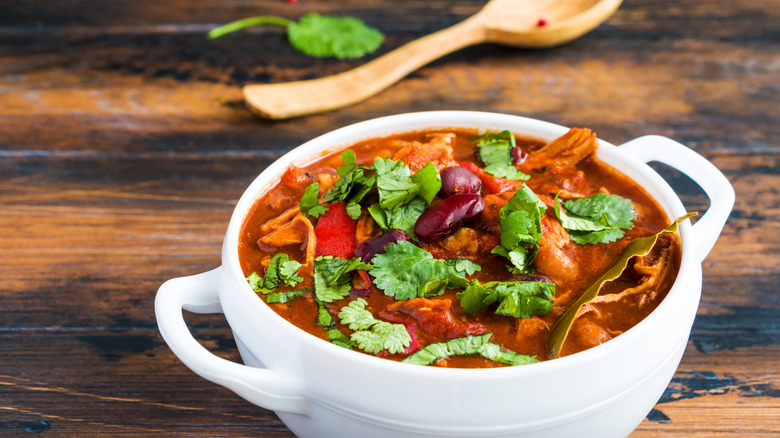 Magrig/Shutterstock
Experience the ultimate comfort food fusion with a turkey chili-topped baked potato. This tasty fusion combines the warm and hearty flavors of chili with the satisfying simplicity of a baked potato, creating a meal that's as delicious as it is comforting.
Turkey mince is an excellent alternative to red meat as the hero of the chili. It is affordable and low fat, is a rich source of protein, and provides a variety of vitamins and minerals. The turkey will absorb the chili flavors beautifully as it simmers alongside the kidney beans and tomatoes to create a rich sauce.
Once your chili is ready, spoon it generously on top of the baked potato, pouring on plenty of sauce for the spud to soak up. Now for the fun part — the garnish! Top your chili potato with whatever additions you wish — sour cream and cheese are classic choices. Avocado will add a creamy note, and sliced jalapeños work well if you fancy some extra heat. Be creative and customize your turkey chili potato to your liking.
Sundried tomato and goat cheese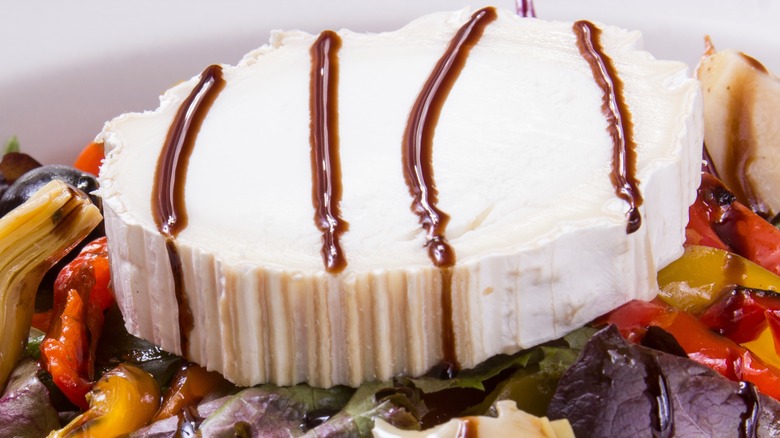 Christopher Lloyd-Baron/Shutterstock
Upgrade your baked potato with the tantalizing combination of sundried tomatoes and goat cheese. This flavor-packed duo brings a burst of Mediterranean goodness to your favorite tuber, creating a deliciously savory and indulgent meal.
While most of us wouldn't consider cheese a health food, goat cheese is actually considered to be a better option than cow's cheese from a health standpoint. It is easier to digest and has anti-inflammatory properties, making it an excellent choice for a healthy midweek meal (via Healthline).
The tangy taste of goat cheese will perfectly balance the deep flavor of the sundried tomatoes, and both will complement the earthiness of the potato. Once your potato is cooked, spoon the goat's cheese and tomato mixture on top, allowing the heat of the potato to melt the cheese slightly. Fresh herbs such as basil or parsley will work well, along with a drizzle of olive oil, to finish the dish.
Chickpea curry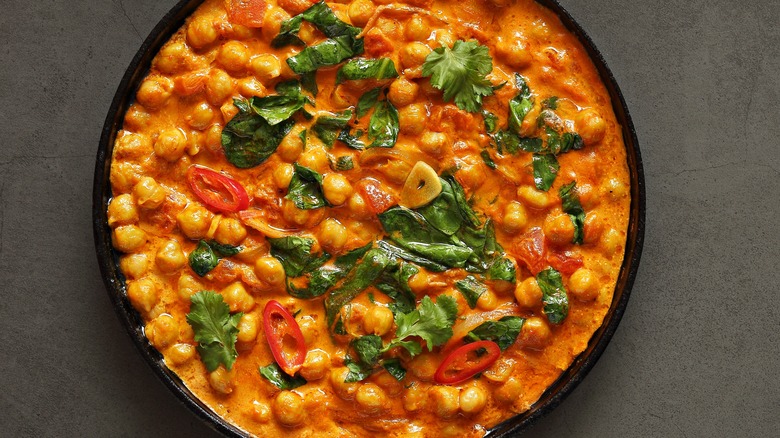 Losangela/Shutterstock
Curry with a baked potato may seem like an unusual pairing, but it's a fusion worth exploring. The baked potato serves as a fantastic flavor sponge, absorbing the aromatic curry sauce in a similar manner to rice. This combination creates a midweek meal that combines a baked potato's comforting simplicity and curry's rich flavors.
Chickpea curry, or chana masala, is a mild, fragrant curry that is filling, healthy, and delicious. The curry itself is easy to prepare and can simmer away in the pot while you bake the potato. Once your spud is perfectly baked, open it up and gently fluff the insides with a fork. Spoon a generous amount of the aromatic chickpea curry over the potato, allowing the creamy and spiced chickpeas to seep into the flesh, creating a delightful medley of flavor.
Fig, prosciutto and gorgonzola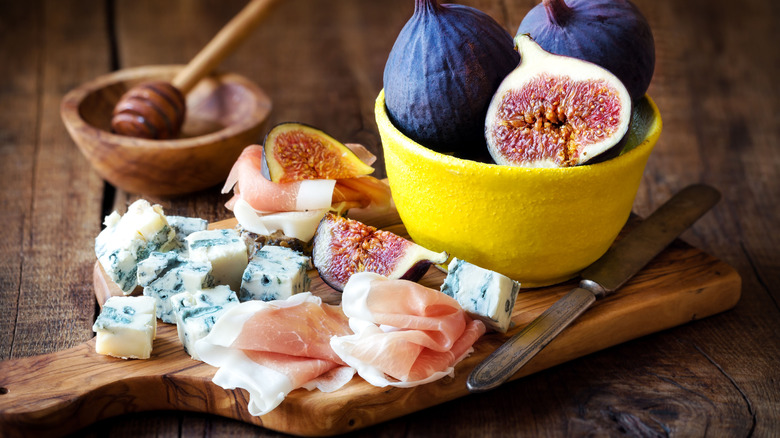 kuvona/Shutterstock
Elevate your baked potato experience to new heights with the exquisite combination of fig, prosciutto, and gorgonzola. This unusual and indulgent topping takes the humble jacket potato and transforms it into a gourmet delight that tantalizes the senses.
Figs, with their luscious sweetness and unique texture, are often confined to the realms of desserts. However, they are an underused gem in savory dishes, capable of bringing a delightful depth and complexity to a plate, especially here when paired with umami-rich prosciutto and cheese.
To assemble this flavor extravaganza, slice the figs and place them on top of the baked potato to allow the juices to penetrate the flesh. Drape the prosciutto slices on top and crumble the gorgonzola over the whole dish. Popping the entire dish back in the oven will allow the cheese to melt and the prosciutto to crisp up, creating a fantastic array of textures to match the contrasting flavors.
Guacamole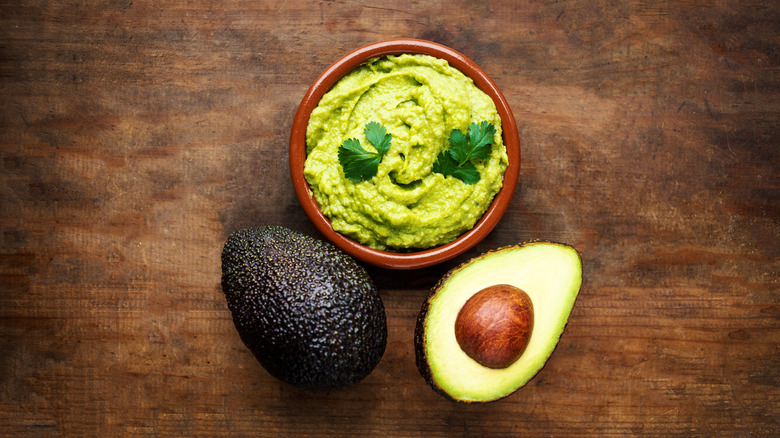 NataliaZa/Shutterstock
Whip up a fusion fiesta with a guacamole-topped baked potato that will have your tastebuds partying all night. Avocados seem to go with just about everything, and the baked potato is no exception. This vibrant and zesty topping adds a burst of freshness and Mexican-inspired flair to the humble spud, creating a delicious and comforting meal.
As a vegan topping for your baked potato, homemade guacamole is as healthy as it is tasty. With vitamins from the tomatoes and healthy fats from the avocado, this is one creamy topping you needn't feel guilty about.
Once you have made your guacamole, slather it on top of your potato and add some diced tomatoes. Finish with a squeeze of lime for some freshness and some cilantro leaves. The guacamole-topped baked potato is a celebration of fresh ingredients and bold flavors, creating a satisfying and nourishing meal that's ideal for any occasion.
Barbecue Jackfruit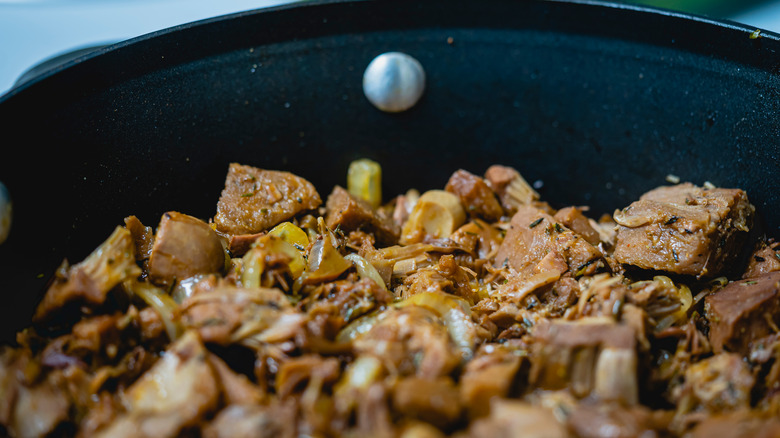 P Kyriakos/Shutterstock
If you've never tasted jackfruit, now is the time to do so by making a barbecue jackfruit-topped baked potato. Jackfruit has become a bit of a sensation in recent years, particularly in vegan cooking. When shredded into long pieces, it resembles the texture of pulled pork, making it a perfect meat substitute. It also has the ability to absorb flavor, meaning it will soak up the smoky barbecue sauce easily.
While there are some great brands of barbecue sauce out there, nothing beats homemade, so make your own if you have time. This allows you to adjust the smokiness to your own liking, making it as sweet or tangy as you prefer. Cooking your jackfruit in the sauce will allow it to absorb the smoky flavors before piling it high onto your jacket potato. Top it with some crunchy raw scallions to give some texture contrast.
Whether you are vegan or just want to try something new, this barbecue jackfruit baked potato is sure to impress and become a regular mealtime option.
Mackerel and beetroot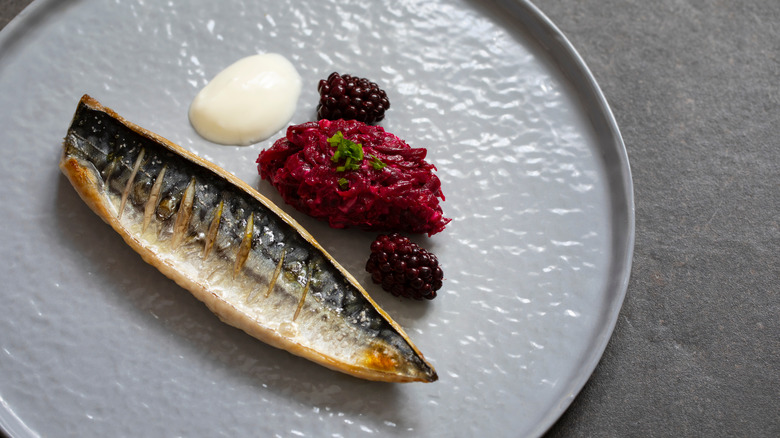 Magdanatka/Shutterstock
This unique combination blends the richness of mackerel, earthiness of beetroot, and the comforting base of a baked potato for a truly pleasurable meal.
To get the best from this dish, buy raw beetroot and roast them yourself. This will bring out their natural sweetness and create an irresistible caramelized flavor. Drizzle them with oil, season generously with salt, pepper, and herbs, and roast them for an hour.
Before assembling your potato, be sure to check the mackerel for any bones and remove them with tweezers. Then slice the mackerel into thin, flaky pieces and add the roasted beetroot, chopped into small cubes. The beetroot's sweetness complements the mackerel's oily flavor, creating a delightful harmony of tastes.
You can add a dollop of crème fraiche on top and some herbs, such as dill or parsley, to add some extra freshness. Sit back and enjoy this sensational combination of ingredients that will leave you feeling nourished and content.
Black bean salsa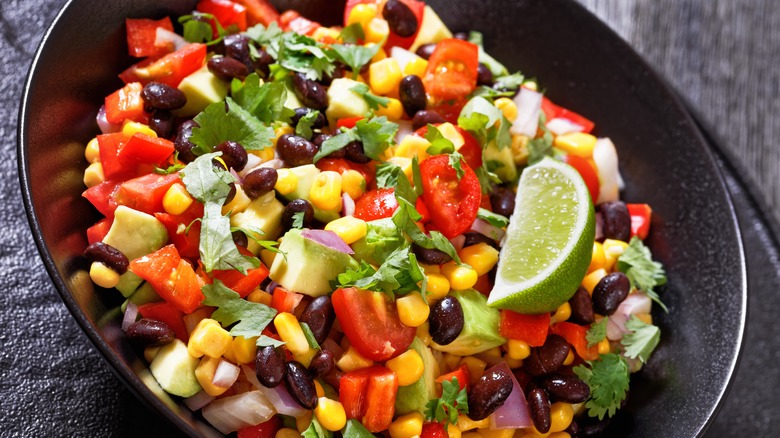 from my point of view/Shutterstock
Embark on a culinary adventure that will take your baked potato to extraordinary new heights with a superb black bean salsa topping. This Tex-Mex topping is bursting with flavor and nutrition, making it a perfect midweek supper for the whole family to enjoy.
The beauty of this dish is its versatility, allowing you to unleash your creativity and customize the salsa to your liking. Great additions include bell peppers, baby tomatoes, red onions, and cucumber. Each of these will provide a crunchy texture, so adding some creamy avocado will provide a nice contrast. It's impossible to go wrong with this salsa — if you want more heat, add some jalapeños. For a zesty kick, squeeze a handful of lime on top. Experiment with new flavors each time until you have the perfect mix.
Once you have assembled your salsa masterpiece, spoon the mixture on top of the baked potato to create a comforting meal that is a celebration of freshness and a treat for your tastebuds.