How To Make A Hawaiian Grilled Cheese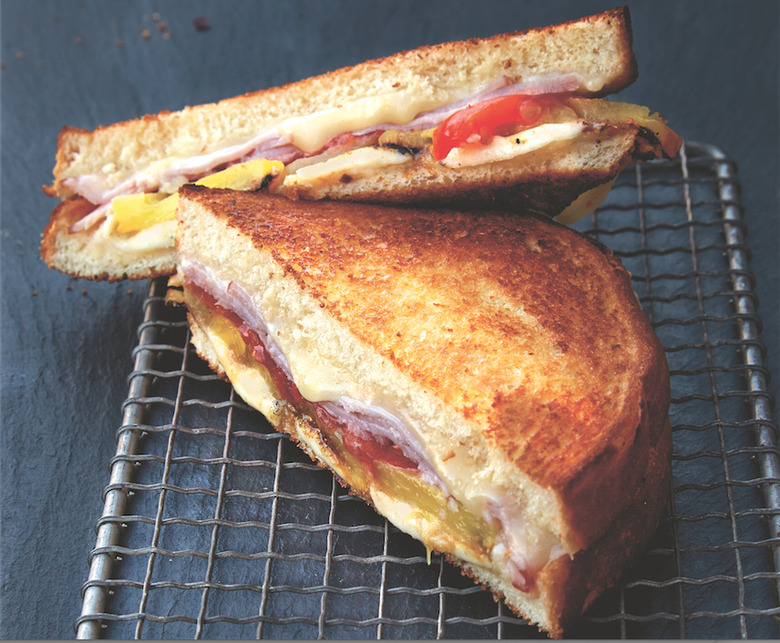 We may receive a commission on purchases made from links.
With a name like Grilled Cheese Kitchen, how could you not pick up a copy of husband-and-wife duo Heidi Gibson and Nate Pollak's brand-new book? Packed with gooey, melty recipes from their insanely popular San Francisco sandwichery, this is one culinary volume for everyone, from picky kids to adventurous adults, and every grilled cheese lover in between. Fire up the griddle: This is going to be a good one!
Hawaiian pizza is one of our guilty pleasures — gooey mozzarella, sweet-tart pineapple, savory ham, and spicy tomato sauce...aloha, mmmm! We turned this classic pizza combination into one heck of a grilled cheese sandwich by using fresh, high-quality ingredients and adding a splash of love.
How To Make A Hawaiian Grilled Cheese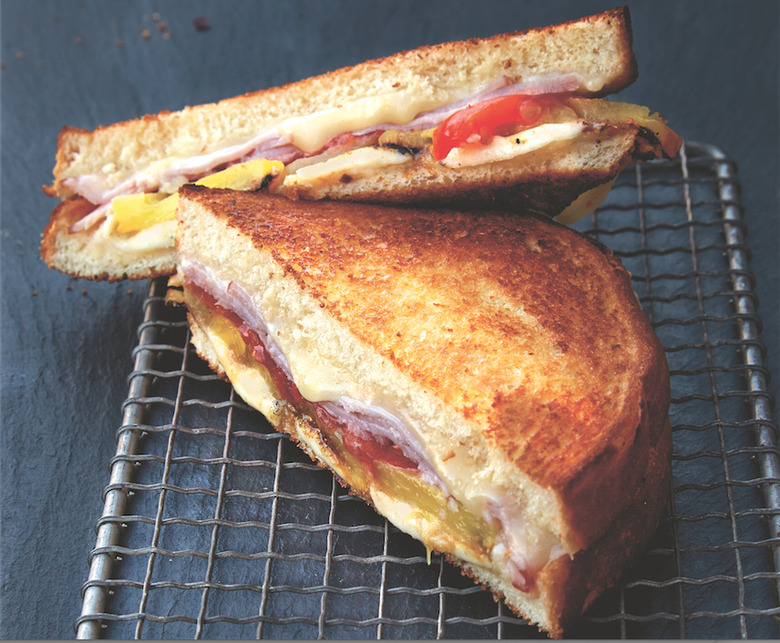 Ingredients
4 slices fresh pineapple (about 1/4 inch thick)
6 to 8 slices ripe plum tomato (about 1/4 inch thick)
1 tablespoon salted butter
4 slices Hawaiian bread (slightly sweet white bread) or artisanal white bread
4 slices fontina cheese
4 ounces sliced ham
3 ounces fresh mozzarella cheese
Pinch of red pepper flakes (optional)
Directions
Preheat the oven to 375°F. Line a baking sheet with parchment paper or aluminum foil.
Arrange the pineapple and tomato slices on the prepared baking sheet and bake for 12 minutes, or until the surfaces appear dry but not yet browned, turning the pieces over halfway through. Remove from the oven and set aside.
Heat a cast-iron or nonstick skillet over medium-low heat.
Spread the butter on one side of each bread slice, dividing it evenly. Place two slices, buttered-side down, on a clean cutting board. Layer two slices of the fontina, half of the ham, three or four slices of roasted tomato, two rings of roasted pineapple, and half of the mozzarella on top of each. Sprinkle with the red pepper flakes (if using). Finish with the remaining slices of bread, buttered-side up.
Using a wide spatula, place both sandwiches in the pan, cover, and cook until the bottoms are nicely browned, about 4 minutes. Turn and cook until the second sides are browned, the cheese is melted, and the other ingredients are heated through, about 4 minutes longer.
Cut the sandwiches in half, if desired, and serve immediately.