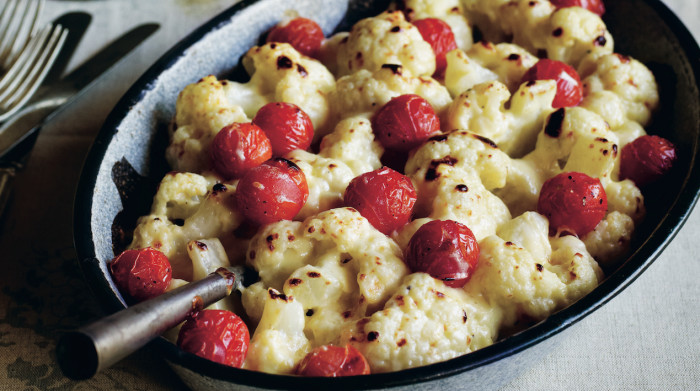 Farmhouse cooking is an age-old craft that few get to enjoy these days. The beauty of utilizing a few simple ingredients at the absolute peak of freshness and seasonality is front and center in farmer and cook Sarah Mayor's new cookbook. Follow her around the farm and see what's happening in the kitchen.
We always had great difficulty convincing our children to try cauliflower. That was before we came across this recipe for a jazzed-up cauliflower cheese. Now they complain that we don't make it often enough!
Ingredients
1

small onion, peeled, halved and studded with 6 cloves

2

cups

whole milk

3

large, fresh bay leaves

1/2

teaspoon

black peppercorns

3

tablespoons

butter

1/4

cup

all-purpose flour

1

large, very fresh cauliflower, weighing about 3 1/4 pounds, core removed, cut into large florets

1 3/4

cups

coarsely grated sharp cheddar, plus more for the top

3

tablespoons

heavy cream

2

teaspoons

English mustard

7

ounces

large, vine-ripened cherry tomatoes

1

teaspoon

olive oil

12

slices

rindless, smoked bacon

salt and freshly ground white pepper

Hot buttered whole wheat toast, to serve
Directions
For the cauliflower
Pop the studded onion halves into a pan with the milk, bay leaves, and peppercorns. Bring to a boil, then remove from the heat and set aside for 20 minutes.

Return the milk to a boil, then strain it, discarding the flavoring ingredients. Melt the butter in a nonstick pan, add the flour, and cook over medium heat for 1 minute. Remove from the heat, beat in the hot milk, then return to a boil, stirring. Simmer gently for 5 minutes, stirring occasionally.

Remove the sauce from the heat and stir in 1 1/3 cups [150 g] of the cheese together with the cream, mustard, and seasoning. Toss the cherry tomatoes with the oil and season. Arrange the cauliflower in a shallow ovenproof dish and pour over the sauce. Scatter over the remaining cheese and tomatoes. Pop the bacon in a roasting pan, slide both under the broiler, and cook for 5 minutes, until the tomatoes are soft, the cheese is golden, and the bacon is crisp. Serve with toast.

Or how about ...?

Macaroni and cheese. Cook 7 oz. [200 g] macaroni in boiling salted water for 8 minutes until just tender, drain, and stir into the sauce. Spoon into the dish, and top with 3 thickly sliced tomatoes. Mix the remaining scant ½ cup [50 g] grated cheese with ½ cup [25 g] white bread crumbs, sprinkle over the top, and bake at 375°F [190°C] for 20 minutes until golden.