11 Discontinued Ben & Jerry's Flavors We Want To Revive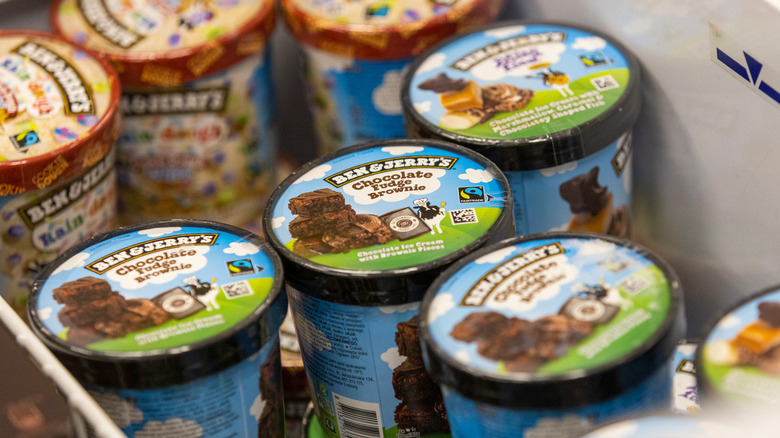 Bloomberg/Getty Images
Since 1978, Ben & Jerry's has been serving up delicious ice cream flavors that have gained popularity across the United States and beyond. But that doesn't mean every flavor the company has released has been a hit. Over the years, there have been quite a few flavors that the brand has ended up discontinuing for one reason or another. What makes a good ice cream flavor is certainly a topic that sparks debate. Everyone has different tastebuds, so while one person may love a specific flavor — sugar plum or chocolate macadamia, for example — others may find it totally gross. 
Ben & Jerry's realized that just because a flavor was gone from the brand's lineup, it shouldn't be forgotten. This is why the company created its flavor graveyard. The Ben & Jerry's flavor graveyard is both a section on the company's website and a physical location in Waterbury, Vermont that lists discontinued flavors along with themed poems dedicated to the flavors — and it all appears on headstones at the physical location. This way, fans of the discontinued flavors can properly mourn their beloved ice creams. You can even submit a request on the company's website asking to bring back a flavor of your choosing and Ben & Jerry's may plan to resurrect it one day. 
We've compiled a list of 11 discontinued flavors from the flavor graveyard, so be sure to let Ben & Jerry's know which flavors you agree should make a comeback soon! 
Crème brûlée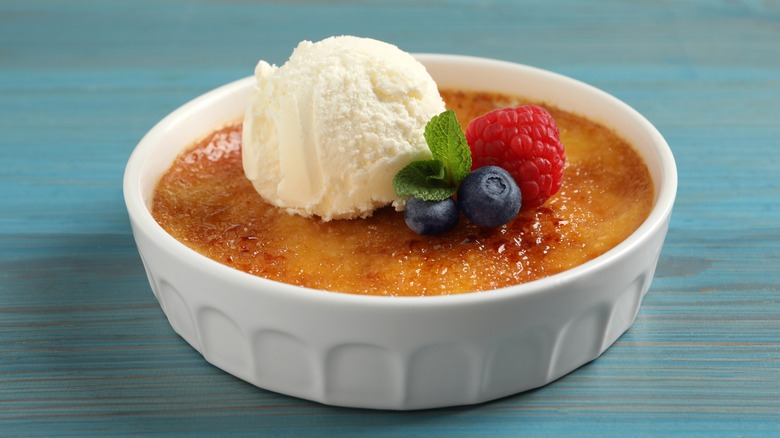 New Africa/Shutterstock
Ben & Jerry's Crème Brûlée ice cream lasted in production from 2007 to 2012 before being put to rest in the flavor graveyard. The flavor was made up of sweet custard ice cream with a caramelized sugar swirl. Like the popular French dessert, the crème brûlée flavored ice cream offered the perfect complementary flavors and textures of creamy custard and crunchy caramelized sugar. 
While the crème brûlée taste may have been delicious, its plain, off-white color was not particularly visually captivating, which may have led to it being chosen less at Ben & Jerry's physical shops where customers get to look at the ice cream through the glass. Another possible reason the crème brûlée flavor was sent to the graveyard is that it was just too sweet for some. Without any other contrasting flavor elements present to cut the sweetness, people without a huge sweet tooth would probably want to pass on this one. A new addition like a swirl of tart berries, which are sometimes served with crème brûlée, could possibly give the flavor a wider appeal. But if you love crème brûlée and are already a fan of sweet, creamy flavors, then you will definitely want to petition Ben & Jerry's to bring this one back.
Chocolate macadamia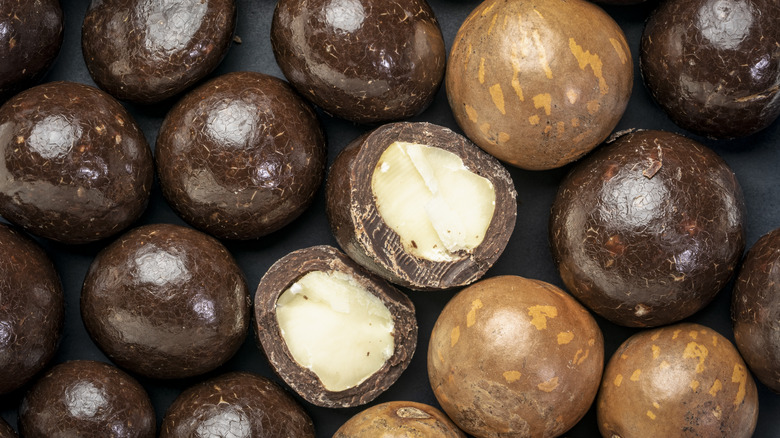 Marekuliasz/Getty Images
Surprisingly, Ben & Jerry's Chocolate Macadamia flavored ice cream only lasted one year in production, from 2010 to 2011. The flavor consisted of chocolate & vanilla ice creams swirled together with chocolate-covered macadamia nuts distributed throughout. It offered a salty and sweet combination of nuttiness and chocolatey goodness that was unfortunately quite short-lived.
While we can't be sure what led to its lack of popularity resulting in its demise, it may have been a combination of nut allergies being common and macadamia nuts not being quite as popular as some other nuts on the market — they are quite large and sometimes difficult to bite through. There is also a noticeably absent element that is common in Ben & Jerry's ice creams: a swirl. It's possible that a macadamia nut butter swirl would have led to the ice cream garnering more sales. Additionally, some may have found it misleading that it also contained vanilla ice cream because vanilla is not mentioned in the flavor name. But, if you love salty and sweet desserts or you're a macadamia nut fan, we're sure you would be nuts about this flavor if Ben & Jerry's ever chooses to resurrect it from the flavor graveyard.
Fresh Georgia peach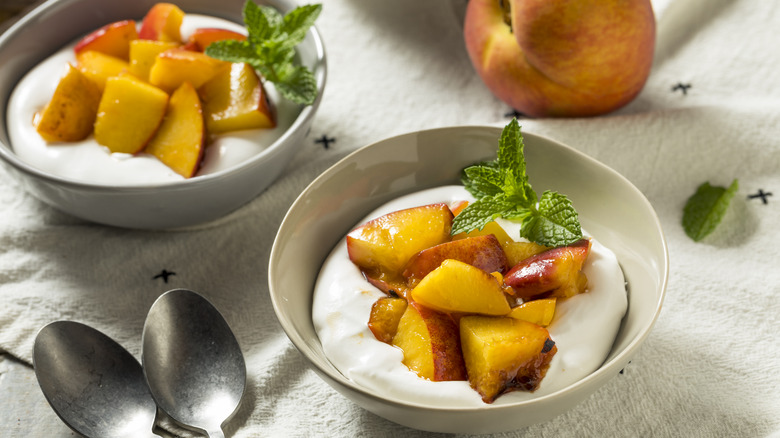 Bhofack2/Getty Images
Peaches and cream is a classic flavor combination that's especially popular in the southern United States during summertime, since peaches are in peak season there. In an ode to this delicious combination, Ben & Jerry's released its Fresh Georgia Peach flavor, made up of vanilla ice cream with pieces of fresh Georgia peaches in it. The Fresh Georgia Peach flavor stuck around for five years, remaining in production from 1986 to 1991. 
Since the flavor clearly had fans if it stuck around that long, it's likely that the flavor was sent to the graveyard due to Ben & Jerry's not being able to get its hands on enough Georgia peaches. The poem on the flavor's headstone in the graveyard even alludes to this possibility, saying that the ice cream "tasted great but couldn't last, 'cuz Georgia's quite a-ways away, and trucks don't go that fast." However, we vote for the flavor to make a comeback, even if that means expanding it to include peaches from other southern states as well. We're sure that all the southern peaches and cream lovers will agree.
Peanut butter and jelly
Brent Hofacker/Shutterstock
It's hard to think of a more classic food combination than peanut butter and jelly. Whether it's on your sandwich or in your ice cream, salty, creamy peanut butter and sweet, gooey jelly are a perfect match. Ben & Jerry's decided to get in on the pb&j fun and released a Peanut Butter and Jelly flavor in 1989, which was made up of peanut butter ice cream with peanut butter bits and strawberry jelly swirl. Unfortunately, the flavor only lasted in production for one year.
The reason why the flavor was discontinued remains unclear. Despite it seeming like one of the most obvious flavor combinations out there, the flavor didn't end up being very popular. Perhaps between the peanut butter ice cream and the peanut butter bits, the peanut butter flavor was too dominant over the strawberry jelly swirl. Another possible reason for the flavor's lack of popularity may have been that Ben & Jerry's used the wrong flavor of jelly for the swirl, since pb&j sandwiches are most commonly made with grape jelly, not strawberry. Whatever the reason, we think they should give the classic combination another try.
Wild Maine blueberry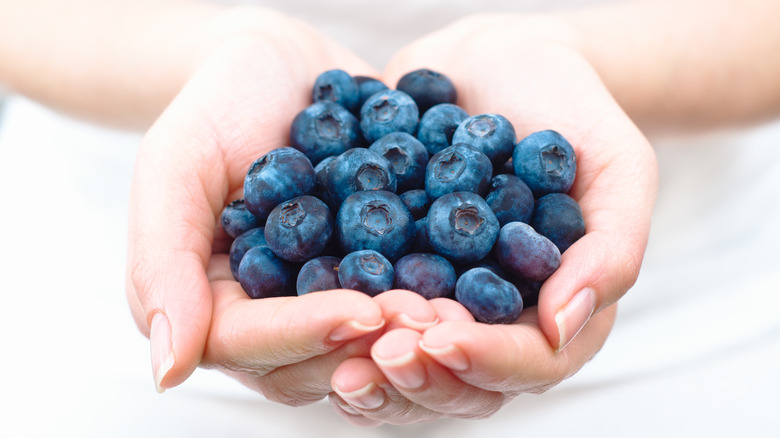 Kirbyphoto/Getty Images
Blueberry ice cream seems like a fairly normal flavor to keep around, so the fact that Ben & Jerry's discontinued its Wild Maine Blueberry flavor is definitely a bit confusing. The flavor was made up of blueberry ice cream with Maine blueberry puree and wild Maine blueberries mixed in throughout. Unfortunately, it only lasted in production from 1992 to 1993.
While for some this ice cream might sound like blueberry heaven, for others the intense blueberry flavor may have been overwhelming. Perhaps too much blueberry is what ultimately led to the demise of this otherwise tasty-sounding flavor. To bring in another tried and true flavor, combining wild Maine blueberries with the brand's cheesecake elements from its existing Strawberry Cheesecake flavor may lead to better sales results. Another potential issue leading to the flavor's lack of popularity could have been the inclusion of the blueberry pieces. When put in the freezer (inside the ice cream) the frozen blueberries are bound to become quite hard and difficult to bite, making for an undesirable texture. Either way, we think Ben & Jerry's Wild Maine Blueberry ice cream should make a (possibly new and improved) comeback sometime soon. 
Tennessee Mud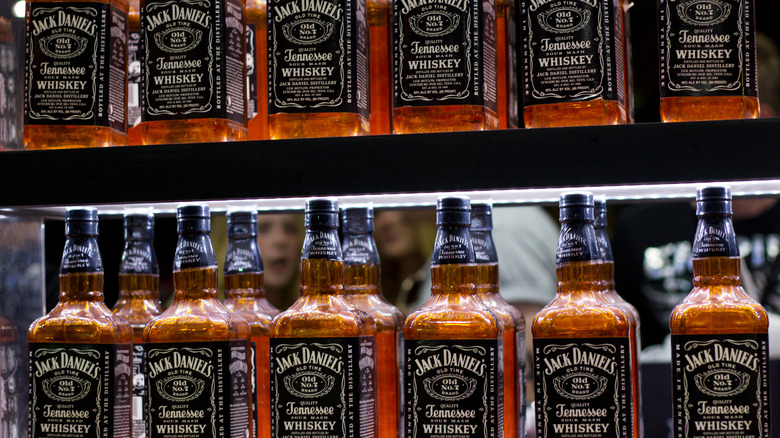 Goldfaery/Getty Images
If the mud in Tennessee really tasted this good, then we would love to try a scoop. Ben & Jerry's Tennessee Mud flavor was made up of coffee ice cream with Amaretto, Jack Daniels Tennessee Whiskey and roasted slivered almonds stirred in. That's right, for those of you who didn't already know, Ben & Jerry's has created flavors with alcohol incorporated into them. 
We know what you're probably thinking: How could something that sounds so delicious get discontinued? The answer is that we don't really know what led to the decline in popularity of the flavor. Somehow, it only lasted in production for about a year, from 1988 to 1989. One possible option could once again point to nut allergies due to the inclusion of almonds. Additionally, the almonds seem random here, although it's likely an attempt to give the ice cream a rocky road-like texture and feel. Almonds or no almonds, we think you just can't go wrong with two of the most fun indulgences around, whiskey and ice cream, coming together as one!
White Russian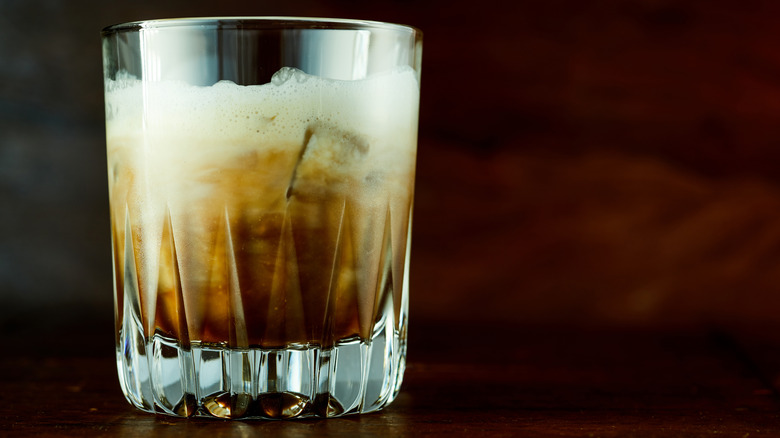 Foodandstyle/Getty Images
If you're a fan of coffee and cocktails, then you're probably familiar with the classic White Russian cocktail, which consists of vodka, coffee liqueur and cream and is served with ice. If you're also a fan of Ben & Jerry's, then you may be familiar with the brand's history with its White Russian flavor of ice cream. The ice cream was simple enough, made up of coffee ice cream with Kahlua Coffee Liqueur mixed in.
Deliciously simple, the flavor was popular enough that it remained in production for 10 years, from 1986 to 1996. Unfortunately, the brand stopped producing its White Russian flavor only two years before the film The Big Lebowski was released, in which the White Russian is the main character's cocktail of choice. The popularity of White Russian cocktails skyrocketed after the film's release, and likely would have had a large impact on Ben & Jerry's sales if the company had kept the flavor in production. Some theorize that the brand stopped producing the flavor at that point because the cost of the included Kahlua Coffee Liqueur was becoming too high to maintain decent profit margins. White Russian fans did not give up, however, and Ben & Jerry's briefly brought the flavor back to its scoop shops in 2013. Sadly, the flavor did not stick around permanently, and never made its way back to grocery store pints. But, we remain hopeful that with enough requests it may make an appearance again!
Holy Cannoli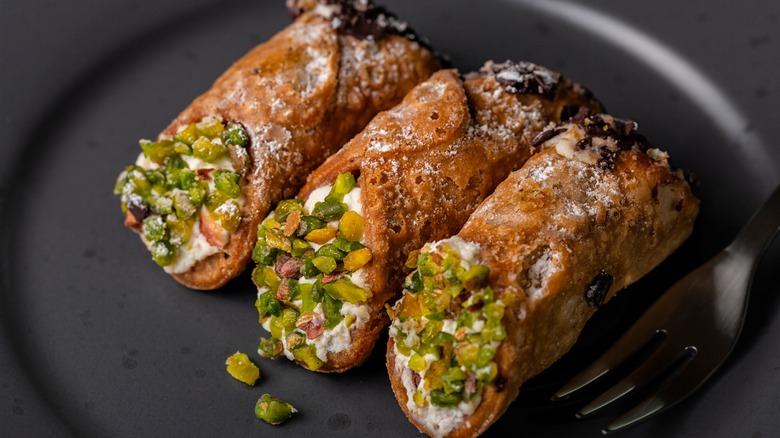 OlgaBombologna/Shutterstock
Ben & Jerry's has a fairly long and complicated history with its cannoli flavored ice cream. Initially released as Holy Cannoli, the ice cream was made up of creamy ricotta and pistachio ice cream with chocolate covered cannolis and roasted pistachios mixed in. This mimics the way that many classic Italian cannoli are served, with crushed pistachios pressed onto the ends. However, this iteration of the flavor only lasted for one year, remaining in production from 1997 to 1998. 
As seems to be the case with several of the discontinued Ben & Jerry's flavors, it looks like the inclusion of the nuts was the flavor's main downfall. In 2012, the brand announced that it was releasing a new cannoli flavor, simply called Cannoli. The difference? This time, it would be made up of mascarpone ice cream with fudge-covered cannoli shell pieces mixed in and a mascarpone swirl. No more pistachios included. The flavor was so successful that while it was initially supposed to be a limited time batch, the brand added it to its permanent line up in 2020. While the new Cannoli flavor is also delicious and evokes the flavors of a chocolate chip cannoli, it still can't fill the same place in our hearts we have set aside for the original pistachio version.  
The Wich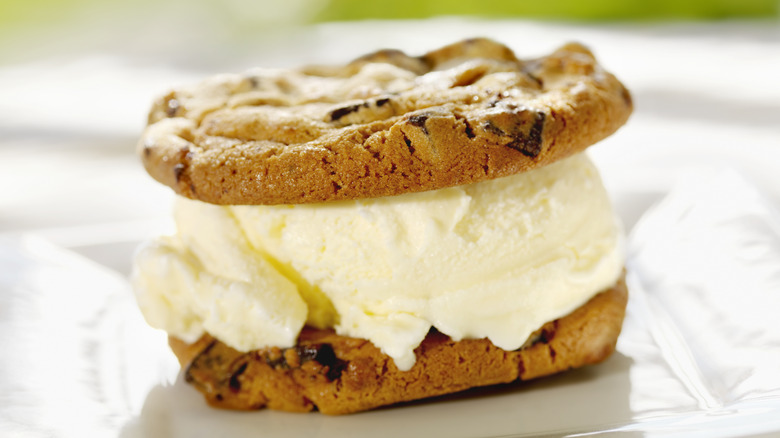 Lauripatterson/Getty Images
The taste of vanilla ice cream perfectly sandwiched in between soft chocolate chip cookies probably brings back a feeling of nostalgia for childhood summer vacations. What if you could capture this classic flavor combination in a pint of ice cream? This is what Ben & Jerry's sought out to do with its flavor The Wich. The ice cream was made up of chewy fudge-swirled chocolate chunk cookies and vanilla fudge chip ice cream, reminiscent of a chocolate chip cookie ice cream sandwich. The flavor lasted for two years, and was in production from 2004 to 2006.
While there is nothing particularly revolutionary about the flavor profile of combining vanilla and chocolate elements in an ice cream, we are big fans of the soft cookie pieces that flavor includes. Sure, Ben & Jerry's has plenty of flavors that include chocolate chip cookie dough, but it's just not the same as actual cookie pieces. This flavor truly evokes the flavor of the chocolate chip cookie ice cream sandwiches we all know and love. 
Sugar plum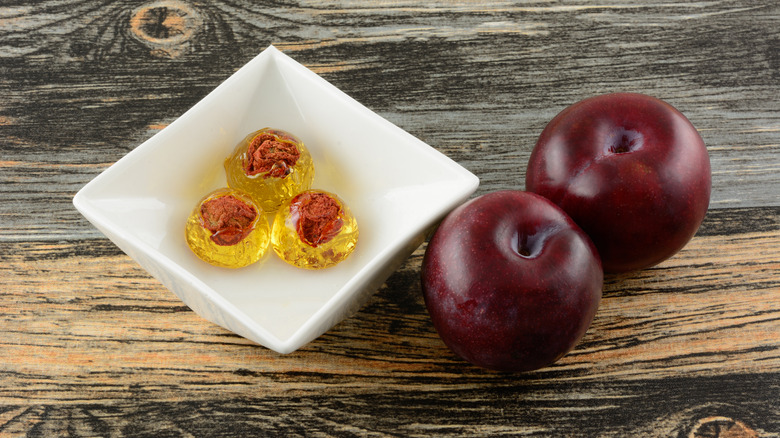 Merrimon Crawford/Shutterstock
When you're getting in the Christmas spirit, you probably come across quite a few references to sugar plums, from the Sugar Plum Fairy in "The Nutcracker" to the line "visions of sugar plums danced in their heads," in the poem "Twas the Night Before Christmas" by Clement C. Moore. When coming across these references to sugar plums, many people take the name of the treat literally, and imagine actual plums covered in sugar. However, these 1800s references to sugar plums referred to a type of candy that usually did not contain any plums at all. It is likely the candy got its name due to its size and shape being similar to that of a plum, rather than the ingredients used. 
In modern times, many candy makers have reinvented the sugar plum and created small hard candies similar to traditional sugar plums, but with plum flavoring. Ben & Jerry's Sugar Plum ice cream flavor takes on the more modern approach to sugar plums. The flavor was made up of plum ice cream with a caramel swirl to bring in a sugary flavor. While it may not stay true to traditional sugar plums, you can't go wrong with sweet plums and caramel in your ice cream. Maybe if we make it onto Ben & Jerry's "nice list" it will make a special comeback for Christmas sometime. 
Purple passion fruit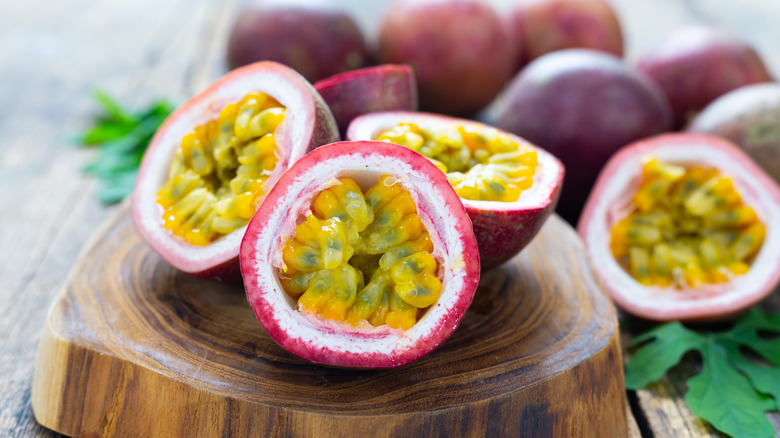 Chokja/Getty Images
Ben & Jerry's Purple Passion Fruit flavor lasted in production for five years, from 1996 to 2001. This flavor is particularly unique, because it seems to be the only sorbet that ended up in the flavor graveyard. This means that unlike everything else on our list, Purple Passion Fruit was not made with any eggs or dairy making it great for vegans or those with lactose intolerance. The flavor consisted of swirls of raspberry-blackberry and passion fruit sorbet, as well as "other natural flavors."
It's likely that the main reason this flavor was discontinued was because its name is a bit misleading. Yes, of course, it does contain passion fruit. However, the title does not mention the equal presence of the raspberry-blackberry sorbet, nor is it necessarily clear what the other "natural flavors" included are. This mislabeling and confusion may have led to a lack of repeat buyers. Because it is the only sorbet in the graveyard — and one of few non-dairy options in there as well — it's a pretty safe bet that the lack of dairy was not the reason for the flavor falling out of favor. If Ben & Jerry's were to re-release the flavor under a new, more descriptive name, like Berry Passion Fruit Sorbet, we feel confident that it would gain back plenty of fans.