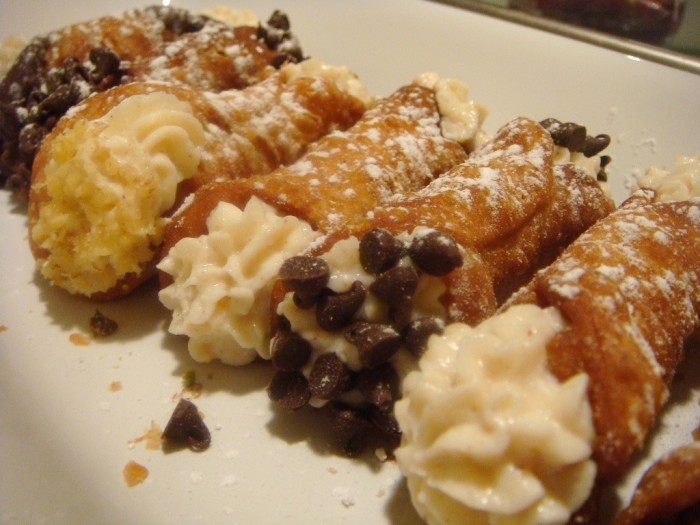 In the classic scene from 1972's The Godfather, Clemenza says, "Leave the gun…take the cannoli." Cinema lore has it that the line was improv'd, which, in my estimation, makes it even more genius. Improv can make magic in the kitchen too. Use this basic cannoli recipe and then take your own artistic license. Originally a Sicilian dessert, cannoli is a fried pastry shell filled with sweetened ricotta or whipped cream. Prebaked cannoli shells save time and can be sourced from most grocery stores. I simply can't resist advising you to: "Buy the shells…make the cannoli."
Ingredients
1

32-ounze container

part-skim ricotta cheese

3/4

cup

confectioners' sugar

1

teaspoon

vanilla extract

1

cup

mini chocolate chips

18-24

cannoli shells, pre-baked
Directions
In a medium bowl, stir together the ricotta cheese, confectioners' sugar, vanilla extract and chocolate chips.
Turn a resealable plastic storage bag inside out and spoon filling into one end. Carefully turn the bag right side out and snip a small hole in end containing filling.
To pipe into shells, start from the center of the shell out to one end and repeat on opposite side. Dust with additional confectioners sugar for garnish if desired.
*Set up a Cannoli Bar!
Portion flavored fillings (you can add a 1/2 teaspoon of extracts like orange, chocolate, peppermint... to the above filling)into plastic baggies and arrange alongside unfilled shells with a variety of toppings. Let your guests make their own masterpieces.
Divide basic cannoli filling (minus the mini chocolate chips) equally into three small bowls. Create orange, almond and chocolate flavored fillings by adding one of the following to each:
½ teaspoon orange zest
½ teaspoon almond extract
¼ cup cocoa powder
Suggested toppings: chopped pistachios, almond slivers, chocolate shavings, flaked coconut.