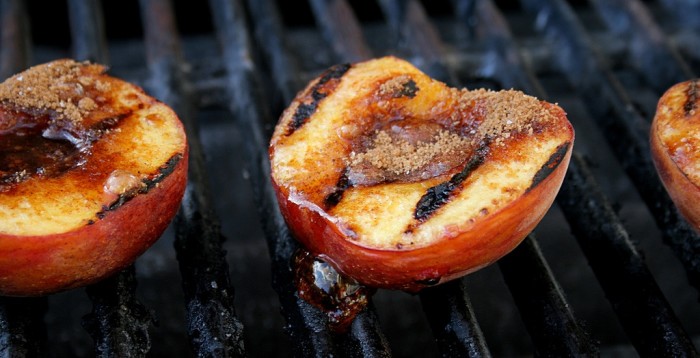 Grilled peaches are among my culinary highlights of summer. It's so simple to grill a peach, and the resulting flavors are amazing. We spike this dish with some Schnapps, but feel free to substitute nectar or orange juice if serving to kids or teetotaling. Either way, add homemade whipped cream or a scoop of cold vanilla ice cream on the side to make this a complete dessert.
The 7/20: If you have these items in your arsenal, recipes categorized by 7/20 can be made with 7 or fewer additional ingredients in only 20 minutes of active cooking time.
Ingredients
1

lime, juiced

1/2

cup

Peach Schnapps, optional

2

tablespoons

honey

6

ripe

peaches, halved and pitted

vanilla ice cream or whipped cream

dark brown sugar, for sprinkling

fresh mint or basil, for garnish
Directions
To marinate the peaches:
Mix together the lime juice, peach Schnapps or nectar and honey in a small bowl and pour the marinade over the split peaches. Refrigerate one to two hours, turning occasionally.
To grill the peaches:
Pre-heat your grill to medium hot. Drain off the marinade and pat the peaches dry. Grill the peaches until they just begin to caramelize and are browned in spots, a few minutes on each side. Sprinkle with the dark brown sugar just to get a light coating and close grill just to melt the sugar and make it nice and bubbly.
To serve:
Let the peaches cool until slightly warm. Place two halves on each plate or small bowl. Top with a scoop of vanilla ice cream or fresh whipped cream. Garnish with mint or basil.
If you like this quick and easy dessert check out our cherry hazelnut bruschetta recipe.