Classic Homemade Aioli Recipe
Miriam Hahn/Food Republic
In a world of many sauces, aioli is a front runner in the eyes of many. Bursting with creamy richness and a delicious blend of flavors, this versatile condiment can be used in many ways and is so easy to make. Recipe developer Miriam Hahn brings us this easy aioli recipe and says, "I always say that the right sauce can make or break a meal. This one is beaming with fragrant garlic and lemon, and because it's made fresh, it gives you a completely different taste experience than cheater recipes made with mayonnaise."
You can use this sauce for sandwiches, burgers, fries, and even with our coconut shrimp recipe. It's also great on all types of Mexican food and is fabulous with salads and veggies. If you want to use it as more of a dressing, you can easily thin it out with a little water or extra lemon juice. To level up your sauce game, read on and grab a pen for that grocery list.
Gather the ingredients for homemade aioli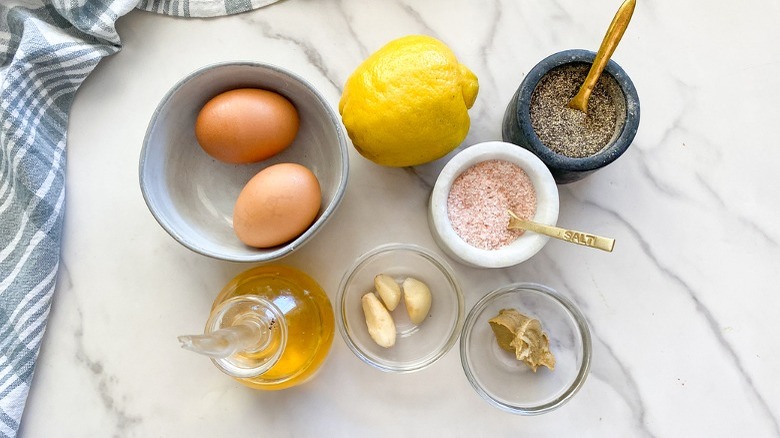 Miriam Hahn/Food Republic
To get started, grab some fresh garlic and lemon from the produce aisle, then be sure you also have eggs, Dijon mustard, olive oil, salt, and pepper. Such a short list, right? "Most people typically have all of these ingredients on hand, making this sauce an easy, spur-of-the-moment condiment you can throw together," Hahn remarks.
Prep the ingredients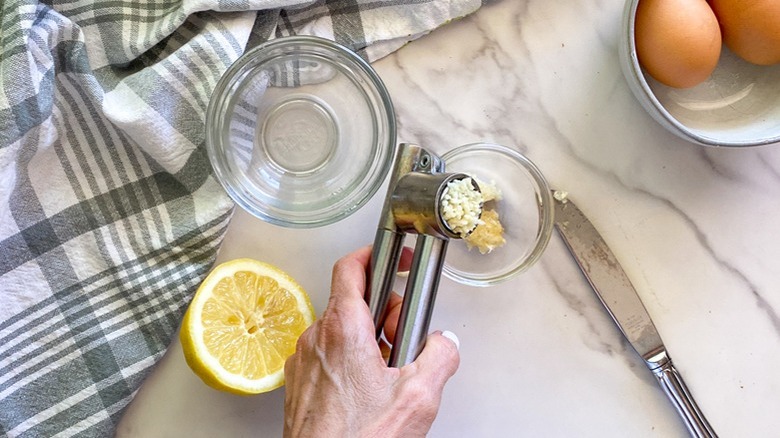 Miriam Hahn/Food Republic
Now it's time for some mise en place. Use a garlic press or knife to finely mince the garlic, keeping in mind that it will ultimately be blended up with an immersion blender. Squeeze the lemon juice into a bowl, making sure there are no seeds in the juice. "I have a citrus squeezer that I use daily and highly recommend. It extracts every bit of juice and stops the seeds from getting inside," Hahn shares. Finally, we'll be using one whole egg plus one yolk, so separate the yolk from the white of one of the eggs, and save or discard the white.
Blend the flavorings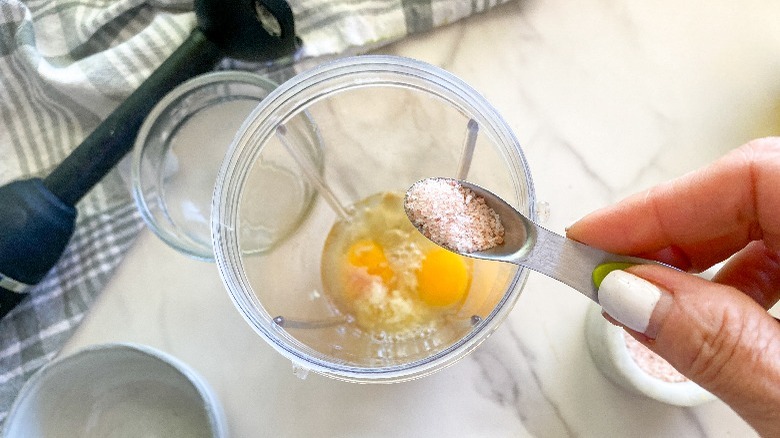 Miriam Hahn/Food Republic
In this step, we're going to be using an immersion blender, so you'll want a deep cup to do the blending in. "I like to use the cup of my Nutribullet for this task, but you could use a wide mouth mason jar or a drinking glass with a wide opening," Hahn says. Put the crushed garlic, lemon juice, egg, egg yolk, Dijon mustard, and salt into the cup, then slowly blend the ingredients until smooth.
Add the oil, blend some more, and serve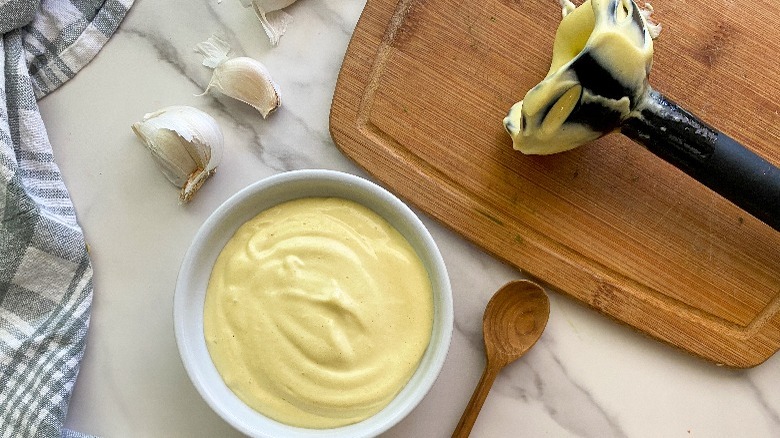 Miriam Hahn/Food Republic
Now that the bulk of the ingredients are nice and smooth, we can slowly blend in the oil. We're going to add it ¼ cup at a time, blending to incorporate before pouring in more. Once the condiment is pale yellow and fully emulsified, it's time to add the pepper, give it a stir, and admire your homemade aioli that's ready to serve. The sauce will last in your fridge for about 3 days if kept in an air-tight container. It's sure to become your new best friend as you use it to elevate your favorite recipes to new heights.
Classic Homemade Aioli Recipe
It may sound fancy, but classic aioli comes together with just a few basic ingredients. Grab your immersion blender, and get to making this iconic condiment.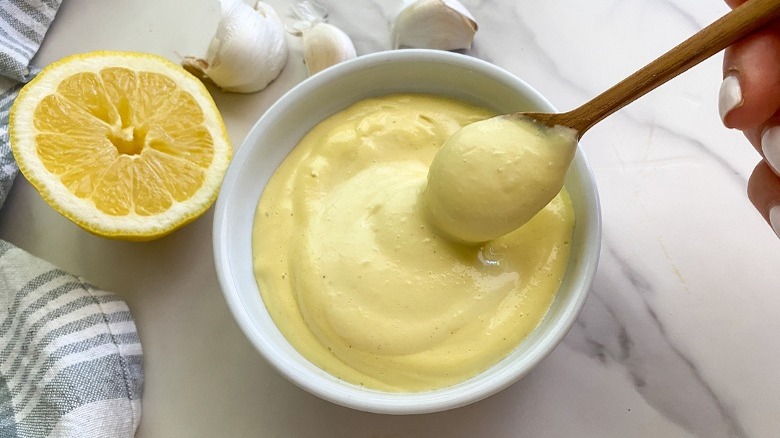 Ingredients
3 garlic cloves
½ lemon
1 egg, plus 1 egg yolk
1 teaspoon Dijon mustard
½ teaspoon salt
1 cup olive oil
1 pinch black pepper
Directions
Prep the ingredients for your aioli. First, finely mince the garlic, then squeeze the lemon juice into a bowl, making sure there are no seeds inside.
Add the garlic, lemon juice, egg, egg yolk, Dijon mustard, and salt to a deep cup. Using an immersion blender, slowly blend the ingredients until smooth.
Gradually pour in the oil, ¼ cup at a time, and blend with the immersion blender.
After a couple of minutes of blending, the mixture will become very thick and emulsified. At this point, add the pepper, stir, and serve.
Nutrition
| | |
| --- | --- |
| Calories per Serving | 204 |
| Total Fat | 22.4 g |
| Saturated Fat | 3.2 g |
| Trans Fat | 0.0 g |
| Cholesterol | 30.5 mg |
| | |
| --- | --- |
| Total Carbohydrates | 0.8 g |
| Dietary Fiber | 0.2 g |
| Total Sugars | 0.1 g |
| Sodium | 76.4 mg |
| Protein | 0.9 g |