Tarragon Remoulade Sauce Recipe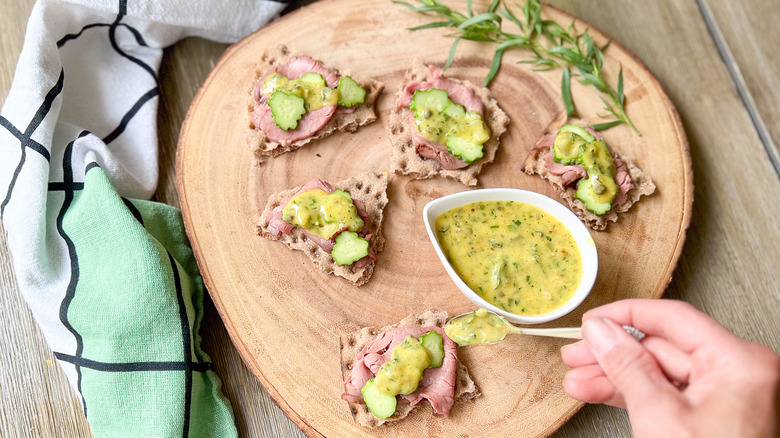 Julie Kinnaird/Food Republic
If you're a French cuisine aficionado or you've ever visited New Orleans, there's a good chance you've enjoyed or have possibly made your own remoulade sauce before. Though the sauce is classically French, it has taken on several regional variations over the years and is especially popular in Creole and Cajun cuisine. The creamy, tangy, and aromatic sauce pairs well with various foods like fries, crab cakes, or po'boy sandwiches.
This recipe for a tarragon remoulade, brought to us by recipe developer Julie Kinnaird, features some classic flavors thanks to whole-grain mustard, vinegar, pickles, and capers. That said, there are some ingredients that make this not-your-typical sauce: "This is a Danish-style remoulade with the key ingredient being the curry powder, giving this remoulade a distinctive flavor," Kinnaird explains. "The warmth of the curry harmonizes perfectly with the sweetness of the fresh tarragon." Kinnaird also sings high praise for the versatility of this sauce, as it really pairs well with just about any type of savory food imaginable. It's surprisingly easy to whip up such a renowned sauce right in your own kitchen, so you can be enjoying Danish-style tarragon remoulade on appetizers, main courses, and everything in between.
Gather the ingredients for tarragon remoulade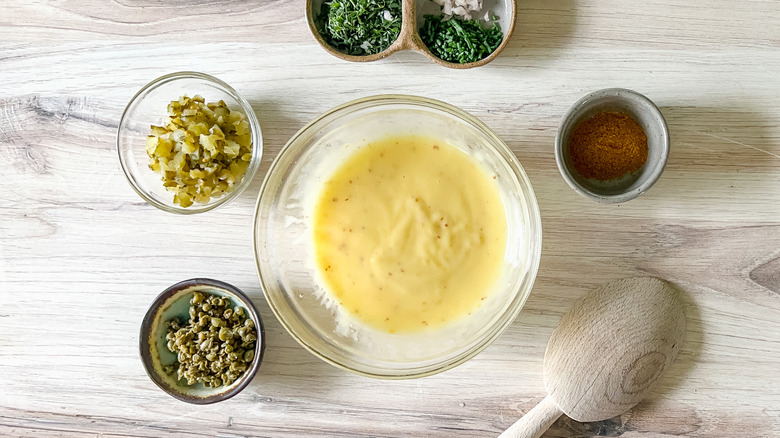 Julie Kinnaird/Food Republic
To make this remoulade, you'll need a large egg yolk, whole-grain mustard, white wine vinegar, neutral oil (like vegetable, sunflower, or canola), along with the chopped inclusions of sweet pickles, capers, fresh tarragon, a shallot, and fresh chives. And, of course, don't forget that curry powder. Be sure to have some sea salt on hand to enhance all of the flavors.
Emulsify the sauce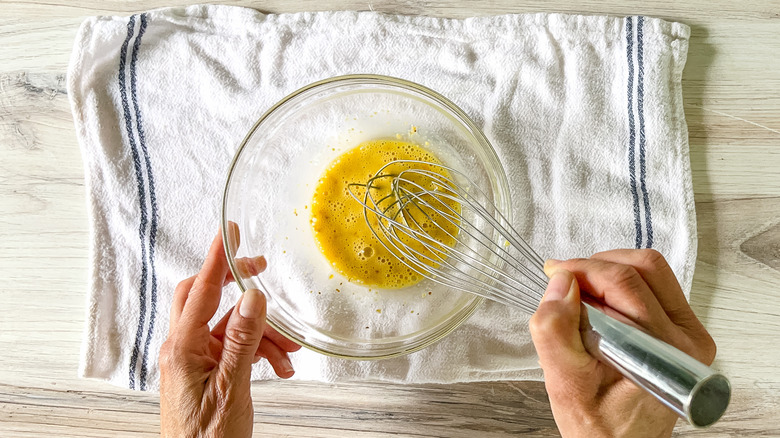 Julie Kinnaird/Food Republic
While some remoulade recipes call for using mayonnaise as a base ingredient, you'll take things a step further with this recipe and essentially whip up your own mayo. To do so, place a medium-sized bowl on a folded towel, which will hold the bowl still as you work. Whisk together the egg yolk, mustard, and vinegar, then very slowly start adding in the oil — we're talking drop by drop. Be sure to whisk constantly, and once your sauce begins to thicken up a bit, you can start pouring the oil more steadily until it has all been added. "The mustard helps emulsify this sauce, and the key is to really add the oil slowly at first to make sure that it binds with the other ingredients," Kinnaird advises.
Mix in the finely chopped additions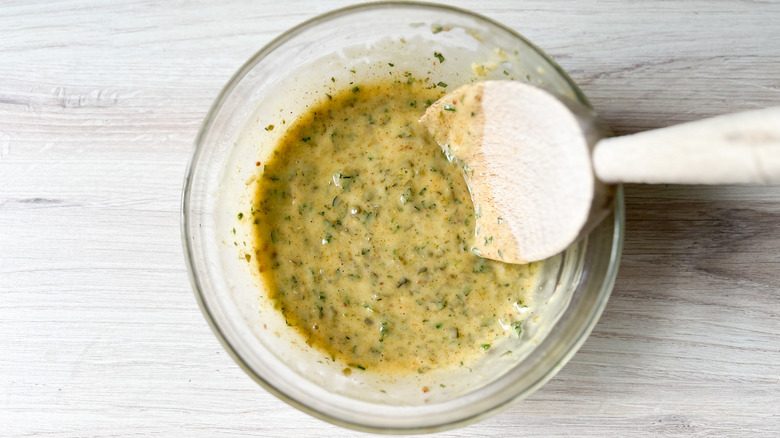 Julie Kinnaird/Food Republic
Once you have a thick, emulsified sauce, go ahead and add in the finely chopped pickles, capers, tarragon, shallot, and chives. Then mix in the curry powder, give the sauce a taste, and add sea salt as desired.
Store and serve this tarragon remoulade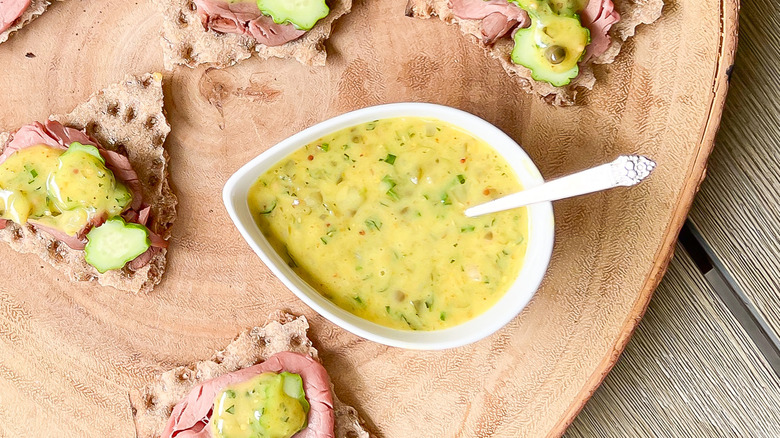 Julie Kinnaird/Food Republic
Transfer your fully-combined remoulade to a jar and refrigerate it until you're ready to use. The sauce is technically ready to go once you're done mixing it all up, but like any mayo-esque sauce, it tastes best chilled. There truly is no shortage of uses for this remoulade, though Kinnaird provides some useful suggestions: "I adore this sauce with fried green tomatoes or used in traditional Danish fashion on open-faced smørrebrød!" You could also enjoy this sauce with seafood, use it as a dip for meats, mix it into a salad, or slather some onto a sub.
Due to the fresh nature of this sauce, it does have a relatively short shelf-life (well, fridge-life), though you should be able to get some good use out of it in time. "Because the remoulade contains a fresh egg yolk, it is best to use it up within 5 days," Kinnaird advises, noting that "The vinegar helps keep the sauce fresh."
Tarragon Remoulade Sauce Recipe
This recipe for a tarragon remoulade features some classic flavors thanks to whole-grain mustard, vinegar, pickles, and capers, as well as curry powder.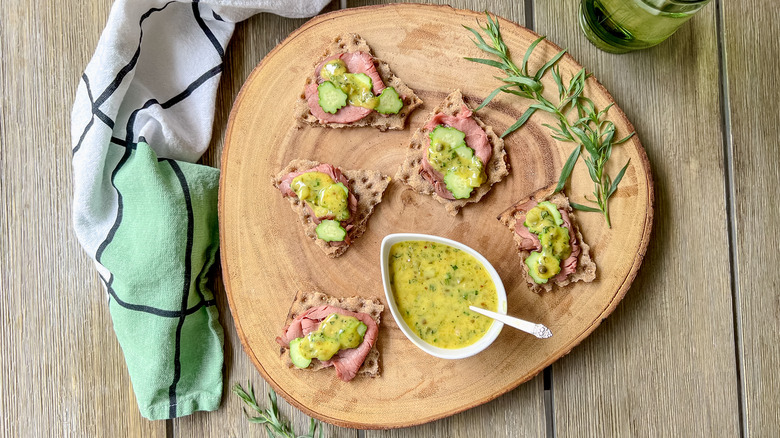 Ingredients
1 large fresh egg yolk
1 teaspoon whole-grain mustard
2 teaspoons white wine vinegar
¾ cup neutral oil (vegetable, sunflower or canola)
4 tablespoons finely chopped sweet pickles
2 tablespoons finely chopped capers
2 tablespoons finely chopped fresh tarragon
1 teaspoon finely chopped shallot
1 teaspoon finely chopped fresh chives
1 teaspoon curry powder
Sea salt, to taste
Directions
In a medium-sized bowl set over a folded towel for stability, whisk together the egg yolk, mustard, and vinegar.
Slowly add the oil drop by drop while whisking constantly. Once the mixture starts to thicken, increase the oil to a steady stream while whisking to emulsify.
Stir in the pickles, capers, tarragon, shallot, chives, and curry powder. Season to taste with sea salt.
Transfer the remoulade to a glass jar and refrigerate until ready to use.
Serve as a condiment or dipping sauce with meats, seafood, sandwiches, fried vegetables, or eggs.
Nutrition
| | |
| --- | --- |
| Calories per Serving | 317 |
| Total Fat | 33.8 g |
| Saturated Fat | 2.8 g |
| Trans Fat | 0.1 g |
| Cholesterol | 36.7 mg |
| | |
| --- | --- |
| Total Carbohydrates | 4.1 g |
| Dietary Fiber | 0.6 g |
| Total Sugars | 2.4 g |
| Sodium | 124.0 mg |
| Protein | 1.0 g |