All-Star Fritto Misto Recipe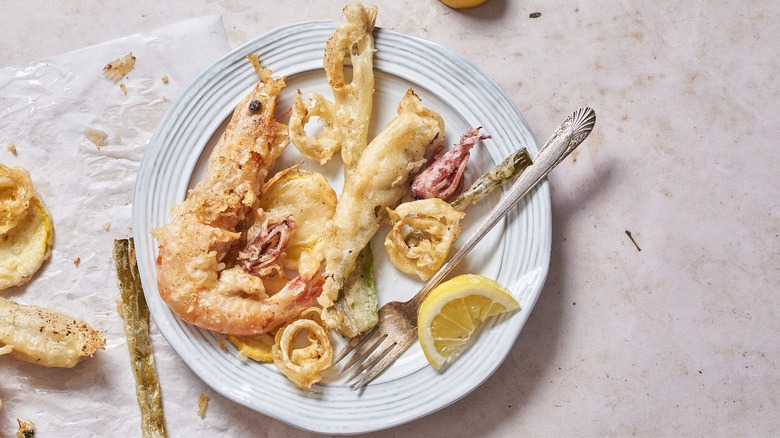 Michelle McGlinn/Food Republic
The Amalfi Coast couldn't be dreamier: Imagine yourself sitting in an Italian restaurant by the sea, sipping wine over a crunchy plate of fried prawns. A salty, fishy smell fills the air, seawater ever-so-lightly misting your face as the waves roll into the rocky cliffs, the setting sun taking one last chance to kiss your skin red. There's nothing better in the world than the crisp wine in front of you — except, of course, for the lightly battered fish and vegetable platter you've ordered with it. Each piece is airy, with a crunch so delicate you'd swear it was never fried. The vegetables are fresh, and the fish even more so, having just been brought in from the Tyrrhenian Sea this morning. This is fritto misto.
Fritto misto is Italian for "fried mix" and refers to a dish of fried proteins, cheese, or vegetables. It is served all over Italy in different forms, some regions serving mostly vegetables and others (like the Amalfi Coast) serving mostly fish. It's meant to be very fresh, hot, and just lightly fried. Don't channel your local fried chicken joint with this one: The batter should be barely there.
We know deep-frying can be a little intimidating, and even more so with piles of fish and tentacles. We've developed a recipe with Michelle McGlinn to help guide you through summer's perfect appetizer. While your kitchen table might not be quite the same as the Amalfi Coast, with this recipe it can get pretty close.
Everything you need for fritto misto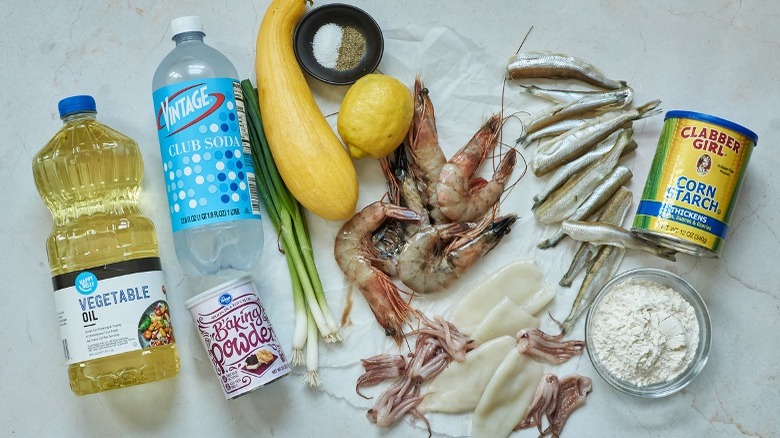 Michelle McGlinn/Food Republic
What's important to remember about fritto misto is that it's meant to use the bounty of your region, whether that is fish, vegetables, cheese, or otherwise. If you live land-locked in midwestern America and can't find head-on prawns anywhere, don't sweat it. Just grab some eggplant, a ball of mozzarella, or prosciutto and get to frying. This particular recipe, though, uses head-on prawns, smelt (a small fish not unlike fresh sardines), calamari, and squid tentacles, as well as produce like yellow squash, scallions, and lemon. To make the batter, you'll need flour, cornstarch, baking soda, salt, pepper, and club soda. Frying the battered ingredients will have you go through a lot of oil — enough to fill up a large pot by a few inches. Use a neutral, high smoke point oil like vegetable or canola.
Mix the batter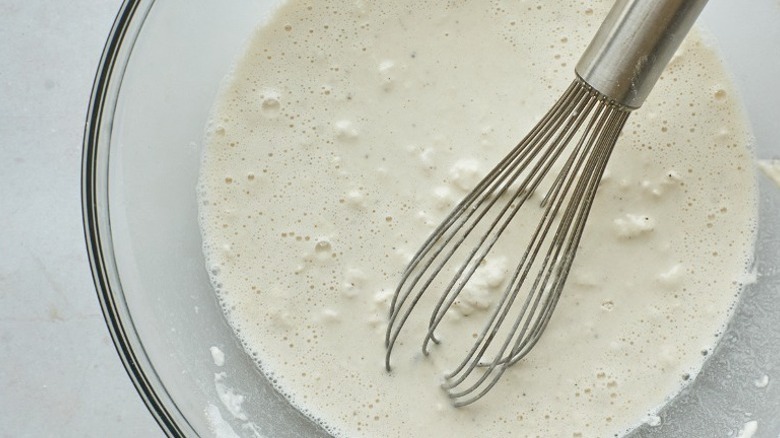 Michelle McGlinn/Food Republic
The first step in this recipe is to whisk together the batter, starting by placing the dry ingredients in a large bowl. With the flour, baking soda, cornstarch, salt, and pepper combined, begin adding the chilled club soda and stirring with a spatula or whisking while you pour. Once the mixture is smooth and thick, with the consistency of a milkshake, the batter is ready. You may not use all of the club soda.
Prep the vegetables and fish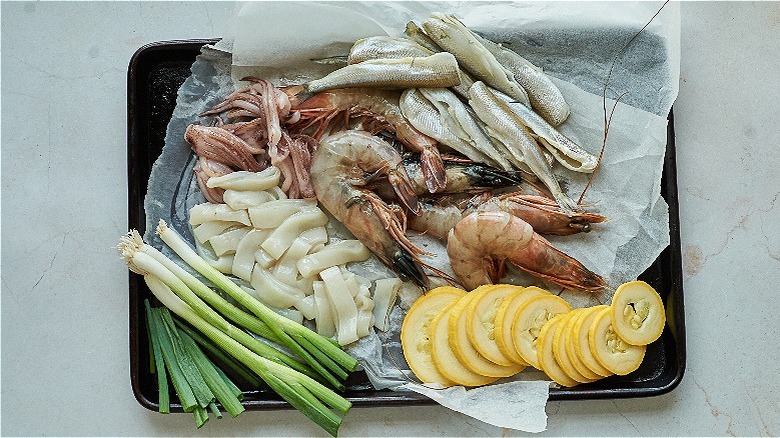 Michelle McGlinn/Food Republic
While the oil heats up to 350 F, prepare the fish and veggies for frying. You can leave the prawns almost as-is, especially if your fishmonger has already deveined the shrimp for you. The shell will help protect the delicate meat while frying, leading to a soft and tender crunch. The smelt can also be left alone, since de-boning the tiny fillets will result in a mess (just be careful of any larger bones when eating). The squid can be sliced into rings for bite-size calamari, and the tentacles can be separated from the tubes with the beak removed. To prep the veggies, slice the squash and trim the onion to fit the pot. Any excess green from the scallion can be fried, too, so don't toss it away.
Fry the fritto misto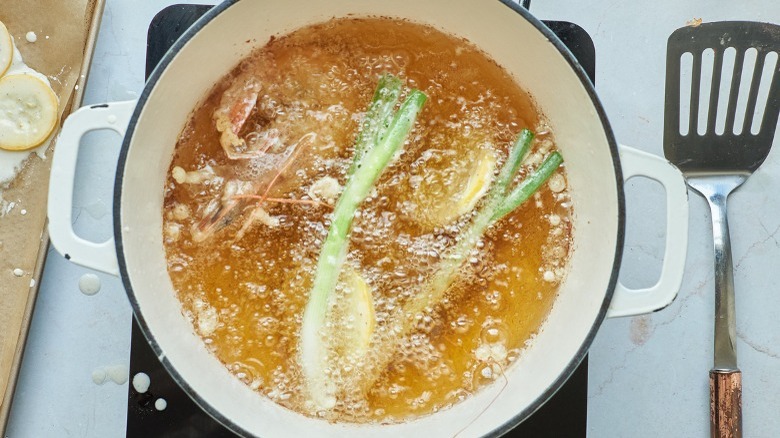 Michelle McGlinn/Food Republic
Before battering the fish and vegetables, confirm that the temperature of your oil has reached 350 F with a kitchen thermometer. If you don't have one, add a small drop of batter to the oil; if it immediately sizzles and browns without burning, it's ready. Oil temperature is key for fritto misto: If the oil isn't hot enough, the batter will slip off the fish and become soggy rather than crisp. If it's too hot, on the other hand, the batter will turn dark brown before the fish cooks through. 
With the oil heated, dip the ingredients into the batter and shake off any excess before gently adding them to the pot in small batches — each piece of food should have its own space to fry rather than steam. The pieces should float in the oil, another sign that the temperature is hot enough. Fry the fish and vegetables for a few minutes until lightly golden and crispy, then remove and place on a wire rack to drain.
Serve the fritto misto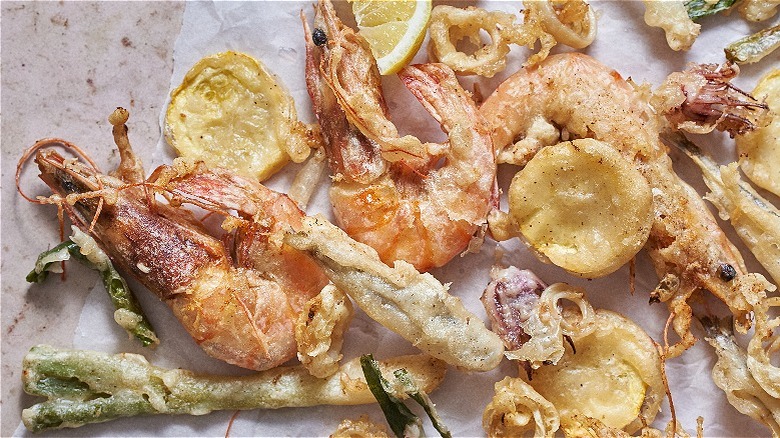 Michelle McGlinn/Food Republic
Much like a seafood boil, fritto misto is best served from a parchment paper-lined basket or platter so hungry hands can grab from the mix. Bring it to the table immediately after frying so it's hot; if the process takes a while, you can store the fried ingredients in a warm oven until everything is ready to serve. Add sliced lemons to the serving dish, as well as flaky sea salt or aioli if desired. Because the batter gets soggy over time, fritto misto doesn't make the best leftovers, though you could try air frying any remaining bits the next day.
Even if it doesn't make the best meal prep, fritto misto is a must-try for your next family dinner or summer soirée. It's meant to be a light snack before the main course, so serve it before plating up some meatballs or a pasta al limone recipe. You can also serve fritto misto alongside crowd-pleasers like Caprese salad or bruschetta for a summery, Italian-centric meal your guests won't forget.
All-Star Fritto Misto Recipe
For ethereally light and crispy fritto misto that tastes like the Amalfi Coast, batter your ingredients with club soda and fry just until golden.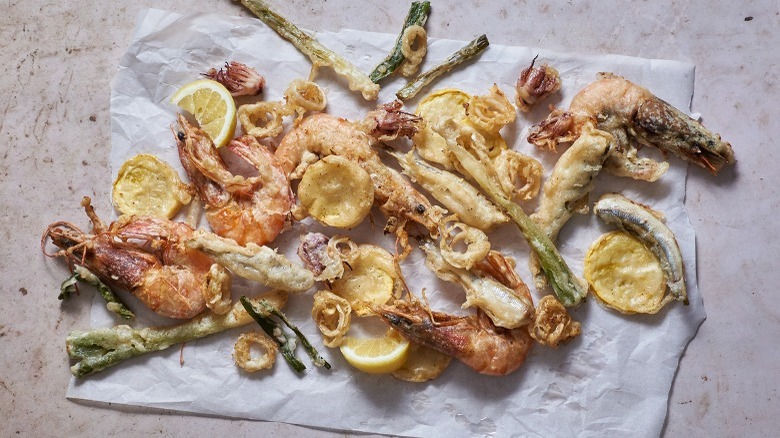 Ingredients
1 cup all-purpose flour
1 cup cornstarch
1 teaspoon salt
1 teaspoon pepper
2 teaspoons baking soda
1 ¾ cups club soda, chilled
1 quart vegetable oil, for frying
1 large summer squash, sliced into rounds
4 scallions, trimmed in half
½ pound squid tubes and tentacles; tubes sliced into rings
½ pound smelt
½ pound head-on prawns
1 lemon, cut into wedges, for serving
Directions
In a large bowl, whisk together the flour, cornstarch, salt, pepper, and baking soda. Gradually pour in the club soda, mixing continuously, and stop when the mixture reaches a smooth, milkshake-like consistency — even if you have not used all of the soda.
Heat oil in a deep skillet or Dutch oven until it reaches 350-375 F. To test for readiness, drop in a small spoonful of batter. It should sizzle and begin to brown immediately.
Begin frying the vegetables, then the calamari, smelt, and prawns, in individual batches. Fry until lightly golden brown and crispy, about 3-4 minutes per batch.
Once golden, remove from the pot and place onto a wire-rimmed sheet to drain.
Serve on a parchment-lined surface with lemon wedges and, if desired, flaky salt or aioli.
Nutrition
| | |
| --- | --- |
| Calories per Serving | 1,014 |
| Total Fat | 71.9 g |
| Saturated Fat | 5.2 g |
| Trans Fat | 0.5 g |
| Cholesterol | 243.2 mg |
| | |
| --- | --- |
| Total Carbohydrates | 61.5 g |
| Dietary Fiber | 3.2 g |
| Total Sugars | 2.7 g |
| Sodium | 1,219.0 mg |
| Protein | 31.4 g |