Dolly Parton's Game-Changing Ingredient For Tangy Coleslaw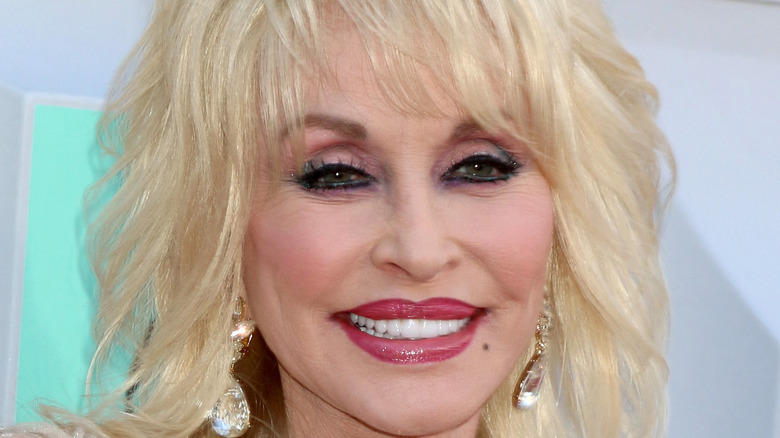 Kathy Hutchins/Shutterstock
The one and only Dolly Parton has established herself as a true American icon for her music, of course, but the actress, author, and philanthropist has even dabbled in cookbooks. In 1989, "Dollywood Presents: Tennessee Mountain Home Cooking"  was released which features several of her own culinary creations, including a coleslaw recipe that features an unusual ingredient for the Southern staple: pickles, in two forms. 
Her recipe has recently experienced a surge of searches and rave new reviews with folks praising the flavor that the pickled cucumbers give to the dish. Dolly's recipe utilizes both chopped dill pickles (or dill relish) for tang and sweet pickle juice. Her recipe isn't fancy by any means and comes together using the standard ingredients most classic slaw recipes call for, but the pickles give it something subtle but special, a perfect bit of Dolly sass that sets her recipe apart from all the others.
Coleslaw, Dolly-style
There is no fancy cabbage in Dolly's coleslaw recipe like Napa, Savoy, or even purple. It starts with a head of standard green cabbage that's chopped or thinly sliced. Onion, grated carrot, diced sweet bell pepper, and a tablespoon of chopped dill pickle is combined in a bowl. The slaw dressing consists of mayonnaise, sweet pickle juice, white vinegar, sugar, salt, and pepper. After the dressing ingredients are combined, they are poured over the vegetables before everything is tossed together.
While undoubtedly a creamy coleslaw due to the mayo, the pickles, pickle juice, and vinegar give the crunchy slaw a bright freshness that keeps the classic Southern side dish from being heavy. Dolly's recipe will feed a lot of people and makes for a perfect side dish for fried chicken dinners or weekend barbecues. But it would also be delicious on top of pulled pork sandwiches, hamburgers, hot dogs, or tacos. Make it a main course by topping the slaw with grilled chicken or fish.
More pickles, please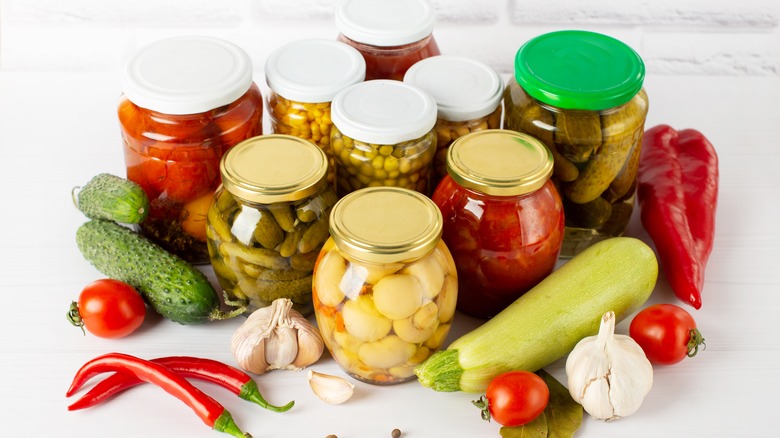 Margarita0192/Shutterstock
This might very well become your new favorite coleslaw, the one that you'll make all summer long. Don't think, though, that you can't mix it up depending on what you like. If you want more sourness, add more pickles and use dill pickle juice in the dressing instead of sweet pickle juice. If it's dill flavor you like, add some chopped fresh dill. Any type of pickled vegetable will give this coleslaw a zing and there is no shortage of them out there. You could use pickled okra, pickled green beans, even pickled beets, although they may turn your slaw pink. And if sweet is more your style, by all means, double up on the sweet pickle juice and sub sweet pickles for dill.
You can add some heat by including some hot sauce or cayenne pepper to the dressing, or add chopped jalapeno to the vegetables. As far as the cabbage goes, get fancy if you'd like. The aforementioned Napa, Savoy, and red cabbage would add great visual appeal and extra crunchy texture, too. Another southern recipe that could work in Dolly's slaw is chow chow relish, which kind of looks like coleslaw itself. It is a pickled relish made of green tomatoes, onions, bell peppers, and cabbage. Toss in a spoonful at a time and see what you think. 
We're not sure if Dolly would approve of such variations to her coleslaw recipe, but knowing her, she'd flash that million-dollar smile and — with true Southern hospitality — tell you it's delightful.