Italian Wine Is Simply Built Different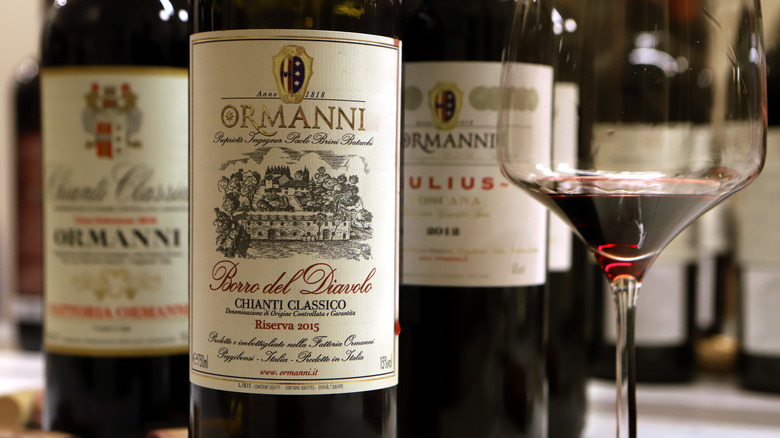 David Silverman/Getty Images
CORRECTION 6/6/23: A previous version of this article stated Milan is in the Piedmont region of Itlay. Milan is located in Lombardy.
It's true that the U.S. has remarkable wineries. But Italian wine is considered old-world wine dating back 3,000 years — and wine connoisseurs (oenophiles) can taste the history. Italy is home to over 2,000 grape varieties, which create 350 official blends to suit every palate and meal. In fact, Italy has more types than France, Greece, and Spain combined, accounting for 25% of wine grapes grown globally.
Italy has three central wine-producing regions, Veneto, Tuscany, and Piedmont — though table wine, cooking wine, and Vermouth are produced in all 20 areas. Four variables distinguish each wine region and set Italian wine apart: the grape variety, the soil type, the climate, and the producer (winemaker, artisan). The country's diverse landscape and microclimates support unique blends only found on the peninsula. This makes them exciting and memorable to drink, especially when paired with regional cuisine. The same grape variety produces different-tasting wine depending on which of Italy's soils it's located (volcanic, clay, sandy, and rocky). The landscape stretches from the frigid northern corner of the Alps (in the Piedmont region) 4,300 feet above sea level, where Italian whites and ice wines thrive, to desert-like terrain close to Africa in Sicily, where tannic and tart reds are sun-dried in the rocky soil. 
In addition, unlike the limited labeling system used by France, the U.S., and other countries, Italy sets strict quality standards for its wine, with a transparent approach to help consumers identify the best value. And you can taste the difference. 
Italy enforces strict regulations on wine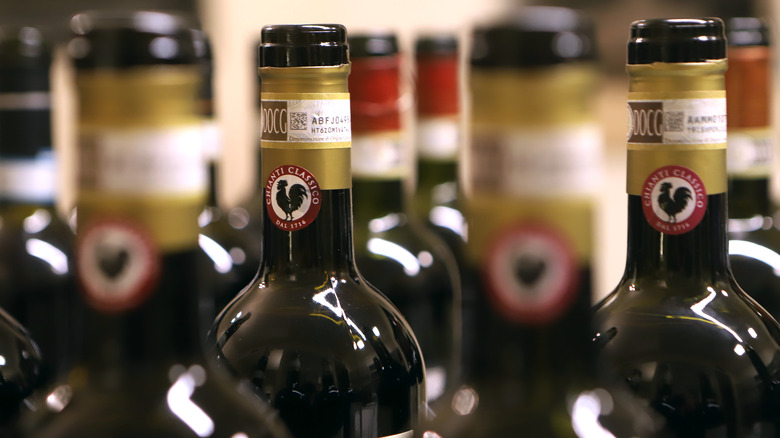 David Silverman/Getty Images
Italian wine has four classifications that decipher the quality of the wine. These indicate whether it's passed a government taste test guaranteeing the quality. A paper band on the cork illustrates this transparent system; Vino da Tavola (VdT), Indicazione Geografica Tipica (IGT), Denominazione di Origine Controllata (DOC), and Denominazione di Origine Controllata e Garantita (DOCG). DOC and DOCG labels distinguish the highest quality Italian wines.
DOC and DOCG labels identify what type of grape was used in production and where it was harvested (i.e., Chianti, Barolo, Brunello di Montalcino). DOCG further distinguishes historically exceptional wines, making it easier for consumers to identify superior wines. Each of the 329 DOCs countrywide has a set of rules. These govern the acceptable grape varieties vintners can use, how long the wine must age, and the maximum harvest yield. Since 1980, there have been only 74 DOCG wines, found mainly in the three central wine-producing regions: Veneto, Tuscany, and Piedmont.
Consumers may notice further classifications on the labels that differentiate blends. "Classico," often found on bottles of Chianti Classico, means the wine was made in that area's historic wine-producing region. "Superiore" reveals that the wine has at least 0.5% higher alcohol content than other regional wines. And "Riserva" indicates the wine has been aged for at least two years.
Which wines Italy is known for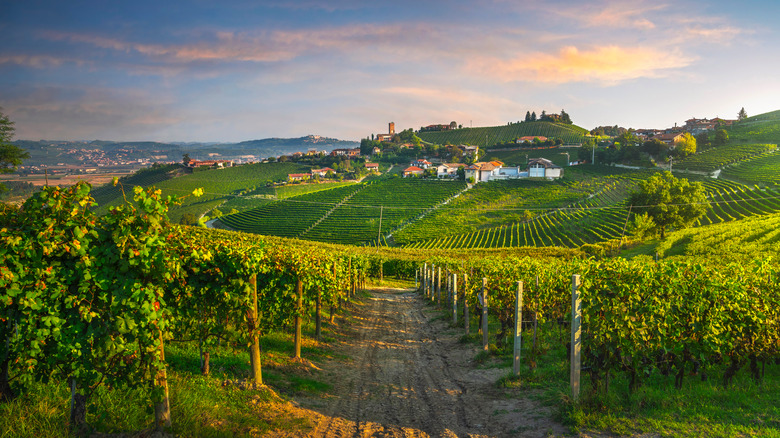 StevanZZ/Shutterstock
The wine you like is subjective to your exposure, and if you've never experienced Italian wine, you're missing out. Italian winemakers are constantly innovating, and the breadth of wine they offer is unparalleled. Tuscany is home to familiar red varietals like Cabernet Sauvignon, Cabernet Franc, Merlot, Pinot Noir, Syrah, and Sangiovese grapes (which are now required by law to be the majority grape in Chianti). 
Gone are the days of cheap straw-wrapped bottles. The region is known for its complex reds — including the new blend, Super Tuscan, which combines Cab and Merlot grapes and sweet Vin Santo. Using fertilizers, pesticides, or other additives is forbidden in Italy. The country leads Europe in organic wine production. In fact, two-thirds of the vineyards in Chianti Classico are organic, producing a cleaner wine while strengthening the vines during droughts (and we see many of those lately).
The Veneto region (Venice, Verona) is known for its light-bodied reds from Valpolicella and the rich white variety, Soave. Soave is similar to Chardonnay but has memorable Merlots and Cabernets. The region accounts for 18% of DOC wines and has two DOCGs (high-alcohol Amarone della Valpolicella and sweet Recioto della Valpolicella).
The picturesque Piedmont region is most famous for its big red, Nebbiolo-based wines, like the pricy Barbaresco and Barolo varieties, and Barbera meant to age and mellow. The region is also known for Moscato Bianco — a sweet, bubbly wine with notes of cotton candy and lychee.