Primer: Barolo, Italy's King Of Wines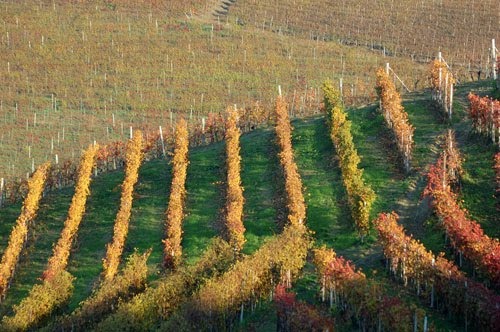 Roagna harvest photo
A wine nicknamed centuries ago "The King of Wines" might seem intimidating. Indeed, Barolo is not for the feint of heart—or palate. There are plenty of entry-level wines out there. This isn't one of them. Barolo is an advanced wine, best enjoyed by those who have long ago done away with their oeno training wheels. Not that I'm trying to scare you; I just want you to understand.
So, why is Barolo such a big-boy wine? Made from the thin-skinned Nebbiolo grape in the northern Italian region of Piedmont, which also happens to be the serious-epicurean home of the Slow Food Movement and the white-truffle trade, it's a wine that's difficult to make and can be even harder to appreciate. This is because the grape ripens slowly and is harvested late in the season—the juice it produces is highly tannic and acidic, able to cause mouths to pucker, tongues to purple and teeth to stain. Traditionally, the wine is fermented slowly over many weeks then aged in large Slavonian oak casks for a prescribed number of years.
When the wine is finally released in bottles, it's still not ready to drink. It can take many more years of cellaring for it to mature enough for the tannins to soften and the acidity to mellow. It's a tricky endeavor: wait too long and the fruit can fall flat. Don't wait long enough and you've just opened a monster big enough to turn around and drink you. It's not a wine for dabbling. Plus, it's not cheap. (Beware the under-$50 Barolo.)
---
The juice that Barolo produces is highly tannic and acidic, able to cause mouths to pucker, tongues to purple and teeth to stain.
After renting a car in Genoa, I made the hour-long drive to Piedmont, an undertaking that can be terrifying for anyone who has never driven in Italy or hasn't driven stick in years. The roads in Piedmont are narrow and winding, and there's always a hasty Italian motorist behind you, blaring his horn for you to speed up because there is no room for him to pass. Hey, idiota, you're only driving 45 kilometers over the speed limit!
Even in Piedmont, the home of Barolo, I rarely drank the King of Wines — there are less expensive incarnations of Nebbiolo that are wonderful and better suited for my budget. But I did get to taste a Barolo by Roagna. This producer of Barolo uses the traditional method of slow fermentation and aging in large casks. The method is at the heart of the grand debate that has come to be known as the Barolo Wars.
Modern Barolo makers say that the wine is at risk of losing relevance in this age of instant gratification. Fewer people cellar their wines than in the past (in America, as much as 90% of wine is drunk within 24 hours of purchase) and more technologies exist to ensure that they don't have to.
For one, steel rotary fermenters allow a winemaker to control the temperature of the juice, which can cut fermentation time dramatically – from weeks to days – and soften the wine. Smaller oak barrels can reduce aging periods due to increased surface area-to-volume ratio.
While these modern methods can take some of the time and uncertainty out of making Barolo, they don't necessarily reduce the cost of a bottle. The main benefit is that you get to drink it sooner than later. Even though I like my wine like my food – slow – I must admit that I don't have much patience. Or a cellar.
Before you take a side in the Barolo Wars, you'll want to do some recon. Here's a good place to start:
1. Burlotto Barolo Monvigliero 2007 ($55): The experts say you might able to drink this one as early as 2015. Or 2025, depending on whom you ask. For now, it's showing rounded tannins and some earthy, heady notes.
2. Oddero Barolo 1999 ($60): Intense tannins and bright acidity are balanced with floral aromatics. Don't let the year on the bottle fool you: you can hang on to this one for years, but drinking it now won't kill you.
3. Roagna Barolo La Rocca e la Pira 2004 ($72): Rich and spiced, this organic and natural wine is made in an ultra-traditional fashion – slowly and painstakingly. It's a baby still, but can be opened now with proper decantering.
4. Giacomo Conterno Barolo Cascina Francia 2005 ($150): As one of the most acclaimed Barolo makers, expect fine things from this traditional producer. Also, expect to wait to drink this wine. Or invest in a serious decanter. At this point, it's full of red fruit, the typical tar, and a touch of smoke.
5. Roberto Voerzio Cerequio Barolo 2004 ($200): Drink this unapologetically modern Barolo now and you'll get floral aromatics, ripe fruit, moss and a hint of eucalyptus. In five years, some of the oak will hopefully have blown off.
---