Bangkok's Surreal Fine Dining Fantasy Feels Just Like The Menu
"Are you ready to embark on a journey of flavors? Are you ready to experience food as an act of love and rebellion?" questions the web page for restaurant Gaggan Anand, located in Bangkok, Thailand. Those interested in "a culinary adventure of the senses and a roller coaster ride of emotions" can request a seat at Gaggan Anand by filling out a questionnaire that asks guests about their favorite band, curse words, and Kama Sutra pose. 
Chef Gaggan Anand is known for his brashness, irreverence, and astoundingly creative cooking. His namesake restaurant is dark and moody with pops of neon signage. The chef's tasting menu is served from what is effectively a stage framed by an L-shaped bar. Each course is accompanied by a story and corresponding lighting and music. Guests should prepare for a sensory experience that looks like something straight out of "The Menu," like with the dish "Brain Freeze" – a brain shaped bite of ice-cream made with secret ingredients that guests are instructed to chew in slow motion. Diners are then told that the ice-cream is made of rat brains, a joke that would only be believable at Gaggan Anand.
The dining experience is like a theater production, but the food remains inspired by rich Indian traditions. Journalist Vir Sanghavi says that much of what Chef Gaggan Anand cooks does not ascribe to any one cuisine, but "if you are an Indian, you recognise how completely he has revolutionized our cuisine while remaining true to our flavors."
How Gaggan Anand became the biggest Asian hot spot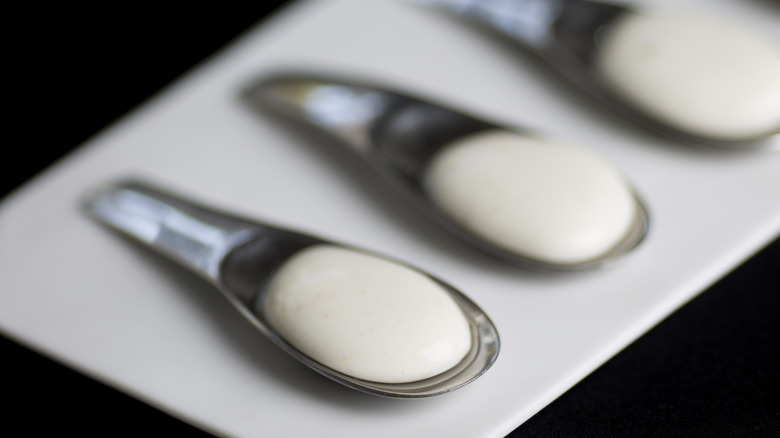 Bloomberg/Getty Images
Gaggan Anand is the second iteration of chef Gaggan Anand's previous restaurant, Gaggan, which placed first on the 50 Best Restaurants in Asia list a record setting four times. The new concept debuted on the list at number five in 2021. An internship at the acclaimed El Bulli inspired Anand to take molecular gastronomy concepts and apply them to Indian food. He opened his first restaurant, Gaggan, in 2010 and served dishes like the iconic "yogurt Explosion," inspired by El Bulli's olive sphere, which captures the mother sauce of Indian cooking in a spoon-held bubble . 
Despite years of wild success (awards, two Michelin stars, a Chef's Table episode), Anand came to feel taken advantage of by investors in his restaurant. He decided to close Gaggan and restart as Gaggan Anand on his own in late 2019. Despite efforts to the contrary from his former partners, nearly all of Anand's team stayed by his side. However, the pandemic prompted another pivot. While Anand remained committed to fine-dining, progressive, Indian food, he created a more affordable a la carte menu to appeal to Thai locals, not just the elite foodie class that could no longer travel to eat at his restaurant. This intriguing menu includes chilled plates, or "scenes from the Cold War" like "Bombay bhel puri ala NASA." The "come on baby light my fire" menu has warm dishes like "momo or ravioli or gyoza or wonton or dim-sum?"
What to expect when dining at Gaggan Anand
Chef Anand has scrapped most dishes that made him famous, though many of the concepts do reappear in new ways at his restaurant. While the a la carte menu is still available, the 20-plus course chef's tasting is what the restaurant is known for. Twenty-eight guests over two seatings can partake in this intimate, off-the-wall, and experimental experience for around $400 per person. Guests can select a natural wine-focused pairing curated by sommelier Vladimir Kojic or a non-alcoholic option. 
Diners at Gaggan Anand won't get to eat "Lick It Up," a plate painted with brightly colored sauces served with the Kiss song of the same name as the soundtrack, though Anand does present a riff where guests are instructed to lick a stenciled fire emoji off their plate and "yogurt explosion" remains the first course on the menu. Other dishes include an asparagus ice-cream fashioned to look like a plant growing in edible soil, an uni and strawberry tart paired with sake, a bloody beetroot cappuccino, and a cold curry made with coconut and crab. 
With all the bells and whistles, it may seem like Gaggan Anand is more theater than epicurean delight, but those that have dined there say it lives up to the hype. One TikTok user said it was the best meal she ever had. Fortunately, for foodies hoping to dine at Gaggan Anand, they can enjoy a dramatic and delicious dining experience without an ending like "The Menu."