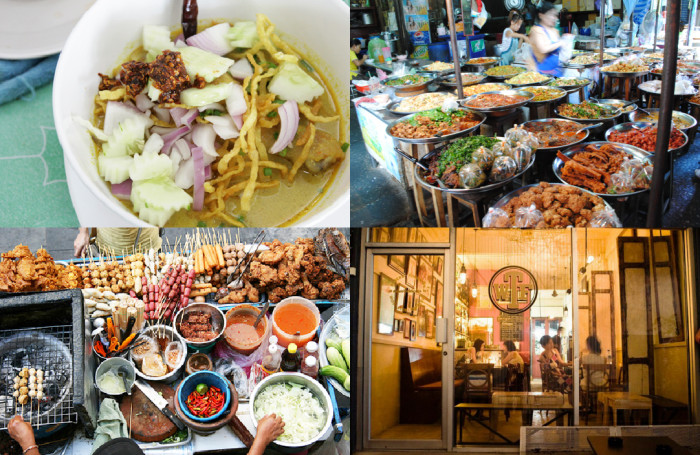 There's only one food rule for Bangkok: If you see something edible and it looks good, go for it. With the city's vibrant street-food culture, it's possible to feast for a week without setting foot in a restaurant. (Since many street meals cost just over a dollar, this is an excellent option for travelers on a tight budget.) Contrary to popular belief, getting sick from food stands is not a huge concern — most in Thailand have pretty good hygiene. But you can judge this for yourself; after all, the food is prepared right in front of you.
But for those times when you need to plan, or when you simply want a real chair, the Thai capital also is home to excellent restaurants, ranging from simple shophouses to swanky hotel dining. The below lineup is by no means comprehensive — we'd need a 20-foot scroll to exhaust Bangkok's edible highlights. Think of this as a very good place to start.
EAT
E San Rom Yen
Northeastern Thailand has its own cuisine, known as Isaan (also spelled Isan or E San), and it's a vast change from the pad Thai and curries most Americans know. The most familiar dish might be som tom, shredded green papaya salad, which this restaurant near Victory Monument does a nice job with (ask for spicy or not spicy). Roasted chicken is another staple; here it's served chopped, and it's delicious. So are the larbs, salads of chopped meat with things like onion, lime, peanuts and herbs. Ask for sticky rice on the side for scooping, and take refuge in a bite of it when your mouth gets fiery. Soi Rang nam Phayata, Soi Loet Panya, +66 (86) 554 8972
Kanom Jeen Bangkok
Okay, this is a chain found in shopping malls. But it's pretty good, inexpensive and better yet, a great way to learn to eat the workaday noodle specialty known as kanom jeen. Choose your curry from the seafood-heavy menu and then head to the salad bar to load up on unlimited veggies. By the time you return, a server will have set down a plate of vermicelli noodles twirled into elegant nests (streetside, they're generally just plopped into a bowl). The meal is assembled bite by bite: Use your spoon to scoop a bit of curry, then with your fork, push some noodles and veggies into the mix. Voilà — every bite is different. Once you're trained at this place, keep your eyes peeled for the giant platters of veggies that make a kanom jeen stall easy to spot on the street. There is a location at MBK Center (444 Phayathai Rd., Bangkok 10330, Thailand) and at several other malls around the city
Klom Klom
While there are several venerated restaurants in Bangkok serving Muslim Thai food, newish Klom Klom has an appealing contemporary feel, with simple pine tables that could have been borrowed from a trendy ramen-ya. The grandmother of the young owner came from Pakistan, and it's that country's food that inspires the excellent roti and meaty green curry served here. When we visited, there was no English menu (Bangkok blogger and photographer Austin Bush did the ordering in Thai). But with a proprietor who speaks a bit of English, it should be possible to muddle through. Be sure to get the purple "butterfly pea" drink, if only to marvel at its grape-soda hue. Thanon Convent Soi Convent 2, Bangkok, 10500, Thailand
Nahm
The Bangkok location of Aussie chef David Thompson's celebrated London Thai restaurant might be the most expensive meal of your trip. But when you think about it in dollars, not baht, $55 for a set-menu feast featuring some of the best Thai cooking you've probably ever tasted is pretty reasonable. Where else can you find taco-like coconut wafers wrapping oh-so-fresh prawns with bean sprouts and peanuts, or enjoy a soft-shell crab and pomelo salad paired with Sancerre? It's by far the cheapest option — and only Thai nod — on the San Pellegrino World's 50 Best Restaurants list. Just make that reservation already. 27 South Sathorn Rd., Bangkok 10120, Thailand +66 (02) 625 3388 comohotels.com
Soul Food Mahanakorn
This restaurant, owned by a thirty-something American, would feel at home in Brooklyn — it even charges what we'd call Brooklyn prices. The reason to come is not necessarily for the food, though the pan-regional menu is pretty good. There's a nice appetizer of pork jowl, shallots and other things to wrap in lettuce leaves; tasty chicken wings; and a pretty solid pad kee mao. The real draw, though, are the cocktails, some of the best craft quaffs in the city, and the scene: Expats and artist/design types frequent the place. 56/10 Sukhumvit Soi 55, Bangkok 10110, Thailand, +66  (02) 714 7708 soulfoodmahanakorn.com
DRINK
WTF Cafe & Gallery
Speaking of things feeling like Brooklyn, this art gallery and bar made us want to start a Tumblr called "BK or BKK?" Beers even cost around eight bucks, just like in Kings County, but it's probably worth it to get Oregon's Rogue Beer in Thailand (WTF recently became the first bar in Bangkok to serve it). But beer is everywhere here, so you should be sure to order a cocktail from the creative craft menu. Then settle back at a candlelit wooden table as the young and arty drink around you. 7 Sukhumvit soi 51, Bangkok, 10110, Thailand, +66 (02) 662 6246  wtfbangkok.com
Moon Bar at Vertigo
File a visit to one of Bangkok's sky-high bars under touristy, but fun. There's something calming about seeing this large, confusing city from way above. Seats at this 61st story lounge atop the Banyan Tree hotel are first come, first served, and sunset is the best time to go, though also the most crowded. 21/100 South Sathorn Rd., Bangkok 10120, Thailand +66 (02) 679 1200 banyantree.com
Amorosa
For dramatic views of Wat Arun ("the temple of dawn"), take the river ferry to this bar located on the fourth story of the elegant Arun Residence hotel. If you show up for sunset, you can watch the natural light fade as the temple's lights come on. Drinks lean fruity and tropical, but prices don't gouge. 36-38 Soi Pratoo Nok Yoong, Maharat Rd., Rattanakosin Island, Bangkok, 10200, Thailand, +66 (02) 221 9158 arunresidence.com
CAFFEINATE
Agalico
If Bangkok's bustle becomes overwhelming, this tranquil colonial-furnished tea and coffee house offers a serene retreat with a peaceful garden to relax in. And if you happen to fall in love with a piece of furniture there, it's all available for order. Note: Agalico is open Fridays through Sundays only. 20 Boonchiradorn Building, Sukhumvit Soi 51,  Bangkok 10110, Thailand, +66 (02) 662 5857
Happy Espresso
Our favorite coffee in Bangkok can be found at the ubiquitous iced-coffee stalls on the city's streets, where vendors generally have a liberal hand with the condensed milk and sugar. But if the craving for an excellent craft espresso drink arises, head to this sophisticated roaster and coffee bar. The owner works with small coffee farmers, including some in Thailand, and makes drinks on high-tech machines by Dutch manufacturer Kees van der Westen. 295-297 Mitrabhand Rd., Bangkok, 10100, Thailand, +66 (02) 221 6099 happyespresso.net
Roast Coffee & Eatery
This cheery little cafe roasts its beans in house. In addition to top-notch brewed drinks, there's a selection of American breakfast fare, snacks and desserts. 251/5 Thonglor 13, Bangkok 10110, Thailand, +66 (02)185 2865 roastbkk.com
Third Wave Coffee Roastery
Another of the city's serious roaster/java shops, sells beans and equipment in addition to coffee drinks. 1221/12 Sukhumvit Soi 61, Bangkok, 10200, Thailand, thirdwavecoffee.com
EDIBLE SHOPPING
Damnoen Saduak Floating Market
A relic from the days when waterways were the essential means of transporting goods, most of Thailand's floating markets have been rendered tourist spectacles. This one's certainly no exception, but it's worth a visit anyway, for the gorgeous photo opportunities of old women peddling noodles and other delicacies from long, narrow boats. A travel agent can arrange an itinerary that includes a stop at the Maeklong Train Market plus a visit here. Damnoen Saduak, Ratchaburi 70130, Thailand
Klong Toey Fresh Market
Bangkok's largest fresh market specializes in, well, everything. Entire aisles filled with produce? Check. Pig's heads and other unmentionable parts? You bet. Every kind of seafood ever? Yup. There are even sections dedicated to housewares, towels, stationery… for that letter home to write all about the lamb brains. Rama IV Road, at Narong Rd., Bangkok 10310, Thailand
Maeklong Train Market
An hour or so from Bangkok is this fresh market filled with some of the world's most tenacious vendors, who move their entire stalls several times a day as trains pass by. It's not a particularly notable market aside from this, but the choreographed scramble is a spectacle worth seeing; hire a guide who knows the train schedule to take you there and back. After a visit to the market, walk a few blocks to the Sawadee Hotel, where a buck buys a plate of sublime Hainanese chicken served with yellow rice and soup. A travel agent can help you design an itinerary that includes this stop and the Damnoen Saduak Floating Market.
Maison du Vins
This homey little shop in an expat-heavy neighborhood off Sukhumvit Road carries European specialty items. Among its eclectic, decidedly non-Thai offerings are Spanish cheeses and jamon Serrano, European wines and packaged organic and gluten-free foods. 33/4 Soi Sukhumvit 19,  Bangkok 10110, Thailand, +66 (02) 651 2340 maisonduvins1994.com
Nonthaburi Market
This old-fashioned market just north of Bangkok is accessible via the Chao Phraya Express ferry (at the northernmost stop). It's best to go before 9 a.m. to see the full range of vendors. There's gorgeous fruit and seafood worth bringing your camera to capture, and plenty of snacks for sale. Suan Yai, Mueang Nonthaburi, Nonthaburi 11000, Thailand
Or Tor Kor Market
Conveniently located across from Chatuchak Weekend Market (a must-visit) is this covered market offering Bangkok's highest-quality produce selection. Exotic spices and all manner of delicious things to eat on the spot are another draw. Thanon Kamphaeng Phet Soi 2, Bangkok 10900, Thailand
COOKING SCHOOLS
Amita Thai Cooking Class
A lovely riverside home with picturesque garden is the setting for this school. Unlike most of the other courses in town, there's no market visit, but students do pick herbs and veggies from the facility's lush gardens. Each $93 course begins with a boat ride to arrive at the school, and ends with a student-cooked lunch in the garden. 162/17 Soi Wutthakat 14 Bangkok 10600, Thailand, +66 (2) 466 8966, amitathaicooking.com
Blue Elephant
Bangkok's most upscale cooking experience is held in a smartly appointed wooden house that provides a calm oasis in this hectic city. Not so fast, though: For morning classes the first step is a trip to the market. Then back to school, where instructors demonstrate dishes, then let students try on their own woks. Group classes are $93 for a half-day; a vegetarian course is available. 233 S. Sathorn Rd., Bangkok 10120, Thailand, +66 (02) 673 9353, blueelephant.com
Helping Hands Thai Cooking School
This reasonably priced ($40) cooking class, also known unappetizingly as "Cooking With Poo," includes an inspiring story. Owner-instructor Saiyuud "Poo" Diwong grew up in the Klong Toey slum where sessions are held, struggling to make ends meet until she found a niche for her charisma and cooking skills: teaching locals and visitors to prepare Thai specialties. Half-day classes include pickup from a central location and a market visit. Klong Toey Slum, Bangkok 10110, Thailand, +66 (84) 901 8717, cookingwithpoo.com
Silom Thai Cooking School
This unpretentious school is a bargain at $33 for a half-day class. Most classes include a market tour, and the curriculum also covers basics such as making curry paste, sticky rice, and coconut milk. 68 Silom Soi 13,  Bangkok 10500, Thailand, +66 (84) 726 5669, bangkokthaicooking.com
More City Guides on Food Republic: