Add Blueberries To Barbecue Sauce For Summer Culinary Bliss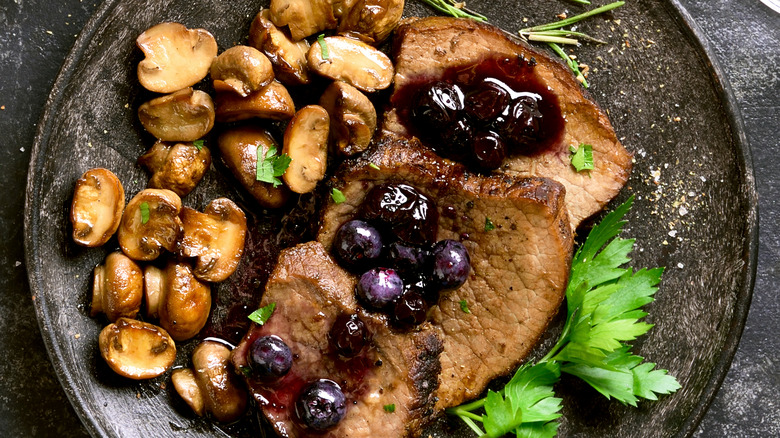 Tatiana Volgutova/Shutterstock
Seasonal eating is always a good idea. Summertime offers some of the most coveted and delicious fruits and vegetables of the whole year including tomatoes, cherries, zucchini, corn, and blueberries.
It really isn't difficult to get your fill of the tiny purple berries in the summer because they seem to be everywhere — at supermarkets, farmer's markets, and perhaps your own backyard. While many people are accustomed to putting them in their pancakes, smoothies, or just eating them right off the bush, they are actually a perfect addition to another of summer's greatest pleasures: barbeque foods. Making your own barbecue sauce is surprisingly simple and requires ingredients that are probably already in your refrigerator and pantry, plus you can flavor them with things like cola and pureed fruits, like blueberries.
Blueberry barbeque sauce can be delicious on practically everything you put on the grill: chicken, salmon, steak, sausages, pork, ribs, and more. Sure, there are plenty of store-bought barbecue sauces available that require no effort except to unscrew the cap but, oddly enough, they all pretty much taste the same. Why not try something unexpected this summer with sun-ripened blueberries?
Why they belong in barbecue sauce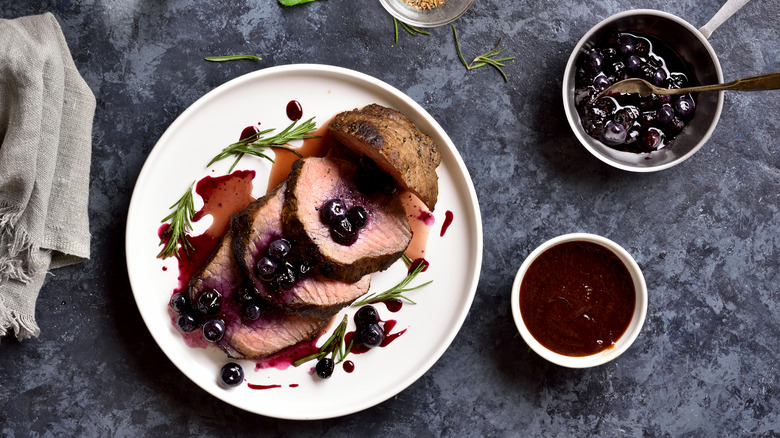 Tatiana Volgutova/Shutterstock
With their naturally sweet, tangy, and juicy nature, blueberries are a wonderful if not unexpected ingredient to add to your grill-basting sauces. In general, barbecue sauces are sweet, smoky, tart, and sometimes spicy, and blueberries work with all of these profiles. Many other flavors and additions would taste great as well like ginger, molasses, cinnamon, and orange zest. For homemade barbecue sauce, all that usually needs to be done is to simmer all of the ingredients together until the flavors combine. 
In the case of using blueberries, the berries should break down substantially before you blitz everything together with an immersion blender or in a regular blender or food processor. If you want to keep it chunky, you can carefully smash them with a spoon or potato masher.
Using blueberry barbecue sauce for patriotic holidays like Independence Day is totally appropriate. It fits with the red, white, and blue motif, July is right smack in the middle of their peak season, and blueberries happen to be a fruit native to North America. Keep a bowl of it on the table and your guests can help themselves in adding it to anything they want.
Go beyond barbecue sauce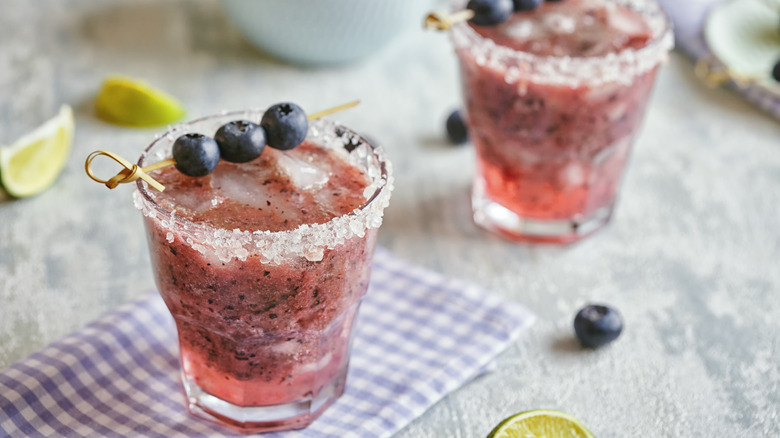 Gmvozd/Getty Images
You're probably not going to use all of your summer blueberries in barbecue sauce unless you absolutely fall in love with it and decide to take up canning so you can make batches of it for the year. Like most people, you'll want to enjoy this delightful and nutritious fruit in anything and everything you can. Fortunately, you can add blueberries to all kinds of summer delights. Incorporate them into cocktails by either muddling them in the bottom of your mojito glass or make a blueberry simple syrup to keep in the fridge for refreshing vodka-based drinks. If alcohol-free beverages are more your speed, use that blueberry syrup in fresh lemonade or add some to seltzer water.
Of course, it wouldn't be summer without ice cream, so top classic vanilla ice cream with fresh blueberries or make your own flavor like sour cream blueberry swirl or triple berry using raspberries and strawberries, too. Freeze fresh blueberries like you would grapes for frozen treats on a hot day, make blueberry basil martini popsicles, toss a handful on top of your salads, make blueberry jam, or enjoy a goblet of plump, ripe berries topped with fresh whipped cream. If you're absolutely sick of blueberries by the time summer comes to an end, you know you've done things right.