Easy Blueberry Pancakes Recipe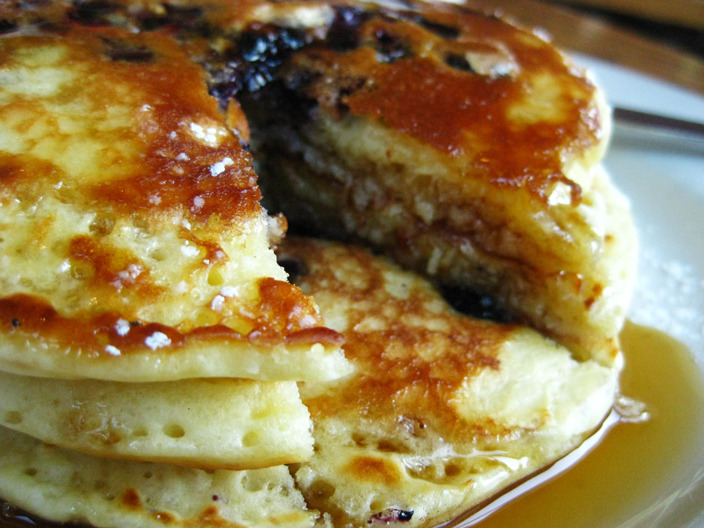 Photo: cherrylet on Flickr
Let's do some word association. Pancake fruit! If the first thing that came to your mind was blueberry, our theory is correct. Blueberry pancakes are the most popular variation of pancake. If you answered banana, sit tight for a week — it's coming. Your answer is not incorrect. If you answered chocolate chip, we plain old like the way you think.
Making blueberry pancakes is as easy as adding blueberries to our perfect pancake recipe, which we've included below for your convenience. These freeze really well, so make a huge batch and eat them all week for breakfast.
Easy Blueberry Pancakes Recipe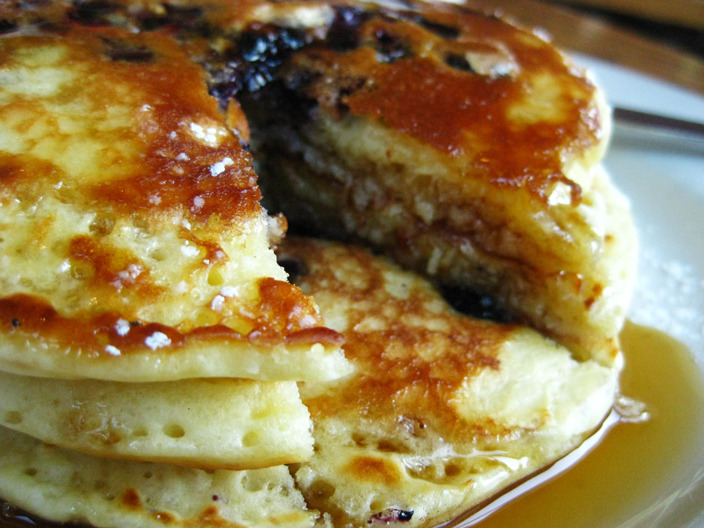 Ingredients
1 3/4 cups all purpose flour
2 teaspoons baking powder
1/4 teaspoon salt
1 tablespoon sugar
2 large eggs
1 1/4 cups whole milk
4 tablespoons unsalted butter
1 cup blueberries
vegetable oil
Directions
In a medium-size mixing bowl, whisk together all your dry ingredients
In a separate bowl, whisk together all of the wet ingredients until the egg is broken up.
Add the wet ingredients to the dry ingredients and add the blueberries. Gently stir until you stop seeing flour. Be careful not to overmix, that will make the batter tough. Leave a few lumps for tender pancakes.
Place your a large non-stick pan over a medium-high flame and let the surface get hot. It's hot enough when you sprinkle a few droplets of water over the surface and they evaporate.
Moisten a paper towel with vegetable oil and lightly wipe the bottom of the pan. This will keep the pancakes from sticking.
For each pancake, gently pour 1/2 cup of batter into the pan, using a ladle or a measuring cup. Use the back of a spoon to spread the batter into a circle.
Bubbles will form in the batter. When they begin to pop, the pancakes are ready to be flipped. Turn over gently with the spatula and cook for about one minute on the flip side.