The Kan-Kan: A Meat Mohawk Of The Highest Caliber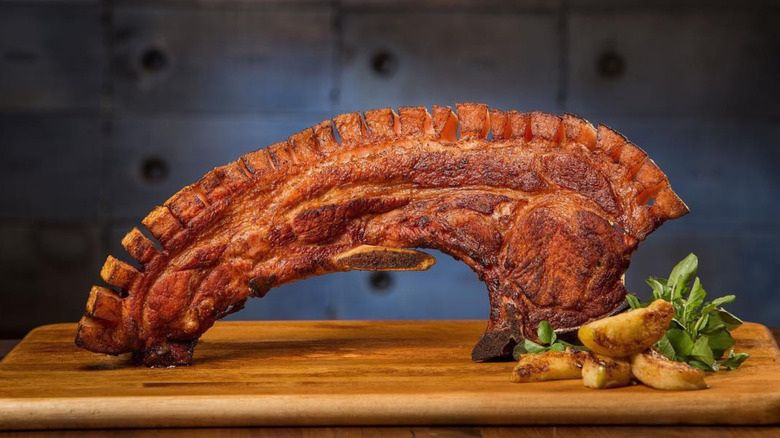 Butcher & Banker
Chef Scott Campbell is an alum of Windows on the World, Le Cirque, and The Oak Room at The Plaza. His latest project is Butcher & Banker, a modern steakhouse set in an old bank vault in New York City's Midtown West neighborhood, a stone's throw from Penn Station. The neighborhood isn't exactly known for its plethora of awesome dining options, certainly, none boasting the meat mohawk that is the Kan-Kan — a glorious arch of double loin pork chops, ribs, belly, and cracklings. Go ahead, try to take your eyes off it.
What's the best way to enjoy the Kan-Kan, as far as Campbell is concerned? Crank up the right tunes. "Play The Clash in the background, to keep the mohawk thing going strong. Keep it spicy." Here are a few other notes on this juicy table-crusher of a statement piece.
Where did you first encounter this cut?
One of the complexities of modern-day steakhouses is that you can't exactly reinvent the animals, so we tried to come up with some unique cuts that would also be dramatic on the table. The Kan-Kan was one of them. It's a derivative of a Puerto Rican-style chop, which is found in San Juan, and of course these days it's nice to give Puerto Rico its due.
Can a butcher cut a Kan-Kan it for you if you describe what it is?
I don't think so. You'd probably have to be there with them and know what you're doing. It's definitely unique. When you open any restaurant, there's a vernacular of things that are going to be familiar, and this is definitely outside of the bell curve. We had to do some coaching with our butchers, and let's just say "thank goodness for the Internet." There's really nothing you can go and check out in person. There was really not much mental fodder or pictures of it, so it took some research and lots of testing — we cooked more than a dozen before we were happy with it.
It's so big and... irregularly shaped! Is there any trick to brining it?
In my world, we have a multiplicity of different-sized containers, so it's actually not that difficult. Any time you're dealing with the loin, brining is definitely something that needs to be done. Pork is one of the trickiest things to play with. There's little to no internal fat on it, even with heritage breeds. If you don't do it properly, it can be dry, so brining it is something you have to do. Salt, sugar, aromatics, spices; just give it your own twist.
What are some challenges to cooking a piece of meat like this?
We tried a couple of different techniques while we were testing it. We tried doing the loin part separately, for example, because my biggest concern was how to make sure that the loin was succulent while keeping the outside crispy. We tried removing it and putting it back in and found out that brining it separately worked out well. One positive thing is that a lot of people are liking more than just bacon and ham these days, and like their pork less dry and not so well-done, so I think that really adds to the juiciness of it as well.
How do you make the mohawk?
The mohawk is the chicharrones part, and the technique involves making little notches or cuts on the top. Cooking the Kan-Kan is a three-step process, and the mohawk is formed in the last part, the deep-frying part, in order to make it nice and crispy. The key is to get as many even cuts on it as possible to create that crunchy texture.
How long has it been on the menu?
Since we opened up in November. I wanted it on there from the start.
What's been the response from guests who order it?
Any time it goes through the dining room, it's got that wow factor that turns people's heads, so we present it whole before it's carved and then bring it back with caramelized apples and an apple cider reduction. When it goes out, people are like "oh my god, it's so cool, I want to get one of those!" It's really breaking the mold. We tried to come up with a menu that's more than just a traditional steakhouse. It's hard to reinvent something that's so structured, especially since we're trying to get a diverse clientele in a very rebooted area. This neighborhood was popular for steakhouses when they first built Penn Station, then it kind of fell off the map.
What's the future of dining in the Chelsea/Penn area?
Now that it's being refreshed, I'm starting to see the cross section of who our guests are going to be. We cater to everyone — we have a vegetable section: asparagus, roasted carrots, green beans with guanciale. We can do vegetables "naked" if a guest wants to be more health-conscious, no pressure. It's not just a bunch of good old boys doing steak and Scotch. You have anyone from millennials and people who want to go to Madison Square Garden for Rangers and Knicks games to Christmas shows, dog shows, you name it.
What are some other unconventional items on the menu?
Our short ribs. We make a pastrami-spice cure and dry cure that for 48 hours, then smoke it for about 12-14 hours until it becomes succulent. That's an unconventional steakhouse type of dish, and when it comes out it looks like a Fred Flintstone-style hunk of meat that'll knock your table over. Plus, it gives people with dogs a bone to take home.