Know Your Street Foods: Chicharrón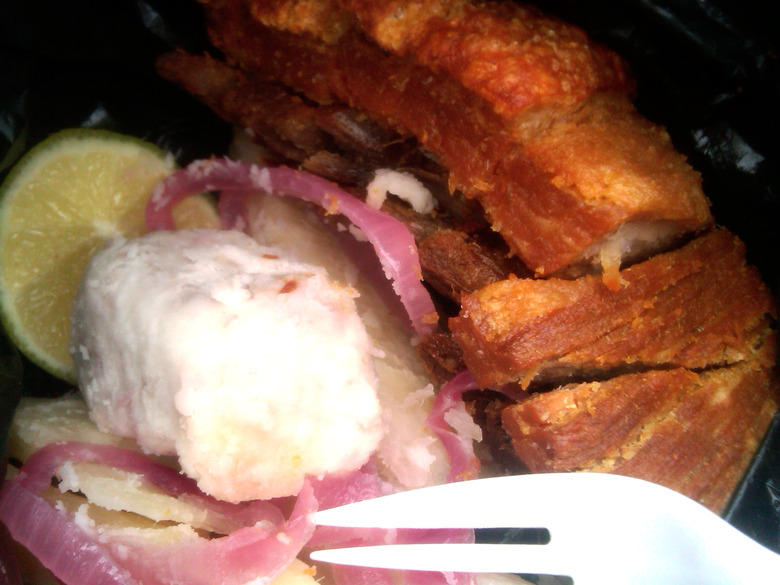 lunch special
On the side of a red box on a street corner in upper, upper Manhattan, homemade white lettering reads "chicharones caliente con casaba y yuca."
A hundred and thirty blocks south of this corner, lunchtime office workers are paying $30 for lunches at Midtown restaurants like Má Pêche and Molyvos. There is nothing wrong with the Crispy Pork Shank With pea shoots, jicama and buttermilk down there at Má Pêche — in fact there's a lot right with it.
But there is also a lot right with the pork as it is served on the southeast corner of 182nd Street and St. Nicholas Avenue in New York City, a few blocks from Yeshiva University, where I found myself wandering the other day after driving an ailing friend to an appointment with his graduate school advisor.
On this corner, the prix-fixe lunch is $5 for a hunk of beautifully crispy fried pork, boiled portions of savory white casaba melon and toothsome yuca root, and a garnish of pickled red onions, all served in a black plastic bag with a lime wedge and a fork. The golden brown pork skin — the chicharrón — is crispier than a piece of good fried chicken and as resistantly chewy as a nice thin piece of grilled carne asada. Delicious. The meat under it was tender and perfectly salty.
"Chicharrón" is a term that usually refers to a dish made primarily from the skin of a pig — or in some cases, a chicken — which has been deep fried. In this case it refers to a dish in which the crispy skin is the main attraction and the attached meat a bonus. The word Chicharrón is used throughout the Spanish-speaking world, and each country has its own interpretation.
I doubt many Yeshiva students stop at this corner for pork-based lunch. But you should.