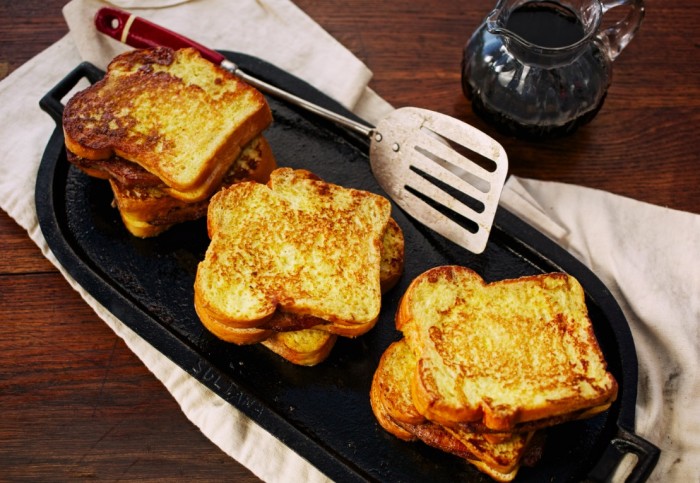 Straight from "Dr. BBQ" himself, this awesome book by Ray Lampe deals with one often-overlooked main ingredient: the humble pork chop. Whether they're cut thick or thin, bone-in or out, this versatile and delicious cut of pig is something we're more than willing to read a whole book on. Let's fuel up with breakfast first. 
French toast stuffing usually involves something sweet and creamy—like another topping, but stuffed in the middle. In my world, though, you stuff the French toast with a pork chop and it really turns it into something special. I use store-bought Texas toast and thinly slice it to open like a book and that works well, but if you've got some homemade bread, I think it'll be even better. Just slice it thick and follow the recipe.
Ingredients
1/2

teaspoon

salt

1/2

teaspoon

sugar

1/4

teaspoon

black pepper

1/4

teaspoon

cinnamon

6

boneless pork chops, about 1/4-inch thick

6

eggs

1/4

cup

milk

1/2

teaspoon

vanilla extract

6

thick slices

white bread, Texas toast style

4

tablespoons

butter
Directions
Preheat the broiler on high, with the rack 5 to 6 inches from the heat. In a small bowl, mix together the salt, sugar, pepper and cinnamon. Season the pork chops on both sides with the salt mixture. Place the chops on a baking sheet and broil for 2 to 3 minutes, until lightly browned. Flip the chops and cook for 2 to 3 minutes more, until firm to the touch. Transfer the chops to a plate. Tent loosely with aluminum foil and set aside.
In a shallow bowl, whisk together the eggs, milk and vanilla until frothy. With a sharp serrated knife, split the bread horizontally, leaving one end intact like a book.
Place a pork chop inside each slice of bread. Preheat a large skillet over medium-low heat. Add 2 tablespoons of the butter and heat until melted. Dip one bread pack­age into the egg mixture, coating well. Place it directly in the skillet.
Repeat for two more slices, or whatever will fit in your pan. Cook for 2 to 3 minutes, until golden brown. Flip and cook 2 to 3 minutes more, until the other side is golden brown. Transfer the stuffed toast to a platter and cover loosely. Repeat the process, using the remaining butter and bread until done. Serve immediately.
Try out these French toast recipes for brunch on Food Republic: