11 Ways You Never Thought To Cook With Honey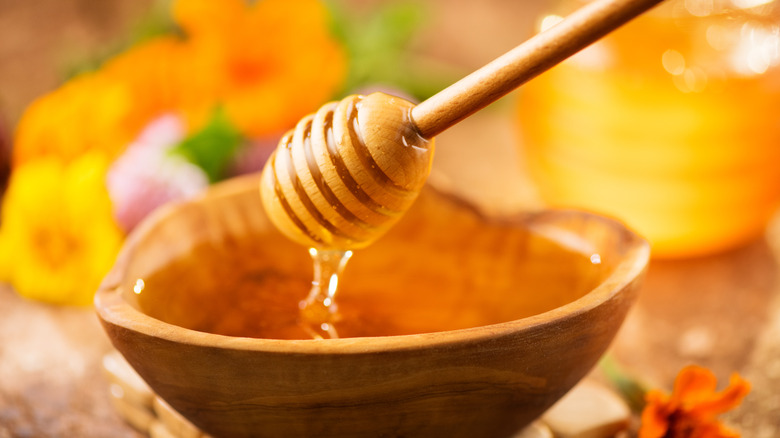 Subbotina Anna/Shutterstock
Honey is one of the planet's true super foods. Extracted from the nectar of flowers and turned into golden liquid goodness by the incredible honey bee, honey is one of the oldest and most beloved food sources. In addition to its ability to naturally sweeten any food it comes into contact with, honey has a long history as a medicine. It's been used to treat wounds, aid in digestion, and sooth coughs and sore throats. The stuff was so valuable to the ancient Greeks, Vikings, and Egyptians that all three cultures used it as a form of currency. 
Archeologists have even found pots of honey buried in Egyptian tombs dating back thousands of years. And to their surprise, the honey was still edible! That's right — honey never goes bad when stored properly. It's natural acidity and low moisture content make it almost indestructible to bacteria — so that jar of honey you've been hoarding will keep forever. But don't let it!
Sure, right now you may only use a bit of honey on toast or in tea, or perhaps mixed with hot water and lemon when you have a sore throat. But you may be missing out. Honey is far more than an occasional sweetener. It's one of the most versatile and useful ingredients in any kitchen, from entrees and drinks to snacks and desserts. Here are some of our favorite ways you can start putting this wonder food to work.
Create a glaze or marinade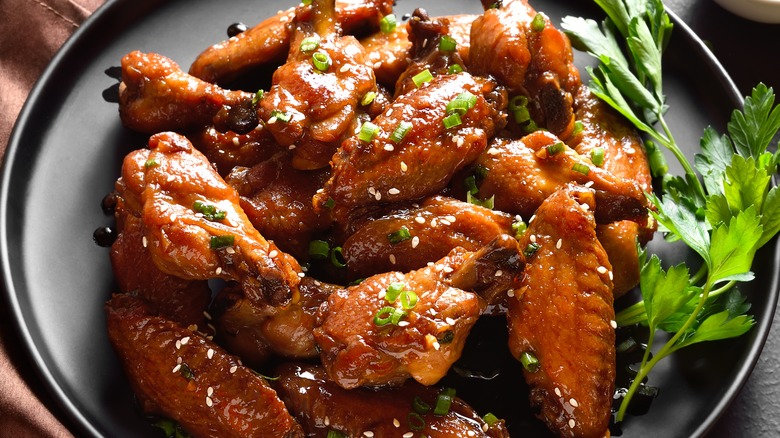 Tatiana Volgutova/Shutterstock
When you think honey, your mind likely goes immediately to its sweetness. But don't be fooled. Honey can also form the foundation of an incredible savory meat dish. It doesn't matter whether you're cooking chicken, pork, beef, salmon, shrimp or any other proteins, honey goes perfectly with all of them. And you can use it in a number of ways.
For starters, honey makes a great marinade. It's packed with natural enzymes that help to tenderize a wide variety of meats. To throw together a quick honey-based marinade, whisk together equal amounts of honey plus an acidic liquid like vinegar or orange juice — we suggest around 1/4 cup each — with 2 tablespoons soy sauce, a couple of cloves of minced garlic and 1/2 teaspoon of grated orange zest or ground ginger. When everything is mixed well, coat your meat with the marinade and then let it sit in the fridge soaking up that flavor for about 30 minutes before cooking it.
You can make an easy honey glaze that you can brush on meat you are grilling, broiling, or baking in the oven. The formula is similar. Just pour around a 1/4 cup of honey into a bowl and then add other ingredients by the teaspoon until you have your ideal sauce. Consider using soy sauce, Dijon mustard, garlic, chili powder, cumin, paprika, rosemary or turmeric. All mix beautifully with the sweetness of honey. Experiment and enjoy!
Sweeten your veggies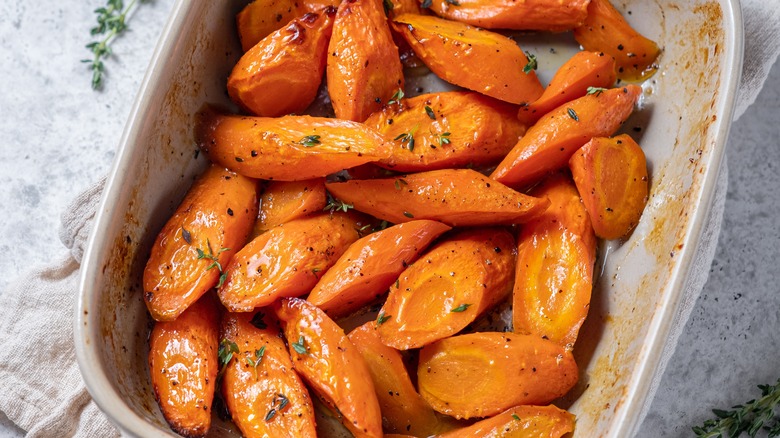 Elena Shashkina/Shutterstock
Meat isn't the only savory food that goes with the goodness of honey. You can also use nature's perfect sweetener to liven up a wide range of classic vegetables — everything from carrots and Brussels sprouts to sweet potatoes and green beans. And don't worry — that added honey won't leave your veggies tasting like candy. Instead, honey simply helps to enhance the natural sweetness of the produce while promoting caramelization and balancing flavors, muting potential bitterness of the fresh vegetables and bringing out more of their natural earthy undertones.
Roasting carrots or sweet potatoes is a good place to start mastering your honey-glazing prowess. To prepare either, wash, peel, and cube 3 to 4 cups of the vegetable of your choice. Then, mix together 3 tablespoons of honey, 2 tablespoons of melted butter, 1/2 teaspoon of a warm spice like cinnamon, nutmeg, or allspice. Add a pinch of salt. Then toss your cubed veggies in the honey mixture until well coated. Spread the diced, glazed veggie chunks on a baking sheet and roast at 425 degrees Fahrenheit for 25 to 30 minutes, or until tender and caramelized.
The process is similar for baking honey-glazed beans or broccoli. You just need to blanch either vegetable in boiling water until tender first. Then, drain your produce and mix it with the honey glaze mixture. In place of the cinnamon or allspice, consider using an equal amount of lemon juice, soy sauce, or other spice of your choice.
Whisk honey into a salad dressing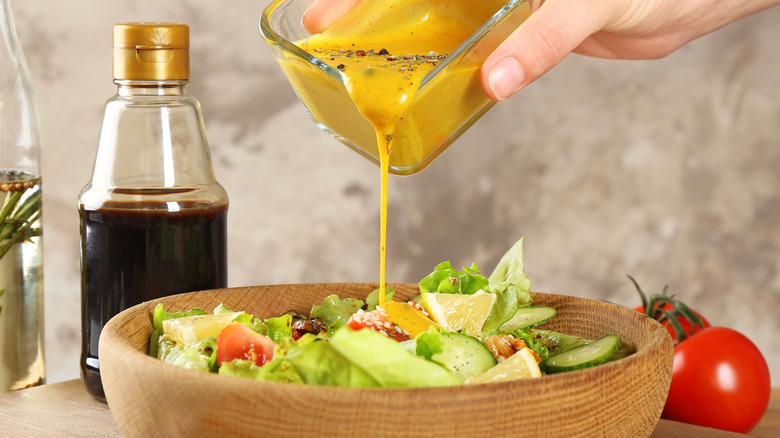 Africa Studio/Shutterstock
Honey is an excellent ingredient to use in salads and, in particular, salad dressing. It enhances the flavor of the lettuce, adding depth and complexity to those green leaves. It also helps to balance the flavors of other ingredients you might add to your salad, including cheese, meats, cucumbers, or croutons. And it adds a touch of indulgent sweetness to what is otherwise an incredibly healthy meal, making salads tastier and a bit more fun to eat.
You can make dozens of honey-based salad dressings all using the same basic guidelines and formula. Whisk them together in a large bowl or blend the mixture in a blender where you can really process everything down until smooth — the choice is yours. To start, squeeze out 2 tablespoons of honey. From there, add additional ingredients by the tablespoon to taste. There's no right or wrong formula, so go wild and see where your creativity takes you.
For example, you can make a honey Dijon dressing combining honey, Dijon mustard, apple cider vinegar and olive oil. Or, try a lemon honey dressing made with honey, fresh lemon juice, olive oil and regular yellow mustard. Orange honey dressing tastes great on spinach based salads. Make it with fresh OJ, honey, olive oil, and white wine vinegar. Or blend some frozen raspberries, honey, red wine vinegar and olive oil for a raspberry honey dressing. Delish!
Add it to a dip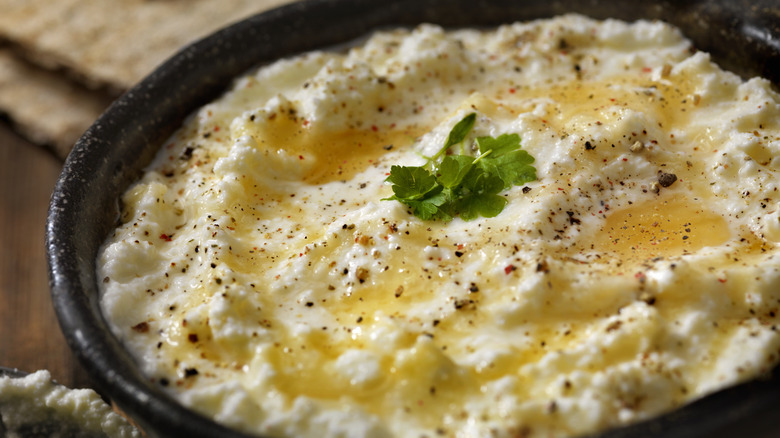 Lauripatterson/Getty Images
When you move from entrees and veggies to dips, the amount of things you can do with honey explodes even further. With its robust floral delicacy and ability to work with both savory and sweet ingredients, honey is an ideal addition to any number of snack and appetizer dips. You know it already works with mustard but how about whipping up a yogurt honey dip to use with fresh fruit? Just blend together 1 cup Greek yogurt, 2 tablespoons honey, 1 teaspoon lemon juice, and a pinch of cinnamon and chill until ready to use.
You can also make a hearty cream cheese honey dip for your morning bagel or toast. To make this one, combine 4 ounces softened cream cheese, 2 tablespoons honey, and 1/4 teaspoon vanilla extract. For an even more complex and tasty dip, stir in a handful of dried cranberries or raisins.
Looking for an alternative to your standard go-to guac or salsa? Try some honey lime avocado dip. It's easy and delicious! Just blend together one ripe avocado, 2 tablespoons of honey, juice of one lime, 2 tablespoons Greek yogurt, and a pinch of salt. Or make some spicy honey sriracha dip by combining 1/4 cup honey, 2 tablespoons sriracha, 1 tablespoon soy sauce, 1 teaspoon rice vinegar, and a pinch of garlic powder. Serve with a bowl of your favorite tortilla chips.
Blend honey in a smoothie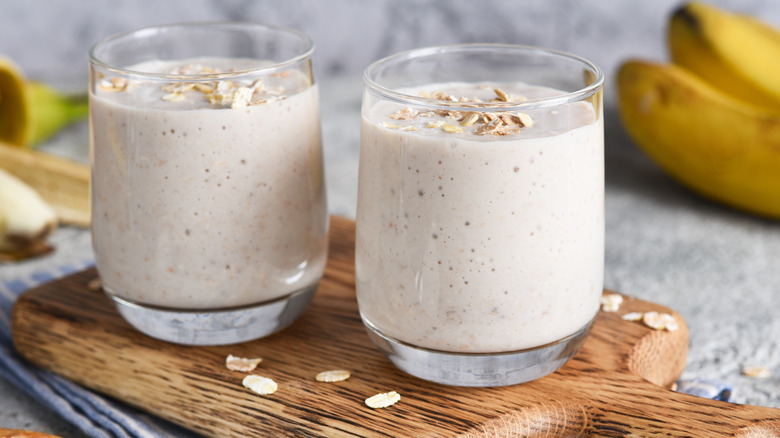 zefirchik06/Shutterstock
As you're likely starting to see, the beauty of honey is that it works with almost anything — meats, vegetables, and especially fresh fruit, where it not only adds sweetness but also enhances the flavor of whatever you pair it with. And one of the best ways to get your fruit and honey combined into one perfect package is by blending up a honey fruit smoothie.
The basic starting recipe for any honey based smoothie is pretty standard. You'll want to add 1 cup milk, 1 tablespoon honey, and a handful of ice to a blender. From there, you can experiment with any number of smoothie combos you can dream up. One of our favorites is a traditional honey banana smoothie which requires the addition of one ripe banana plus a dash of cinnamon to that standard smoothie recipe. You can also blend a mixed berry smoothie by swapping that banana with a cup of fresh strawberries, blueberries, or raspberries — plus a splash of orange juice.
Or go tropical and add 1 cup pineapple chunks or a whole diced mango to your standard smoothie starter. For an even more elaborate and healthy tropical smoothie, add in 1/2 cup coconut milk and a handful of spinach. Then blend everything down until smooth. You can also go the dessert route by adding 2 tablespoons of peanut butter and a scoop of chocolate protein powder to your basic honey smoothie blend. Yum!
Coat it on your favorite snacks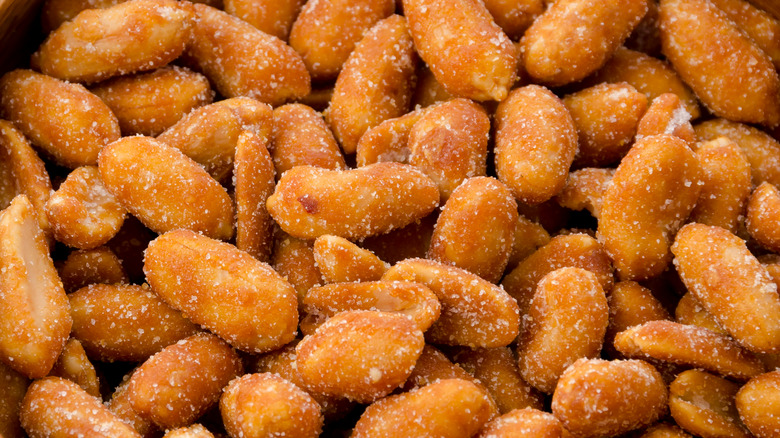 kariphoto/Shutterstock
Grocery stores are filled with various types of honey roasted snacks and pretzels. But why buy them when you can make your own? It's more affordable, healthier — you can see exactly what goes into your snack — and the recipes and blends are completely customizable. So, if you like your peanuts or almonds with more spice or a bit more heat, or less honey and salt, you're in control and can make them exactly the way you want. What's better than that?
The process for making any sort of honey glazed snack is basically the same. Start by scooping out 2 cups of whatever you want to cover with honey — almonds, cashews, pecans, walnuts, chickpeas, pumpkin seeds, pretzels, and macadamia nuts are all good choices. Then, in a separate larger bowl, measure out 2 tablespoons of honey, 1 tablespoon of melted butter, and a pinch of salt. If you want any extra spice, now's the time to add it. You can opt for cinnamon, paprika, chili powder, sriracha — even ground mustard or garlic powder. Start with 1 teaspoon of the spice and add to taste, based on how potent and spicy you want your honey roasted nuts. When your honey mixture is ready, add your nuts and mix them well until completely coated. Then spread them out on a baking sheet and roast at 325 degrees Fahrenheit for 15 to 20 minutes or until nicely golden. Let cool and dig in!
Smear it on your pizza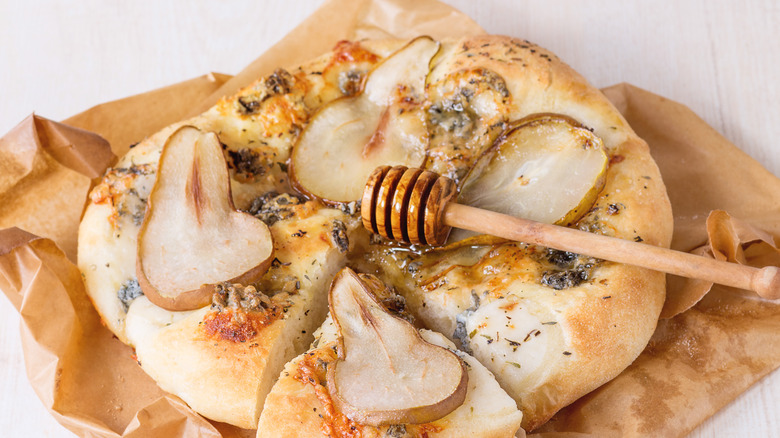 Natashabreen/Getty Images
One completely unexpected pairing you've likely never thought of — but definitely need to try — is the mixture of honey plus Italian food. Honey and tomatoes might seem like an unusual combination, but they work exceedingly well together since the sweet and floral flavor of honey contrasts so beautifully with the natural acidity of tomatoes, tempering their bitterness and enhancing their natural sweetness. Tomatoes are a fruit after all!
To work some honey into your next Italian meal, consider adding 1 or 2 tablespoons honey to your favorite homemade or bottled pasta sauce. Serve the honey tomato sauce over spaghetti or linguine and don't forget to top it all off with lots of grated Parmesan cheese. You can also drizzle a bit of honey into a Caprese salad or add honey to homemade bruschetta. Just combine some diced tomatoes, minced garlic, chopped fresh basil, olive oil, honey, salt, and pepper in a bowl. Then spoon the fragrant mixture onto slices of crusty Italian bread that have been toasted until golden brown.
Or, for perhaps the easiest and best tasting way to add some honey to your next Italian night, consider drizzling a bit of honey over your favorite pizza. You can use plain honey or pick up a bottle of spicy pepper-infused honey if you like extra heat. Both work incredibly well on a wide variety of pizzas including prosciutto and arugula, fig and goat cheese, BBQ chicken, ricotta and bacon, and especially traditional Margherita!
Stir honey into rice or couscous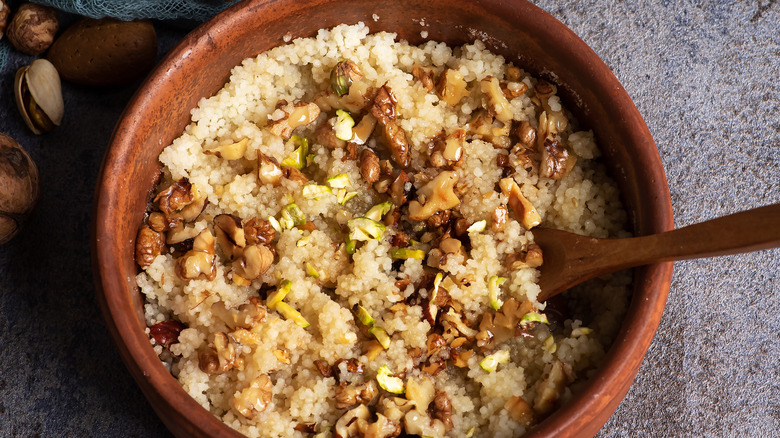 Stefan Tomic/Getty Images
Who doesn't love a creamy bowl of mashed potatoes or an uber comforting side of mac and cheese? No matter what type of side dish gets your mouth watering, honey can make these meal time essentials even more tasty. Really! 
Think about it. How great would 1 tablespoon of honey taste stirred into a side of rice. Add some grated ginger and a dash of soy sauce and sesame oil — wow! You can also take your rice into a more southern direction and pair it with honey, toasted pecans, dried cranberries, and a sprinkle of cinnamon. Or how about a Mexican inspired side of rice, honey, freshly squeezed lime juice and chopped cilantro?
Prefer couscous over rice? Why not whip up a side of honey curry couscous next time you're grilling some meat. Just mix the prepared couscous with honey, curry powder, toasted almonds, and a few chopped dried apricots. Or here'a wild idea — take those mashed potatoes you love so much and stir in some honey, garlic powder, extra butter and a few sprigs of fresh rosemary. Honey, nutmeg, and cinnamon are ideal for mashed sweet potatoes as well. And if you like the combo of honey and cheese, why not take that love affair one step further and make some honey mac and cheese? Just mix 1 or 2 tablespoons honey into your favorite mac and cheese for a unique twist on an otherwise classic dish. Inspired yet?
Pair honey with fresh or grilled fruit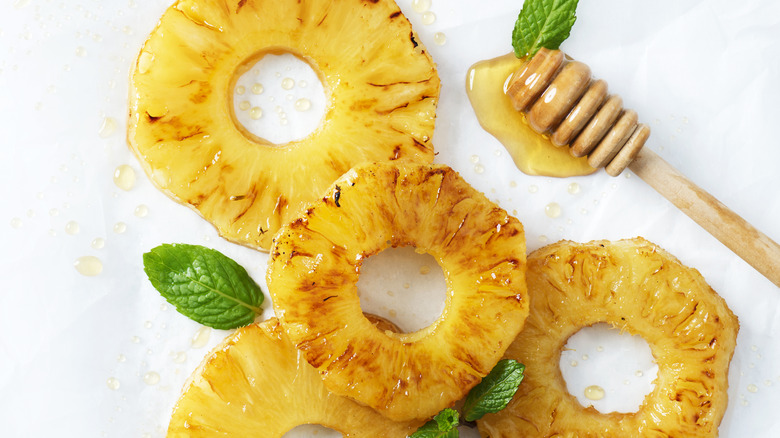 Simarik/Getty Images
The number of ways you can find to use honey with fresh or grilled fruit is limited only by your imagination. As with everything it touches, honey helps to balance the acidity of fresh fruit, promote caramelization (when you're grilling that fruit), and even boldens and brightens the natural sweetness of almost every type of fruit imaginable — from melons to grapes to berries to apples — all without overwhelming or burying their fresh natural flavors.
One of the very best ways to pair honey and fruit is by glazing slices of pineapple or fresh peach halves with the golden sauce before you place them on the grill. You can also brush on some melted butter and add a dash of cinnamon, but it's not required. The fruit and honey pair are perfect all on their own.
Honey also makes a great addition to fresh fruit salads. Just toss fresh fruit of your choice in a bowl with a little lime juice and then drizzle on a bit of honey. That's all you need for an explosion of fresh fruit flavor! You can make a delectable fruit parfait in a similar way. Alternate layers of Greek yogurt, fresh fruit, and honey in a bowl, let everything chill, and then top with granola before serving. Or cube some watermelon, toss it with feta cheese and fresh mint leaves and drizzle with honey for yet another amazing potential honey and fresh fruit creation. 
Bake up some honey-infused cookies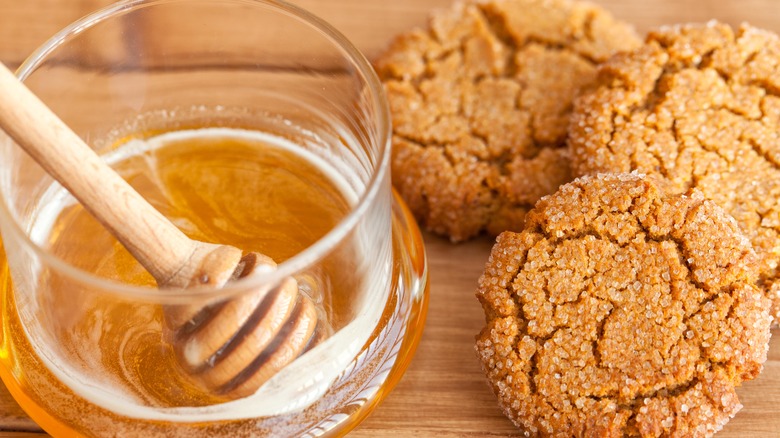 Natapetrovich/Getty Images
While honey can be worked into almost every type of food imaginable with relative ease, the place where it's most at home — and where its natural sweetness is best served — is also perhaps the trickiest of all areas to master. We're talking, of course, about baking. From avocado honey lime ice cream to Russian honey cake, there are plenty of incredible ways to work honey into a dessert. But most of these foods require proper recipes, so you can't just wing it for fear of your dessert failing.
Cookies, however, are a bit more forgiving. The standard ratio for a generic butter and sugar based cookie calls for 1 part butter, 1 part sugar, 1 part egg, and 2 parts flour. 
From that basic formula, you can make any honey-based cookie your heart desires. Just substitute honey for some or all of that sugar. And remember that honey has more moisture than sugar, so your recipe may also need a bit of additional flour. Once you have your basic honey cookie batter made, it's time to play with flavorings and add-ins. Consider working vanilla extract or ginger or cinnamon or citrus zest into your dough. Or add chocolate chips and nuts, or dried fruit. When the final dough is ready, drop it by the spoonful onto a greased cookie sheet. Bake your cookies in an oven that has been preheated to 350 degrees Fahrenheit for 10 to 12 minutes or until lightly golden.
Finally, shake some honey into your favorite cocktail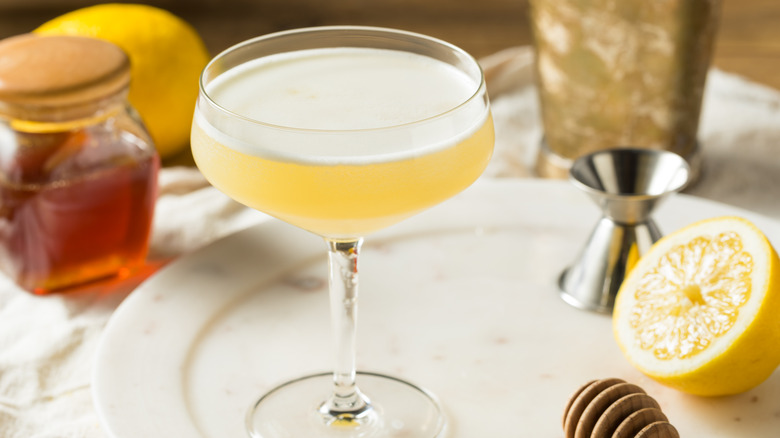 Bhofack2/Getty Images
Saving the best for last, perhaps, if you really want a delicious and unexpected way to work some honey into your cooking, consider using honey as a sweetener in your favorite cocktail. Don't worry — it's easy to do even if you don't have bartending skills, or bar supplies. One great place to start is with a honey old fashioned. To make it, just grab any small tumbler style glass you have on hand and throw in a slice of fresh orange and add a few dashes of bitters. Then muddle or smash that orange with either a wooden bar muddler, the back of a spoon, or the handle of a wooden spoon. Add 2 to 3 ounces of whiskey, a large ice cube or two, and a drizzle of honey. Add a splash of water or club soda to the whiskey (if desired) and garnish the glass with an orange twist if you're feeling fancy.
A honey margarita is another quick and easy honey-infused drink that can be mastered. To make it, combine 2 ounces tequila, 1 ounce lime juice, and 1/2 ounce honey syrup (an equal mixture of honey and water) in a shaker that's been filled with ice. Shake well to chill the ingredients and then pour into your margarita glass. Add a splash of orange liqueur for added citrus flavor if you like. Cheers!