5 Ways To Grill Pineapple Tonight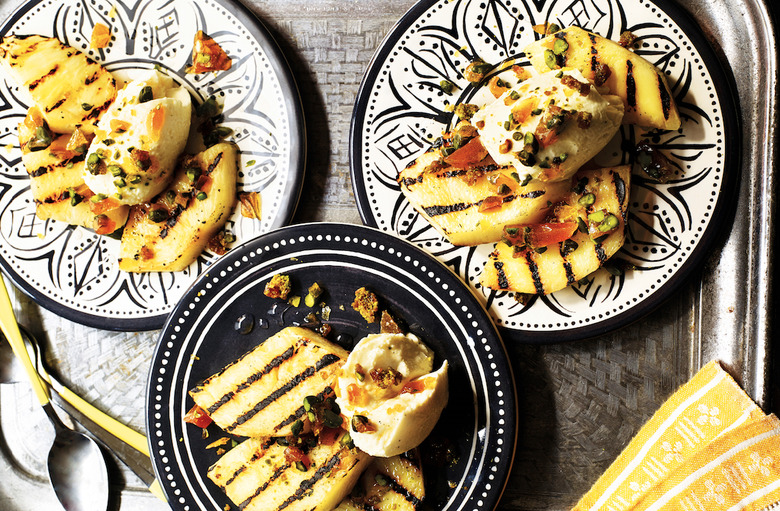 If you only choose one fruit to grill this summer...well, consider more than one fruit — grilled fruit is amazing. But if you only choose one, grill pineapple. Few sweet, juicy things sing on a barbecue like golden-yellow slices of this tropical fruit. Whether you're letting it shine on its own as a dessert or incorporating it into a savory dish, you're in for a major treat.
Recipe: Chargrilled Pineapple With Yogurt Mousse
There's nothing like pineapple to transport you to exotic climes and holidays in the sun. Here, the fruit's naturally sweet juices are caramelized over charcoal with the aid of a vanilla basting syrup. The yogurt mousse makes a delicious, fresh-tasting foil for the rich pineapple, and crunch comes from a scattering of praline flecked with green pistachios.
Recipe: Salmon, Pineapple And Fennel Salad
A fatty fish like salmon goes well with acidic ingredients, and here caramelized pineapple bolsters the lemon tang. This is gorgeous on its own as an appetizer or as part of a selection for a main dish.
Recipe: Pork And Pineapple Kebabs
Let this be the summer of the homemade kebab. None of those $10/lb. pre-made ripoffs this year. Besides, who wants a slice of green pepper every other chunk of meat? Try your hand at these easy kebabs, featuring notoriously succulent pork tenderloin inter-skewered with incredibly grillable pineapple. Brushed with a simple honey glaze, they'll make those supermarket kebabs look like stick figures.
Recipe: Tacos Al Pastor On The Grill
We're using pork butt here, but not just any pork butt. You're going to want to find a good butcher and make a special request, because we just want the coppa from the center of the butt. Did you recognize that word? That's because this is the piece that coppa ham (a.k.a. capicola) is made from, and if your butcher does it right, it will have the very distinct marbling you see in every coppa ham. This muscle is actually an extension of the loin the comes up through the shoulder of the pig, so it's a little more tender than the rest of the butt (which comes from the shoulder; I know, it's sort of confusing). If you can't find a butcher who can help you with this, you can use a regular pork butt, which should have at least some of the coppa muscle in it.
Recipe: Grilled Pineapple Salsa
When grilling the pineapple, it is important to char it because the more that you get it grilled, the more natural sweetness will come out. Don't be afraid to get some black char marks on there! When grilling the pineapple, you will know it's done and cooked through when you are able to put a knife or fork through it, but there is still a little resistance.