What's The Difference Between Pâté, Terrine And Rillettes?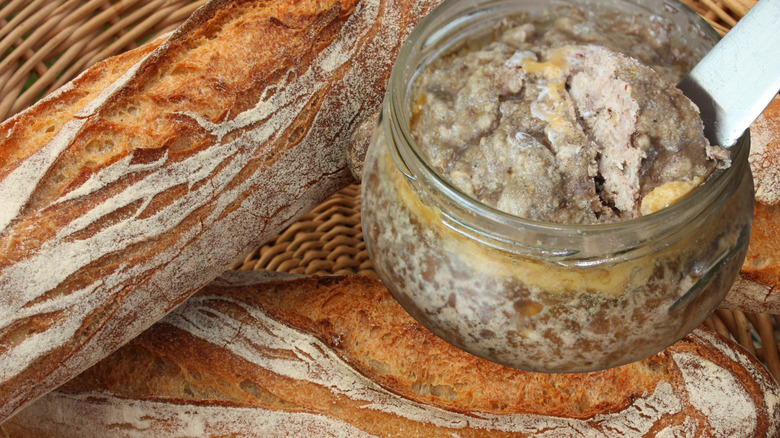 Nobtis/Getty Images
When it comes to the softer side of charcuterie — that is, preserved meats other than whole cured cuts and dry sausages — the lines are a little blurred. How much do you really know about the blended, shredded, and layered delights that are pâtés, terrines, and rillettes? All pâtés are terrines, but not all terrines are pâtés. Rillettes make great pasta stuffing, but terrines do not. Pâtés and rillettes can be made with very little effort, but terrines take years to master.
What are the big differences between these three staples of the classic charcuterie plate or appetizer spread, and how do you serve them? We turned to the New York City outpost of renowned Parisian bistro Le Coq Rico, where chef Antoine Westermann specializes in poultry dishes and makes all three of these dishes in his restaurants Stateside and in France.
Terrine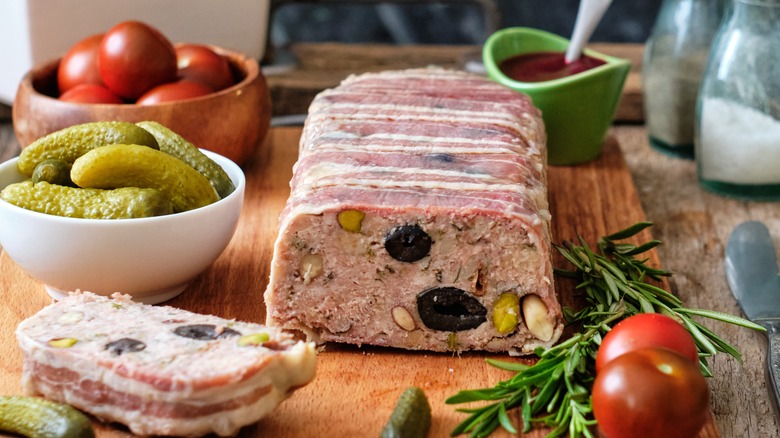 Lyutik_Ryutik/Shutterstock
A terrine is a dish of ground meat, organ meat, seafood, vegetables, boiled eggs, herbs, and/or other seasonings packed or layered in a ceramic or steel loaf-shaped mold, cooked in a water bath, cooled, turned out, and sliced for serving. Sometimes an infused gelatin (called aspic) is set on top for a decorative effect that also adds an additional layer of flavor. Terrines can be par-cooked, wrapped in puff pastry, and baked for "pâté en croute."
Says Westermann, "A terrine is a terrine because of the pan it is cooked in. Some pâtés are terrines — it depends on the dish the pâté was cooked in. And not all terrines are pâtés. You can also make terrines from many things, even vegetables. My favorite is probably the pâté en croute we serve at Drouant in Paris. Very classic and delicious."
Rillettes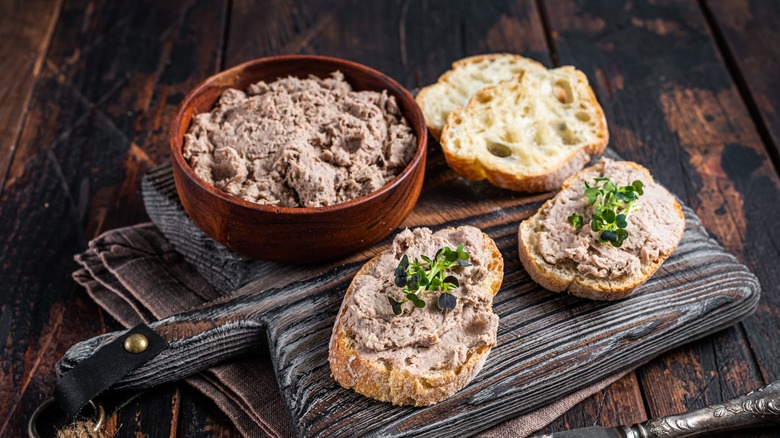 Mironov Vladimir/Shutterstock
Rillettes are meat, fish, or poultry that's been chopped or shredded, seasoned with salt and pepper, and preserved slowly in its own fat, the fat of another animal, olive oil, or butter to make a thick spread for sandwiches, crudité or pasta stuffing. If that sounds a lot like confit, you're right — the difference is that confit items are usually cooked and served whole, whereas rillettes is the result of shredding the confit. "Confit is just the cooking method," Westermann clarifies. "It is a traditional way of preserving meat, which also adds a lot of flavor to the meat. Because rillettes are so rich, you need plenty of salt and other spices to help balance the flavors."
How are rillettes different from pâtés and terrines? Westermann says, "Pâtés and terrines are smoother and usually use organ meat, like liver," whereas rillettes will use meat from the leg, thigh, shoulder, or rib. "We mostly eat rillettes with bread and cornichons as an appetizer or snack. Pâté and rillettes are not really a meal by themselves," Westermann adds. This preparation is also known as "potted" meat or fish.
Pâté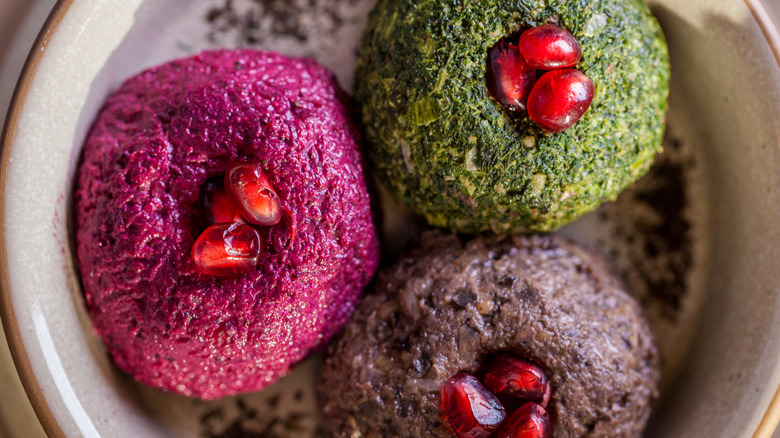 Kyrylo Baranovskyi/Getty Images
A finely or coarsely ground blend of meat, organ meat, and herbs or seasonings. Some pâtés contain milk (for a smoother texture), egg (which helps it set in its mold), or bread (which helps stretch the ingredients and forms a firmer loaf). Pâté is often one element of a layered terrine, but it can be as simple as chicken liver mousse.
How should you serve pâté? "Good bread and cornichons, of course," says the chef. "Other pickled vegetables are good, too. And wine! It is important to have a balance with the rich flavors of pâté. Always have wine with pâté." Many wines pair well with pâté — you can enjoy it with a light red or white, as long as the wine is crisp.
So now you know the difference between these magnificent treats, but it's pretty much moot if you're not a fan of liver. Want to love these treats but can't get past the organ aspect? Chef Westermann has some advice: "Liver is just an ingredient in this dish. Pâté has so many delicious, complex flavors from the herbs and spices, richness, and sweetness. It does not just taste like the liver. How do you know you don't like it if you've never tried it before? Always try!"