French Wine 101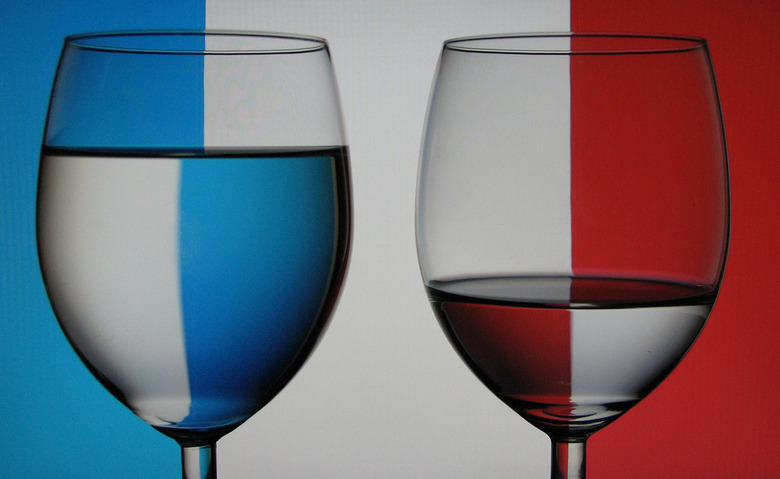 When it comes to wine skeptics, the most common fear is undoubtedly rooted somewhere in the French aisle. American wines aim to be consumer-friendly. Not so much when it comes to France. The labels are tricky, the prices steep and for new wine drinkers, terroir can be an acquired taste. Learning to love French wine is easy, it's understanding it that can be a little trying.
Perhaps the problem is when we want a good glass of wine, most of us aren't looking for a geography lesson. Yet when it comes to shopping for French wine there's no getting around it. Labels usually indicate where it's from, not what grape it's made from. Once you learn the basics you'll be able to scout the aisles with ease and not waste any more cash on wine you won't like. I promise this won't be painful. Pour yourself a glass, check out our breakdown and see which French wine is right for you.
Full-bodied big reds
Bordeaux wines by law are only made from Cabernet Sauvignon, Merlot and a touch of Cabernet Franc. They are, as most old world wines (those hailing from Europe), not as "large" in the glass as Californian Cab or Merlot. Bordeaux reds have subtler fruit and tannins than New World reds. The Gironde River divides the Bordeaux region, creating the left and right banks. Left Bank wine is Cab-heavier. Try these:
Medoc
St. Julien
Paulliac
Ste. Estephe
For Merlot-based wines pick up bottles sporting St. Emilion or Pomerol on the label.
Head south to the Rhône region for intense, spicy reds with flavors ranging from black pepper to fig. These reds are made of Syrah (a.k.a. Shiraz). If you want a big, brawny red, pick up a bottle with Hermitage or Côte Rôtie on the label. Curious but not looking to spend too much? Sure bets:
Guigal
Jaboulet
Chapoutier
Light to medium-bodied reds
Pinot Noir fans will want to go for Burgundy wines, made from entirely Pinot Noir. These Pinots are soft and silky, but true to Old World-style emit that earthy aroma affectionately referred to as barnyard, wet hay or mushroom. Don't let the perfume fool you, after a swirl or two you'll start to see why these are hailed as some of the most interesting wines in the world.
Lighter still are the reds of Beaujolais. These are comprised of fruity (not to be confused with sweet) light to medium-bodied reds. While Beaujolais Nouveau is the most popular, there are actually much higher quality Beaujolais Cru wines from this region. For light-bodied sips:
Brouilly
Mouin-A-Vent
Fleurie
Light-bodied and tangy whites
Sauvignon Blanc from New Zealand can be great, but it's got bold acidity that not everyone loves. The same grape bottled as Pouilly-Fume or Sancerre from France's Loire Valley is much softer. These whites are still acidic, tangy and herbaceous just like you crave from S.B., but with a subtler sip full of fresh green apples.
Medium to full-bodied whites
Grapes like Gerwurztraminer and Riesling are often perceived solely as sweet. For drier versions of these two, head north to Alsace. Gewurz is a spicy white, while Riesling is more floral. For an eye-opening white wine experience:
Burgundy whites are strictly made from Chardonnay grapes, but you won't find oaky, buttery whites here – they're leaner and more elegant.
Chablis lost its social status when it became the preferred name for jug wine in the U.S., however this classy white is far from a flat, bland bulk wine. Also made from 100% Chardonnay, it has little and most often no oak, boasting crisp, mineral-spiked sips. Other whites from Burgundy include Pouilly-Fuisse and the lesser-known and thus less expensive Macon-Villages. Both are lighter than New World styles and show off Chardonnay's subtleties without the interference of oak.
I always say Viognier is Chard's sexy sister. They are similar in look and body but this glass of white from the Rhône region will surprise you. Viogniers are not abundant, so drinking will cost you, but these striking floral whites are a good pick if you've gotten bored with your go-to white.
And, of course, bubbles
Champagne is the crème de la crème when comes to bubbly. While these endless streams can be blissful, they can also be pricey. If you're still looking to celebrate without going broke, go for a Cremant d'Alsace. These wines are made in the exact same method as authentic Champagne, but without the hefty price tag. In fact, you can get a fabulous bottle for under $20.
Above is just a taste of what France has to offer. True, it's much more involved than simply choosing an IPA or stout, but with this little bit of info you'll hopefully discover that tasting different French wines is half the fun.
Want some cheese to go with that wine? Check out: 5 French Cheeses to Try Right Now or French Wine Meets Spanish Cheese