Perfect Pasta Al Limone Recipe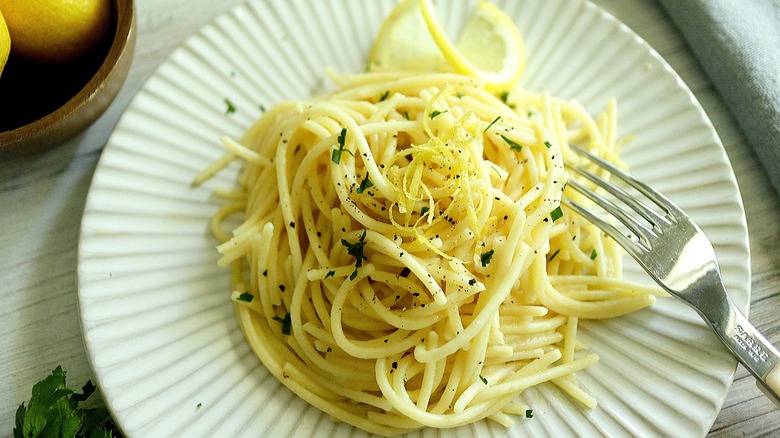 Cecilia Ryu/Food Republic
Giving anything an Italian name makes it sound oh-so-fancy, but this pasta al limone recipe is actually pretty simple and not too hard to make. Recipe developer Cecilia Ryu tells us, "I think this is a perfect spring/summer dish," explaining that she associates lemons with the two warmer seasons despite the fact that this fruit is available in grocery stores year-round. The lemon pasta sauce, she says, has "a nice bright, tangy flavor" that helps to offset the richness from the butter and cheese.
One ingredient this dish does not contain is cream, something that Ryu says often makes an appearance in other pasta al limone recipes. Instead, she prefers to lighten up the pasta sauce just a bit by using the starchy, salty water left over from cooking the spaghetti. "When [the pasta water is] added to the hot pasta with the cheese," she explains, "the sauce will emulsify into a silky, creamy sauce."
Assemble the ingredients for the perfect pasta al limone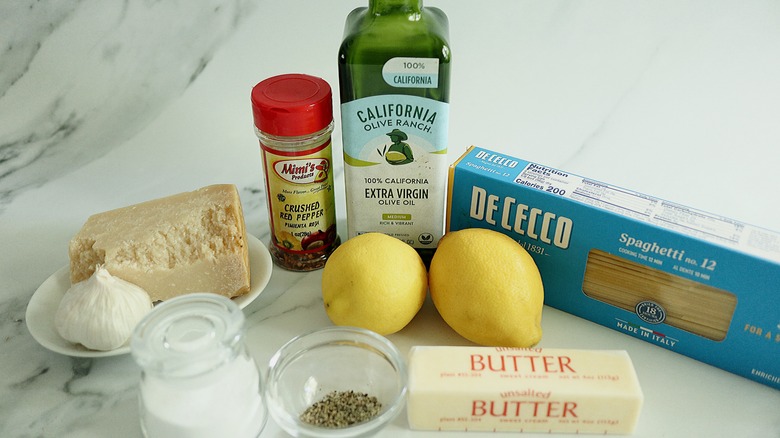 Cecilia Ryu/Food Republic
You don't need anything too unusual or hard to source for this recipe and, in fact, you may already have most of what you need. For the noodles, standard spaghetti works just fine, while the sauce is made from butter, olive oil, a lemon (both the zest and the juice), garlic, Parmigiano-Reggiano cheese, salt, and pepper.
If you're wondering how much lemon juice Ryu uses, seeing as how the size of lemons tends to vary, she tells us it's about 2 tablespoons. She does say that more juice is fine if you want a tangier sauce, though, so it's okay if your lemon is on the larger side.
Cook the spaghetti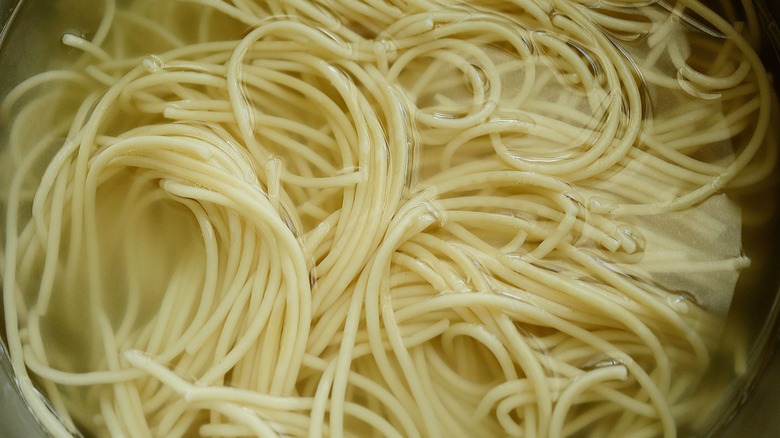 Cecilia Ryu/Food Republic
Cook your dried spaghetti according to the package directions. Once it's al dente, drain it as usual, but be sure to dip out a cup of the cooking water before you do so. You won't need the entire cup of water, but it's always good to have a little extra just in case.
Cover the spaghetti in lemony sauce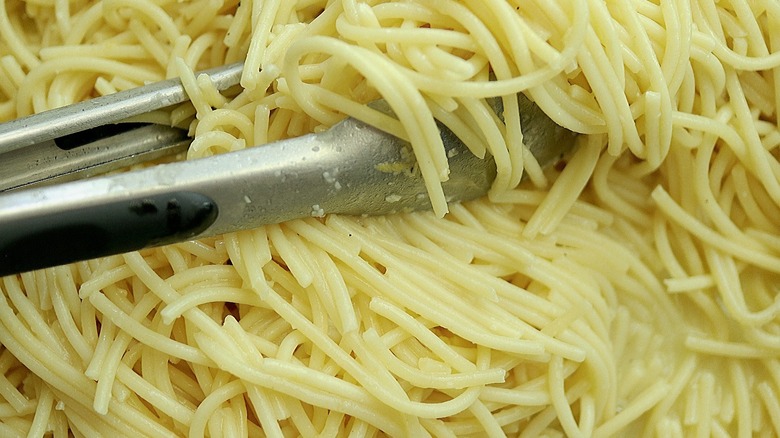 Cecilia Ryu/Food Republic
As the spaghetti is cooking, melt the butter and mix it with the oil, then use this fatty combo to fry the garlic and lemon zest. Cook these ingredients for about 1 minute until they're fragrant. Once the spaghetti is done and drained, stir it into the lemon butter along with ½ cup of the reserved water. Toss the spaghetti in the sauce for 2 to 3 minutes — Ryu likes to use tongs for this step. After a few minutes of tossing, the sauce should look shiny and glazed. If it looks dry instead, stir in a little more water.
At this point, you can add the lemon juice and cheese, but don't stop tossing the noodles just yet. Keep on going until the juice and cheese emulsify and the sauce looks nice and smooth.
Make your final tweaks to the seasoning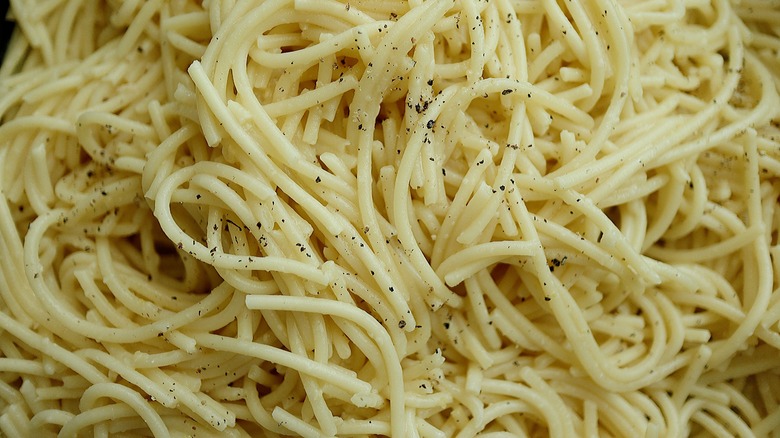 Cecilia Ryu/Food Republic
Your pasta is pretty much done at this point as all that's left for you to do is taste it and sprinkle in as much salt and pepper as you think it needs. These seasonings aren't the only things you might want to add, though. As Ryu tells us, "Sometimes I like my pasta a little tangier and will add more lemon juice." If you want the spaghetti to look nice and colorful, you can also dress up the dish with some chopped parsley, while Ryu suggests that additional grated cheese and lemon zest also make good toppings.
One note on this recipe: If you don't need 6 servings, you may want to cut it in half. As Ryu notes, "It's always tough to reheat pasta and especially pasta with a creamy sauce like this," although if you must do so, she suggests letting it come to room temperature and then microwaving it for about 30 seconds. She does not recommend that you freeze the leftovers since cream sauces tend to separate, but you could always re-purpose them in a frittata where the texture and appearance of the sauce won't matter so much.
Perfect Pasta Al Limone Recipe
Learn how to make this classic Italian dish with a lemony taste that's great in spring or summer.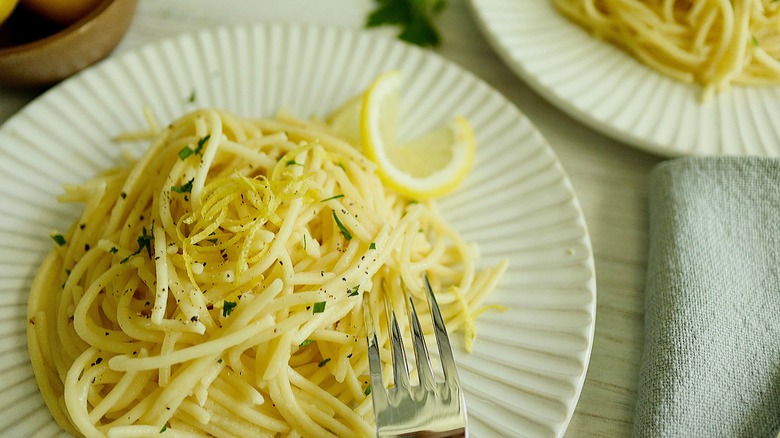 Ingredients
16 ounces spaghetti
3 tablespoons unsalted butter
3 tablespoons extra-virgin olive oil
1 lemon, zest and juice
2 cloves garlic, minced
1 cup grated Parmigiano-Reggiano
salt and pepper
Optional Ingredients
Directions
Cook the spaghetti al dente according to the package directions.
Drain the pasta, reserving 1 cup of the cooking water.
Heat the butter and olive oil, then cook the garlic and lemon zest for about 1 minute or until fragrant.
Add the spaghetti to the lemon butter mixture, then stir in ½ cup cooking water.
Stir and toss the spaghetti for 2 to 3 minutes until the sauce appears shiny and glazed (add additional cooking water if it appears dry).
Add the lemon juice and sprinkle the grated cheese evenly over the spaghetti.
Keep tossing the spaghetti until the cheese and juice emulsify into a smooth sauce.
Add salt, pepper, and additional lemon juice to taste.
The spaghetti should be eaten hot and can be topped with additional grated cheese, lemon zest, and/or parsley if desired.
Nutrition
| | |
| --- | --- |
| Calories per Serving | 495 |
| Total Fat | 19.9 g |
| Saturated Fat | 8.4 g |
| Trans Fat | 0.0 g |
| Cholesterol | 32.1 mg |
| | |
| --- | --- |
| Total Carbohydrates | 59.1 g |
| Dietary Fiber | 2.9 g |
| Total Sugars | 2.4 g |
| Sodium | 301.4 mg |
| Protein | 19.0 g |