José Andrés' Perfect Cocktail Is An Ultra Chill Play On The Pickleback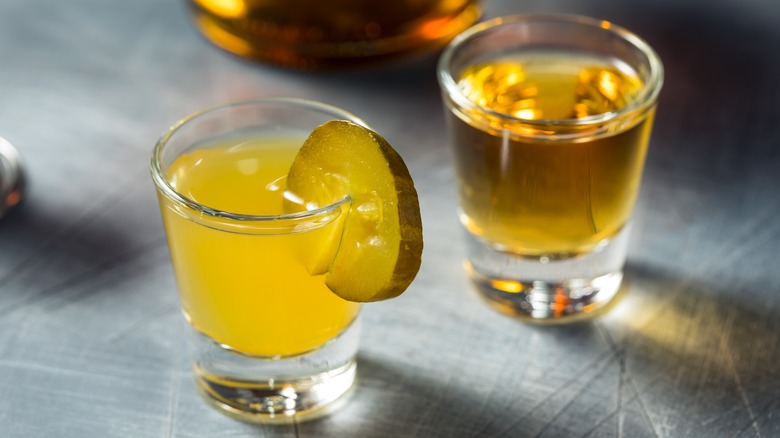 Brent Hofacker/Shutterstock
In 2020, a year when many of us could have used a drink, award-winning chef and restaurateur José Andrés took to social media to share some cooking tips as well as a drink recipe as part of his #recipesforthepeople series. After teaching viewers about making dressing in a mayo jar, peeling peppers, and making a garlic paste with a mortar and pestle, Andrés introduces one of his favorite cocktails that seems to be a riff on the pickleback. 
The pickleback shot to stardom in 2006 after bartender Reggie Cunningham began serving it at Brooklyn's Bushwick Country Club, inspired by a customer's request. While it was initially a side-by-side duo of shots of Old Crow whiskey and McClure's pickle juice, the pickleback can be found worldwide, with combinations of various brands of whiskey and pickle brine. Since then, many cocktail lovers have come to appreciate the tangy taste of pickle juice in a range of pickleback-inspired drink combos. 
In chef Andrés' case, pickle brine and ice cold vodka make for the perfect libation. With just two ingredients Andrés shakes up what appears to be a refreshing and savory cocktail. But besides changing up the liquor, he has another twist on the popular combination.
Try José Andrés' briny vodka cocktail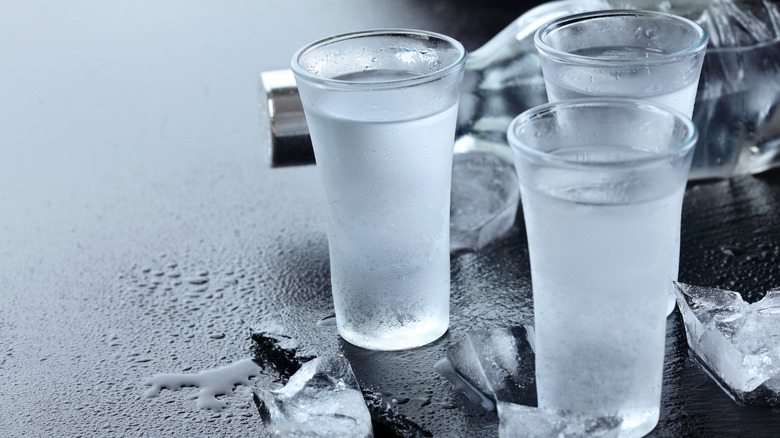 Vania Zhukevych/Shutterstock
Andrés kicks off his cocktail-making by pouring a generous amount of vodka into a cocktail shaker filled with ice. While it's unclear what the measurements are, rest assured it was a healthy pour that was plenty suitable for quarantine times (or any happy hour).
Then comes Andrés' real twist on the drink — instead of traditional pickle juice, he uses pickled pepper juice, though he notes that you can use pickle juice as well. Andrés says, "Thirsty? Ice + vodka + pickle juice (piparras are best!)... it's a perfect cocktail." Afterwards, the chef gives the drink a quick shake and pours. The light-colored, simple drink takes less than a minute to make.
Given vodka's neutral flavor, it's safe to say that the flavor of the cocktail is likely dominated by the piparras. Since these Spanish peppers are packed in vinegar, like pickles, the brine can have a similar profile to pickle juice with the added bonus of subtle sweetness and heat.
Pickles and cocktails are a better match than you may think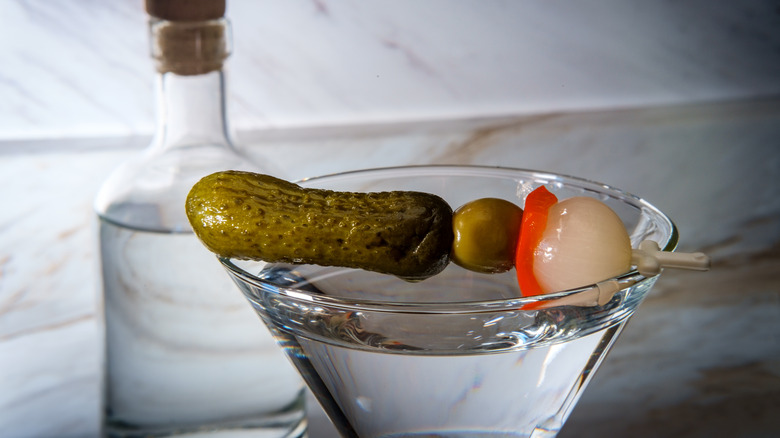 Ezume Images/Shutterstock
If Andrés' cocktail-style take on the pickleback is appealing, then don't just stop there. Men's Journal is forecasting that the pickle martini will be at the height of popularity in 2023. Meanwhile, after analyzing search trends across 2021 to 2022, Yelp found that pickle-related searches were up 55%, concluding that pickles are on trend in 2023.
For those looking to party with pickle-infused potables, you can take a page out of Andrés' book and experiment with different liquors like gin or tequila. Or, swap out traditional pickle juice for other brines from other pickled foods like carrots, peppers, or watermelon rinds. Some even suggest experimenting with kimchi for a savory cocktail.
You can also add pickle juice to traditional cocktails to give them some flair. Try adding it to a Bloody Mary, a margarita, or a Michelada. And while it's easy enough to shake up a cocktail on the fly, you can also try infusing your liquor with pickle juice so that it's ready to go when you are.