What Goes Into McClure's Pickles
Welcome to What's Your Story?, a new feature about innovative entrepreneurs in the food industry. What goes into the launch of a new food brand, how is the product made, who designs the packaging? All these questions, answered...
Fresh out of college, brothers Joe and Bob McClure were looking to make an extra buck. Rather than hide out in their garage working on a tech gadget, they took odd jobs — Bob took an influential turn in an art department for Condé Nast — and then decided to give their great-grandmother's pickle recipe a shot. Lala, their grandmother has taught their mother, Jennifer, how to make pickles, and she had passed the recipe down to the boys. Jennifer even jokes that Joe and Bob's father married her for her pickle recipe.
Since then, what was once a family affair has become McClure's Pickles, a million-dollar enterprise with product available in 31 states. These cukes attract a cult-like following — mainly for their tangy, crunchy punch. Here, in the first installment of What's Your Story, Bob McClure tells us all about his pickle company, what it's like to work with family, and what makes for an eye-catching label that keeps consumers coming back for more pickles.
Tell us about how you launched the company.
My brother Joe and I grew up making pickles based on our great-grandmother's recipe. In 2003, I moved to New York to be an actor and comedy writer. I had to have various jobs to support myself as I tried going on auditions, so I started working as a temp at Condé Nast in the art department. I learned everything on the job. At the time, my brother was finishing school. Then in 2006, we decided to start a pickle company with the family recipe to make extra money. We grew up making pickles at home in our small Michigan kitchen, and decided to start making batches of pickles in commercial kitchens and sell them. Things took off from there.
Why pickles?
It's the only food product we knew how to make! It's our family recipe. We had no background in cooking or manufacturing. We just had this recipe and we knew how we make it. We thought if this is the only thing we know how to make, let's make it! If it was corn relish it would have started off with that. If it was muffins, we would have made muffins. For us, it was pickles.
Since then, we've branched out to include pickle-flavored potato chips, relish and bloody mary mix, which are produced just outside of Detroit. In Brooklyn, we produce small batches for research and development. Every jar is hand packed, the cucumbers hand sliced in our own factory, not from a private labeler. We're happy that after so many years, we can still bring people our family recipe.
What are some of the challenges that come when working with family?
For us, working with family is much different than what you'd think. We aren't a cut and dry "reality show" family that argues, or fights about things at the workplace. We work well together and compliment one another in our work. There are business stresses which are par for the course, but ultimately I think our family works pretty well within the demands of a small business. I think we all wish we could spend more time with one another outside of work doing things other than work.. That's our biggest dream!
What about the logo for McClure's? Who designed it?
The current logo and branding was designed by Ben Cole. He is one of the senior designers at Gap. Before he was working at Gap he was at Ralph Lauren on the design team. We went though a few different rounds of labels and finally settled on what we have now.
I had designed the original logo while when I was working for Allure magazine. I had picked up some design skills, but it was pretty basic.
What did you hope the logo would say about the product?
I wanted to design a label that effectively communicated the brand, as well as the name and any legal content, like a nutrition box and barcode so we could sell the jars in stores. This was our first foray into food. We wanted something to convey the fact that we were hand-making this product. Initially, I was making them in Brooklyn, and my brother was making them in Detroit.
We also wanted the logo to have an urban feel, yet at the same time let our customers know our product is handmade. You can see from the fonts used that it's not free-flowing, it's not cursive or wavy. It's very strong and clear. We wanted to clearly state that it was our name, McClure's, over anything else.
Any historical references?
On our label we have a cityscape which represents the cities we live in — Brooklyn and Detroit, respectively. It gave us an identifier for our brand. We started the company in two different cities apart from each other, and those two cities have an impact on us, and on the brand.
Lets talk beer and pickles for a second. Any pairing recommendations?
With pickles, I would go with a brown ale or porter. Something with a sweeter flavor. The tang and vinegar that's in the pickles is acid and tart so it pairs well with a sweeter taste like a goat cheese or a darker, porter beer.
Do you know of a company with an intriguing, original history? Let us know at editorial@foodrepublic.com and we'll consider these suggestions for future installments of What's Your Story?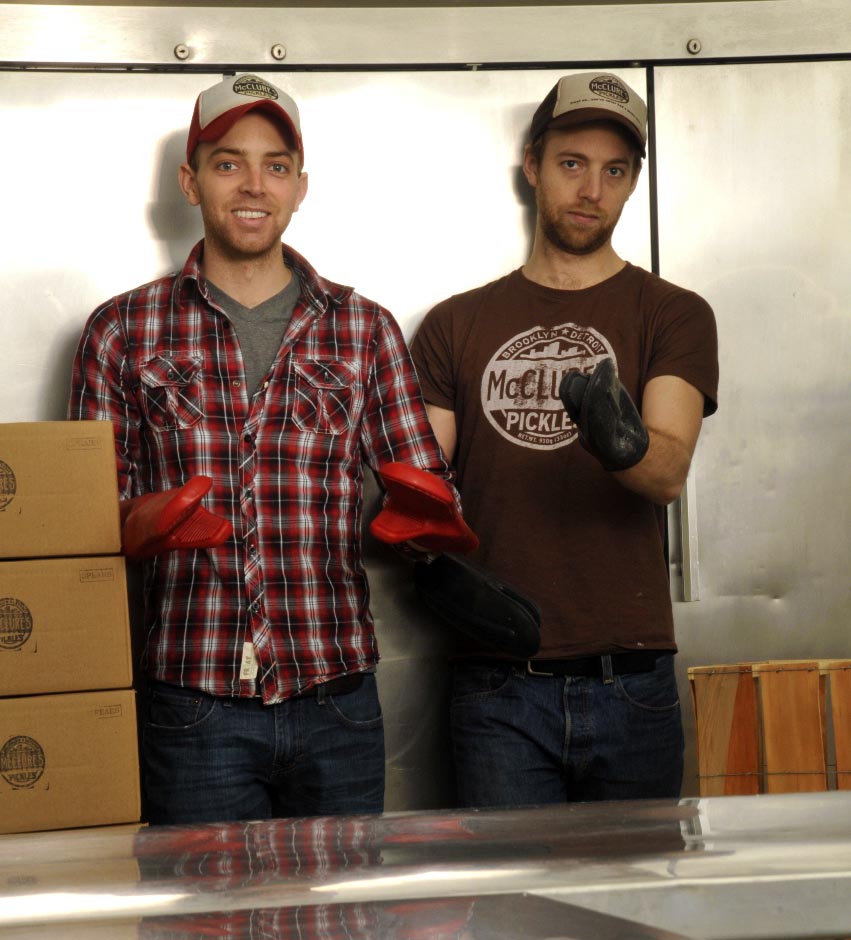 Founders Bob (right) and Joe (left) getting ready to pickle.[/caption]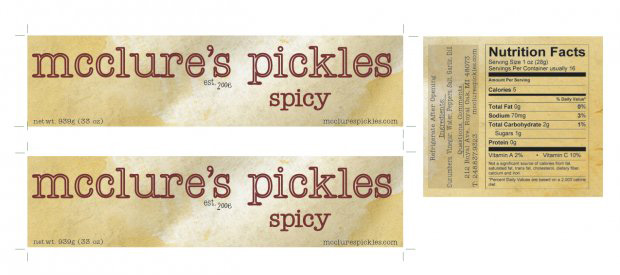 Bob McClure designed the original McClure's label when the company launched in 2006.[/caption]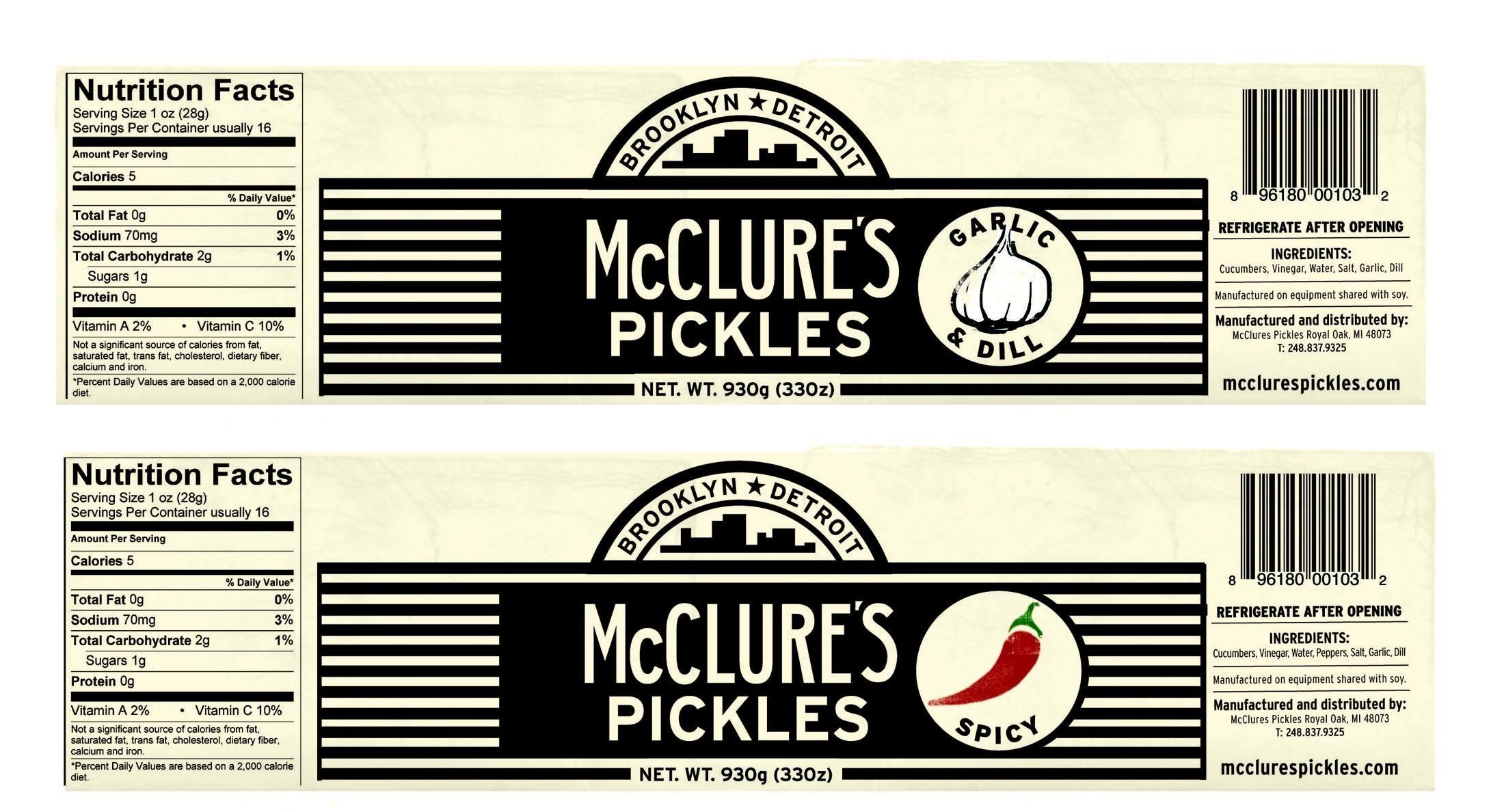 Since then, McClure's hired designer Ben Cole, who came up with the current label. He is also responsible for the now brands recognizable skyline logo.[/caption]
The final product, with the McClure's logo and label.[/caption]
McClure's pickles are available in several of flavors through select stores nationwide, and through the company's website.