The Best Way To Serve Dessert So Your Dinner Guests Feel Welcomed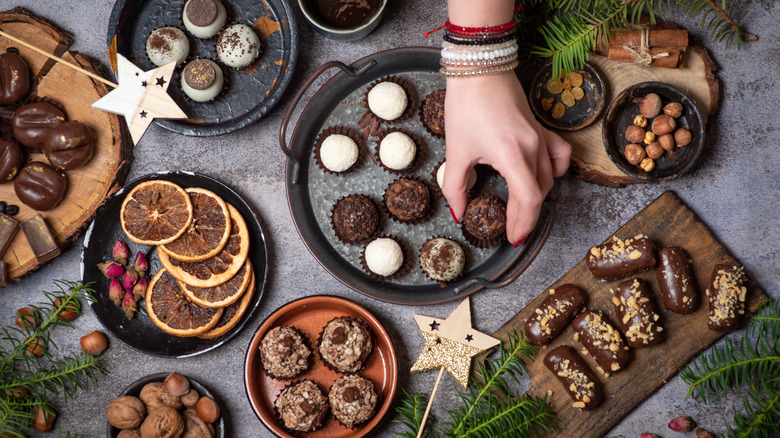 Stefan Tomic/Getty Images
If you've ever hosted a dinner party, you know the last thing anyone wants to see is half the food go to waste, sitting there cold and rejected after everyone's gone their separate ways. Your main goal is for the food to actually get eaten, right? You want to make sure your guests enjoy the fruits of your labor and that they leave happy and satisfied.
It turns out the way you serve your food can have a big impact on how much of it gets eaten. Take dessert, for example: If you plop a giant cake in the middle of the table, your guests might feel shy being the first one to dig in, or potentially wind up with a slice that is so big they can't quite finish it (or worse, they feel guilty doing so).
So how do you ensure success, and make your guests feel welcomed and comfortable enough to indulge like you want them to? When it comes to dessert, the key is think small. At your next party, bite-sized desserts may just be the best way to go.
The benefits of bite-sized desserts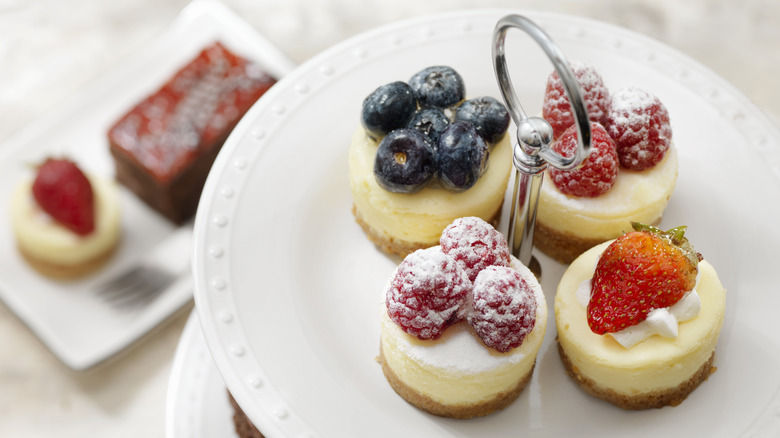 Lauripatterson/Getty Images
Aside from being adorable by nature and making for a lovely presentation of the final course, serving mini portions of your favorite desserts will feel more individualized to each guest. As an added benefit, this strategy can even allow for customization to various dietary needs without having to tailor an entire batch to a gluten- or dairy-free requirement, making your friends and family feel extra welcomed and extra appreciative of your efforts.
Furthermore, there's also evidence to suggest that smaller portion sizes are actually more likely to be eaten and enjoyed, which is why mini-sized snacks and desserts have seen a major sales boost and become such a trend in recent years. The smaller the portion, the less guilty most people feel, and the more willing they are to indulge. Bite-sized, portion-controlled desserts are ideal for any type of guest — giving those that are guilt-prone, health-conscious, or simply too full from dinner a more inviting way to satisfy their sweet tooth, while allowing those that are adventurous or hungry for more the opportunity to taste and try as many bites as they please.
And it's also worth noting that these tiny treats can help eliminate waste, as they're pretty much already made to be eaten on the go. Guests can easily take a handful home with them to enjoy later rather than leave the extra dessert behind to be forgotten or thrown away, giving you what you'd hoped for all along — empty plates.
Mini dessert ideas for your next party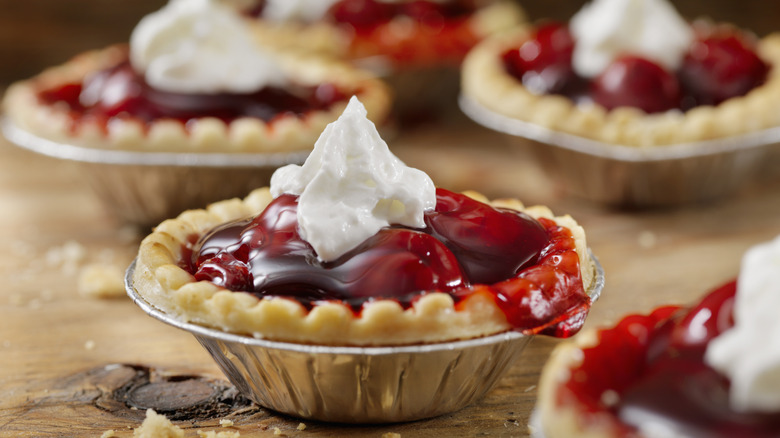 Lauripatterson/Getty Images
When we say individualized desserts, we're not talking cupcakes, cookies, or brownies — think actual bite-sized portions. Making sweets on such a small scale may seem like a daunting task or a lot of extra work, but the process can be as complicated or as simple as you want it to be.
One of the easiest and most obvious ways to go about it is to simply make your favorite dessert in miniature form. For example, bake a sheet cake and cut it up into tiny squares, make miniature versions of your favorite cookies, or assemble an apple crumble in small ramekins rather than one large pan. You can even combine two favorites into one small treat, like brownie-filled donut holes, or simply make a big batch of a delicious milkshake and pour it into shot glasses.
If you're looking for ideas to please and impress the crowd with a little more effort, try individual-sized hand pies, mini cheesecakes, or a layered dessert prepared in a small mason jar serving glass, like a tiramisu, banana pudding, or strawberry shortcake. Other desserts that work great in bite-sized form include cannolis, whoopie pies, and bon bons. When it comes to mini desserts, the possibilities are endlessly sweet.