The Sheet Pan Hack For Cleaner Cake Layers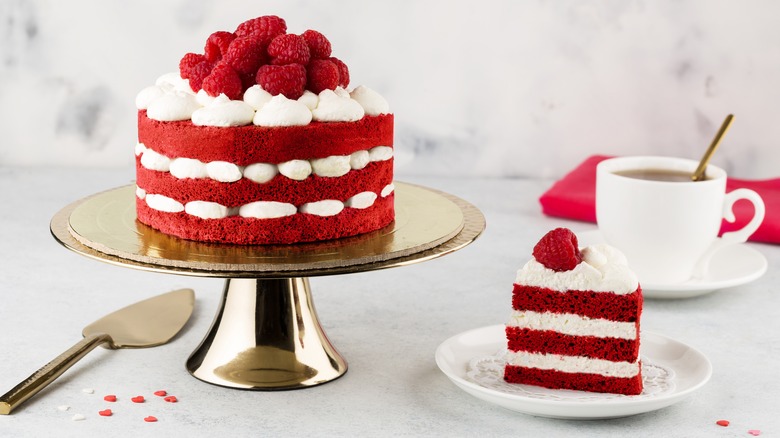 Elena_E/Shutterstock
If you think you need to be a professional baker to achieve gorgeous layer cakes, think again. Of course, we understand the assumption; layer cakes can be difficult to get just right. You're working with multiple cake pans, trying to get the exact amount of batter in each. Then, once they're baked, you're trying to level them out so they sit perfectly on top of each other without tumbling over. This is what a lot of people go through when they bake cakes. But there's an easier way to produce bakery-worthy cakes — and it doesn't involve a single round cake pan. Instead, try a sheet pan. 
Yes, using the same flat, shallow sheet pan that you use for roasting sweet potatoes and Brussels sprouts is the quickest, easiest way to turn out perfect cakes for layering.
Basically, what you do is bake one large rectangular cake and cut it into circles. Voila — you have even, flat, round cakes that are ready to be filled and frosted however you desire. And you don't even need a special round cake cutter. The perfect shaping tool, a round plate, is likely sitting in your kitchen cupboard already.
Step up to the plate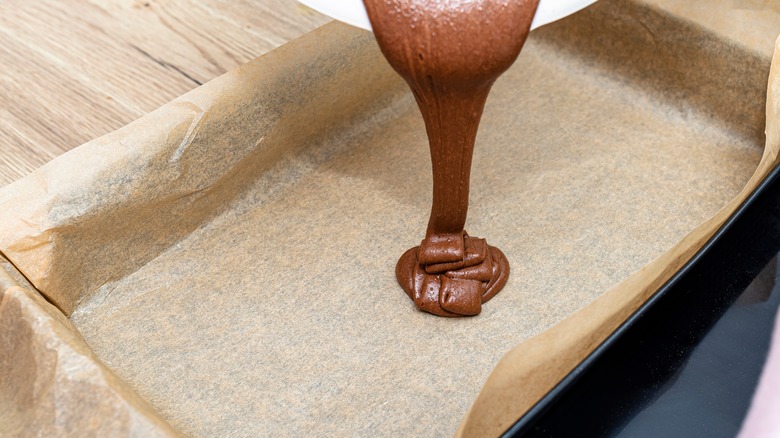 Kinek00/Shutterstock
While restaurants and professional bakeries keep plenty of full-size sheet pans on hand, the half-sized sheet pan is what's in many home kitchens. And this size works perfectly for creating layer cakes. The pan should be greased and lined with a sheet of parchment paper to prevent the cake from sticking. All of the cake batter is poured into the pan and evened out with a spatula before being baked. Because of the shallow depth of a sheet pan, the baking and cooling time is significantly shorter than baking cakes in multiple round pans.
Once the cake has cooled, you can begin cutting the cake circles. All you need is a round plate to act as a stencil. Flip the plate upside-down on top of the cake and trace around the edge with a sharp knife. You'll be able to cut three 6-inch circles from a half sheet pan cake or two 8-inch ones. If you're going for a three-layer, 8-inch cake, cut the two circles as normal, then cut two half circles for the third cake. Use the two halves as the bottom layer of the cake.
Because the cake has been baked in one even layer, the circles should be exactly the same size in height, without any doming or cracking, eliminating the need to measure, shave, and level the cakes. All of this leads to a quicker production time.
There will be extra cake pieces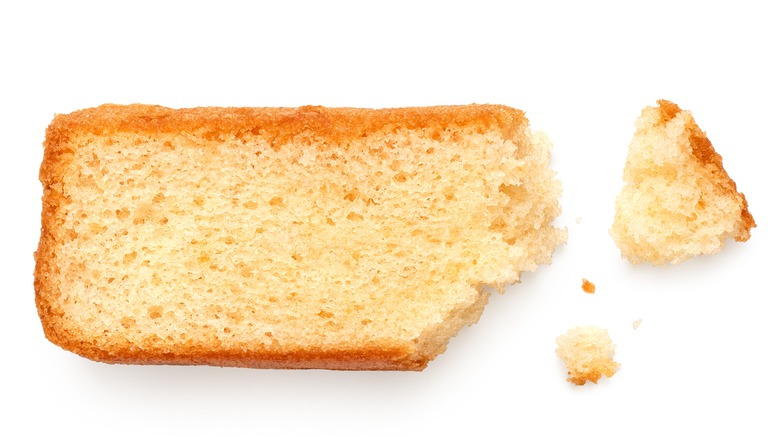 Moving Moment/Shutterstock
One thing you'll notice about using sheet pans for making layer cakes is that there's going to be leftover cake. Once you cut the cake circles out, there are plenty of scraps. Of course, these make delightful little snacks as-is, but you can also turn these unused cake pieces into separate desserts. If you crush these scraps into cake crumbs and combine them with frosting, you'll have instant cake pops. All you need to do is roll the mixture into balls, insert a lollipop stick, and dip them in melted chocolate.
Another idea is to turn the cake scraps into mini dessert entremets or mini round cakes. If you have small biscuit or cookie cutters, use them to stamp out shapes. Decorate those mini cakes with frosting, fruit, mousse, or whatever makes them look pretty.
Other ideas include toasting the crumbs and using them as decorations on a layered cake. Or, you can save them to sprinkle on top of ice cream, use cake cubes in a trifle, or break the scraps into chunks and use them as the base for "bread" pudding.