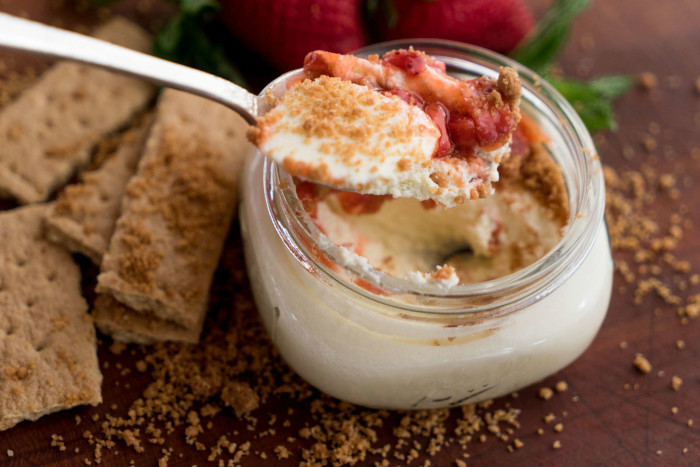 It's older than the original Olympic Games, and there are references to it throughout the ancient texts of numerous empires. Its reach is worldwide — from New York to Bavaria — and it has been written about by everyone from Renaissance philosophers to Bon Appétit and Esquire. There's even a whole factory devoted to it! Cheesecake — we all know it, and we all love it. It's a timeless dessert with countless versions and styles, and yet it can be even better. Our friends at ChefSteps are proud to introduce sous vide cheesecake. This tongue-coating confection is simple and rich — a delectable pot de fromage that you can make in less than 90 minutes with Joule. Grab your prettiest mason jars and whip up these little sweets in batches to satisfy a full dinner party. Or pop them in the fridge for treats to get you through the week. With a quick topping of graham cracker streusel, you can't go wrong.
[Editor's note: ChefSteps cooks sous vide with the Joule, a tool created by its in-house team of chefs, designers, and engineers. Joule is a Wi-Fi-connected device that you control with your smartphone. For more, check out Food Republic's independent review of the device.]
Ingredients
2 (eight-ounce) packages cream cheese, softened to room temperature (we use Philadelphia Original)
100 grams granulated sugar
2 grams Kosher salt
3 whole eggs
5 grams vanilla extract, optional
130 grams buttermilk, or heavy whipping cream
Equipment
Food processor
Sous vide setup
Fine-mesh sieve
5 (eight-ounce) mason jars
Jar lifter
FAQs
What can I use instead of buttermilk?
No buttermilk? No problem. You can use whipping cream as a replacement — but we do love that buttermilk tang.

What should I put on top o' this cheesecake?
Oh, the possibilities! Streusel would be great. Perhaps with some macerated strawberries too? Or you could top it off with some homemade rhubarb or raspberry jam. Maybe even a little spoonful of lemon curd to brighten up the day?
How long will these last in the fridge?
We'd say safely a week.
Directions:
Heat Joule to

176°F. Remember, the water in your pot will get hot enough to cook your food — treat your work surface accordingly! Place a trivet beneath the pot to help protect your countertop, or use whatever precautions you normally would when exposing your counter to a dish, pot or pan you just removed from the oven or stove.

Add cream cheese, sugar and salt to the bowl of a food processor. Blend the mixture until smooth, periodically scraping down the sides of the bowl to make sure everything is incorporated.
Add eggs and vanilla to cream cheese mixture. Blend to incorporate, again scraping down sides of blender bowl to make sure everything is combined.
Keep the food processor running and add in the buttermilk. Blend the mixture just until everything is incorporated smoothly. You don't want to see any chunks of cream cheese.
Strain the mixture through a fine-mesh sieve (optional).
Chefs call this "casting." Fill each mason jar with 130 grams (4 1/2 oz) of batter, making sure to leave enough room for your toppings.
Place a lid on the mason jar, then twist the lid until it's closed but still possible to open with your fingertips. This allows air to escape from the jars when they're submerged in water. If the jars are closed too tightly, the trapped air will press against the glass and could crack or break the jars. Here's our foolproof way to master the art of closing jars "fingertip tight:" Place the lid on top of the jar, then, using just your fingertips, twist the band to tighten. When you begin to feel resistance, twist once in the opposite direction to loosen, then once more in the original direction to tighten.
Place jars carefully into the water and cook for 90 minutes for a creamy, traditional cheesecake texture. This is our favorite way to make cheesecake. You can also cook these little cakes quicker! A 60-minute cook time will yield a smoother, more custard-like texture.
Remove jars from water with jar lifter and cool them at room temperature for about 30 minutes. Then transfer to the refrigerator and chill these li'l cakes overnight.
When you're ready to eat some cheesecake, remove them from the fridge and dig in. Feel free to add some toppings — perhaps streusel, fresh fruit or some delicious compote.
ChefSteps comprises a team of award-winning chefs, filmmakers, scientists, designers and engineers focused on revolutionizing the way people cook by inspiring creativity and encouraging expertise in the kitchen. You can also get access to all of ChefSteps' Premium content — including paid classes and dozens of recipes available only to Premium members for a onetime fee of $39. Classes include Sous Vide: Beyond the Basics, Fluid Gels, French Macarons and more!