The Unexpectedly Ancient Origins Of French Toast
DronG/Shutterstock
The French toast Americans are familiar with today includes egg and milk-soaked bread griddled and served with butter and syrup. It's a popular breakfast and brunch dish, as comforting as a stack of pillowy pancakes, and just as delicious. It's indulgent enough that many families will serve French toast on special occasions like Christmas morning, or at the very least, on lazy Sunday mornings. But the dish also comes together quickly enough to satisfy anyone's Tuesday-morning craving.
It's widely believed that French toast was inspired by the French dish pain perdu. Each dish features roughly the same ingredients and the same method of preparation. But it wasn't the French who first created it. It turns out that the idea of French toast began as early as the days of ancient Rome. 
Clearly, mankind has always had an affinity for creamy, sweet saturated bread — the concept spread across the world and has remained a desired dish throughout the centuries.
French toast, Roman style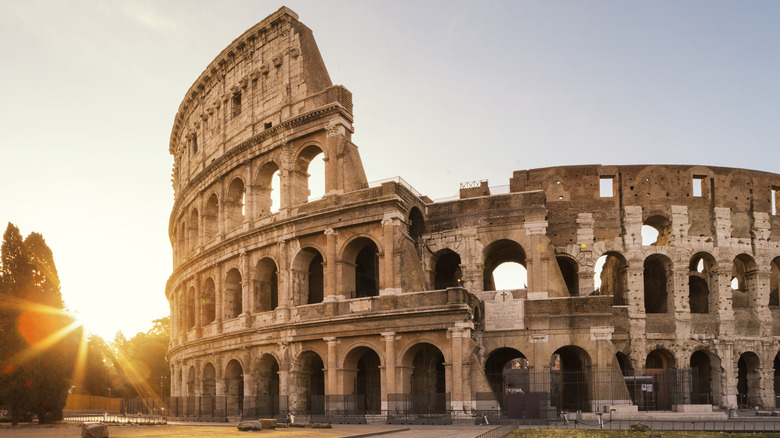 Tunart/Getty Images
The earliest recorded record for a dish resembling French toast was discovered in a 4th-century Roman cookbook by Marcus Gabius Apicius called "Cooking and Dining in Imperial Rome." The recipe is called aliter dulcia (translation: "another sweet dish") and describes pieces of crustless white bread that are soaked in milk and beaten egg, then fried in oil and doused with honey.
We know the dish spread throughout Europe because in the 14th century, an English cookbook titled "Forme of Cury" describes "payn fondue" as bread that has been soaked in wine, fried in grease and sweetened with dry fruit, spices, and sugar. By 1615, "panperdy" was printed in "The English Huswife" cookbook. In it, sliced bread was soaked in eggs and several spices plus sugar and salt. In an interesting twist, there is a version of French toast in a 1660 cookbook called "The Accomplisht Cook" that calls for no eggs at all, but instead to soak bread in wine, sugar, and orange juice.
As far as the term "French toast" goes, it's believed that the name was an accident. Innkeeper and Albany, New York resident Joseph French introduced the dish in 1724, meaning to call it "French's toast" but a grammatical error deleted the apostrophe and the "s" at the end. By 1871, the term "French toast" appeared in the "Encyclopedia of American Food and Drink" in North America.
What French toast looks like today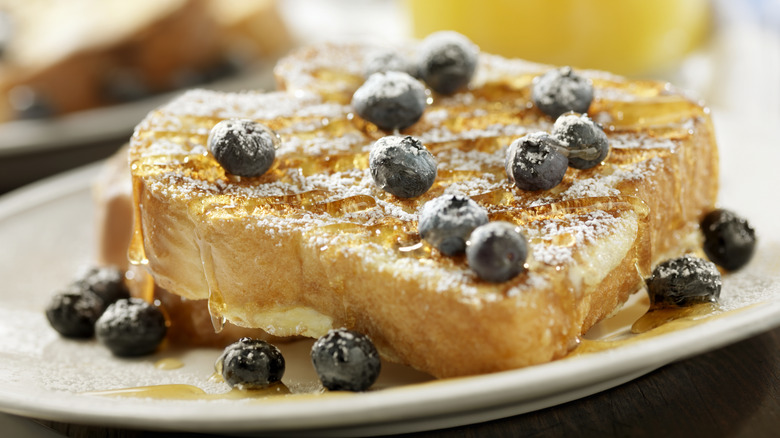 Lauripatterson/Getty Images
Several countries across the globe have versions of what America describes as French toast. The aforementioned pain perdu (which means "lost bread" in French) is a custardy, rich version made with stale or day-old bread. This concept has many names according to country. Some of them include Spanish toast, German toast, eggy bread, and Gypsy toast.  India's version of French toast is savory rather than sweet and is flavored with spices, green chilis, and onions and is served with ketchup, just as it's often served in England.
In Spain during the period of Lent, torrijas are popular, which are a spin on French toast as well. Here, stale bread is soaked in milk or wine plus honey and spices. These are dipped in egg and then fried in olive oil. Hong Kong serves their French toast with peanut butter and in New Zealand, it will come topped with bacon, bananas, maple syrup, and cinnamon. 
And in the United States, the sky's the limit on what you can flavor French toast with. In Creole cuisine, the egg and milk mixture is often spiked with booze; during the winter, milk is often replaced with eggnog. French toast can be served with all sorts of fruits, jams, nut butters, and unexpected spices, such as cardamom. And it's all thanks to ancient Rome.