5 Things To Do With Stale Bread
We've all done it: You buy a fresh loaf of bread or a baguette on your way home to pair with cheese or simply to round out a meal. But you don't end up using the whole thing. Instead, you let the leftovers dry out, and then it's inedible. Or so it seems. Don't throw it away! There are many ways to make good use of the crusty remnants. Here are some ideas: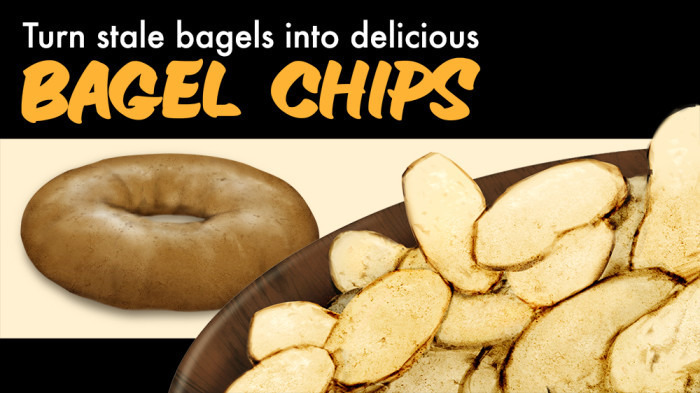 So your epic weekend brunch left you with a pile of unwanted bagels. The solution is simple: Make bagel chips. It's easier than you think: Thinly slice the bagels, add fat and flavor, then bake to dry them out. Use butter if you're going to eat them within a few days, or oil if you want them to last a bit longer. Take a super-sharp serrated knife and slice the bagels lengthwise into ⅛-inch slices. If your bagels are very stale, cut into the bagel crosswise, around the hole, to avoid slicing your hand. Spread either olive oil or melted butter on with a pastry brush and bake on a cookie sheet at 350°F for about 20 minutes to dry out. Add salt, pepper and, if you dare, garlic powder.
---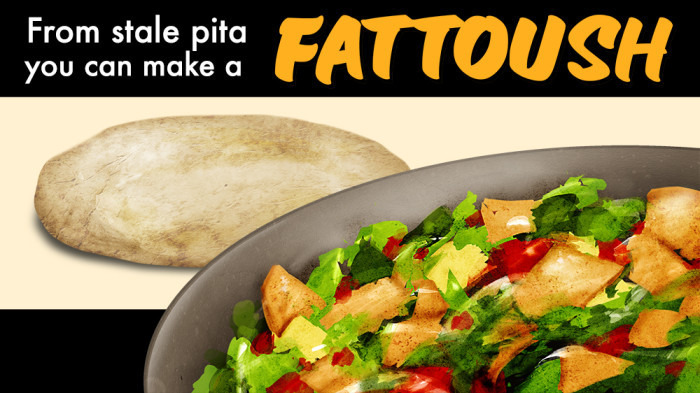 You bought a big bag of fresh pita, but the hummus is long gone. Time to make fattoush, a Middle Eastern salad consisting of toasted bread, fresh vegetables and herbs in a light vinaigrette. Pita bread sold in plastic bags has a lot of preservatives, so it remains edible for a long time, even if the consistency becomes brittle as it dries out. Toast the pita until dark — practically burned in spots — then break into bite-sized pieces. Chop some tomatoes, cucumbers and romaine lettuce. Add a handful of fresh herbs, like parsley and mint. Toss the mix in a simple vinaigrette of equal parts lemon, red wine vinegar and olive oil and season with salt and pepper.
---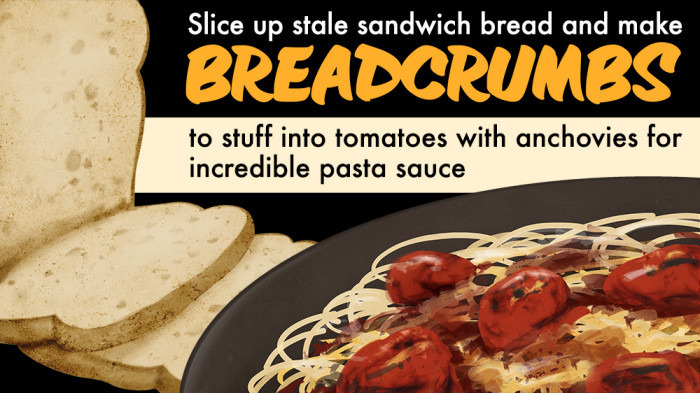 Sliced sandwich bread is so often the victim of neglect after a week of breakfast toast and turkey sandwiches. Turn extra slices into breadcrumbs to use right away or freeze. Simply tear the bread into smaller pieces and pulse in a food processor until it's all crumbs. You can use them fresh or toasted. For something otherworldly, use the breadcrumbs to stuff tomatoes and serve with cooked spaghetti. Heat a few tablespoons of olive oil in a pan and add two mashed anchovy fillets and two cups of fresh breadcrumbs. Cook for five minutes over medium heat. Slice the tops off four large tomatoes and scoop out the seeds with your fingers. Stuff with thinly sliced garlic cloves and the freshly toasted breadcrumbs. Roast the tomatoes in a baking dish with more toasted breadcrumbs in the oven with a ¼ cup of olive oil drizzled over them for about 30 minutes at 375°F and serve over spaghetti.
---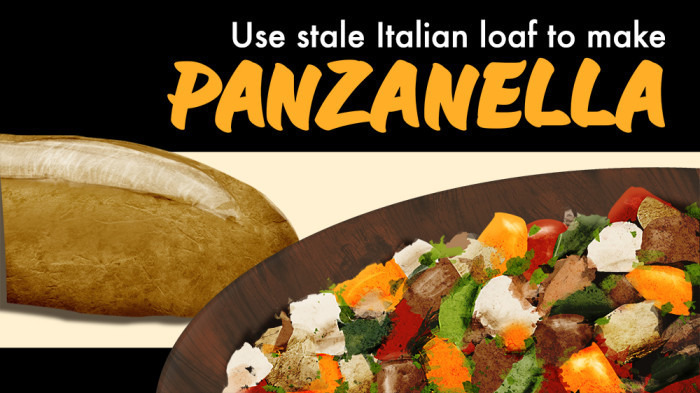 Perhaps you overstuffed your Italian sub for Monday's lunch and all the salami is gone, but you've still got three mini Italian loaves drying out. The classic move here is panzanella, an Italian bread salad made with tomatoes and herbs. There's no perfect way to make a panzanella, but you'll want to add chopped kalamata olives or capers for necessary saltiness. Cut a loaf into one-inch cubes and either sauté in a pan with some olive oil to crisp them up or bake for ten minutes in a 350°F oven. Chop a few fresh tomatoes, a handful of basil and some thinly sliced red onion and add to a large bowl with the bread. Make a simple mustard vinaigrette and toss with some chopped olives or capers.
---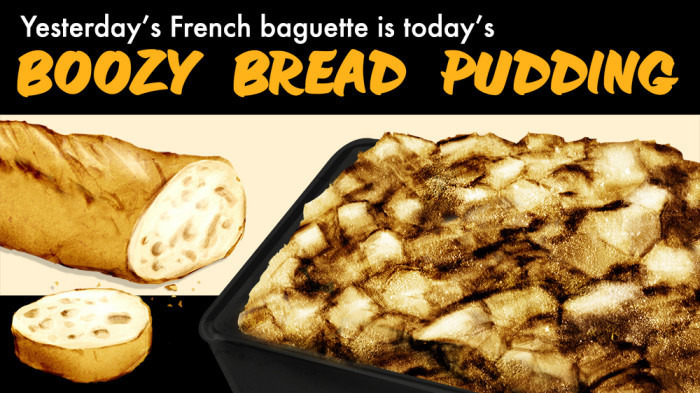 Your dinner guests brought over a baguette and left half of it behind just sitting on the counter. Your move: Make boozy bread pudding. This dessert is simple: Soak cubes of day-old bread in a custard mixture of two eggs whisked with two cups of whole milk or cream, a splash of vanilla extract, a half-cup of brown sugar, a pinch of salt and a splash of dark rum. Add raisins if you wish and let the bread absorb the liquid for ten minutes. Transfer to a shallow glass or ceramic baking dish and bake for an hour at 350°F, or until baked through and golden brown.