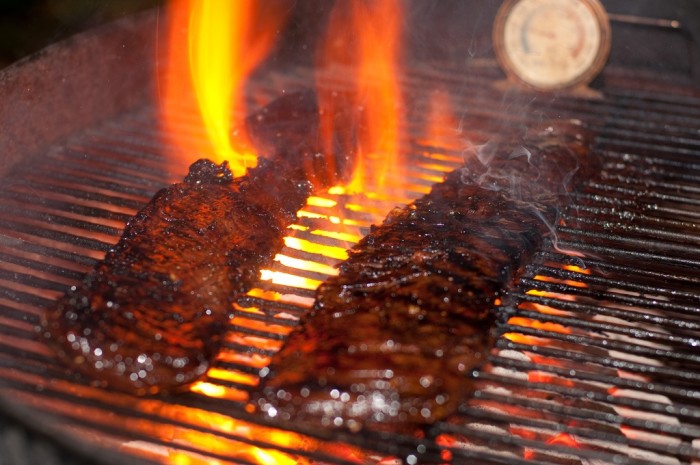 Skirt steak, my favorite beef for quick grilling, benefits from rubs and marinades. My Meat Seasoning is excellent here. The skirt is cut from under the breast of the steer and rarely is thicker than 3/4 inch, which makes for quick cooking. When you buy skirt steak, ask for the outside cut, which is a little more tender than the inside cut (although they both are terrific).
Ingredients
1/4

cup

canola oil

1/4

cup

Meat Seasoning*

2

tablespoons

garlic, chopped

2

tablespoons

lemon juice, fresh

2

pounds

skirt steak, trimmed
Directions
*Meat Seasoning
Makes about 1/4 cup
2 tablespoons freshly ground black pepper
1 tablespoon salt
1 teaspoon ground cinnamon
1/2 teaspoon paprika
1/2 teaspoon dried thyme
1/2 teaspoon granulated onion powder
1/2 teaspoon granulated garlic powder
1/4 teaspoon ground cumin
In a small bowl, stir together the pepper, salt, cinnamon, paprika, thyme, onion powder, garlic powder, and cumin. Store the seasoning in a lidded glass container or zipped plastic bag in a cool, dark place for up to 1 month.
For the Steak:
In a small bowl, mix together the oil, seasoning, garlic, and lemon juice. Rub the mixture on both sides of the meat, making sure to work it into the meat. Let the meat marinate at room temperature for at least 30 minutes but no longer than 45 minutes (if the day is very hot, don't leave the meat out for longer than 30 minutes).
Prepare a hot fire in a charcoal or gas grill and oil the grill grates.
Grill the steak for 3 to 5 minutes on each side, until done to the degree of doneness you prefer. Let the skirt steaks rest for 5 minutes before slicing to serve.