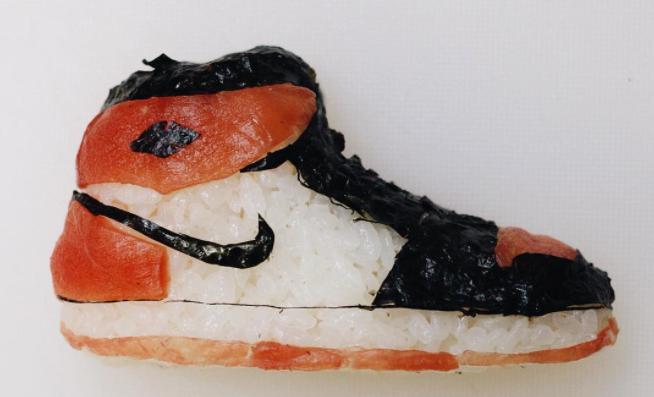 We're big sneakerheads here at Food Republic. We were super stoked to hear that NYC chef Tyler Kord collaborated on a chefs' shoe line with Vans, which was eventually expanded to include LA chefs Jon Shook and Vinny Dotolo. We loved when Eddie Huang worked with Adidas to create a pair of shoes with the professional chef in mind. After all, the right style of shoes can be rather important when you're standing on your feet for over 10 hours at a time in the kitchen. We've also been on the food-themed sneakers beat for quite a while now. Whether it's eggnog, White Castle, cold pizza, bacon-and-egg or even (sigh) pumpkin spice, we've always supported a sweet pair of kicks modeled after a food or drink item. As such, we were intrigued to hear about the latest form of food art: shoe-shi. That is, until we saw the darned things.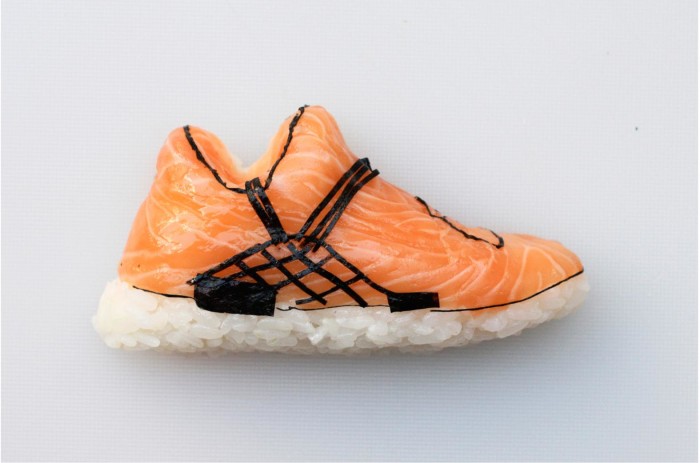 Branded as the "newest addition to the shoe-as-art game," shoe-shi "transforms tiny strands of black seaweed nori and smooth slips of pink fish to give each rice-based shoe-shi its designer features." This line gave us pause (you might, quite rightfully, point out that we should have realized this sooner). Essentially, designer (or "sushi chef and illustrator," as he's referred to) Yujia Hu uses slivers of perfectly edible fish and garnishes to create his art. This project just might not be the best idea, considering the country's increased focus on decreasing food waste in both home kitchens and restaurants.
But are these various pieces meant to be worn (ew), marveled at (um) or eaten (eh)? A look at Hu's Instagram page reveals that some of his original works may have appeared larger than advertised on the first page, mercifully eliminating the first possibility. But then there's still the case of either displaying rotting fish or completely wasting fresh ingredients. As much as we're fans of food art and as impressive as some of the details here might be, we're not ones to gawk at works derived from wasted food. Stale, non-reusable produce? Sure. Fresh toro? Not so much. We firmly believe we're in the majority here by declaring that we prefer our sushi on a plate and our sneakers (food-themed or not) on our feet.