Eddie Huang Is The Latest To Launch "Chef Shoes"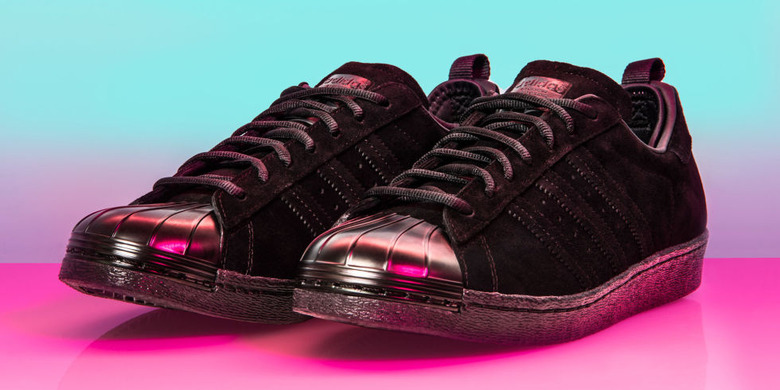 (Photos: Adidas.
Chefs spend more time on their feet than, well, just about anyone. Think about it: Not only do professional chefs work painfully long hours and turn in ridiculous amounts of arduous labor in stressful environments on a daily basis, but they're standing for the majority of it. With that all being said, you'd think there would be an extensive collection of chef-specific shoes out there, right? Right?
Not exactly. In fact, chef-shoe collaborations were virtually unheard of before 2014, when NYC sandwich maestro Tyler Kord codesigned a pair with Vans. Per the Brooklyn chef's suggestions and feedback, the No. 7 Vans Classic Slip-On — as they were marketed — were enhanced with more cushioning and arch support for long shifts on one's feet, siped (thinly slitted) outsoles for better traction, Vansguard repellent for spatters and spills and a top-to-bottom black color scheme to hide stains. Just like that, a seemingly simple concept took on a new form.
Fast-forward two years, and — while chef shoes haven't quite yet taken on a life of their own — there's been some progress made. Earlier this year, Vans partnered with Los Angeles chefs Jon Shook and Vinny Dotolo on a six-piece assortment of footwear designed with the professional kitchen environment in mind. For the first time, style plays a role alongside comfort — the footwear is available in special colors that symbolize each of the duo's restaurants. Score another one for the chefs.
This week's announcement of chef/restaurateur/author/television host/all-things-cool Eddie Huang's two-piece project (titled "Huang's World") with Adidas further adds to this created platform of "chef shoes." The collection builds on the concept by appealing to chefs and sneakerheads alike, introducing a pair of Superstar 80s with an upper featuring flame-retardant and waterproof black suede and a black steel shell-toe. There's a black outsole to promote solid footing, and — this being Eddie Huang — pink stitching on the heel as a personal touch. The second pair of shoes is for the home — Adidas Adilette slides are embroidered with a map showcasing the chef's wide variety of culinary influences. The collabs are set to go on sale this Saturday, October 8, for $150 and $50, respectively. Not too shabby, considering these shoes are kitchen-tested (and are already getting better press than Steph Curry's much-maligned "chef" shoes). We're tempted to call them one small step for chefs and one giant leap for chef-kind.