January is on its way out, and with it goes the New Year's obsession with fad diets and cleanses. But even though Food Republic's Healthy Living Month is coming to a close, we're still committed to eating more greens, legumes and tubers than ever before. Why? Because they are delicious and good for you (yes, you can have both things at once—really).

We've divided our top 12 new and not-so-new vegetable cookbooks into two categories. The first set is comprised of mostly chef-authored books that are brilliant in their approach and know-how. The second includes titles that, while sometimes authored by chefs, offer refreshingly new ways in which to combine, prepare and season vegetables. No matter what your cooking level or vegetable tolerance, there's a vegetable cookbook on this list that will fuel your love affair with veggies.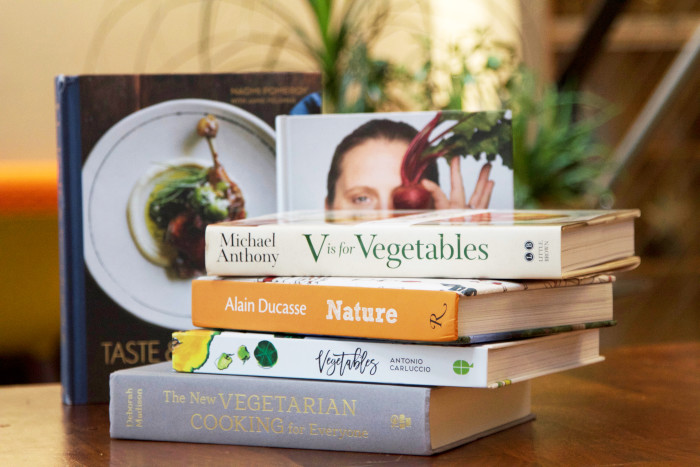 Technique = Flavor
Study up. These critically lauded cookbooks use classic and practiced cooking techniques to coax the best flavors out of vegetables. Caramelizing, braising and roasting techniques are presented by the masters with enthusiasm, precision and easy instructions. Pay attention and you can up your veg game, learning how to cook even the most unfamiliar produce from your local market. One or two of these titles should stand proudly in your cookbook library.
Never cooked salsify? Let Alain Ducasse show you how with his Pearl Barley With Salsify and Currants in his technique-driven book Nature. Not a huge fan of Swiss chard? April Bloomfield has five perfect Swiss chard recipes in A Girl and Her Greens to help persuade you. And be sure to check out V Is for Vegetables, in which chef Michael Anthony shares his deep A-Z knowledge about vegetables and how best to let them shine. A perfect example is his Roasted Whole Leeks With Tangerine Vinaigrette.
Here's a complete list of our favorite technique-driven, vegetable-forward cookbooks:
V Is for Vegetables, Michael Anthony (Little, Brown and Company, 2015)
Nature: Simple, Healthy and Good, Alain Ducasse (Rizzoli, 2011)
Vegetables, Antonio Carluccio (Quadrille, 2016)
A Girl and Her Greens: Hearty Meals From the Garden, April Bloomfield (Ecco Books, 2015)
Taste & Technique: Recipes to Elevate your Home Cooking, Naomi Pomeroy (10 Speed Press, 2016)
The New Vegetarian Cooking for Everyone, Deborah Madison (10 Speed Press, 2014)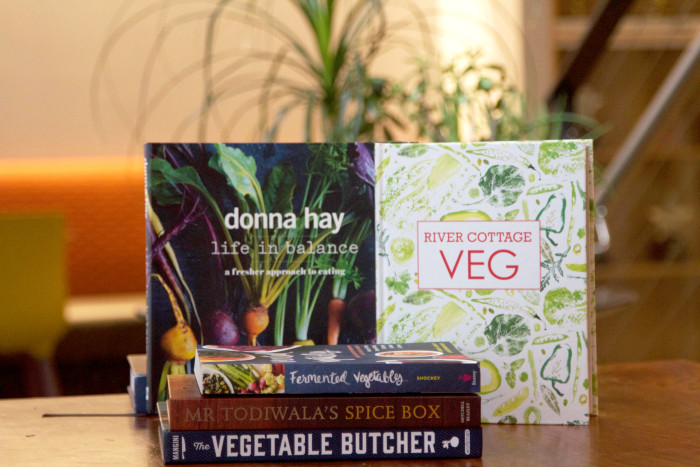 A New Look at Flavor
Never boring. These books feature unusual vegetable pairings, seasonings and preparations that have wowed and inspired us to cook and eat more vegetables. Sometimes it's an unexpected use that delights us, as in Hugh Fearnley-Whittingstall's lettuce, green onion and cheese tart in River Cottage Veg. Other times, it's a wholly unique combination of flavors and textures, as in Cyrus Todiwala's purple sprouting broccoli with garlic, chile and pomegranate from Mr. Todiwala's Spice Box: 120 Recipes From Just 10 Spices. And some authors take on the challenge of transformation more deeply. In Kirsten and Christopher Shockey's Fermented Vegetables, all sorts of vegetables are fermented and pickled to develop unique pungency and umami characteristics. One standout in this group is The Vegetable Butcher, one of the only books of its kind. Here, Cara Mangini gives expert know-how on breaking down just about every vegetable you'll find in your store, plus how to cook them in striking ways (try her shiitake "bacon" pizza). This book is perfect for novice vegetable preppers and anyone wanting to level up on veggie knife skills.
Here's a complete list of our favorite flavor-forward cookbooks:
Plenty: Vibrant Vegetable Recipes From London's Ottonlenghi, Yotam Ottonlenghi (Chronicle Books, 2011)
River Cottage Veg, Hugh Fearnley-Whittingstall (10 Speed Press, 2011)
The Vegetable Butcher: How to Select, Prep, Slice , Dice & Masterfully Cook Vegetables from Artichokes to Zucchini, Cara Mangini (Workman, 2016)
Fermented Vegetables: Creative Recipes for Fermenting 64 Vegetables and Herbs, Kirsten K. Shockey & Christopher Shockey (Storey Publishing, 2014)
Mr. Todiwala's Spice Box: 120 Recipes From Just 10 Spices, Cyrus Todiwala (Mitchell Beazley, 2016)
Life in Balance: A Fresher Approach to Eating, Donna Hay (HarperCollins 360, 2015)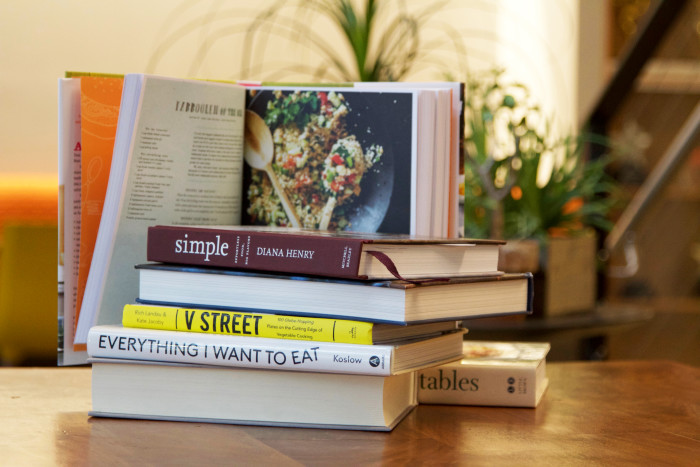 Honorable Mentions
While these books are not strictly vegetable cookbooks, they have small but creatively robust vegetable chapters or are worthy of including for their excellent contributions in the vegetable, vegetarian and vegan worlds. Like those listed above, they make the practice of eating vegetables a lot more fun.
Everything I Want to Eat: Sqirl and the New California Cooking, Jessica Koslow (Abrams, 2016)
V Street: 100 Globe-Hopping Plates on the Cutting Edge of Vegetable Cooking, Rich Landau and Kate Jacoby (William Morrow, 2016)
Isa Does it: Amazingly Easy, Wildly Delicious, Vegan Recipes for Every Day of the Week, Isa Chandra Moskowitz (Little, Brown and Company, 2013)
Simple: Effortless Food, Big Flavors, Diana Henry (Mitchell Beazley, 2016)